Are you looking for a job? Want to see what other options are out there? Then join the jobsDB Recruitment Party!
Date: August 1, 2014
Time: Interviews at 4pm / Party at 7pm
Location: Elbow Room, Metrowalk Commercial Complex, Meralco Avenue, Ortigas, Pasig City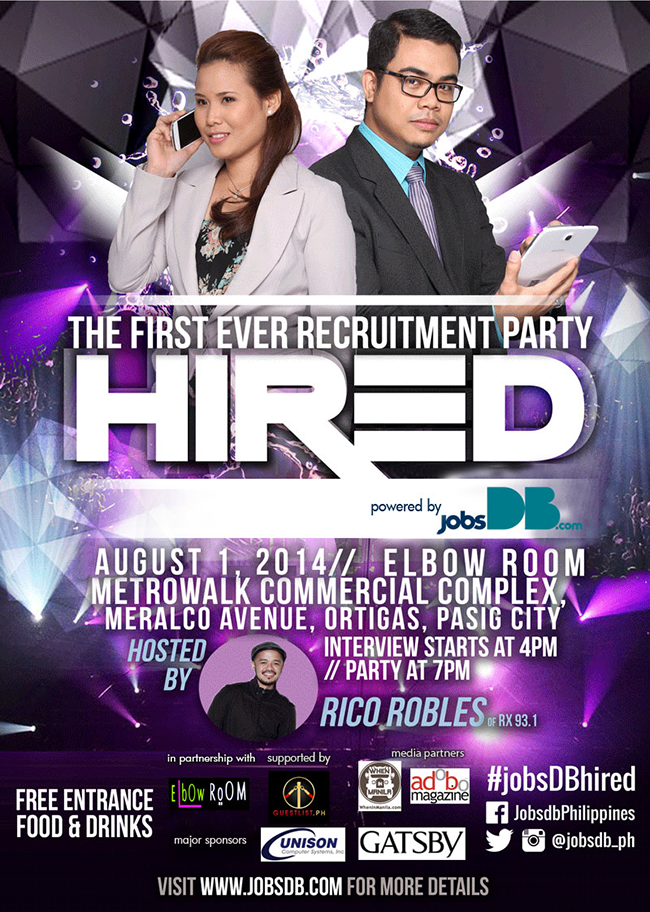 HIRED, the first recruitment party of its kind in the country, aims to provide job seekers with job opportunities in the BPO/Call center industry; one of the country's fastest growing and highest-paying employment sectors.
Oliver C. Ramos, Marketing Manager of jobsDB Philippines, adds that HIRED is the first of its kind in Philippines.
"Our goal is to take the recruitment process in the country to a whole new level," says Oliver C. Ramos, Marketing Manager of JobsDB Philippines. "HIRED is but the first of many other events we have in mind to do just that. In the past, job seekers would have to wait until after they receive their first salary to celebrate being hired, now, we want them to celebrate right away!"
Only the ones who pass the pre-screening procedure will get invited for interviews with certain BPO clients, though. This ensures that applicants will be endorsed to BPO clients that truly match their overall skills and job experience when they get to the venue, meaning that they could possibly lead with a job contract by the end of the night.
Interested applicants can visit this link for pre-registration and pre-screening: JobsDB Pre-Screening
Angeline Rodriguez
Angeline Rodriguez is a superhero, a princess, a geek, a rage monster and a single mom all rolled into one. She lives for makeup, music, dessert, yoga and the written word.