If you've sworn off rice in a bid to get healthy, good on you! But you might just find yourself craving for those pearly white grains even more, especially when you first go cold turkey. So it's a good idea to consider alternatives just in case you find yourself in danger of succumbing to your cravings. Certainly, brown, red, or black rice would be better alternatives than white. But recently I've had the chance to try a kind of rice that isn't rice at all.
You may have seen bags of RiCo Corn Rice at the supermarket and wondered about it. The first thing you need to know is that it isn't rice at all—it's corn that's been dried and made to look like rice. Plus, according to the folks behind RiCo, it's rich in beta-carotene, lutein, and fiber and has no cholesterol and a low glycemic index. And while I found the "rice" itself quite bland on its own, I was happy to learn that RiCo has provided a few recipes to spice it up. So if, like me, you're looking to lose a little weight without going on a diet that'll make you feel deprived (and possibly have you overcompensating and gaining the weight back once off the diet), here are a few recipes you might be interested in trying.
1. Baked Bell Pepper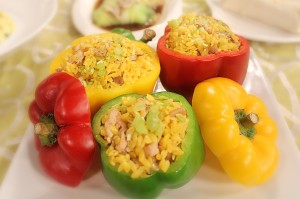 For the filling:
2 cups RiCo corn rice, cooked
1 small onion, minced
¼ kg ground chicken breast
3 cloves garlic, minced
1 medium carrot, diced
1 bunch spring onions, chopped
Salt and pepper to taste
For the bell pepper cups:
3 pcs whole red, green, and yellow bell pepper
1 cup mozzarella, grated
250 g Amigo Segurado tomato sauce
1. Sauté the onion and garlic.
2. Add the carrots and chicken breast. Sauté until the chicken breast is golden brown.
3. Add RiCo corn rice and spring onions.
4. Season with salt and pepper and set aside.
5. Cut off the top of the bell peppers. Fill the bell peppers with the cooked filling
6. Top with tomato sauce and grated cheese.
7. Bake in an oven at 350 ºC or in an oven toaster on high till the cheese melts.
2. Cabbage Roll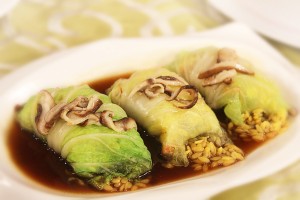 2 cups RiCo corn rice, cooked
1 head Chinese cabbage, whole leaves
3 cloves garlic, minced
¼ kg shrimp
1 cup shiitake mushrooms
Spring onion, chopped
½ cup sesame oil
1 red bell pepper, cut into strips
Salt and pepper to taste
For the sauce:
1 tbsp cornstarch
1 cup oyster sauce
1 tsp sugar
1. Blanch the Chinese cabbage, and remove the hard parts.
2. Sauté the garlic, and add the shrimp and shiitake mushrooms.
3. Add RiCo corn rice and spring onions, and season with salt and pepper.
4. Fill the cabbage, and wrap it tightly.
For the sauce:
1. Mix the cornstarch and 2 tbsp of water.
2. With the slurry, add oyster sauce and sugar.
3. Drizzle with sesame oil.
4. Top the cabbage roll with the sauce and with the bell pepper strips.
3. Chicken Burrito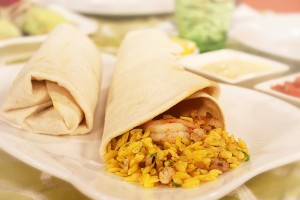 3 cups RiCo corn rice, cooked
1 tsp cumin
1 tsp paprika
4 pcs tortill wrap
1-½ cup roasted chicken strips
1 tbsp spring onions, chopped
3 tbsp cheddar cheese, grated
¼ cup lettuce, shredded
1 tbsp lemon juice
½ cup salsa
1. Season RiCo corn rice with cumin and paprika.
2. Slightly toast the tortill wrap in a pan.
3. Lay the tortilla wrap, and then, put the seasoned RiCo corn rice, lettuce, cheese, and chicken.
4. Wrap it tightly.
5. Serve with lemon and salsa.
4. Kimchi Fried Rice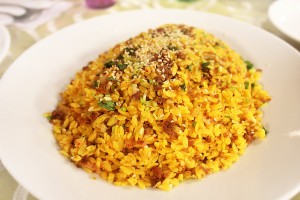 3 cups RiCo corn rice, cooked
¼ kg ground beef
3 cloves garlic, minced
3 tsp soy sauce
1 tbsp sesame oil
½ cup kimchi, chopped
Salt, pepper, and sugar to taste
1 tbsp spring onions, chopped
1 tsp sesame seeds
2 pcs egg, fried sunnyside up
1. Marinate the ground beef with soy sauce and sesame oil for 15 minutes.
2. Sauté the garlic and beef.
3. Add the RiCo corn rice and kimchi.
4. Season with sugar, salt, and pepper.
5. Top with spring onion, sesame seeds, and sunnyside up egg.
5. RiCo Fried Rice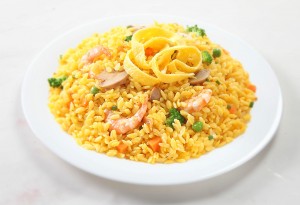 4 cups RiCo corn rice, cooked
2 tablespoons canola oil
100 g shrimp, peeled
5 cloves garlic, chopped
1 200 g can of sliced button mushrooms
1 small broccoli (or other vegetables such as carrots, peas, cauliflower, etc.), cut into florets
2 tablespoons sesame oil (optional)
2 eggs, scrambled and chopped
1. Sauté garlic in oil. Add shrimps and mushrooms, and sauté for a minute.
2. Add cooked RiCo corn rice, sesame oil, and vegetables, and stir continuously for 3 minutes.
3. Add cooked egg and mix well. Enjoy 4-5 servings.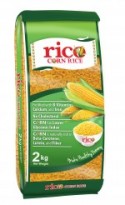 RiCo Corn Rice can be purchased in packs of 1, 2, and 5 kilos from SM Supermarket, SM Hypermarket, Rustan's Supermarket, Walter Mart Supermarket, Robinsons Supermarket, Ever Supermarket, The Landmark Supermarket, Sta. Lucia East Supermarket, Pioneer Centre Supermart, Hi-Top Supermart, Cherry Foodarama, South Supermarket, NCCC Supermarket, Gaisano Mall, and other leading supermarkets nationwide. For more information about RiCo Corn Rice as well as additional recipes to try, visit yummyhealthy.ph or the RiCO Facebook fan page.
Liana Smith Bautista
Liana Smith Bautista is an article writer, web content manager, manuscript copy editor, and blogger—and she thinks it's awesome that she earns her living marketing on her love for the written word.