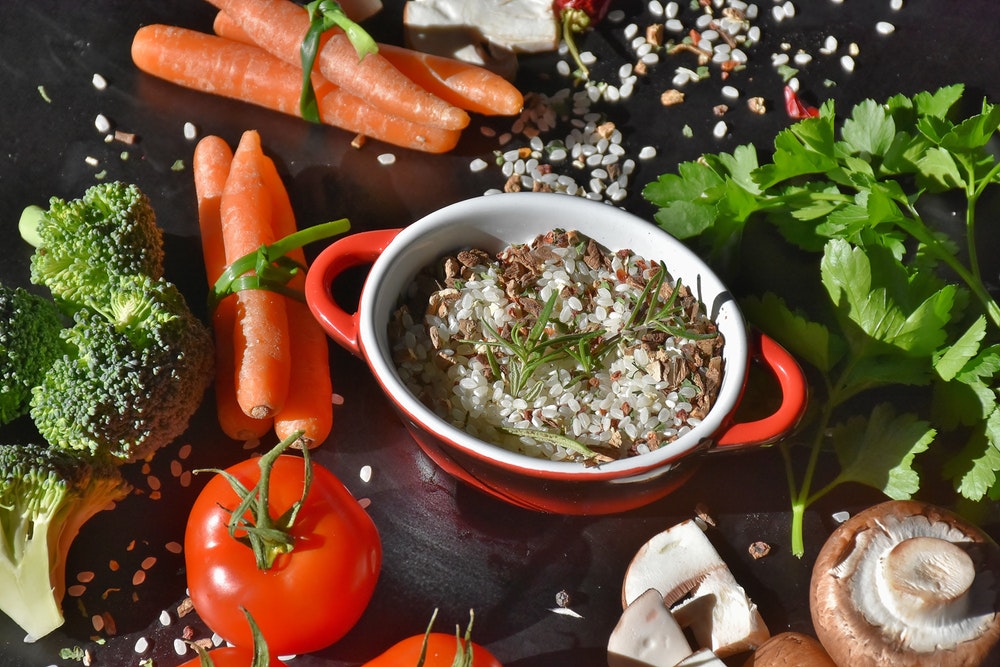 It's hard to eat healthy, especially when you have all those fast food joints parading in every street in the Metro. Even at home, we fill our fridge with unhealthy snacks and processed food that tempt us every waking hour.
But this year, you have the opportunity to kick that habit and embrace mindful eating once and for all. And one of the best ways to make that happen is to learn to cook healthy. As you go along, you'll be stepping into an endless journey of discovering flavor combinations and culinary techniques, all while witnessing the art and science of cooking right before your eyes.
Without further ado, here are some healthy cooking ideas and tips from your resident Modern Filipina chef wannabe.
Kitchen Must-Haves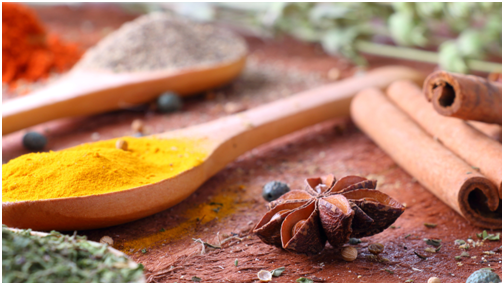 For starters, stock up on these cooking essentials. You don't have to buy them right away in one go, but having them in your kitchen always makes for some really delectable meals. Trust me! These things never failed me.
Olive oil (lots of it!)
Sesame oil
Condiments (soy sauce, vinegar, mustard, chili paste, etc.)
A sharp knife and other basic kitchen tools
A wooden chopping board
Non-stick skillet, pot, and/or wok
All the spices you can find on the planet
Where to Get Ingredients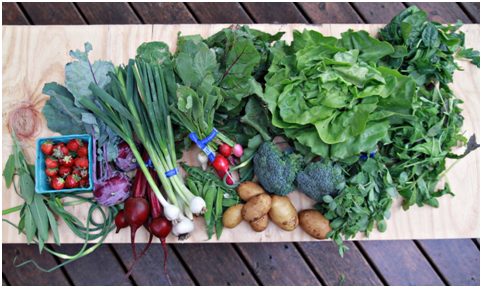 If I want fresh, Instagram-worthy produce, meat, and a vast selection of healthy ingredients, here's where I'd go:
1. Farmers Market (Cubao)
Any supermarket in the Metro will do, really, just make sure you pick the freshest ones and read the label always.
The Best Recipes for Newbie Cooks
Protein Section: 
1. Pan-grilled Moroccan Chicken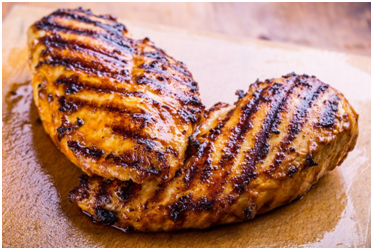 Pound skinless chicken breasts and set aside.
Combine olive oil, salt, ground pepper, 3 cloves of garlic (minced), ginger paste, brown sugar, 2 tbs lemon juice, and ground spices (turmeric, cumin, cinnamon, paprika, cinnamon, and coriander) into a bowl. Marinate in the fridge for 2 hours or more.
Preheat non-stick or grill pan to high heat, spread butter or drizzle olive oil, and sear the chicken fillets for 2-3 minutes per side.
Serve with salad or beans.
2. Pan-seared Sirloin Steak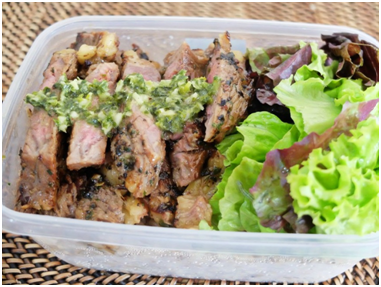 Pat-dry sirloin cut using clean paper towels. Rub meat generously with salt, pepper, olive oil, and rosemary.
Preheat a cast-iron or non-stick skillet over high heat. Sear steak in hot skillet for 2 minutes each side. Toss butter, garlic, and rosemary into the pan. Flip every 2 minutes 3 times until medium rare or 5 minutes more for well done. Set aside and let the cooked steak set for 5 minutes. Slice the steak against the grain into bite-sized pieces.
For the sauce, add olive oil to the pan you used for cooking the steak. Add two tbs of pureed herbs or a cup of red wine. Stir until the sauce thickens. Drizzle over the steak. Serve with salad.
3. Pan-seared Pink Salmon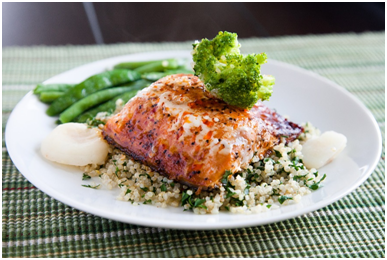 Pat-dry salmon cut and rub salt, pepper, and your choice of spices all over. Preheat the pan to medium and drizzle with olive oil. Cook the fish, skin side first for 5 minutes. Flip and cook for 5 minutes more. Flip again and cook for another 2 minutes. Remove from the pan. Serve with steamed vegetables and a slice of lemon for an extra tang.
4. Cheesy Mushroom Omelet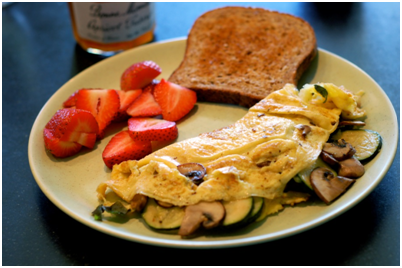 Chop red onions into thin pieces, mince a glove of garlic, and slice a handful of mushrooms into bite-sized pieces. Beat 3 eggs in a separate bowl, season with salt, pepper, and cayenne pepper. Drizzle olive oil on a non-stick skillet and sautee sliced onions, garlic, and mushroom until caramelized. Add eggs then flip the omelet when the bottom is cooked. Garnish with chopped parsley or basil.
5. Tofu and Bean Sprouts Stir Fry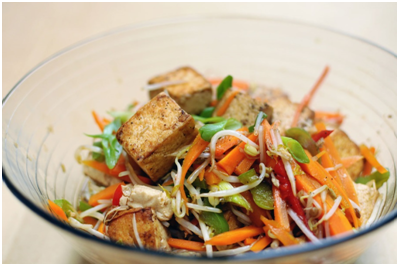 Finely chop one red onion and 3 cloves of garlic. Slice carrots and bell pepper into thin strips. Pre-heat oil in a deep pan and fry tofu cubes until golden brown. Set aside. Prepare wok or a deep pan and set the stove to medium heat. Sautee onions, garlic, and sliced vegetables until cooked. Add 1 tbs of oyster sauce, 2 tbs of light soy sauce, and 2 tbs of white vinegar. Stir until the sauce thickens. Add fried tofu, turn off the heat, and add the bean sprouts. Stir again to let the residual heat cook the beans. Garnish with chopped onion leaves.
Easy Greens:
1. Garden Salad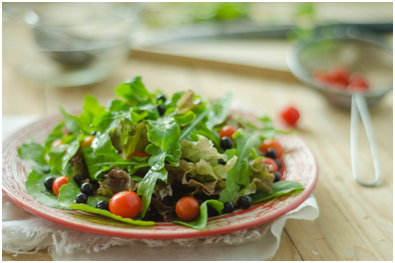 Wash and dry fresh greens (arugula, lettuce, and water cress) and toss in a bowl with cherry tomatoes and your choice of vegetables (cucumber, avocado, poached beans). Add dressing and serve.
2. Greek Salad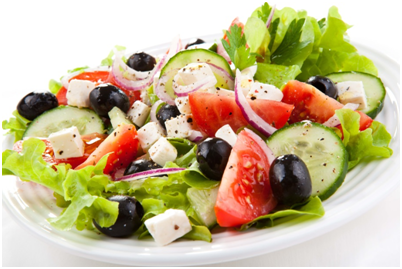 Add black olives, red onions, and feta cheese into your garden salad and serve with lemon garlic vinaigrette.
3. Garlic Kale and Edamame Salad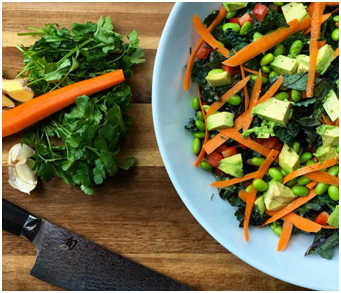 Chop kale and your choice of greens and vegetables and set aside. Boil fresh edamame for 3 to 5 minutes.  Strain and put in a bowl of iced water, so the color remains vibrant. Chop 2 cloves of garlic. Pre-heat pan and drizzle with olive oil. Sautee garlic and kale, season with salt and pepper, set aside and allow it to cool. In a separate bowl, toss kale, fresh vegetables, and edamame. Drizzle with your choice of dressing.
4. Cole Slaw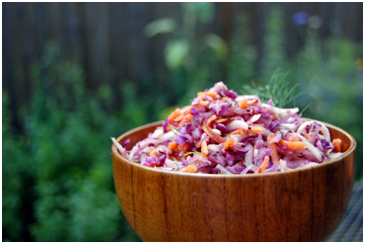 Slice half of red cabbage and cannonball cabbage into thin strips. Chop one big red onion. In a bowl, fold vegetables into half a cup of mayonnaise or until you achieve a creamy consistency. Make sure the vegetables are generously coated. Season with salt, pepper, and 1 tbs of lemon juice. Refrigerate for two hours before serving.
Carb Swaps:
Kale or lettuce wraps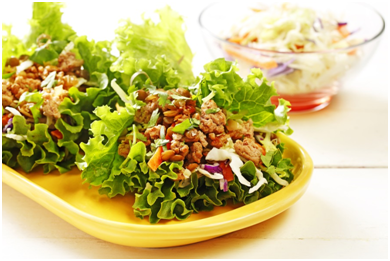 Chop half an onion and mince 2 cloves of garlic in vegetable oil. Sautee ground lean beef until brown. Season the beef with soy sauce, hoisin sauce, and red pepper flakes. Remove from the heat and add strips of red cabbage or carrots. Wrap the beef in lettuce or kale leaves and serve with sour cream or ranch dressing on the side.
2. Squash pasta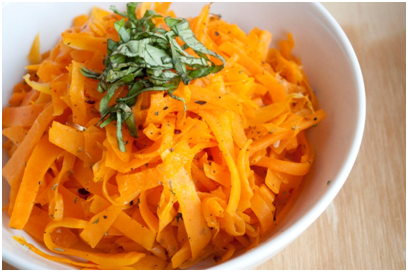 Butternut or spaghetti squash is the ideal cultivar to use for this recipe, but our favorite kabocha will do. Slice it in half and remove the seeds. Slice the halves into wedges and make thin strips using a peeler. Rinse the strips to wash off the starch and dry. Fold into your pasta sauce and cook for 5 minutes or until al dente.
3. Cauliflower rice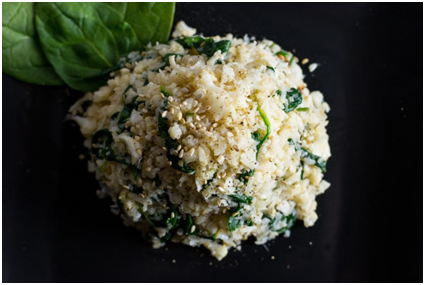 Pulse cauliflower in the food processor or rough-chop until it resembles rice. Set aside.
In a small bowl, whisk together sesame oil, ginger paste, light soy sauce, salt, and pepper, and set aside.
Heat vegetable oil in a skillet or wok over low heat. Sautee cauliflower rice with chopped broccoli, green peas, corn, chopped onion leaves, spinach, or your choice of vegetables. Season with salt and pepper and stir for 2 minutes. Serve.
Healthy Dressing: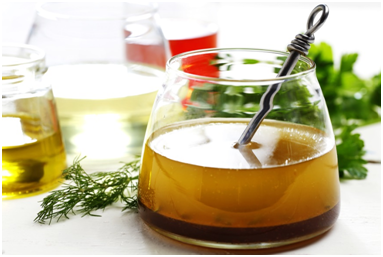 Light Caesar
Mince 6 gloves of garlic to a paste. In a bowl, add a tbs of Dijon mustard, minced anchovy fillets, garlic paste, 1 tbs of vinegar, salt, and black pepper, 2 tbs of mayonnaise, and half a cup of olive oil. Squeeze juice of half a lemon and whisk gently.
Garlic Parmesan
In a bowl, mix 1 cup olive oil, 1 cup grated parmesan cheese, 3 cloves of garlic (minced), 2 tbs lemon juice, salt, and pepper.  
Honey Balsamic Vinaigrette
In a bowl, mix 1 clove of crushed garlic, ¼ cup of balsamic vinegar, 3 tbs of honey, 1 tbs of Dijon mustard, ¾ cup of olive oil, and salt and pepper to taste.
Creamy Yogurt
In a bowl, squeeze the juice of one whole lemon and add 1 tbs of white vinegar, 2 teaspoons of sugar, 1 garlic clove (minced), 1/3 cup olive oil, ½ cup plain Greek yogurt, and salt and pepper. Whisk thoroughly.
If you have salads every day and want to save time, I'd highly suggest making dressings in big batches, store in airtight jars, and refrigerate.
Gut-Love:
Pickled Vegetables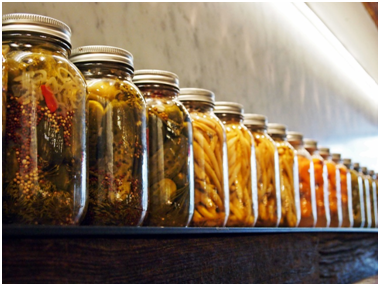 Did you know that you can pickle all sorts of vegetables other than cucumbers? In fact, there's a wide variety of pickles that you can make at home to spice up your meals and snacks and have your daily probiotic fix. For starters, have a salt soak ready for your selection of vegetables or fruits (celery stalks, asparagus, peaches, carrots, tomatoes, whole onions, etc.).
Next, prepare your clean, air-tight Mason jars. Make a vinegar brine with vinegar, sugar, and water. Add spices and fresh herbs for extra flavor. Pour the brine into the jars and arrange your vegetables inside. Store your pickles in a dry place at room temperature.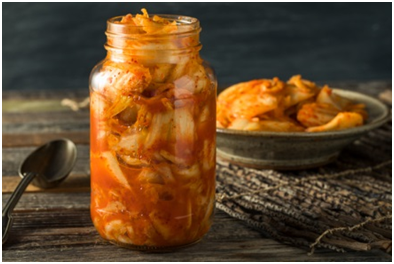 Rinse and prep napa cabbage. Cut into wide strips lengthwise and place in a mixing bowl.
Prepare a brine comprised of 6 to 8 cups of filtered or distilled water, 1 tsp of sugar, and ¼ cup of sea salt.
Make a paste of 5 minced garlic cloves, 1 tbs of grated ginger, and 3 to 5 tbs of coarse Korean red pepper flakes (gochugaru) or cayenne powder.
Combine the cabbage and paste in a bowl. Fold for 2 minutes or until cabbage strips are evenly coated. Pack mixture into a Mason jar and add the brine. Seal and place the jar on a shelf at room temperature and out of direct sunlight. Allow it to ferment for 1 to 2 days. Open the jar to release gasses and store in the fridge for up to a month.
There you have it, healthy recipes to last you for days. I hope this inspires you to start eating healthy. Got a recipe to share with us? Just post in the Comments below!