Crystel Paner
Only child, Spoiled with Love. Hopeless-Romantic writer. Party goer. Bitter-Sweet…
It's that time of the week again, #WaybackWednesday, #ThrowbackThursday and #FlashbackFriday posts are coming. Why not take a stroll down memory lane and reminisce a little? I prepared a list of some unforgettable lines from cartoon movies that will surely give you life (or maybe love?) encouragements. These cartoon films may fill your list this coming weekend for a movie night with your family, friends or someone special. "You're never too old for fairytales", after all. 🙂
10. "You have to believe in yourself." – Brave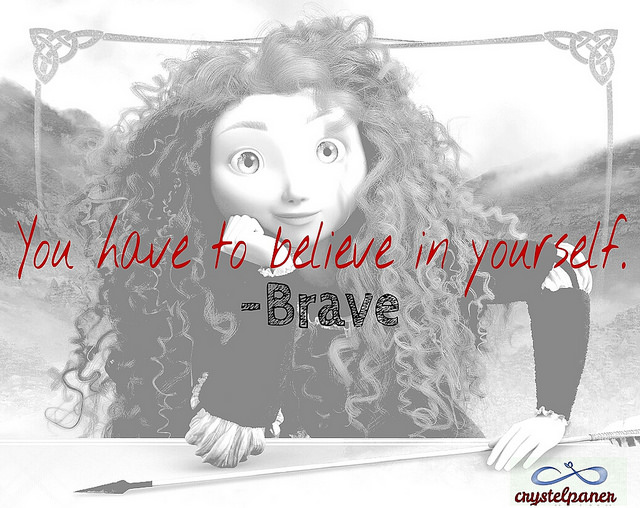 Starting off our list is this 2012 American computer-animated fantasy movie produced by Pixar Animation Studios and released by Walt Disney Pictures, BRAVE. Believe, as what Merida the Brave said.
9. "You always believe in other people, but that's easy. Sooner or later, you have to believe in yourself." – The Muppets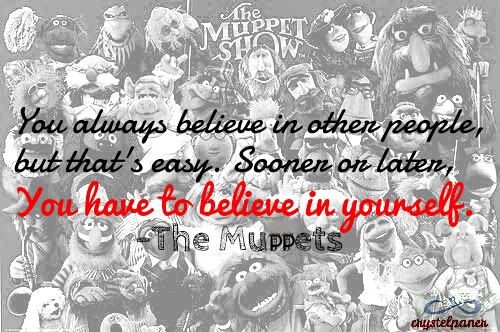 Before others can believe in you, you have to believe in yourself first. Take it from THE MUPPETS!
8. "Change is nature, the part that we can influence, and it starts when we decide." – Ratatouille

Nobody wants to hear words from a rat, but RATATOUILLE is an exception. He seems to know a lot about life – and about a lot of cheesy recipes to boot! 😀
7. "The secret to be special is: you have to believe that you are special." – Kung Fu Panda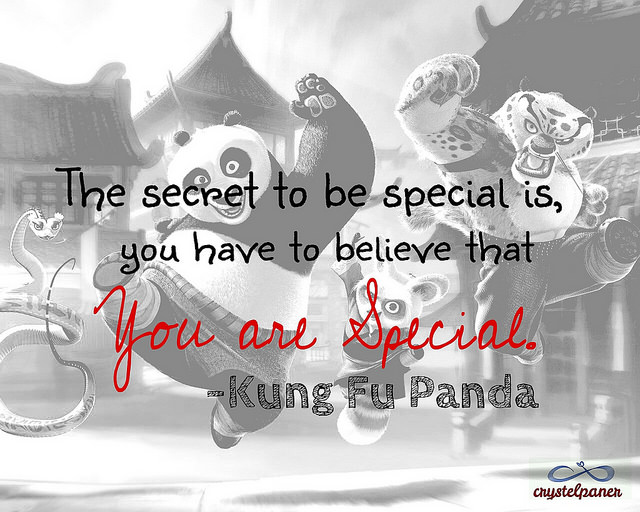 Wise words from KUNG FU PANDA. Oh, how adorable Po is! And this panda sure knows how to melt hearts, as well.
6. "Don't let bad stuff get you." – WALL-E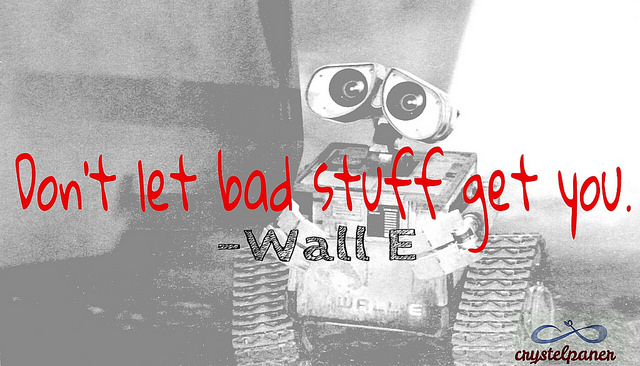 With robots that exhibit an appearance of freewill and emotions similar to humans, I'm sure WALL-E will melt your hearts. Why not re-watch it and cry again? Ugh, no… I mean smile!
5. "Everything in this world, no matter how big, no matter how small, is connected in ways we never expected." – Happy Feet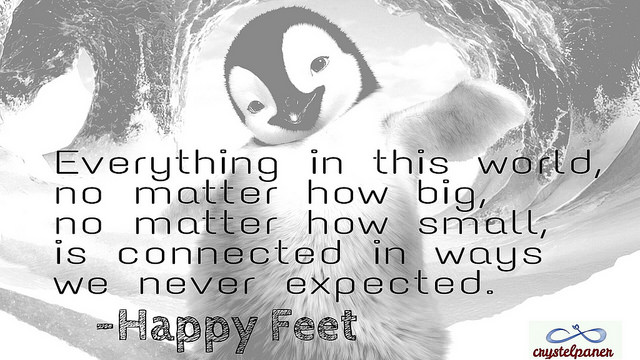 This movie is unforgettable because it helps people realize that being different is actually an amazing thing! If you haven't watched this yet, get your tap shoes and dance moves ready!
4. "Just tell me you love me like I love you. You know you do." – Toy Story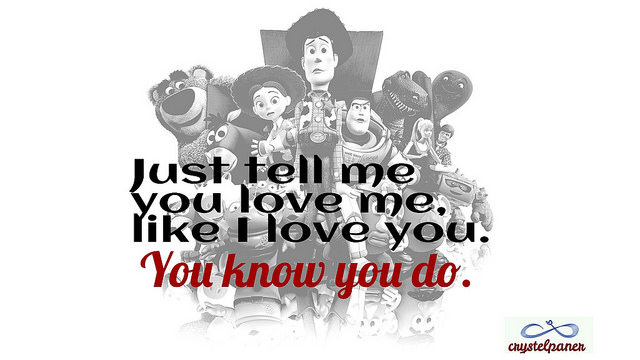 "I know you love me, xoxo." Oh, sorry, that's a different story. This cartoon is about friendship, love, trust and faith. You might wanna sing "You've got a friend in me!" afterwards. TOY STORY is the first ever computer-animated film produced by Pixar, and as cliché as this may sound, 'the rest is history'.
3. "Hakuna matata. These words will help you solve all your problems." – The Lion King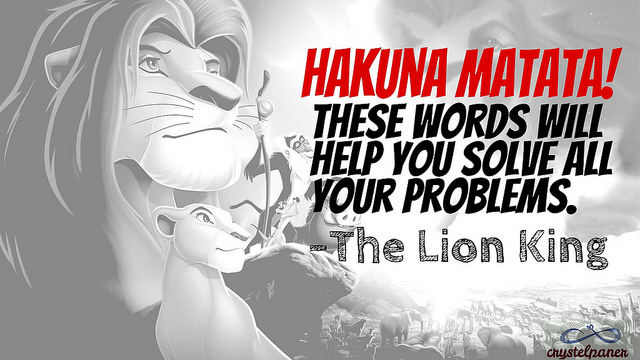 Hakuna Matata is a Swahili phrase that means "no worries" or "there isn't a problem". It can also be akin to "don't worry, be happy." This phrase was popularized by the movie THE LION KING. What this movie wants to deliver to its audience is basically that one must forget about their troubled pasts and live in the present.
2. "Dreams are real as you want them to be. Dreams are real as the sky and the sea." – Peter Pan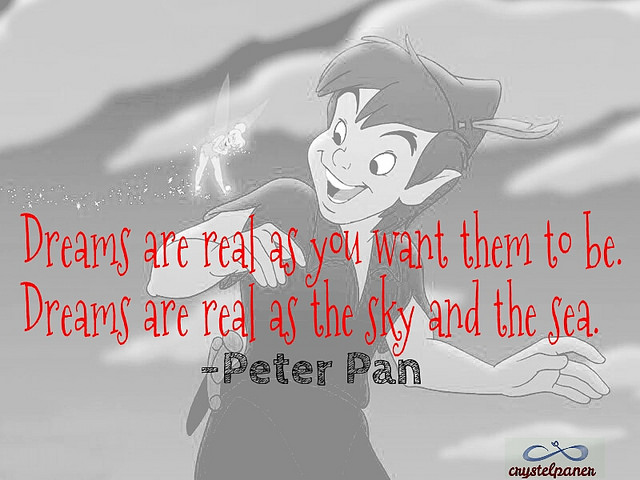 This classic tale of the lost boy is really one for keeps. PETER PAN has always been one of my childhood favorites. Where dream land is tangible, adventures are real and let's not forget the awesomeness that is Tinkerbell!
1. "Sometimes, the smallest things take up the most room in your heart." – Winnie the Pooh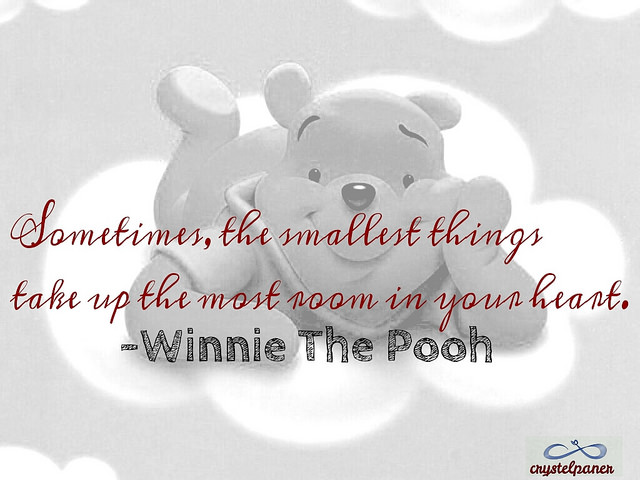 Last on this list is none other than my forever favorite Disney character, everybody's best friend, WINNIE THE POOH. I've always been a fan of Pooh bear and his friends Piglet, Eeyore, Tigger, Rabbit, and Gopher. I admire his calm and enjoyable personality, as well as his love for food and HONEY! He's my first love, actually. Haha.
No one's ever too old for children's movies. They teach us how to respect others, have faith, value friendship and family, and most of all, love unconditionally. 'til my next list! ♥
Crystel Paner
Only child, Spoiled with Love. Hopeless-Romantic writer. Party goer. Bitter-Sweet Explorer. God's Believer. Go getter!