MM Maglasang
I write occasionally, read voraciously, travel constantly, and love fiercely.…
The season of giving is upon us, but wouldn't it be nice to give and receive gifts that go beyond material happiness? While you're making your list and checking it twice, here are some suggestions on places to shop where you can buy gifts that can nurture and inspire your loved ones to pursue a healthier lifestyle.
1. ECHO Store: Go ho, ho, ho for local!
ECHO is the acronym for Environment & Community Hope Organization. This social enterprise gathers locally made commodities such as homegrown food products, health and beauty items, and household care items. Aside from the myriad of local enterprises that they showcase and support, this one-stop health shop also has their own line of products namely Choco Loco Choco Bars, Honest Herbs, Body Basics (ECHO Store's line of natural body care), and Home Basics (all-natural and eco-friendly cleaning products).
Branches: ECHO Store has branches in Serendra, Centris, Podium. They also have an online shop.
Great Gifts: body care and home care products; homegrown foodstuffs
Budget: P100 to P300
2. Indigo Baby: Gifts for your bundle of joy
This baby shop offers products that are effective, all-natural and safe for babies' sensitive skin. Some of their baby care basics come with cute names like Jar of Love Healing Balm, Shoo Fly Don't Bother Me Insect Repellent, Sun is Shining Sunblock, Sleep Like A Baby Massage Oil, and more. Indigo Baby is also the perfect shop for moms and dads; check out their Hot Pocket Baby Pouch, Saya Semi Stretch Baby Carrier, Earth Pockets Bag, and BONCHO (a breastfeeding poncho).
Branches: IndigoBaby has reseller outlets in several malls across the metro. You can also order online.
Great Gifts: baby carriers, all-natural bath and body care safe for babies, baby journal
Budget: P100 to P300 for baby products; P500 to P1,000 for mommy must-haves (baby carriers and bags)
3. Aquazorb Towels: Let them sweat!
Showering makes you feel refreshed and re-energized after a workout. The best post-workout item? A lightweight, quick-dry, and super absorbent towel, like the ones sold by Aquazorb. They have varied products perfect for bath (body towels, bathrobes, bath slippers), exercise (face towel, yoga towel), and even pets (pet towel)! They also come in different sizes that make them convenient and easy to carry around your gym bag or suitcase.
Branches: Aquazorb has branches in Alabang Town Center, Glorietta, Greenhills, Rockwell Powerplant, Robinson's Magnolia, Shangri-la Plaza, SM Megamall, SM Mall of Asia, and TriNoma.
Great Gifts: bath collection products, ultra thin series towels, yoga non-slip surface towels
Budget: P300 to P1,000
4. Human Nature: Beautiful and healthy, naturally
Human Nature is without a doubt one of the most diversified enterprises for beauty and wellness products. It's difficult to decide what the best thing about it is—it's a social enterprise that supports local communities; their products are all natural, safe, and eco-friendly; and it's 100% local! Choose from a wide range of products for skin, hair, body, pet care, home care, and more. Just browsing through the colorful items on their website is a treat!
Branches: They have stores in Alabang, Antipolo, Cainta, Pasig, and some provincial areas; their flagship store is located in QC along Commonwealth Avenue.
Great Gifts: skin care (lotions, oils, moisturizers, soaps), protective care (insect repellents, spray alcohols, sun blocks), cosmetics and mineral make-up
See Also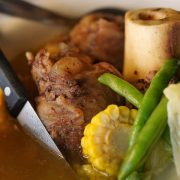 Budget: P80 to P400
5. The Superfood Grocer: Dreaming of a green Christmas
If you have a friend or relative who is starting the journey to green living and healthy eating, the Superfood StarterPack Sampler would be a great gift. These packs are chock full of disease-fighting antioxidants, phytonutrients, vitamins and minerals—and these are all-natural, organic, and vegan friendly (plant-based). Be sure to check out the helpful articles and recipes on their website. Power up this Christmas season!
Branches: Order your Superfood Grocer items on their website.
Great Gifts: Superfood Starter Packs; be on the look out for their workshops
Budget: P999 for the Sampler, P1,500 for the Solo pack, P2,999 for the Family pack
Gifts for health and wellness embody the true spirit of Christmas: caring. Deck the malls or scour online; be the Santa with gifts that inspire healthy living!
Featured image courtesy of The Superfood Grocer.
MM Maglasang
I write occasionally, read voraciously, travel constantly, and love fiercely. Talk to me about adventure, cultural events, psychology, and world domination. Introverted and loud, awkward and proud.