Myra Mortega
Myra is a writer and an editor. She has penned…
Stay safe, Modern Filipinas! According to the Philippine Atmospheric, Geophysical, and Astronomical Services Administration (PAGASA), Typhoon Lando has already made landfall in Aurora. PAGASA has already raised the public storm warning signal to level 4 in Aurora, while Isabela, Quirino, Nueva Vizcaya, Nueva Ecija, Ifugao, and Northern Quezon (including Polillo Islands) are under level 3.
For Metro Manila the public storm warning signal is level 2, as well as areas such as Cagayan (including Calayan and Babuyan islands), Benguet, Mountain Province, Kalinga, Apayao, Pangasinan, Tarlac, Pampanga Bulacan, Rizal, and the rest of Quezon. This means we can expect occasional rains and gusty winds from 61 to 120 kph here in the metro today.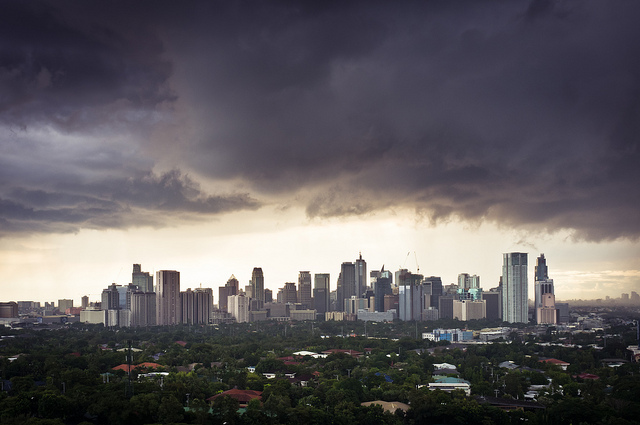 We hope that everyone stays safe and dry this typhoon season! Here are some typhoon safety tips to keep in mind:
1. Stay indoors.
As winds could get as strong as 120 kph for places under signal 2, it would be best if you and your loved ones stay at home instead of going out today. We reckon that traffic would be a nightmare due to the heavy rain, and some places might also get flooded, so better if you stay indoors.
2. Bring out your emergency kit.
Do you have an emergency kit at home? If not, gather supplies like flashhlight, a fresh set of batteries, a radio, a swiss knife, a first aid kit, toiletries, and power banks (as we recommended in our previous article) and put them in a waterproof container. Make sure that your emergency kit is within easy reach and that everyone at home knows wht it is and what it's for.
3. Secure important documents.
Do you live in a flood-prone area? If so, you can start placing your belongings in a much secure area way before the flood hits. Make sure you don't forget to secure important documents such as your birth certificate, your passport, your voter's ID, and other government IDs in waterproof containers as well. You can stash them in a ziplock bag or a plastic container to ensure that they won't get soaked.
4. Charge your gadgets.
Make sure you don't run out of juice by charging your phone, tablet, and laptop. It's important that you have communication devices at hand, so you can keep tabs on updates and get in touch with your loved ones even if–God forbid–you experience a blackout or power fluctuations in your area.
Stay safe, everyone!
Myra Mortega
Myra is a writer and an editor. She has penned speeches, magazine articles, educational materials, and online content. She enjoys traveling, doodling, taking photos, and laughing to "Friends" reruns.