Sherna Tesara
Sherna loves books and Taylor Swift. She can often be…
[video src="https://www.instagram.com/p/Btk3pkgnbFI/"][video src="https://www.instagram.com/p/BsGKalBnC8C/"][video src="https://www.instagram.com/p/BtdUdmmH3Hv/"][video src="https://www.instagram.com/p/Bv9mp14n1VO/"]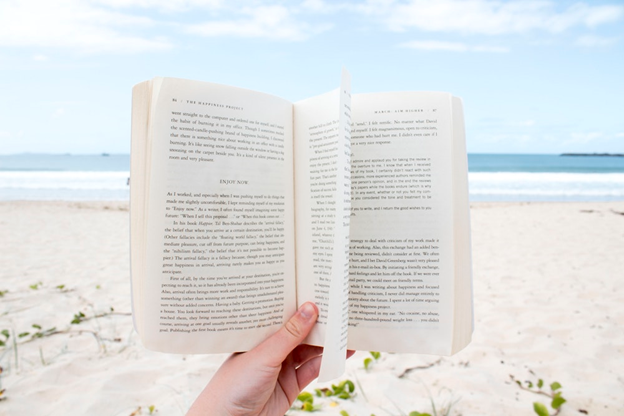 The thought of stepping outside is enough to make me sweat.
On April 3, the country's heat index rose to 48 degrees Celsius. That's one good reason to head out of Manila and hunker down in some island hideaway, preferably with a few good books.
So while packing stylish essentials for your beach trip, grab some beachfront page-turners as well. Nothing symbolizes a pause from the hustle and bustle of your normal life more than enjoying the sun, the sea, and a few stories.
For the Hopeless Romantic
The Hating Game by Sally Thorne
Yes, you're on vacation, so you might not want to read about anything that has to do with the office. But if it's "The Hating Game," with its witty banter and well-developed characters, I promise you won't be able to look away (or stop turning the pages).
Here, Josh and Lucy work together even though they can't stand each other. As the tension runs high in the middle of vying for the same promotion, they discover that maybe they're both losing in the hating game they've been playing since the beginning.
The Kiss Quotient by Helen Hoang
 "The Kiss Quotient" by Helen Hoang isn't Goodreads Choice Awards Best Romance 2018 for nothing. Think "Pretty Woman," but in reverse. Here, Stella Lane, a math whiz and a woman in the spectrum, hires male escort Michael Phan to help her teach herself the ins and outs of sex and dating.
You'll practically forget about the beach as Stella's smart mind and Michael's charming Vietnamese family take over your day and tug at your heartstrings one page at a time.
For the History Buff
The Gilded Wolves by Roshani Chokshi
History probably isn't the most exciting beach read, but you'll have no time losing yourself in the past in Fil-Indian author Roshani Chokshi's "The Gilded Wolves."
Set in 1889 Paris, this jewel of a book will take you to the dark and glittering heart of the beloved city on the cusp of change. The diverse cast of characters (you might recognize someone who wants to help free his country from the Spaniards) going on a heist to find incredible artifacts may pursue you to gather your friends and start a treasure hunt of your own.
The Nightingale by Kristin Hannah
In popular culture, we often hear about men's stories during the Second World War. Oftentimes, women are relegated to being just the love interest. Not in "The Nightingale."
Here, Kristin Hannah managed to tell an empowering tale of two women who fought in their own ways during the war. Don't worry, you're on the beach. If you cry, no one will know. Your tears will simply join the already-salty waters.
For the Celebrity-Obsessed
The Seven Husbands of Evelyn Hugo by Taylor Jenkins Reid
Stop trying to take coming-out-of-the-water shots like your favorite celebrity and pick up this book. Published in 2017, Taylor Jenkins Reid's fifth novel takes place during the Golden Age of Hollywood and the present.
This book chronicles what Evelyn Hugo had to face to get the Hollywood fame she had been dreaming of since she was young, what the payment for that success was, and all the men who shaped her tabloid-worthy life.
 This Is What Happy Looks Like by Jennifer E. Smith
The story revolves around teen movie star Graham and small-town girl Ellie who accidentally strike up a special correspondence after a story about a pet pig and a misspelled e-mail address.
With its cute and engaging plot and the fact that it's set near the coast during the summer, "This Is What Happy Looks Like" is a perfect beach read and every fan girl's dream come true.
For the Thrill Seeker
Sadie by Courtney Summers
Beach reads should be light and fun, but you'll fly through the page-turner mystery-slash-thriller that is Courtney Summers' "Sadie."
The book is about Sadie, a nineteen-year-old who went missing after her younger sister was murdered. Told through Sadie's perspective and interspersed with podcast transcripts (there's an actual fictional podcast based on the book that you can listen to), this book is exhilarating and heartbreaking at the same time.
One of Us Is Lying by Karen McManus
With over a hundred thousand ratings on Goodreads, "One of Us Is Lying" is a massive hit among readers, especially fans of book-to-TV-series shows like "Pretty Little Liars" and "Gossip Girl."
The premise of the book follows five Bayview High students as they go into detention. Only, four of them walk out alive.
This book is a fast-paced and thrilling read that you can devour in one sitting under the shade of a coconut tree. The intrigue and the mystery will keep you flipping the page until you reach the stunning conclusion.
Can't choose which one (or three) to bring with you? I know the feeling. But hey, at least you have your TBR set for your next beach vacation.
Sherna Tesara
Sherna loves books and Taylor Swift. She can often be found talking about both on Twitter or trying to manage her three dogs.