Ciara Valdez
Ciara is a 20-something writer by day, hyperactive cat by…
Ahh, pet cafes. In the past, you only got to see them featured in Japanese-related sites, but now they're finally here in the Philippines. We all know that animals are great companions. That's why we keep them as pets and treat them like part of the family. But due to issues like family members with allergies or no-pet policies in our apartment or condos, we don't all get to keep fur babies in our home. Fortunately, there are a number of pet cafes that have opened in Metro Manila. Here are just three of them:
1. Miao Cat Café
Miao Cat Café is the first cat café in the metro located at #7 Congressional Avenue, Quezon City. They're open from Monday to Sunday at 11 AM to 10 PM. Reservation is necessary through e-mail or their Facebook page. They do accept walk-ins if the café isn't on full house.
Entrance fee is P300 for adults and P150 for children for a two-hour stay. This also includes a single order of any food and drinks from their menu. Upon entering the café, you have to follow their house rules—disinfecting, changing footwear, and showing proper behavior towards the cats.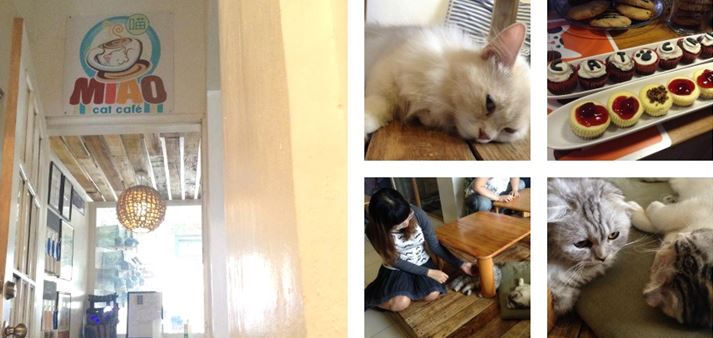 How to get there: From SM North or Trinoma, ride a jeepney going to Luzon. Ask the driver to drop you off at the crossing of Mindanao and Congressional Avenue (at KFC). Look for Midcon Apartelle, cross the street and walk towards the building, then find the stairs beside Cake2Go to go up to Miao Cat Café.
2. Cat Café Manila
Cat Café Manilais not your typical pet café because all their cats are puspins (pusang Pinoy) that are up for adoption. In partnership with CARA Welfare Philippines, they aim to spread the love for cats and teach customers about responsible pet ownership.
The café is located at the second floor, 189 Maginhawa St. corner Makadios St., Sikatuna Village, Quezon City. Operating hours are from Tuesday to Sunday at 12PM to 10PM. The entrance fee is P200 and reservation is necessary through the ticketing app of their Facebook page. Upon entry, their staff will ask you to read and sign a waiver to make sure that you're aware of their house rules.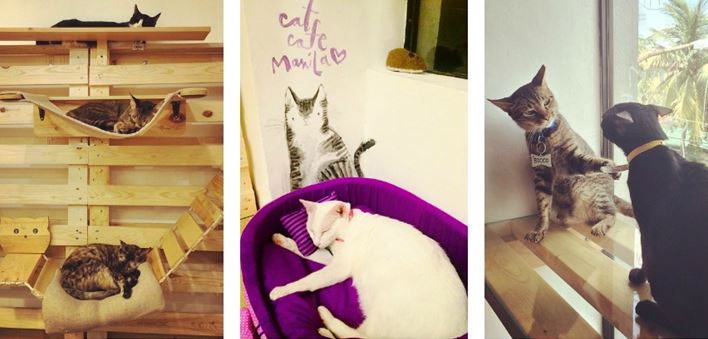 How to get there: From EDSA or Commonwealth, take any public transportation that can drop you off to Philcoa. Walk in front of Mini Stop (near Mercury Drug) and take a tricycle to Maginhawa Street. Tell the driver to drop you off at Makadios Street.
[crp]
3. Barkin' Blends Dog Café
If you're more of a dog lover, then Barkin' Blends Dog Café is the place for you. It is located at 91 Rosa Alvero St. J&R Concon Centre, Loyola Heights. Unlike other pet cafes, they don't take reservations and operates on a first-come, first-serve basis. The wait may be long, but it will be worth your time.
The entry fee to their Dog Zone is P180, inclusive of a free drink, with a time limit of two hours. The staff will give you a dog to play with during your stay. For additional orders, you can choose from their menu. The café is open every day except for Tuesdays from 12PM to 9PM.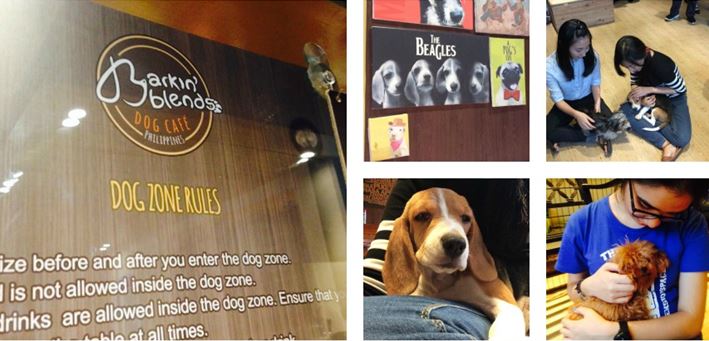 How to get there: Take a UP Campus jeepney from SM North, Trinoma, or Centris Station Quezon Ave. Get off at the academic oval or shopping center then wait for a Katipunan jeepney. Tell the driver to drop you off at Shakey's or the footbridge to Ateneo de Manila University. Walk toward Rosa Alvero St. and you'll see J&R Concon Centre.
BONUS: Le Cat Coffee Shop—Cat Cafe Las Piñas
Think that the south is missing all the fun? Not anymore. A new cat café named Le Cat Coffee Shop – Cat Café Las Piñas recently opened in BF Resort Village, Las Piñas. They're currently on soft opening, but judging from their Facebook posts, the café seems promising and worth a visit.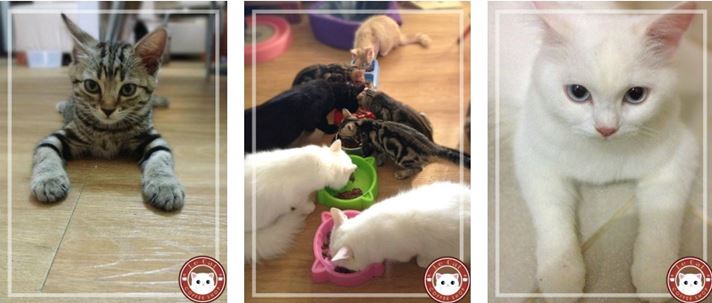 If you have a fur baby of your own, please note that for health and safety reasons, customers are not allowed to bring their own pets to these cafes, but it gives you the chance to interact with these furry cuties. They're especially great if you're planning a party with fellow animal lovers or you're a cat or dog lover without a pet of her own. Like the pics? You'll love the experience even more, so why not check them out?
Ciara Valdez
Ciara is a 20-something writer by day, hyperactive cat by night. When she's not busy performing on stage at Japanese-related events and conventions, you'll see her reading manga and travel blogs, watching anime and documentaries, or doing what she loves... eating. ฅ(*°ω°*ฅ)