Marian Bartolome
Marian is an interior designer turned freelance writer who loves…
These days, third-wave coffee shops are popping up left and right. You'll recognize them by their cozy, creative interiors, the absence of blended coffees on their menu, and—more often than not—the blackboard listing their featured beans of the moment. These are the places where sugar is not a standard addition to a cup of joe, brewing methods are a menu category of their own, and coffee is regarded as both an art and a passion.
If you're looking to venture beyond your usual chains, here are some of the specialty coffee shops that you should check out. Who knows, they might just convert you to a no-sugar type of drinker before you know it!
1. Craft Coffee Revolution
  Craft has gone a long way from its humble beginnings in New Manila. Formerly the best-kept secret of coffee aficionados and neighborhood foodies, it's grown to be one of the most trusted names in Manila's third-wave coffee scene. It put specialty coffee on our radar, introducing us to different brewing methods and exotic coffee beans. Today, it has two branches in addition to its original headquarters—one at The Podium and another at Katipunan. Their iced mocha and flat white are crowd favorites, but you can approach their friendly baristas for their recommendations to suit your taste. The Katipunan branch in particular also offers a good selection of meals, sandwiches, desserts, and even fruit slushies. Find Craft Coffee Revolution at: 66 B Broadway Avenue, Brgy. Mariana, Quezon City 88 Esteban Abada St., Loyola Heights, Quezon City 2nd Floor, The Podium, Ortigas, Pasig City  
2. Yardstick Coffee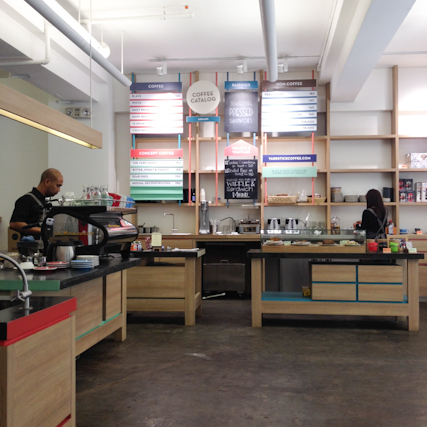 There's no doubt that the folks behind Yardstick take their coffee seriously. They don't just sell and serve specialty coffee, they give workshops too via the Y.A.R.D., or The Yardstick Academy of Resource & Development. If you want to try your hand at pulling a perfect shot of espresso or simply want to learn what all this fuss about specialty coffee is really about, check out their class offerings on their website. Alternatively, you can just head out to their cafe in Legaspi Village and enjoy their featured brews. Their colorful, airy space feels a lot like an art gallery where you can watch their baristas at work. For a satisfying snack, pair their deconstructed mocha or cold brew with a plate of yummy waffles. Find Yardstick Coffee at Ground Floor, Universal LMS Bldg., 106 Esteban St., Legaspi Village, Makati  
3. EDSA Beverage Design Group
EDSA Beverage Design Group may be tricky to find at first, but once you know where it is, you'll want to keep on coming back. As its name suggests, it's located right along EDSA's southbound stretch—specifically, in the CLMC Building past the Shell station with Shakey's. Enter the dark glass door marked "In pursuit of the noble beverage," and you'll find yourself in the first floor of their studio, which serves as their laboratory. Here, they develop beers and coffees that they supply to shops such as Third District and El Union. Right up the stairs is the cafe, where you can order a cup of coffee prepared by their champion baristas. Food offerings are on hand to take you right through dinner, when you can put aside your joe for a specialty cocktail or craft beer.
Find EDSA Beverage Design Group at 209 EDSA CLMC Bldg., Greenhills-Mandaluyong
4. Refinery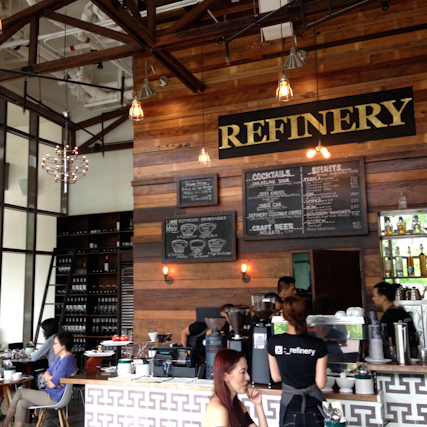 With its high ceiling, wood-paneled wall, accent tiles, and beautifully mismatched chairs, Refinery makes for a lovely hangout spot in the Rockwell area. Their coffee menu will delight those who want different flavors in their cuppa. You can choose from espresso concoctions such as their Salted Caramel Latte, Orange-infused Cappuccino, and—our personal favorite—Valrhona Mocha, or relish their featured Lamill beans prepared in your brewing method of choice. Also available is a wide range of teas and cocktails, and you should definitely not miss out on their delicious food. Double Truffle Fries, Grilled Cheese with Basil and Honey, and the Refinery Burger are just some of the dishes you can look forward to feasting on here.
Find Refinery at G/F Joya Lofts and Tower Bldg, Joya Drive, Rockwell, Makati
5. Habitual Coffee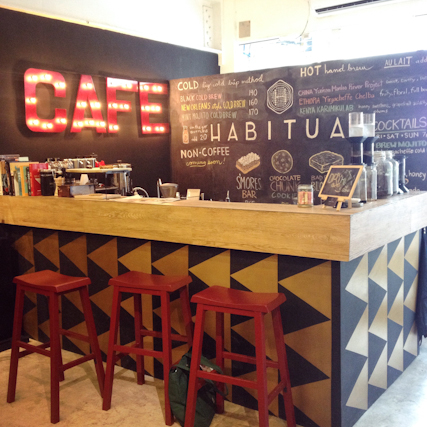 While most third-wave coffee shops use a variety of brewing methods to prepare your coffee, Habitual focuses solely on one—the AeroPress method, which uses a plunger to extract the natural flavors of coffee while keeping bitterness to a minimum. They've even developed their own way of making cold brew, a refreshing drink served black, white, with mint, or in their unique Old Habits Die Hard mix. In fact, they've made such a science of brewing with AeroPress that their cofounder Kaye Ong was named the 2015 Philippine AeroPress Champion and will be competing internationally. Like the other places on this list, Habitual also serves sandwiches, pastries, cocktails, and teas—all of which you can enjoy among the interesting artsy products of the Edition Lifestyle Store.
Find Habitual Coffee inside the Edition Lifestyle Store at Ortigas Home Depot, Doña Julia Vargas Ave., Ortigas, Pasig City
6. Toby's Estate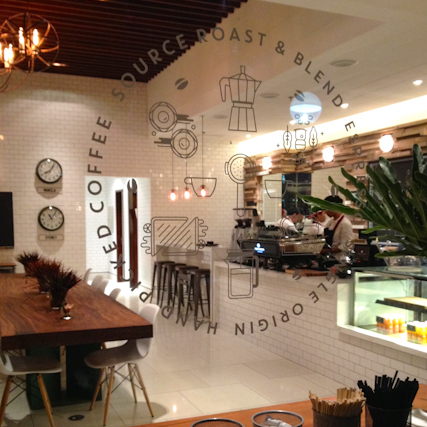 Australia has long been known for its rocking third-wave coffee scene, and we get to experience a taste of that in the Aussie chain Toby's Estate. Although it's only been in the country for a little over a year, already, it has five branches—two of which offering a substantial food menu—and there are more in the pipeline for 2015! One must-try that you won't find on the menu is their velvety Gibraltar, and we're all raves for their cappuccino and mocha (with chocolate from Ghana) too. Of course, they've got a Slow Bar for your pour-over coffee fix. Also check out their desserts and meals, which are delicious and filling if a bit expensive.
Find Toby's Estate at:
3rd Floor, Century City Mall, Kalayaan Ave. corner Salamanca St., Makati
V Corporate Center, LP Leviste St., Salcedo Village, Makati (full café)
G/F Ecotower, 32nd St. cor. 9th Ave., Bonifacio Global City, Taguig
3rd Floor, SM Aura Premier, McKinley Parkway and C5 Road cor. 26th St., Bonifacio Global City, Taguig
G/F Robinson's Cybergate Beta Bldg., Ruby Road, Ortigas, Pasig City (full café)
Marian Bartolome
Marian is an interior designer turned freelance writer who loves exploring the world on her feet and through her Kindle. Her favorite things to write about? Travel, lifestyle, coffee, and happily ever afters.