Marian Bartolome
Marian is an interior designer turned freelance writer who loves…
With the heat of the summer sun beating down on us, there's no better place to be than in the refreshing depths of the sea or in the pleasant climes of an air-conditioned room. Unfortunately, we can't all just up and leave for the beach on a whim, but if it's a cool haven that you're looking for, there's always a mall within reach in Metro Manila. Shangri-La Plaza does one better by offering not just a temporary escape from the warm weather, but also an exciting lineup of activities to keep you entertained.
Switch up your usual mall routine of dining, watching a movie, and window shopping by dropping by these events at The Shang. What's awesome is that these can be enjoyed solo, with family, or with friends!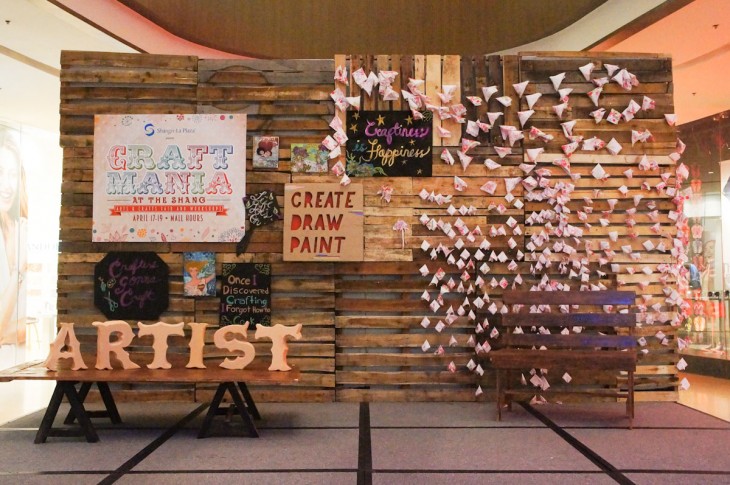 1. Craft Mania
Ever thought of trying your hand at arts and crafts but never finding the time, money, or energy to do so? Maybe you've been following different creatives on Pinterest and Instagram, and you want to learn more about their artistry. Well, Craft Mania at the Shang is right up your alley.

Arts and crafts shops
From April 17 to 19, various brand names in arts and crafts gather on the Lower Ground Level of the East Wing. You'll be able to find calligraphy supplies from Scribe Writing Essentials, unique DIY gift cards and wrapping solutions from Tie Me Up Buttercup, curated books and magazines from Powerbooks, and more—all in one place!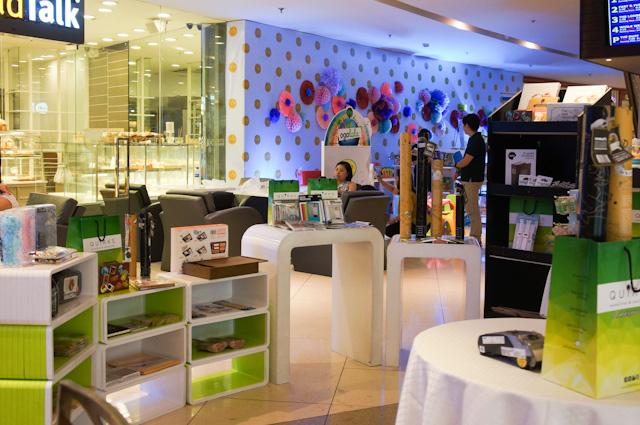 Gift and toy stores
Pick up a special gift for your loved ones or for yourself from Quirks—we love that awesome scratch map and journal! You'll also find interesting toys from Build City and Hobbes & Landes.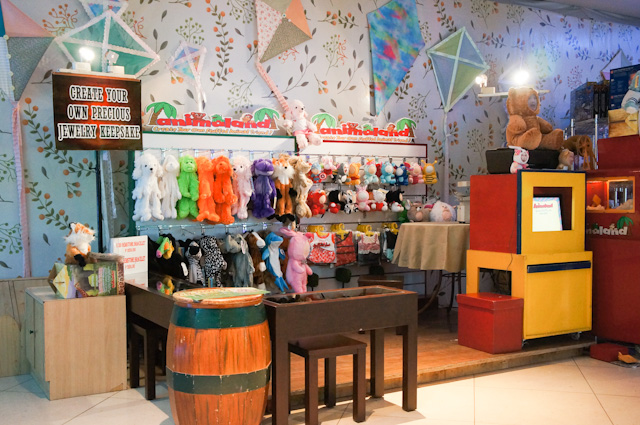 There's plenty to keep kids wide-eyed and happy too, with fun—and for some, even customizable—toys on display from Justice, Ogalala, and Toys 'R' Us. Also, Powerville has set up some games for them to enjoy while the grownups look around.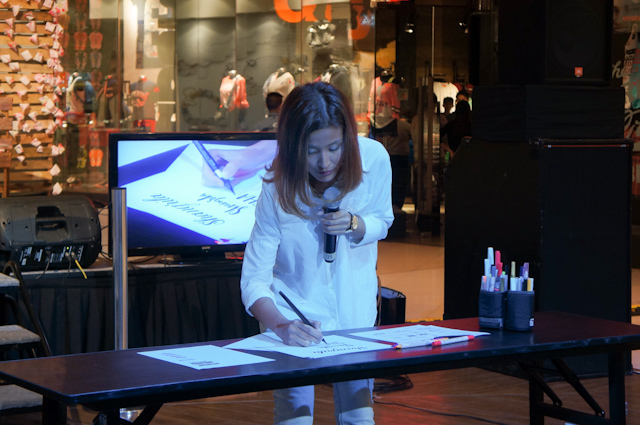 Workshops and demo classes
For the aspiring craftswomen and art lovers, The Shang has put together several workshops and demo classes that you can attend at the East Atrium. Ever Camua, Anina Rubio, and Fozzy Dayrit will show you how to work your own calligraphy magic, while Alex Esguerra will talk about the art of typography. There will also be sessions on DIY card making, doodling, and basic sketching courtesy of Stabilo, plus a Polymer Sculpey Workshop care of Build City.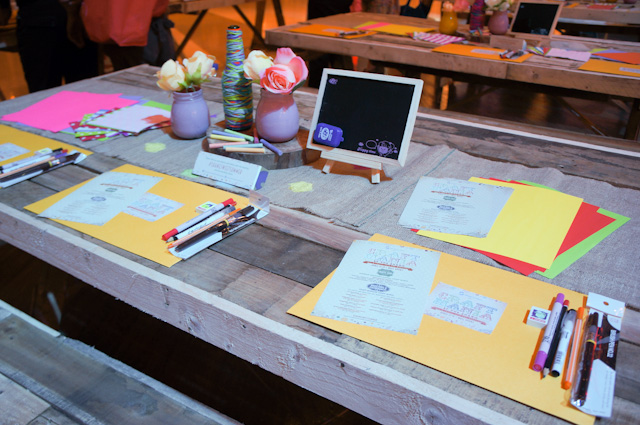 The best thing about these classes is that they're free—and inclusive of materials, too! So make sure to come early and stake out a workstation!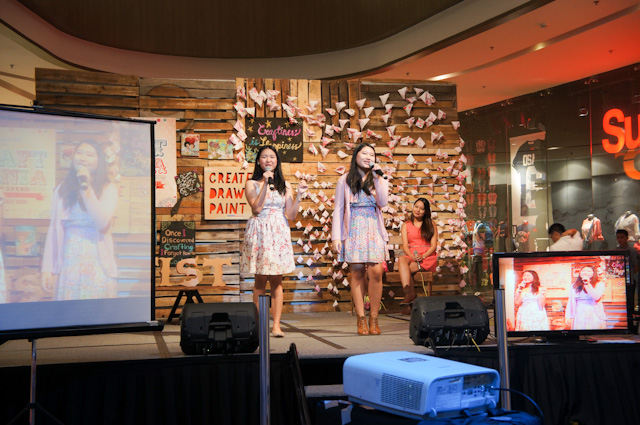 Free performances
To add even more color and energy to the fair, Trumpets Musicademy will stage a Princess Diva Musical Performance on April 18 at 6 PM. The following afternoon, JNA Dance Studio will treat mall-goers to a special ballet performance. Read all the way to the end of this article for this weekend's schedule of events at the East Atrium.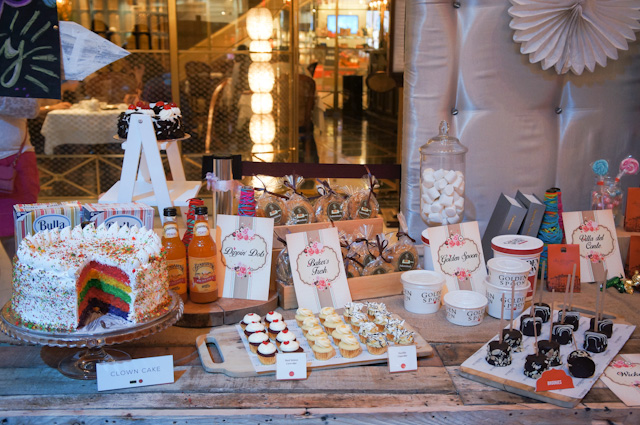 2. Desserts Fair
The Shang gets even sweeter with their Dessert Fair running from April 24 to 26 at the East Wing's Lower Ground Level. You won't want to miss the decadent treats in store for you from Baker's Fresh, Dippin' Dots, Epicurious, Gelatissimo, Golden Spoon, Poetry & Prose, Red Ribbon, Villa Del Conte, and Wicked.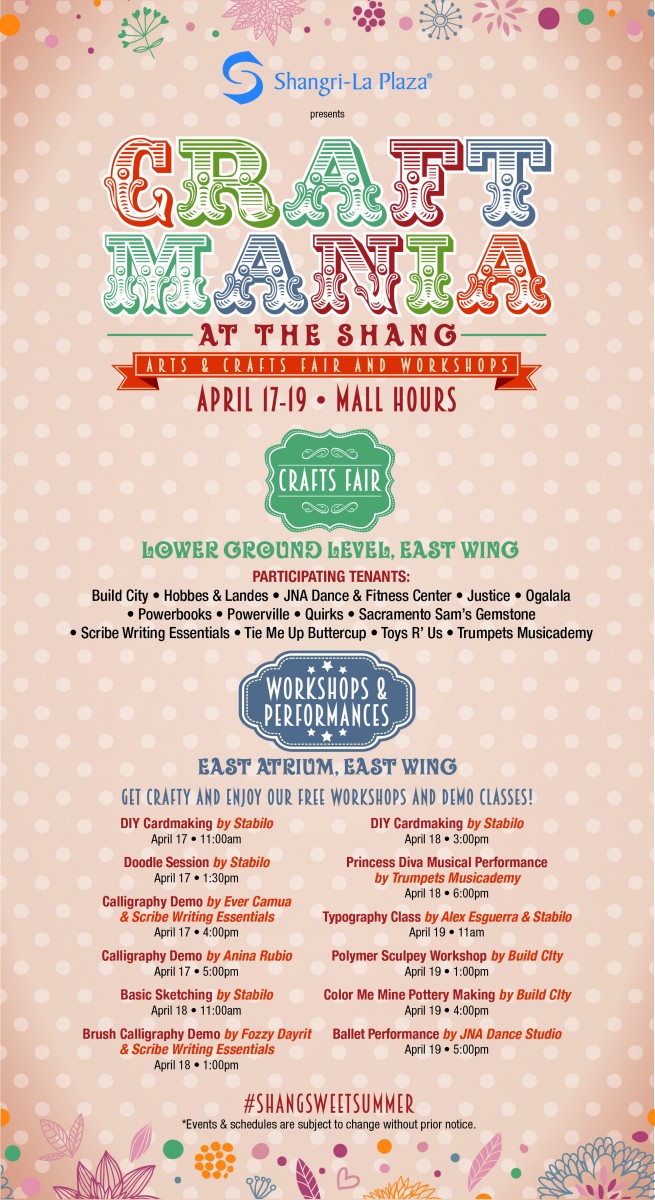 To find out more about The Shang and their events, like their Facebook page and follow them on Instagram. Don't forget to use #shangsweetsummer when tagging your photos!
Marian Bartolome
Marian is an interior designer turned freelance writer who loves exploring the world on her feet and through her Kindle. Her favorite things to write about? Travel, lifestyle, coffee, and happily ever afters.