Jules Ruizol
Jules' main passion lies in performing, whether it's singing, dancing,…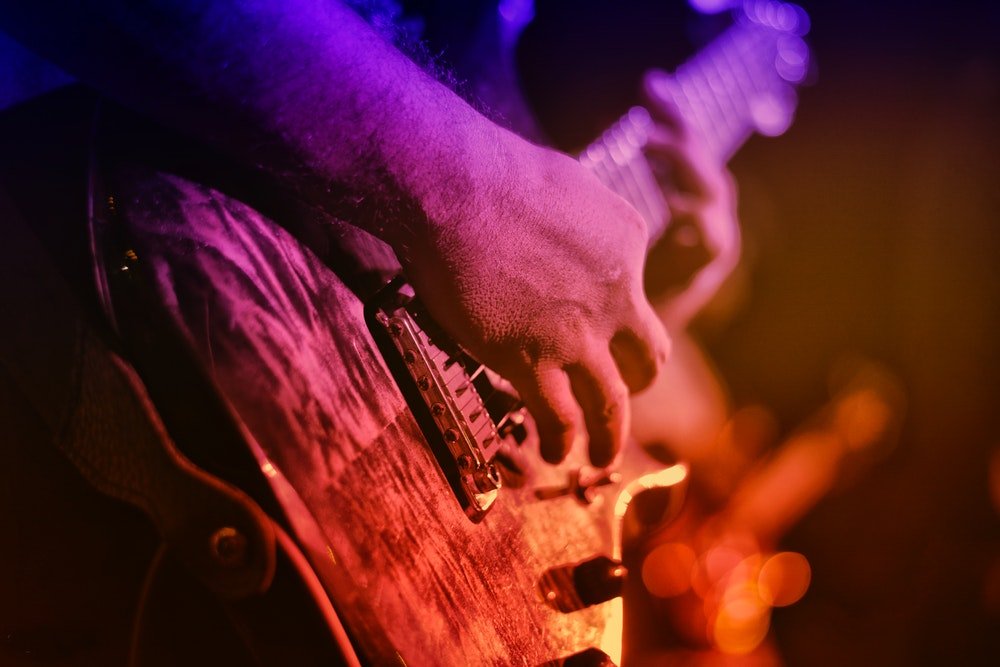 Bars, music lounges, and other party hubs are starting early on year-end celebrations. If you're following local clubs on social media, you have definitely seen posters and event notifications for their respective year-end/Christmas gigs.
Here are my personal picks of places to be before January arrives. I've provided links to their Facebook event pages, so you can RSVP and tell your friends.
An Introduction to Local Indie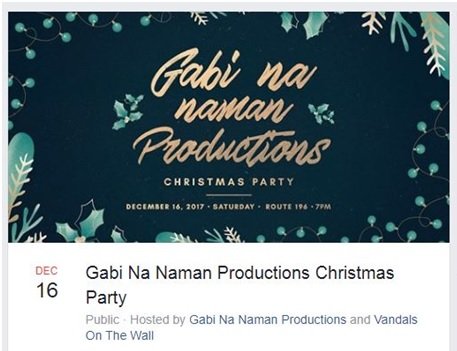 Gabi Na Naman Productions' Christmas Party
WHEN: Dec. 16, Saturday 8PM
WHERE: Route 196, Katipunan Ave., Quezon City
ENTRANCE: P250 before 9PM, P300 for 9PM onwards
The Saturday gig features a line-up of household names in the local indie scene including Autotelic, Taken By Cars, The Ransom Collective, and Oh, Flamingo! The bands are set to serenade the audience with their covers of Christmas songs along with their original music.
Organizers of the event will be giving away a few goodies to lucky attendees. A huge part of the gig's proceeds will also be used for a kiddie party for Safe Haven Community Center & Children's Home. Now talk about partying for a cause!
If You're Feeling a Little Artsy
Sining Collective Presents: Hiraya (Sana/Nasa)
WHEN: Dec. 16, Saturday 4 PM
WHERE: Kahuna Makati, Jupiter St.
ENTRANCE: P250 with free drink
Sining Collective presents an artsy year-end experience with a night of music, art, film, and spoken word. The music lineup features an eclectic mix of artists including Flying Ipis, Tanya Markova, sleepersecond, and Run Like Lions. Spoken word performances will be presented by the BAON Collective and Tadhana.
Meanwhile, the art exhibit will be displaying works by Borgy Alvarez, Zel Tribiana, and Mayel Tapic to name a few. There will also be live tattoo art sessions by Good Hand Tattoo. A bunch of short films by aspiring and independent filmmakers will also be shown at the event.
BONUS: Party Like It's the Last Day of the Year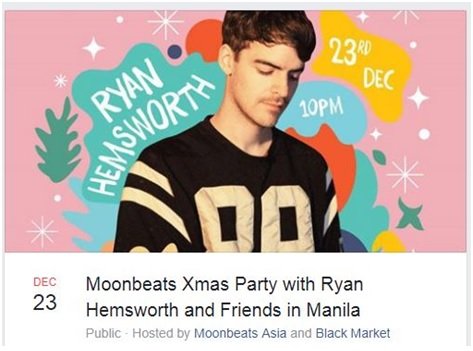 Moonbeats Xmas Party with Ryan Hemsworth and Friends (18+)
WHEN: Dec. 23, Saturday 10PM
WHERE: Black Market, Makati City
ENTRANCE: Early bird – P750
Before 10PM – P1200, after 10PM – P1500
You can say this is cheating but this is a local event…and Ryan Hemsworth is not mainstream, right? Right? But I'm putting this here for all the ladies out there who are really looking forward to party away — and to good music.
If you don't know who Ryan Hemsworth is, he's a Canadian electronic and hip-hop producer who has worked with artists like Flume, Tinashe, Tory Lanez, and Mitski. His signature marimba sounds, samples, and vocal chops have gained the attention of critics from Pitchfork and New York Times. Hemsworth is touring Asia for the entire month of December with Manila as his last stop.
The rest of the lineup is yet to be revealed, but I have my fingers crossed hoping for some of my local electronic faves to perform.
So, these are only a few year-end destinations that you can go to before spending the real celebration with your family. Let us know if we missed out on any events, and tell us which party you're going to.
Jules Ruizol
Jules' main passion lies in performing, whether it's singing, dancing, or acting. Her music preference ranges from obscure indie bands to addictive KPop acts. She balances being girly and geeky with her obsession with makeup and tabletop games. Wes Anderson is the only director that matters.