Sherna Tesara
Sherna loves books and Taylor Swift. She can often be…
[video src="https://www.instagram.com/p/B0Ri-y6J1Vm/"][video src="https://www.instagram.com/p/B067dUcDkqz/"][video src="https://www.instagram.com/p/B1NiHPNjIKH/"][video src="https://www.instagram.com/p/B1hDVgrDNOl/"]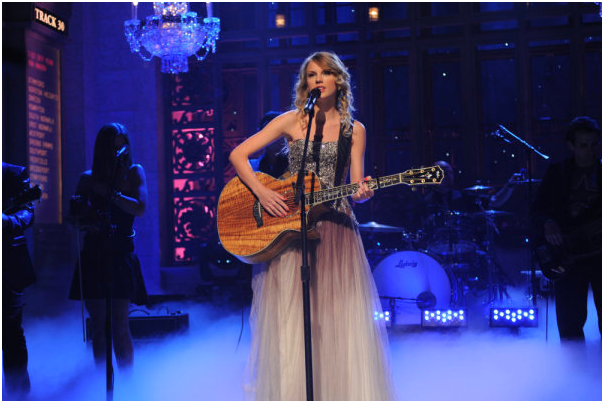 When I first heard Taylor Swift on the radio, I didn't like her.
It was 2009, and "Love Story" just dethroned "Fall for You" by Secondhand Serenade from the #1 spot on a radio station's chart. I thought, who's this girl stealing the top spot from my favorite? Then, I saw the "Love Story" music video on MYX and promptly fell in love.
Ten years and five more albums later, here I am: still reeling a week and a half after she released her seventh studio album, and the first one she solely owns, "Lover."
In celebration of my decade-long love for Taylor Swift and the release of her latest body of work, I've ranked each track on "Lover." That is to say, I'm going to gush about every single song on this 18-track album in the guise of ranking them.
18: It's Nice to Have a Friend
It's nice to have a friend ? pic.twitter.com/QBPkP1fXnY

— Taylor Swift (@taylorswift13) August 29, 2019
This song sounds like it could be a part of a movie soundtrack: a horror flick involving a blank-faced child who's actually possessed and is after you. Seriously, though, it sounds creepy and doesn't feel like it belongs in the album at all.
Still, I wouldn't skip it because Taylor sampled a recording from a children's choir and royalties will go to the children's not-for-profit school in Canada providing subsidized music education.
17: ME! (featuring Brendon Urie)
"ME!" isn't a bad song, per se. It's a banger that could lift your spirits in no time. It's a song you dance to as though no one's watching. Plus, Brendon Urie's voice is a blessing. This is low on my rankings simply because I've been hearing this earworm of a song since April, and I'm tired of it.
16: You Need to Calm Down
"You Need to Calm Down" is the second single off of "Lover" following "ME!". It's a fun, uplifting song that sees Taylor clapping back at all kinds of negative people. Whether it be online trolls who tell her that she looks "like a weasel that got hit by a truck and stitched back together by a drunk taxidermist" or sign-wielding anti-LGBTQ protesters, she tells them all to just be calm.
15: I Forgot That You Existed
The opening track of Taylor's seventh studio album may not have been the strongest one she's ever had (that distinction belongs to State of Grace from the "Red" album), but it's the most effective. Here, she shrugs off all the negativity and dark vibes from the past few years. It's a perfect transition from the "reputation" era to now.
14: False God
A song that sounds more like it belongs in a "Fifty Shades" movie soundtrack, "False God" is a mid-tempo tune that uses some heavy religious imagery to portray a sexy relationship. I mean, how else should I describe a song with the lyrics, "religion's in your lips" and "the altar is my hips?"
13: The Archer
In the world of Taylor Swift, there's something called "The Track 5 Theory." Over the years, fans have noticed that the pop superstar unintentionally puts her most vulnerable and emotional songs as the fifth track in her albums. Songs like "Dear John," "Delicate," and the acclaimed ballad "All Too Well" are all Track 5s.
In "The Archer" Taylor continues the made-up tradition. It's a song that lets us see a version of the singer we rarely get to see: someone who admits to making mistakes instead of blaming others, and someone who, despite her stardom, is still insecure. "Who could ever leave me darling / But who could stay?" she sings.
12: I Think He Knows
What's more fun than the beginnings of love? Taylor Swift singing about the beginnings of love. She does that in "I Think He Knows" an upbeat tune with lyrics that point heavily to the singer crushing hard on this lucky guy. Fortunately, she doesn't have to confess because…"I think he knows."
11: London Boy
This song cannot be mistaken for anything other than an ode to Taylor Swift's boyfriend, English actor Joe Alwyn. In this up-tempo track, the songstress takes listeners around London, on a trip to her hideaways when she was out of the public spotlight and in the arms of her love.
Overall, this is a fun, catchy song, especially if you're like Taylor who sometimes cannot help but declare, "God, I love the English."
10: The Man
"I'm so sick of running as fast as I can / Wondering if I'd get there quicker if I was a man," sings Taylor Swift in a deeper-than-normal voice, echoing the sentiment of likely all career women.
It's an important song for every person, not just women, to listen to because it makes you think: if a global superstar isn't immune to the effects of sexism in society, what more for other ordinary working women?
9: Soon You'll Get Better (featuring The Dixie Chicks)
Loved being a part of this project. Lover is out now, give it a listen! – DCX @taylorswift13 pic.twitter.com/adbdKAu5t2

— Dixie Chicks (@dixiechicks) August 23, 2019
"Soon You'll Get Better" is another vulnerable and heartfelt track, one that the entire Swift family decided to put on this album.
The stripped-down ballad makes it easy to hear Taylor's soft voice and one shaky exhale as she sings about her mom Andrea's battle with cancer. Backed by the Dixie Chicks, Andrea Swift's favorite artist, it's a song that's difficult to rank because it's exquisitely beautiful and painful to hear at the same time.
8: Daylight
Probably the best closing song to any of her albums, Daylight is an ethereal song about Taylor being in a much happier place, both in her own head and in her love life.
7: Afterglow
Afterglow is a song that fully embraces and recognizes making mistakes. Taylor Swift sings, "It's all me in my head / I'm the one who burned us down." Apart from that, she apologizes before it's too late because she's aware that what she has with that person is worth the fight.
6: Death by a Thousand Cuts
If you've been binge-watching movies and TV series on Netflix but still haven't seen "Someone Great," you should. After all, that movie inspired Taylor to write this song. In a surreal coincidence, the woman who wrote the film was inspired by "Clean" off of Taylor's "1989" album.
It's an upbeat song, something you might even find yourself bopping to. But the upbeat music masks the sad lyrics of a person reminiscing about lost love. The tongue twister of a bridge perfectly captures what it's like to try to move on, especially when everything you love doing seems to be overshadowed by memories of you doing it with your ex. Hence, the song title.
5: Miss Americana & the Heartbreak Prince
And I'll never let you GO cause I know this is a FIGHT that someday we're gonna WIN ? pic.twitter.com/iODaImf5iy

— Taylor Swift (@taylorswift13) August 29, 2019
When she released the tracklist, a lot of us fans were admittedly skeptical. The title sounds…unique. But the newly politically-vocal Taylor delivered when it came to the songwriting. In Miss Americana, she talks about disillusionment, singing, "American glory / Faded before me / Now I'm feeling hopeless / Ripped up my prom dress."
4: Paper Rings
"Paper Rings" sounds like it could be a soundtrack to an '80s John Hughes film. Here, Taylor reiterates her newfound appreciation for being inconspicuous, saying she'd happily marry her beau with paper rings despite loving all-things sparkly and glamorous.
It's an upbeat and catchy song, something you'd imagine yourself rocking out to. Or maybe that's just me when I'm home alone.
3: Lover
This might soon replace Ed Sheeran's "Perfect" as the wedding song. Backed by soft guitar strums and Taylor's breathy voice, "Lover" is the slow-paced title track that celebrates love in its different stages: from a hopeful beginning to the feeling of forever.
2: Cornelia Street
This song is one of the best because it's raw and honest and relatable. She sings about never being able to go back to a place that housed so many memories if her relationship runs its course and the person she loves leaves.
One of the album's most powerful moments came when the production in "Cornelia Street" dropped and it's just Taylor singing mournfully and hopefully, "I hope I never lose you / I'd never walk Cornelia Street again / Never again."
1: Cruel Summer
Co-written with St. Vincent and long-time collaborator Jack Antonoff, "Cruel Summer" is a moody, synth-driven song that paints a vivid picture of what seems to be a roller coaster ride of a summer.
"I don't wanna keep secrets just to keep you!" she laments in the banger of a bridge. From crying home from the bar to sneaking in through garden gates, "Cruel Summer" shines the spotlight on the Taylor Swift I fell in love with, an extremely narrative songwriter.
Admittedly, it was difficult to rank these tracks, especially because today I might think my favorite is this one song, but the next, it'll be another one entirely. I discover something new about each song every day and some of them get better with every listen.
Whenever I listen to these songs, I'm reminded of Taylor describing "Lover" as an album  she deems as a "love letter to love." She couldn't have described it any better.
Sherna Tesara
Sherna loves books and Taylor Swift. She can often be found talking about both on Twitter or trying to manage her three dogs.