Kallie Moreno
Kallie is just a little weird and doesn't like sunlight…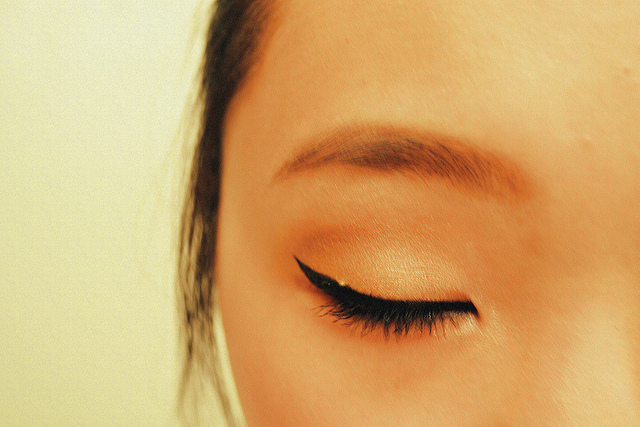 I love makeup, and I love wearing it. What I don't like is the amount of time I spend putting it on. If you are a kikay girl, but also kind of lazy like me, you want your makeup routine to be as short possible. Sure, I can choose to just skip it altogether, but for me, face powder and tinted lip balm is not enough – I want to look a bit more made up than that.
I like the transformative power of makeup. Not only do I feel like I look a bit more put-together (even if I am sorely lacking sleep), it also is a great way to for me to express my moods.
For my everyday makeup, I don't spend more than five minutes in the mornings slathering it on. To save time, I don't apply a full face. I limit it to just a handful of products – after all, the more products you use, the more time you spend on it.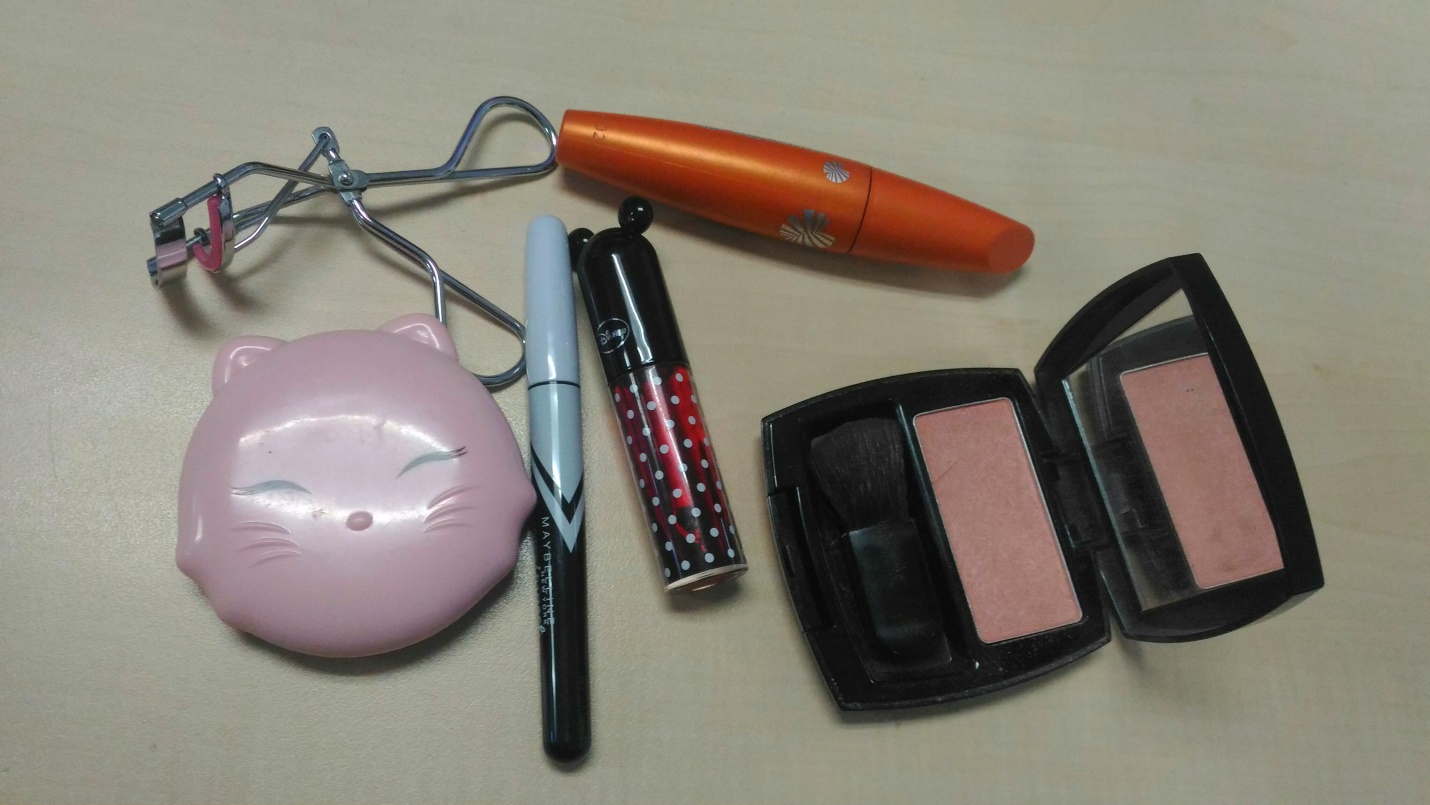 Just for comparison, when I do put on a full face for special occasions, say, when I am attending a wedding, I spend more than two hours on my makeup and use over 15 different products to achieve the look I am going for. I don't need that kind of aggravation every day, so I tend to stick to quick, simple looks.
So what kind of looks can you achieve in just five minutes? Here are five, five-minute make up looks for you try out yourself. I even timed myself to prove that it's possible!
Look 1: Basic No-Makeup Makeup Look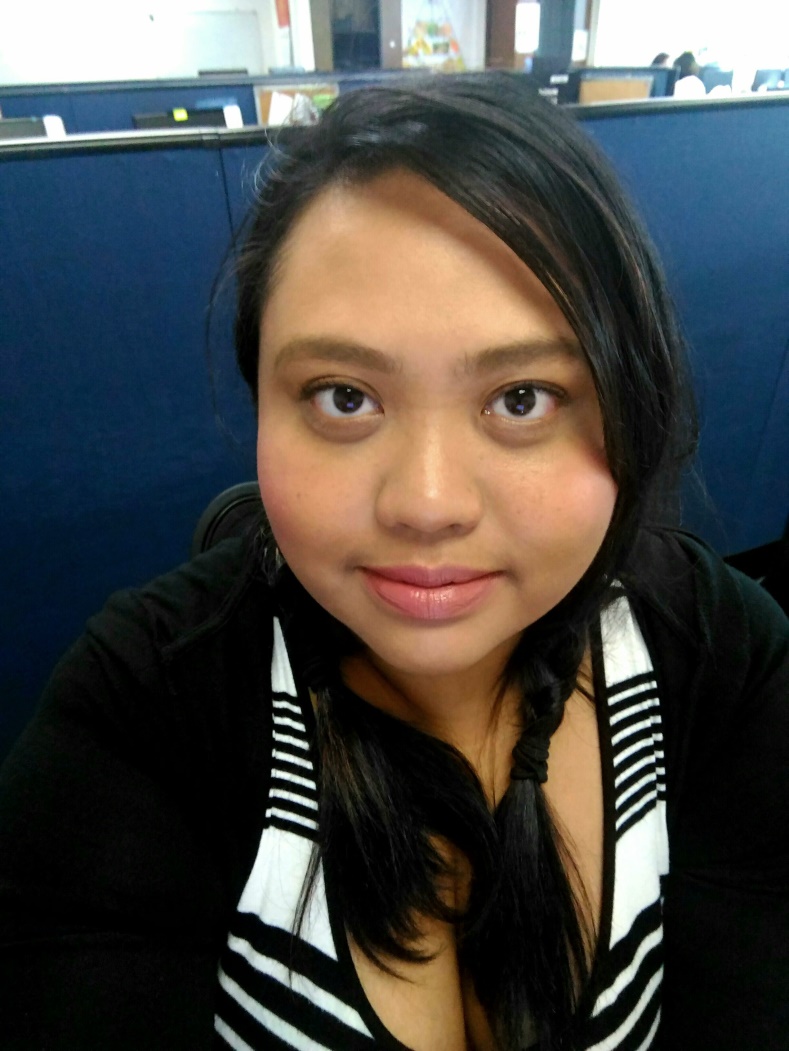 Time: 5 minutes, 55 seconds
Products used: Avon BB Cream, Covergirl Mascara, Maybelline Fashion Brow Duo Shaper, Avon Blush, Nyx Round Lipstick in Milan
Okay, so this basic, no-makeup makeup look almost took me six minutes, but that's because I'm not used to wearing BB cream and blending it in.
I usually don't bother with concealer because I am one of the few lucky ones who don't get a lot of pimples. However, I wanted to show a look that does offer a bit more coverage than my usual makeup.
I find that a great time saving product to use here is BB cream – it is not as heavy as foundation, but it offers just enough coverage that you can use it as a concealer, too. Here, I put BB cream on my fingers, then applied it to underneath my eye bags to hide dark circles. I also added little bit on some of my spots.
After blending it in, I applied a somewhat thinner layer of the BB cream all over my face using a sponge.
Then, I applied a swipe of mascara, some blush, and topped it off with an MLBB lipstick. "MLBB" in beautyspeak means "My Lips But Better" and is crucial to the no-makeup makeup look. It is a lipstick that is close to the color of your natural lips, but more vibrant. Here, I used a Nyx lipstick in the shade Milan, which is a dusty rose color.
Look 2: Classic Red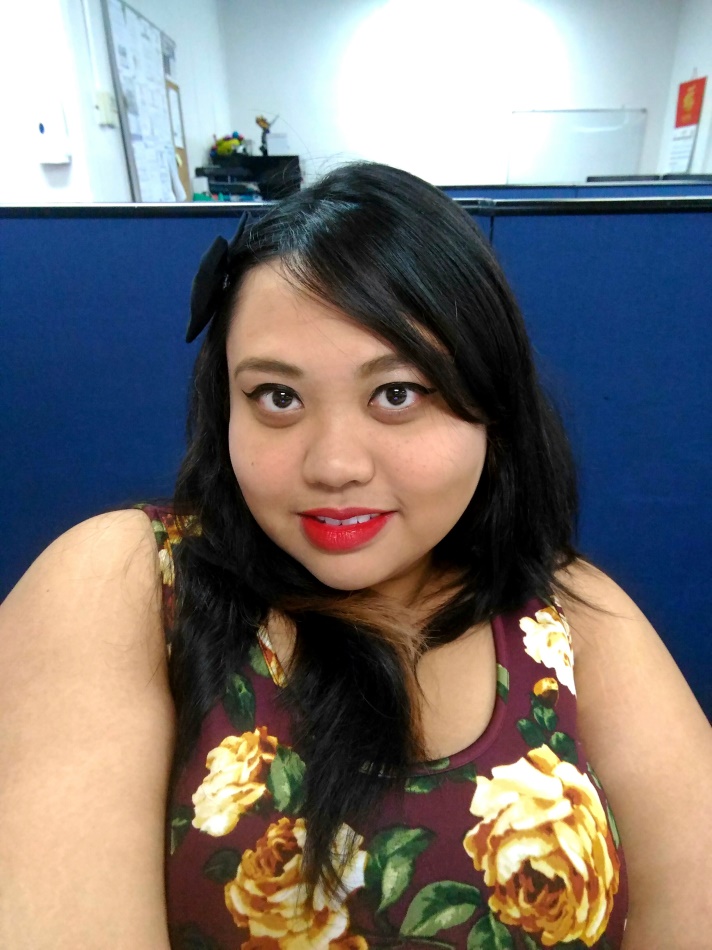 Time: 4 minutes, 36 seconds
Products used: Face Shop Watery Tint in Red, Maybelline Hyper Impact Liquid Liner, Maybelline Fashion Brow Duo Shaper, TonyMoly Cats Wink Clear Pact
A classic red lip is my go-to everyday look, which is one of the reasons I can do this one in under five minutes.  I can already here you saying "But how? I spend 10 minutes on one wing alone!"
Not to brag, but I can do a liquid winged cat eye liner in just one minute, but not because I have any special skills or anything – I have a trick for it, which I will share with you right now: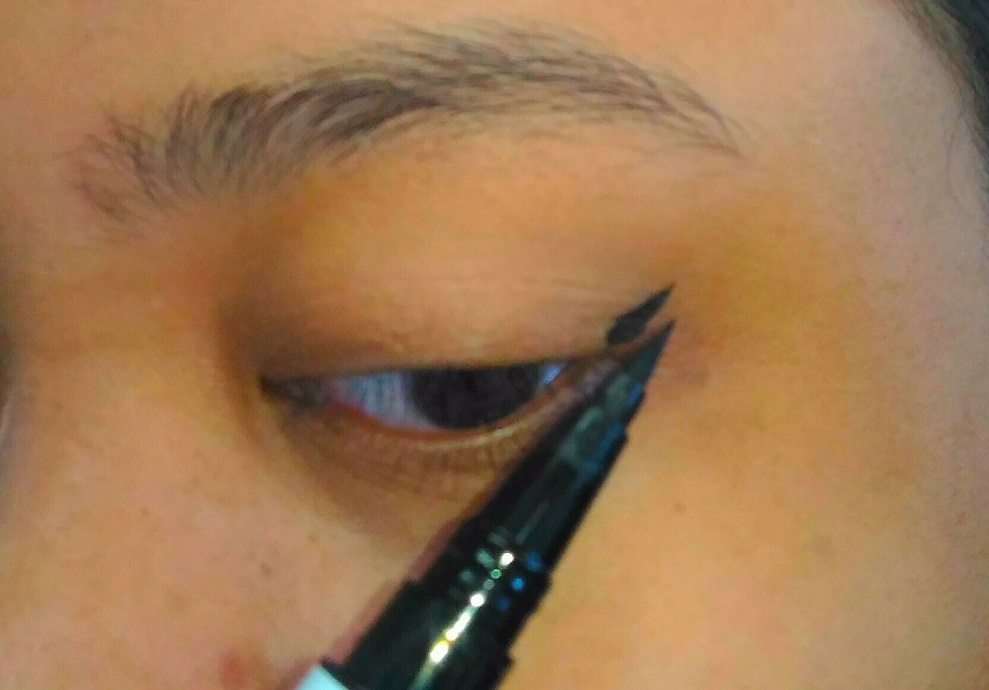 Just use your eyeliner pen as a stamp!
This is a quick eyeliner hack I actually learned off YouTube some time ago. All you need is a liquid eyeliner pen. First, you angle the tip to line up with your lower eyelid, and then stamp it on using the sides of the tip. Secondly, you just line your eyes as you normally would.  Make sure you do the same on the other eye, and you will have perfect matching wings every time.
Be sure that you use pigmented eyeliner with a pointed tip to get a clean, sharp wing. Here, I used Maybelline Hyper Impact, which has a firm brush tip that is perfect for stamping on a wing.
As for the red lip, I use a bright red tint like Face Shop's Watery Tint. I like that it gives me a totally glam, red lip, but is a bit more forgiving than regular red lipsticks. I don't have to worry about lip liners or feathering.
As for the face, I usually skip foundation because I don't like how heavy it is on the skin, and skip the blush, too — this look already has strong lips and eyeliner, so adding blush tends to look overdone to me. I also skip the mascara, because I feel like you can't see it anyway because of the thick eyeliner.
Look 3: Pop of Pink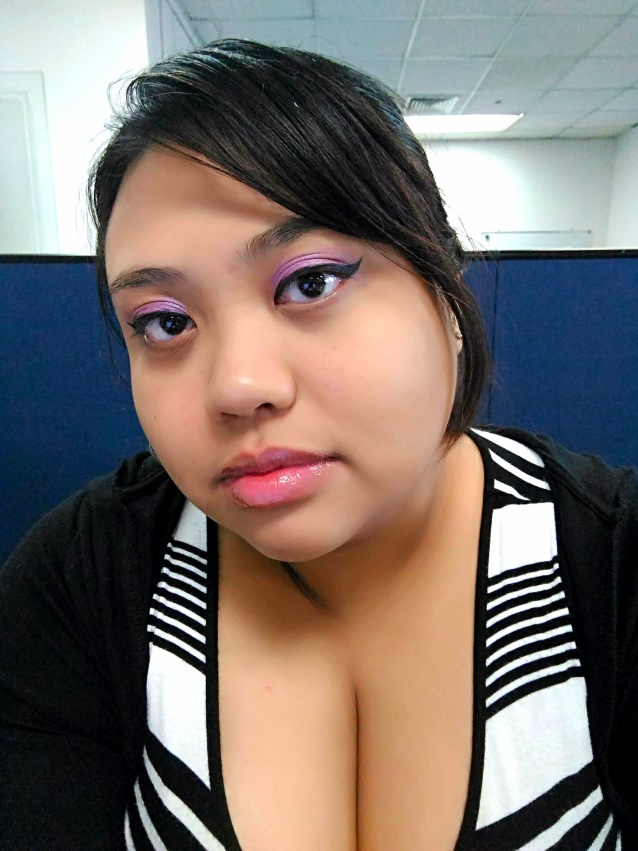 Time: 4 minutes, 40 seconds
Products used: Maybelline Hyper Impact Liquid Liner, TonyMoly Cats Wink Clear Pact, Etude House Dear My Milky Gloss, Dollface Cosmetics palette.
This look is similar to my red lippie look, but instead of filling in my eyebrows, I colored in my eyes instead. I picked a pink, frosted eyeshadow and packed it onto my lid, then used a blending brush to blend it out onto my crease. I applied some matte nude eyeshadow to my brow bone as a subtle highlight.
I finished it off with a pink lip gloss. If you still have trouble with your eyeliner, you can skip the wing for this look and just use a black liner pencil instead.
You can also try this look with other eyeshadow colors and in different finishes – why not try a matte brown or a metallic gold instead of pink?
Look 4: Basic Evening Look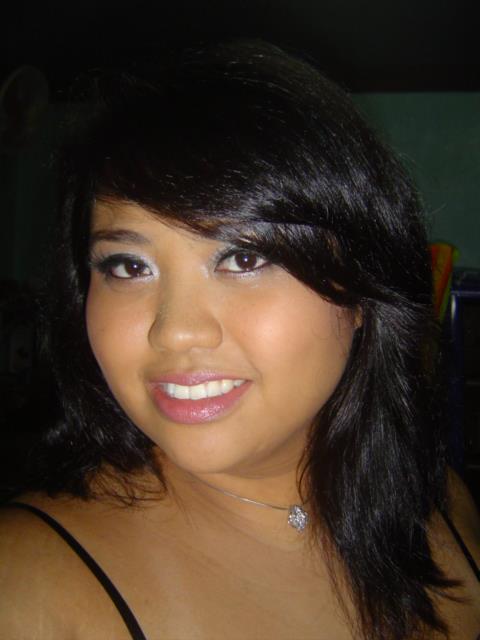 Time: 5 minutes, 22 seconds
Products used: Smashbox Sheer Focus Tinted Moisturizer, Urban Decay Eyeshadow in Vorpal, Urban Decay 24/7 Glide-on Eyeliner in Perversion, Nyx Round Lipstick in Doll, Lancome Blush Subtil Duo
I watched a show over the weekend, so I took out some of my better makeup to create a quick five minute look using mostly silver eyeshadow. I used silver eyeshadow all over my lid and under my lower lashline, then blended it out with a fluffy blush.
You can't see it that well here because I have hooded eyes, and the shadow just hides away in my crease. If you have more lid space, you don't have to blend it out all the way into the crease.
After blending my eyeshadow, I lined my eyes with a very black, waterproof eyeliner, making sure to smudge the edges for a subtle smoky look.
For the face, I just slapped on some tinted moisturizer and a cream blush which I applied using my fingers. Even for an evening look, this was quick and easy to do!
Just a disclaimer though: I later on decided to put on some false lashes for this look, so it is not included in the overall time. The falsies took maybe another two minutes as you needed to let the eyelash glue partially dry first.
Look 5: One-Color Smokey Eye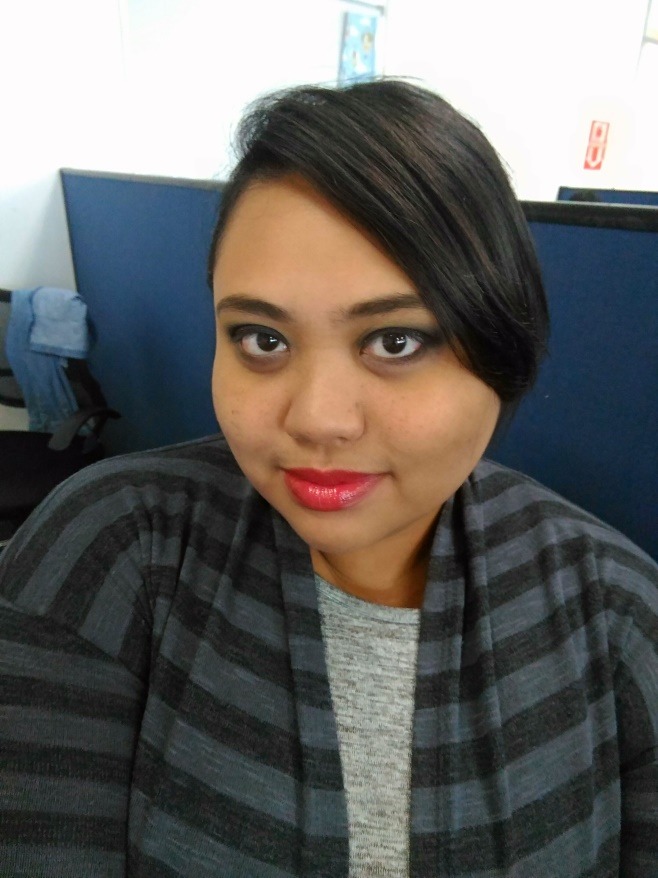 Time: 5 minutes, 42 seconds
Products used: Urban Decay Primer Potion, Face Shop Oil Clear Blotting Pact, Avon Ultra Glazewear in Fiery Red, Sugarpill Loose Eyeshadow in Stella, Elanna Minerals Powder Foundation
For this last look, I wanted something a bit edgier, so I decided to go full blown The Pretty Reckless (circa 2010) with black smoky eyes and red lip gloss.
I used an oil blotting powder because I wanted to make sure that none of the black shadow sticks to my face in case there is some fallout. Black eyeshadow is an unforgiving mistress, so I strongly suggest that you use the best black eyeshadow that you can find to make your life a little easier.
I used Stella by Sugarpill, because it blends like a dream and has some real lasting power. It is so dark and stays on so well that I can even use it as an eyeliner and brow powder, which is what I did here.
I applied an eyeshadow primer so that the loose pigment sticks better. Then, I used a dense eyeshadow brush, making sure to tap off the excess, and pack it into my eyelid. I blended it out into my crease and used a smaller brush to pull some of the excess shadow into my lower lashline.
To save time on blending dark eyeshadow for a smoky eye, use this tip I learned from Twitter: take some powder foundation or an eyeshadow close to your natural skin color, and apply it around the edges of your shadow. This will soften the edges and help you blend them out without it looking muddled and patchy.
Since the eyeshadow was so black, I used it as a brow powder, too. I took some of the leftover eyeshadow on my brush to define my eyebrows (don't use the full color as it will look too dark.)
I wore this look the whole day and it didn't budge because of the quality of my eyeshadow. This is great look for when you're headed out to a rock concert after work.
And there you have it! Five, five-minute makeup tips for the lazy girl who still likes looking glam. Do you have your own time-saving makeup tips yourself? Share them in the comments below!
Kallie Moreno
Kallie is just a little weird and doesn't like sunlight very much. She subsists on tea and fancy lip balms.