Mai Porras
Pint-sized Pinay. Writer by day, mermaid by night. Loves coffee,…
[video src="https://www.instagram.com/p/BhO8rwyhxXD/?taken-by=lizasoberano"][video src="https://www.instagram.com/p/Bg5Sn2Fg726/?hl=en&taken-by=bernardokath"][video src="https://www.instagram.com/p/BhT4BY4hYEo/?taken-by=nadine"][video src="https://www.instagram.com/p/BhN8edZgvCQ/?taken-by=whianwamos"][video src="https://www.instagram.com/p/BgvyNCQDa0W/?taken-by=wilsonmaggie"][video src="https://www.instagram.com/p/BhOOcprDIUH/?taken-by=wilsonmaggie"][video src="https://www.instagram.com/p/BbavVJRlEOE/?taken-by=catriona_gray"][video src="https://www.instagram.com/p/BhGx5BilzIJ/?taken-by=belapadilla"][video src="https://www.instagram.com/p/BhDqfxWDFRV/?taken-by=elissejosonn"][video src="https://www.instagram.com/p/BfO60VHFlIt/?taken-by=solenn"][video src="https://www.instagram.com/p/BgQE2uwAXNN/?taken-by=binibiningnicolecordoves"][video src="https://www.instagram.com/p/BhIjSpIhvkN/?taken-by=rachelpetersx"]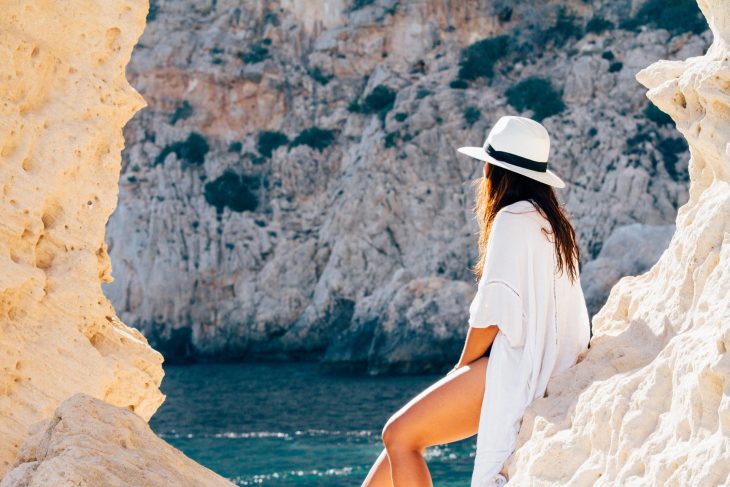 The long, sunny days filled with sand, surf, and cocktail drinks are here, and just like you, we're nothing short of elated!
We know you've got your swimsuit style covered, but cute suits alone won't suffice unless you're spending your entire vacation on the beach. As you're likely to go from the shore to happy hour, finding ensembles that look effortlessly gorgeous both at the beach and at the bar is a must.
To help you nail summer dressing, we've collected beach outfit inspirations from your favorite local celebrities. Keep your style game strong beachside, poolside, or deckside by copping these celeb-inspired ensembles:
1. White is still your most foolproof option for summer. Play up your outfit a bit with statement accessories in fun colors or classic shapes.
Liza's yellow, oversized sunnies spice up her white eyelet dress
Kath's fedora hat and Louis Vuitton sling bag (not to mention BAE DJ Padilla) completes her summer look
2. Layering is not reserved for chilly December evenings. You can wear layers to the beach by choosing pieces in light fabrics and pastel colors.
Naddie looks summer-ready in a layered top and high-waist leaf-print skirt
3. Satin looks good literally everywhere, from the shore to happy hour.
Rhian looks ultra-girly in a satin on satin ensemble
4. Who says tailored clothes look good in the office but not at the beach?
Maggie Wilson gives a structured dress a sexy, summery spin with a plunging neckline
5. Summer is the perfect time for full colors and big skirts! An itsy-bitsy matching bikini amps up the sexy vibe.
Flower power! Maggie Wilson is officially the queen of summer with her winning beach ensemble
6. You can never go wrong with a flowy dress.
Miss Universe 2018 Catriona Gray looks every bit like the queen she is in this flowy number
Nothing spells summer better than Bela's backless, flowy frock
7. Wondering where you can stash your phone, wallet, and other essentials? Bring a fanny pack to the beach. We're not kidding!
Fashionably ready: Elisse Joson keeps her summer essentials in an LV fanny pack
8. Denim can also make the perfect cover up
Pinoy pride! Check out the sarimanok embroidery and batik hood on Solenn's denim jacket
9. Always loved fuchsia but never had the guts to wear it? There's no better time than summer to wear loud colors and outrageous prints.
Nicole Cordoves looks young and vibrant in a hot pink top and pineapple-print skirt
10. It's the little details that make or break your outfit. Some of the most popular accessories that you can take to the beach include rattan bags, unique shades, and statement earrings.
Rachel Peters' bayong tote is a hot summer item
With "celebs-on-vacation" season underway, it's easy to find cues on how to style your beach staples. By looking to your favorite celebrities for some fashion inspiration, this summer may just be your best-dressed yet.
Mai Porras
Pint-sized Pinay. Writer by day, mermaid by night. Loves coffee, elephants, and the old book smell. Adoptive Mom to Churro, Laya, Alab, Chelsea, and Ivory, who all have four legs.