Ana Valenzuela
Ana Valenzuela graduated with a degree in AB Literature from…
Nothing says feminine like a flirty skirt. Ooh-la-la! It gives your legs freedom and more girly oomph than your usual pair of pants.  We've list down some skirt types that will surely amp up your wardrobe. Keep reading to learn more about each style and find out what body types it complements.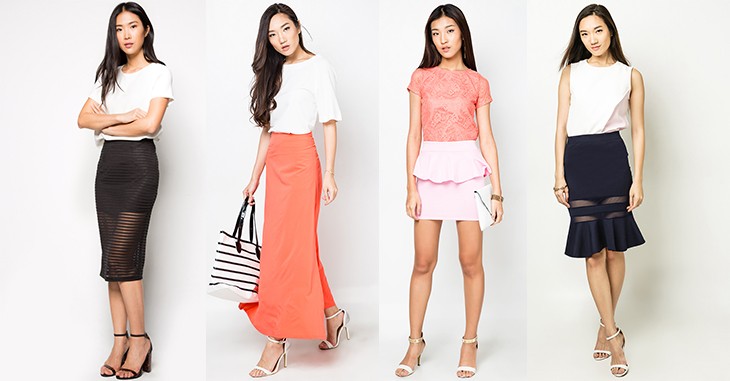 1. A-line skirt
When one thinks of skirts, the A-line silhouette first comes to mind as this is the classic silhouette. It has a bell shape that freely flows from your waist. There are many names and types of A-line skirts—skater, pleated (or that which has been tucked and sewn) and gypsy skirts are some of them. The A-line's form complements any body type. However, if you are an apple, best to go with high-waisted one as that will hit the smallest part of your torso, or your natural waist,  hiding your midsection with the skirt's spreading shape.
2. Pencil cut
Reminiscent of the pencil's narrow cut, this skirt boast of your enviable curves, making it perfect for those with an hourglass or a triangle body frame.
3. Peplum skirt
Peplum skirts makes use of the pencil cut form. This one, however, provides the illusion of fuller hips with a flared ruffle hem. If you have teeny hips—like those of an inverted triangle or rectangle body frame—this overskirt will certainly double your style points.
4. Tulip skirt
The tulip skirt's hemline is likened to two overlapping petals.  It's a great choice if you're busty as the details on the skirt drives attention downward.
[crp]
5. Fit and flared
Look gorgeous with this number, which hugs your waist and legs then flares in the end. This piece easily transitions from work wear to date wear thanks to that suddenly wide hem. Another version is the mermaid skirt, which is floor length and looks like a fish tail.
6. Tiered skirt
Multiple horizontal layers sewn together makes up this skirt type. It's another winner for strawberry and apple shaped as the layers creates the needed balance.
7. Miniskirt
This retro trend remains timeless as girls still rock that above the knee hem. If you're petite, it's best to show off those quads with this type since it gives the illusion of length. If you're pear or an hour glass, avoid tight ones as this will center the attention towards your hips.
8. Asymmetrical
Also known as hi-low hem, this features an uneven or unbalanced hemline. Parade your long legs in this skirt while still maintaining your modesty.
9. Maxi skirt
Still a little shy to show off those gams? Then a maxi skirt will work for you; as the name suggests these are floor-length skirts. For tall girls who are not so curvy, go for flared ones. For petite girls, look your best with slim fit ones.
Skirts are a great option for casual or dress-up wear, given our tropical climate. Whatever the style you like best, though, remember that the key to carrying off any bit of fashion is personality and confidence.
Ana Valenzuela
Ana Valenzuela graduated with a degree in AB Literature from UST. She has written for several media outlets. She is currently taking her Master's from UP.