Pia Rojas
Pia Rojas has been writing about fashion, beauty, and health…
Lipstick lovers know all about the power of color and how it expresses both mood and personal style. A swipe of red on your lips is a powerful and bold statement of confidence, while a layer of pink softens your look for a more youthful appearance. Berries and plums accentuate the creaminess of your skin tone—whether ivory or caramel—and hint at the sultry sophisticate inside, while nudes and browns add a natural polish to your everyday no-makeup look. And as for oranges and corals, these new kids on the lip color block will bring you a warm, fun, and fresh take on old fiery faves for an instant update!
Scroll down and check out our list of 20 luscious lippies that enhance, protect, and nourish lips. We've even grouped them according to color so you can see the newest bunch in your fave shade or experiment with a new hue for a whole new you! After all, a girl can never have too many lipsticks.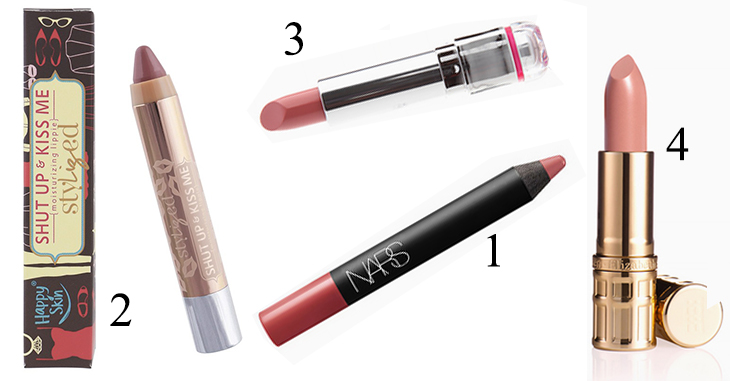 Nudes/Browns
If you love matte lipsticks, try Nars' bestselling jumbo-sized lip crayon with a creamy-matte texture.
This limited-edition nude lippie (inspired by celebrity stylist Liz Uy) is a great everyday lip color to add to your style essentials.
This lipstick comes in a pretty beige-nude and delivers radiant color with Volulip Triple Ceramide treatment for smoother, fuller, and younger-looking lips.
Laneige's bestselling lipstick is a creamy, glossy, pinkish–nude hue that suits fair skin.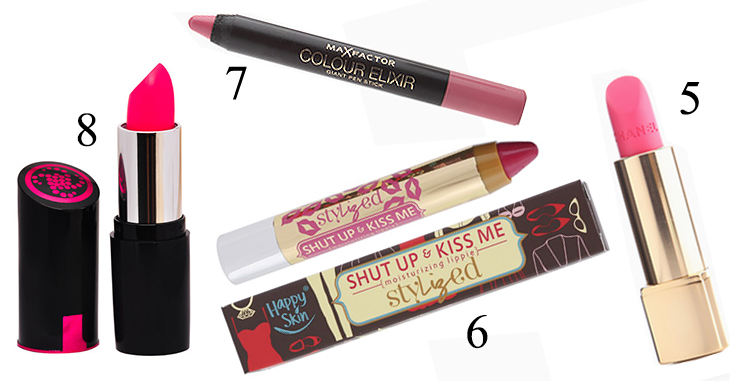 Pinks
This matte lipstick contains built-in moisture so you don't get icky, nasty dry lips. Plus, it's packed with pigments for full coverage and infused with mother-of-pearl particles for a lovely, luminous finish.
This limited edition pink lippie (inspired by celebrity stylist Liz Uy) delivers a lively pop of pink to your lips.
This easy-to-use lip stick lines and fills in lips with pretty poppy pigments.
8. Lasting Colour Lipstick in Pink Shock No.2, now P179.10 (originally P199.00), Collection Cosmetics
Enhances lips with a matte crimson color while protecting with SPF15.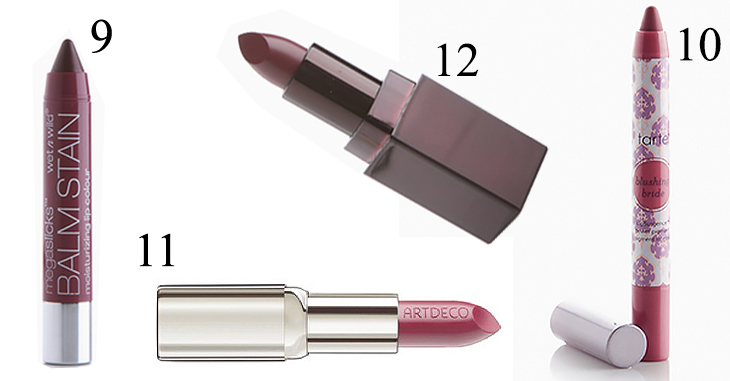 Plums/Berries
9. Megaslick Balm Stain In Lady and the Vamp, P299, Wet N' Wild
This rich and deep berry shade is buildable in color, so you can swipe lightly for a sheer stain or go deeper and darker. Plus, it leaves a minty, cooling sensation on your lips.
This plummy rose hue is perfect for every day. Plus, it moisturizes lips with Vitamin E, shea butter, and carnauba wax and plumps up lips with peppermint.
This lip color nourishes with panthenol and vitamin E while increasing lip volume with Maxi Lip technology.
12. Creme Smooth Lip Colour in Merlot, P1,250, Laura Mercier Cosmetics
This wine red shade lasts six to eight hours without bleeding, feathering, drying, or fading—the perfect hue for a sexy, sultry look.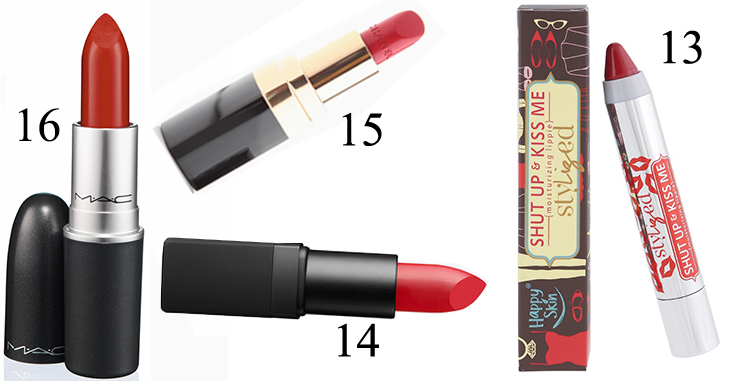 Reds
This limited edition red lip pencil inspired by celebrity stylist Liz Uy is perfect for glamorous evenings.
14. Sheer Lipstick in Manhunt, P1,450, Nars Cosmetics
Here's a lipstick and lip stain hybrid with a lightweight formula and subtle shimmer for a lovely, luminescent wash of red on lips.
This classic crème lipstick gets a modern update with a bold red inspired by Chanel herself!
16. MAC Matte Lipstick in Russian Red, P1,000, MAC Cosmetics
MAC's iconic long-wearing lipstick in an intense, bold red that's simply unforgettable.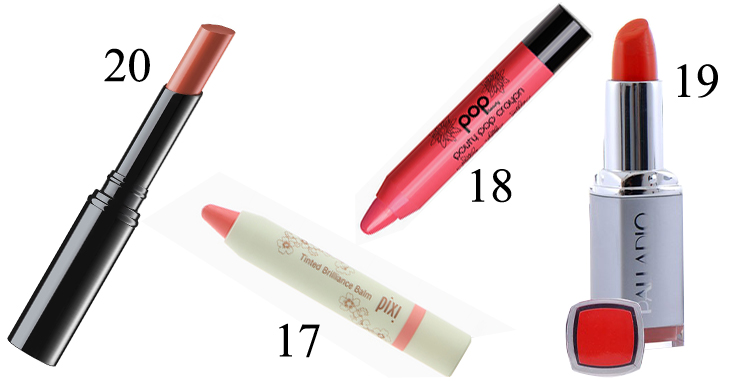 Oranges/Corals
This glossy gel balm delivers a see-through, shimmery wash of color while protecting and hydrating lips.
18. Pouty Pop Crayon Crayon in Coral Crush, P395, Pop Beauty
This beautiful crayon works as a lipstick, lip balm, and plumper in one with a creamy, long-lasting formula that stays on for hours.
19. Palladio Lipstick in Coral Punch, P350, Palladio
This fresh coral color adds an instant update to your look and comes in an electrifying formula that goes on creamy and delivers full coverage.
This warm and fun shade of orange suits olive skin tones and nourishes lips with beeswax, jojoba oil, and olive oil.
Pia Rojas
Pia Rojas has been writing about fashion, beauty, and health for 17 years. She's happily married with dog, and spends most of her time working and applying weird skin potions to her face.