Looking our best isn't always as easy as it'd like to be, and when it comes to learning the basics, not all of us are natural beauty mavens. So if you're looking to level up your beauty skills and learn pro makeup and skincare tips, you often have to go out and find someone to teach them to you. Fortunately, the folks behind Belle de Jour Power Planner have teamed up with Blue Leaf Filipinas and Globe GCash Mastercard to help you get all the skills you need to be a beauty guru in your own right.
The first ever BDJ Box Beauty Bootcamp is set to be held at the Blue Leaf Filipinas from 10AM to 8PM on Sunday, June 7, 2015. Fifteen one-hour certificate classes will be facilitated by certified experts and gurus. Each class has a maximum number of 40 bellas in attendance. Check out the list of workshops below: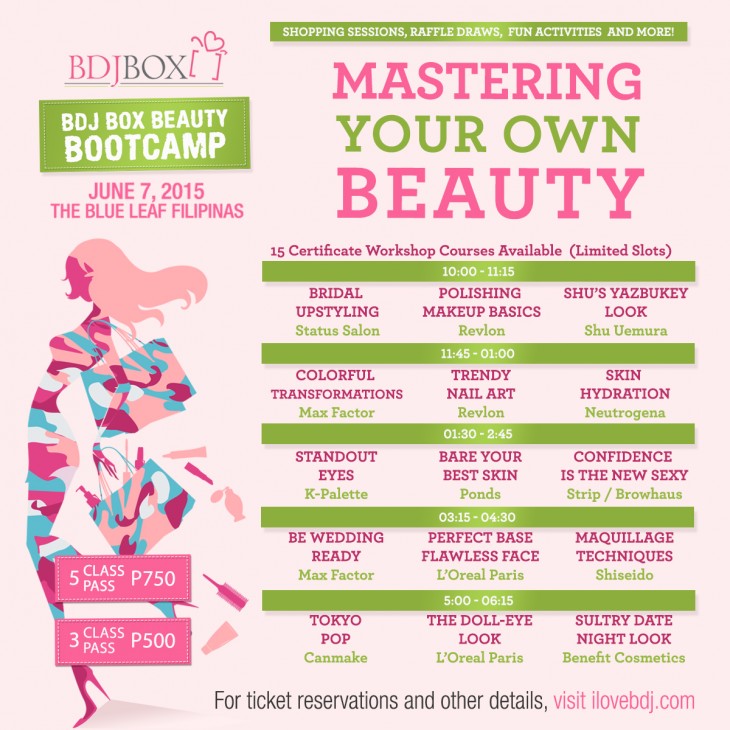 But apart from the learning opportunity you get at the bootcamp, you can also check out the Beauty Fair, which will feature activities like free skin analysis, free makeovers, express manicure, photo booths, and more. Plus, the fair will host over 20 much-loved beauty brands, which will have an exclusive one-day sale of up to 50% off on their products. Some of the participating brands are Revlon, Benefit, Davines, Max Factor, L'Oreal Paris, Canmake, Too Cool for School, Neutrogena, Goody, Toni and Guy, and Aloe Derma—but you'll see more on the day itself!
Plus, if you preregister for the event, you'll get a chance to win shopping gift certificates worth P1,000.
Here's how you can register for the various activities:
For the beauty certificate classes: Register for three classes at a rate of P500 or for five classes at P750, and gain full access to the beauty fair along with your workshop pass.
For the beauty fair: Pre-register for just P50, or for free if you have a BDJ Planner-PLUS!
Want to learn more or pre-register now? Visit ilovebdj.com.
Liana Smith Bautista
Liana Smith Bautista is an article writer, web content manager, manuscript copy editor, and blogger—and she thinks it's awesome that she earns her living marketing on her love for the written word.