Marian Bartolome
Marian is an interior designer turned freelance writer who loves…
Because our skin is our body's largest organ and our first defense against the elements, it's extremely important to take special care of it. These days, there are so many skincare brands out in the market that it's hard for a woman to choose, but if you're looking to invest in your skin's future, Aqua Mineral is one brand you should check out.
Aqua Mineral has been in the Philippines for six years now, and over the past year, they have expanded from 11 branches to 25. Exactly what makes their products so special, you might ask? Easy. They are all-natural and based on minerals sourced from the Dead Sea. People from all over the world travel there to take advantage of the health benefits of its water's high concentration of minerals and vitamins, and Aqua Mineral gives you the chance to enjoy some of its positive effects without the need to purchase a plane ticket.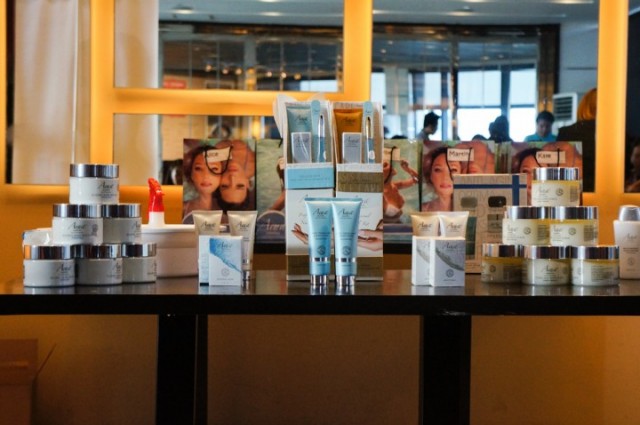 Aqua Minerals Products
Aqua Mineral's basic line features everything from body scrubs and mud soaps to hand creams and nail kits, and it's recommended for everyone regardless of skin type.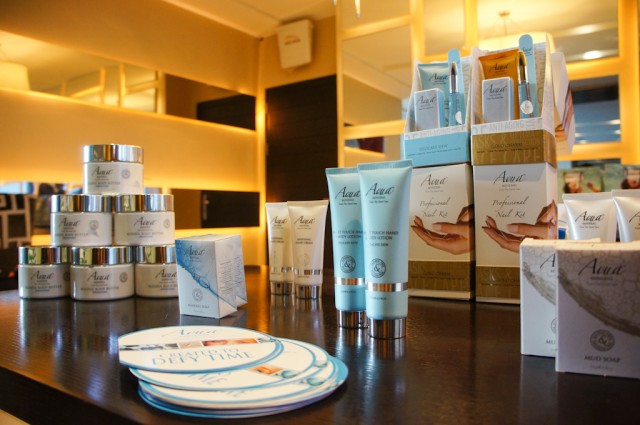 One of the products I was able to try out was their Nail Care Kit, which includes a nail file, a buffer, a vial of their Cuticle Oil, and their Velvet Touch Hand & Body Lotion. The first thing you need to know is that their buffer is covered by an international lifetime warranty. So if you're big on doing your own nails—and even those of your friends—that alone may be reason enough to splurge on this kit. I found the buffer easy to use with clear instructions printed in front, and it definitely delivered on its promise of achieving shiny, professional-looking nails with minimal effort. A drop of cuticle oil provided my nails with their dose of Vitamins A and E, and the lotion was a soothing finishing touch to my personalized manicure.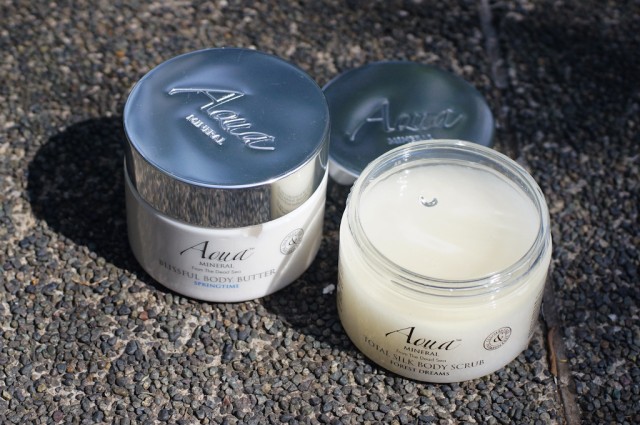 Because I have dry skin, I was especially excited to put their Total Silk Body Scrub and Blissful Body Butter to the test. I'm more of a just-soap-and-water kind of gal, but this experience turned me into a scrub convert. Their body scrub contains crystal salt from the Dead Sea, and it's sealed with natural oils including argan oil, which has anti-aging and hair conditioning properties. In fact, they recommend separating the oil from the scrub and using it on your face and hair.
They say that one spoonful of the scrub is enough for your entire body, and they were right. I loved how refreshed and supple my skin felt after the treatment, a feeling that was further enhanced by the body butter. As with the scrub, I only needed to use a small amount of the butter to cover my body, which means that even with regular use, your jars can last you many months.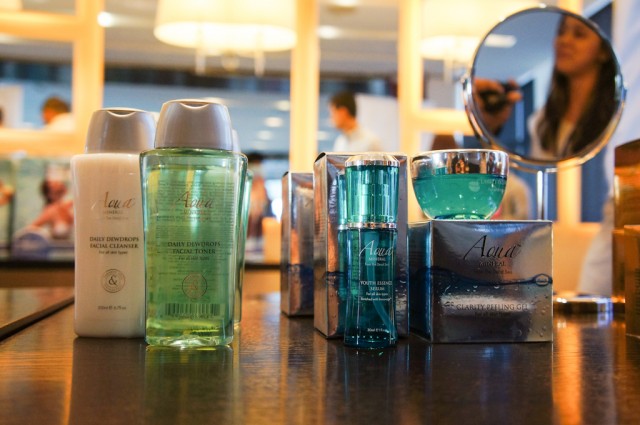 If you're worried about skin aging, you may just find your answer in Aqua Mineral's Blue series. The secret lies in the patented Renovage™ ingredient that extends the lifespan of your skin cells and penetrates deeper and faster into your skin. Among the products in this line are the Uplift Firming Eye Gel,  Youth Essence Serum, Clarity Peeling Gel, and Refining Facial Mud Mask. The folks at Aqua Mineral recommend mixing and matching items from the basic line with Blue products that target your specific skin needs.
I tried the Clarity Peeling Gel and was quite amazed by the product. The process is simple—just spread a small amount of the gel on your face, massaging it for around a minute. Then use tissue paper or a soft towel to wipe it off. No water needed! You'll notice a peeling effect that's similar to eraser shavings. These are actually dirt and dead skin cells, and you'll be surprised by how much the gel will remove. Once your skin is dry, you'll find that it's clearer and as soft as a baby's bottom.
For the Refining Facial Mud Mask, you'll need to be ready with water and some time to spare. Spread a thin layer on your face, staying clear of your eyes. Wait around ten minutes for it to dry, then wash it off. When I gave this a go, I only let the mud mask sit for a couple of seconds, but as soon as I cleaned the area, I noticed that my skin had smoothened and that some of the fine lines were gone.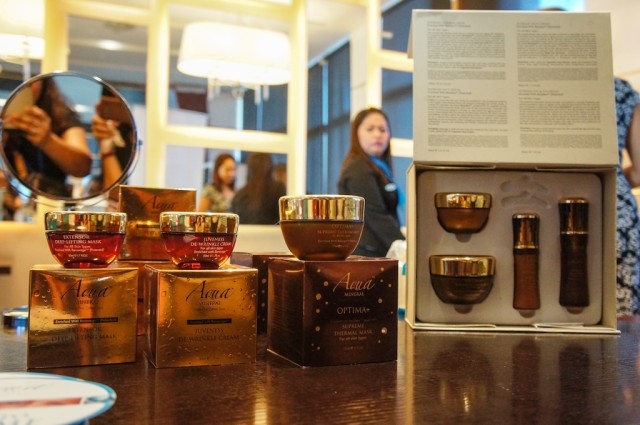 For those with a bigger budget and want more intensive anti-aging products, there's the Optima+ series—the Rolls Royce of Aqua Mineral, so to speak. This is based on the Resistem™ patent that protects and heals the skin. You can purchase this as a kit containing the Supreme Thermal Mask, Supreme Face Cream, Supreme Face Serum, and Supreme Eye & Lip Cream. It's recommended for those who already have the Blue series and want a weekly treatment to supplement them.
Then, there's the Gold series, which fuses 24K gold with Tightenex™ to boost your complexion and keep your skin soft and tight. This is made up of the Intensive Mask, Intensive Face Cream, and Intensive Face Serum, and may be a nice alternative to those pricey treatments at beauty clinics.
Not sure which product is best for your skin needs? Don't hesitate to ask the beauty consultants at the Aqua Mineral store nearest you. And if you want a matching treatment for your hubby, check out their special men care line. Find out more by visiting their website and liking their Facebook page.
Discounts and Freebies for ModernFilipina.ph Readers
Looking to try Aqua Mineral products? Get these vouchers first to avail of awesome discounts and freebies.
Here's how they work:
Step 1: Select the vouchers you would like to use from the options below (or get all of them, if you like). Download them onto your computer by right-clicking on the voucher image and hitting Save. Then print them out.
Step 2: Before January 31, 2015, avail of the discount or freebie when you purchase the designated Aqua Minerals products from any of the following branches: 3rd Level SM North EDSA "The Block," 2nd Level SM North EDSA Annex, Ground Floor SM North EDSA (Main), Eastwood Mall, Ground Floor SM City BF Homes, Ground Floor SM City South Mall, 2nd Level SM City Fairview, 3rd Level SM Megamall, 2nd Floor Robinsons Galleria, 2nd Floor Robinsons Place Malate, Ground Floor Trinoma, Newport Mall, Ground Floor Glorietta 2, Ground Floor Glorietta 5, 2nd Floor Alabang Town Center, 3rd Floor Fairview Terraces, 2nd Floor Gateway Mall, Ground Floor SM City Pampanga, Ground Floor SM City Clark (new extension building), Abreeza Mall Davao, SM Lanang Davao, and SM Matina Davao.
Free Nail Kit with Purchase of Body Butter & Body Scrub: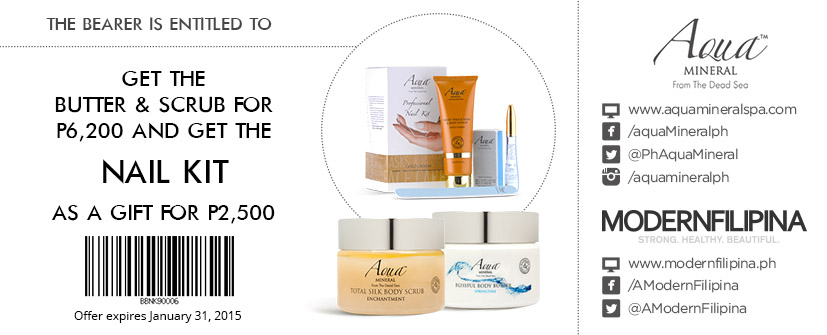 Free Mudsoap with Purchase of Cleanser & Toner: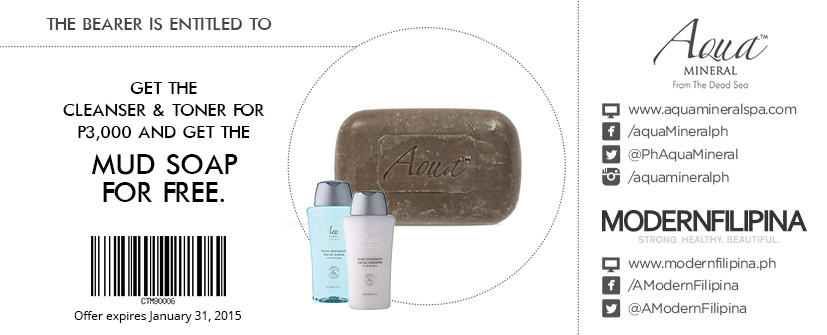 35% Discount on Man Kit:
Free Body Care Set with Purchase of the Optima+: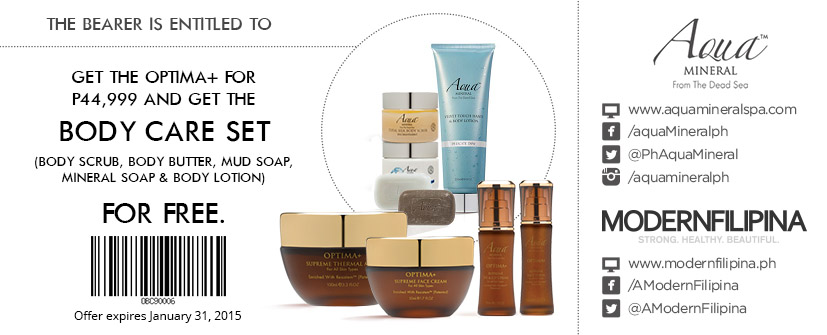 Marian Bartolome
Marian is an interior designer turned freelance writer who loves exploring the world on her feet and through her Kindle. Her favorite things to write about? Travel, lifestyle, coffee, and happily ever afters.