Katrina Tankeh
Writes, eats, and dances with an incomparable vigor but is…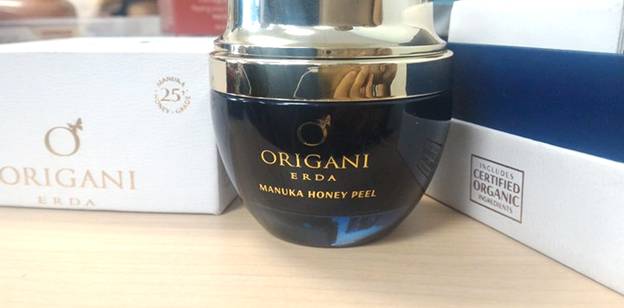 I am a self-proclaimed skincare freak. I'm not ashamed of it but a bulk of my salary goes to giving my face the best TLC it deserves, because why the heck not? #selflove
My skin has always been extremely oily, and you know what that means: dirt, dirt, and more dirt. If I don't make the extra effort to clean my face on a daily basis, I'm just grooming myself as a target for acne breakouts.
Based on what I've learned after watching countless of YouTube videos on skincare and oily skin remedies, exfoliation is an essential step in my skincare routine. And so far, it has worked. Without my weekly exfoliation sessions, accumulated dirt would suck the life out of my skin.
I got the chance to try Origani Philippines' Erda Manuka Honey Peel, a natural and gentle exfoliator that removes impurities to reveal clean, radiant skin. The Philippine website says the product is Php6,700. A little over my budget, I must admit, but I'm all for investing in your skin these days. Think about it: you only get one face in your lifetime.
WHAT'S IN IT?
It's a habit of mine to go through the ingredient list before trying anything because of certain allergies I have, like with benzyl peroxide or parabens. On the box is the complete list of ingredients:
Aqua (Water, Carbomer, Cetrimonium Chloride, Leptospermum Scoparium Mel (Manuka Honey), Mel Extract (Honey Extract), Nelumbo Nucifera (Lotus) Flower Extract, Fucus Vesiculosus (Bladderwrack) Extract, Aloe Barbadensis (Aloe Vera) Leaf Juice, Glycerin, Phenoxyethanol, Fragrance, CI 14700, CI 15985.
Off the bat, I can already see that it's a pretty short list. That's a good thing – less is more. The majority of the ingredients are plant-based and Origani Erda claims to be cruelty free (*claps*). I'm always a sucker for organic, all-natural products, especially when it comes to exfoliants. Since exfoliating gels penetrate deep into the skin, it's important that the ingredients are non-irritating. Break-outs are big no-nos.
THE PACKAGING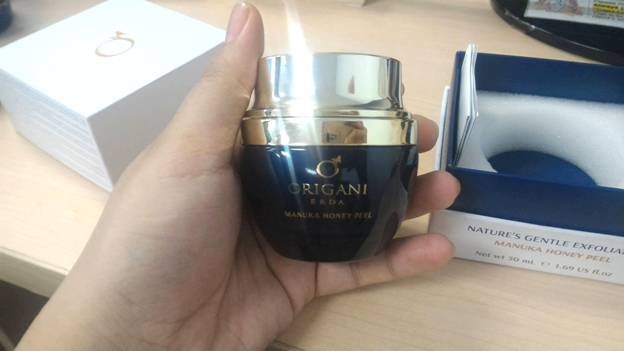 I'm not one to be prissy about packaging but, boy, did this wow me. It's a pretty straightforward container, nothing spectacular, but the weight of the body and the golden sheen of the lid gives it a sophisticated look.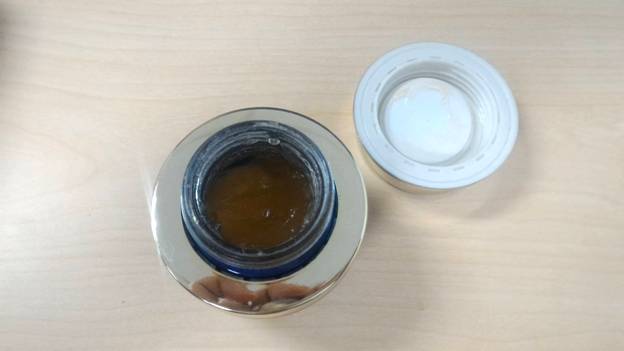 The screw lid is easy to open and close, no struggle whatsoever. There is a protective plate over the product for sanitary purposes – that one's easily detachable, too.
HOW DO I USE IT?
I cleansed with my trusty old Dove soap before lathering this on my face. The label on the box says that I should apply the product onto damp skin while avoiding the general eye area, leaving it on for 10 to 15 seconds before I start massaging. It also says to rinse right after with warm water and top it off with a moisturizer. And I did exactly that.
THE SMELL
It has a very strong honey scent, one that sticks to your skin hours later. But I don't mind at all because it does smell good.
CONSISTENCY AND APPLICATION
The gel is cold to the touch and quite viscous upon application, but it immediately turns watery once you start rubbing it all over the skin. It has a light orange tint and feels very much like a soothing cream when applied onto the face. Exfoliating, for some reason, feels very luxurious – you can't help but feel like a princess.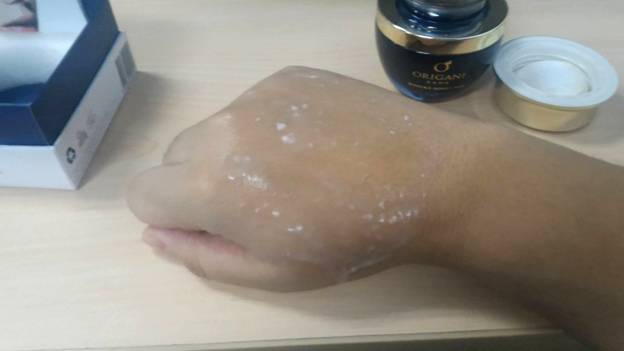 Just after a little bit of rubbing, I immediately saw dead skin cell buildup on the back of my right hand. Gross, yes, but also oddly satisfying.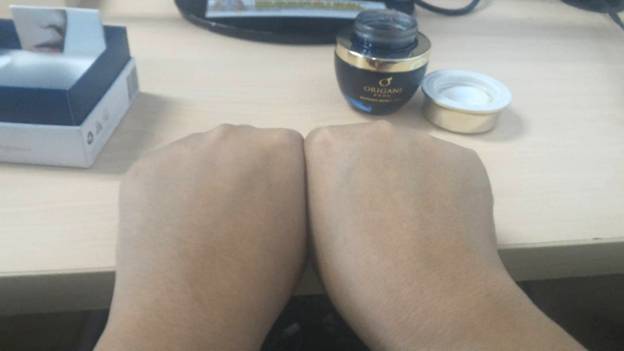 After washing it off, I was appalled. I honestly wasn't expecting any visible transformations on my first try, believe me. But just look at this picture and tell me my right hand isn't brighter than my left one. Amazing.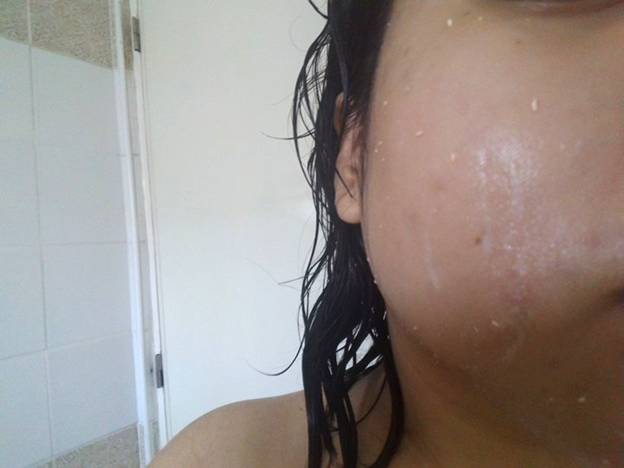 Lathering it onto my face was a more gratifying experience, especially that there are more dead skin cells to remove over here. I was a little skeptical about the product because, really, the buildup could have just been from the formulation of the product itself. But when the color of the residue began to change to a more grayish tone, I knew it was removing the dirt off my face. Gross again, I know, but skincare is life.
THE OUTCOME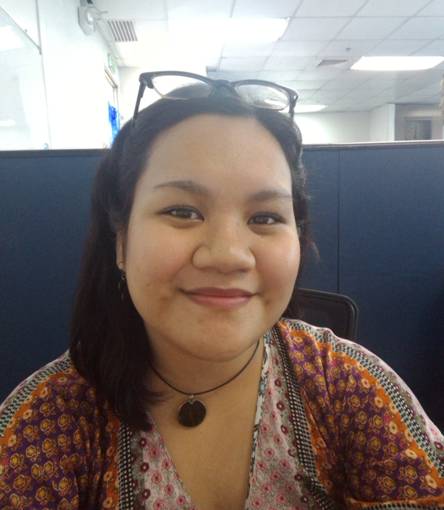 This is a photo of me a few hours after I've rinsed off the product. My face is practically makeup-free, save for a tinted lip balm, but it's evident that my skin is generally brighter than it was before I used the peel. I am also digging that youthful, dewy finish – didn't need to do the 10-step skincare method for that.
THE HIGHS AND LOWS
Highs
Natural ingredients and cruelty-free manufacturing process
Gorgeous packaging
Easy application
Non-irritating
Instant results
Lows
A little pricey
Strong odor that might not appeal to some
WILL I EVER REPURCHASE?
Yes! I had no negative experiences with this product, especially for someone with sensitive skin. A must-try.
THE VERDICT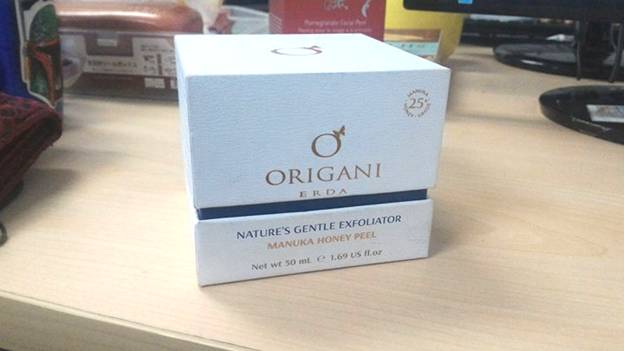 Katrina Tankeh
Writes, eats, and dances with an incomparable vigor but is only really good at one of those things.