Manicured nails are great—they give the impression that you are neat and well-groomed, plus they grab attention in a way that, when used with the right gestures, can be very effective. Unfortunately, unless you're a lady of leisure, you'll probably find yourself annoyed by how briefly the perfection of your manicure endures. It's frustrating when your manicure starts to chip after a couple of days or when it breaks in all the wrong places, making it seem like you wasted your time and money getting your nails done in the first place.
We feel your angst, so we've listed down some tips on salvaging your nails, keeping them in tip-top shape even up to 10 days. Follow this guide, and you'll save a lot of time, effort, and money on your next treatment. Note that these tips are mostly for DIY manicures, but it's also important to know them even if you're having your nails done at a salon, just so that you can make sure that these are done properly.
Clean and dry your nails before applying polish.


Dehydrate your nails with lint-free cotton pads and acetone-based cleaner before applying anything. Make sure that no dirt or residue is left before putting your first coat, to ensure the polish adheres faster. Clip off long nails if you want to keep it shorter, and make sure that you've taken care of your cuticles before putting in your first coat. Taking care of your cuticles is also very vital, because this will help protect you from infection and bacteria. If you're getting rid of them, you can sweep in some cuticle oil or gel to soften the skin and exfoliate dead cells before applying your polish.

Photo by Tamaki Sono via Flickr Creative Commons (CC by 2.0)

File your nails.

Say goodbye to broken nails by filing them correctly! Make sure that you are following your cuticles' shape, making them less likely to break, especially when you're trying to grow them out. You don't want your nails to crack in all the wrong places, do you? Bonus tip: Follow just one direction when filing. Avoid sawing your nails back and forth because it will only cause extra damage and result in annoying rough edges.


Photo by kizzzbeth via Flickr Creative Commons (CC by SA 2.0)

It's all about the base.


Choose the right base before applying your polish. Using base coats that feel a little "tacky" when dry helps your polish get a better grip, thus ensuring it lasts longer. It's also important that you apply one coat prior to your polish because it actually protects and strengthens your nails.

Photo by Daniel Oines via Flickr Creative Commons (CC by 2.0)

[crp]

Cover it all.

It is very important that everything is actually covered when doing your nails. Do not miss the free edges, or those parts that you've clipped and filed. Taking care of these parts will double the life of your manicure, protecting your nails from possible water damage that causes the polish to chip. I know we've all been through that ugly phase where everything looks okay with your nails except for the ugly sides. Run your base coat, paint, and topcoat around the edges to seal them completely. We don't want to ruin that perfectly drawn strawberry nail art just because we've missed some parts, do we?

Photo by starsandspirals via Flickr Creative Commons (CC by SA 2.0)

Let it dry with cold air.


If you want to blow dry your nails, make sure that your dryer is on its cool setting or on its fan mode. Curing the nails can take up to 12 hours, and heat only interferes with the process, making it easier to get damaged. Hold off washing your hands with warm water or blowing them (your breath is warm) for the next 12 hours. You might also want to try putting your slightly dry nails into a bowl of ice cold water to help them cure faster. We're not quite sure how effective that is, but it sure helps the drying.

Photo by Larissa Midori via Flickr Creative Commons (CC by 2.0)

Oil your nails.


Apparently, your nails also need maintenance—it isn't limited to the skin around them. Moisturize your nails using nail/cuticle oilto prevent the peeling and splitting of your polish. Unlike lotions and other moisturizers, special nail oils are meant to go deep into your nail bed, penetrating the layers and helping your nails maintain their health. Other products such as hand lotion, sanitizers, and alcohol can actually damage and dry your cuticles, so applying oil every day may help you keep your nails healthy.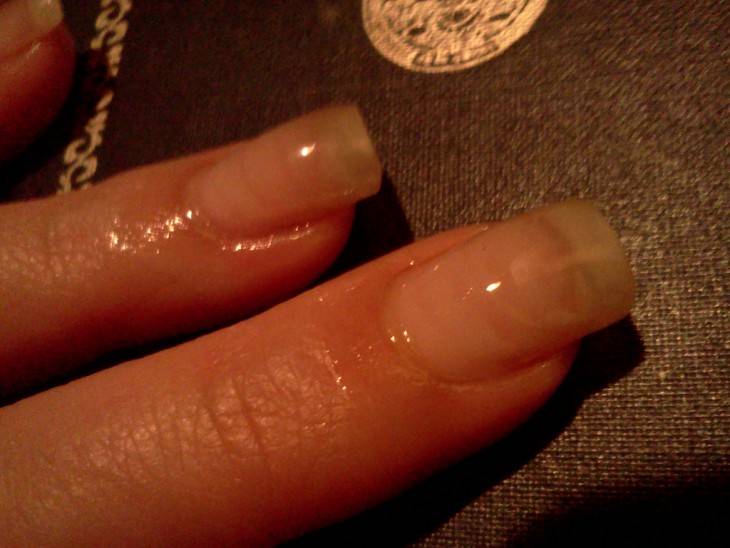 Do you have any tips on keeping your nails pretty? Share them below and let's keep the ball rolling! To healthier and nicer nails!
Janelle Almosara
Janelle is a graduate of BA Communication Arts from UP Los Banos. She's a recruiter by day, and a writer (of some sort) at night. She's a huge fan of music, theater, and the arts. She loves spending time exploring new food and places. Aside from working, she is also running "The Dream Shirt" -- an online store that sells book inspired t-shirts.