When I was just 18 years old, I moved to the Philippines all by myself. It's a bit uncommon for an American girl of that age to be living in the Philippines with no family or friends, and when I meet new people it's always something that they are curious about. "Why here?" they ask me, "what motivated you to come to the Philippines on your own?" Well, as much as I hate to be one of those cliches from a love story, the answer is really simple—I fell in love, and it changed my life.

I'll rewind a bit and start at the beginning, while I was still living in the United States of America. I'm from Olympia, the capital city of Washington State. I was 17 years old, I had an awesome job, great friends, and was loving the college life. Of course, I still had plenty of time for all my hobbies, which included rollerblading, reading, playing with my pets, and the internet. If you're someone who likes to keep up with all of the latest memes, you're probably familiar with the website called 9Gag. Well, I've always been an active visitor of 9Gag, and I ended up joining a Facebook fangroup for the site called "The Official 9Gag Fan Group." This is where I met the man who would become my husband.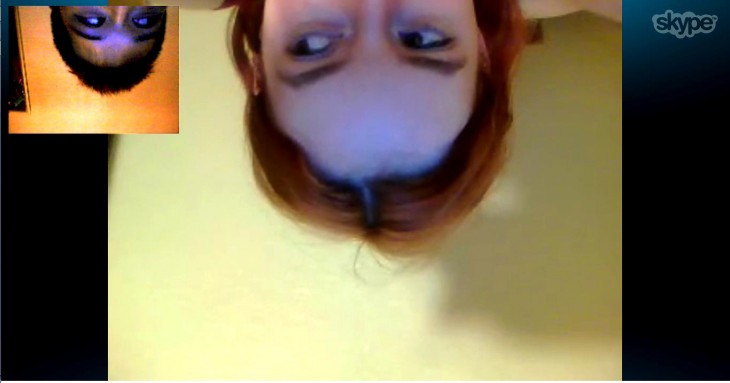 It wasn't a dating site. Neither David nor I were looking for love when we joined the group; we were just enjoying the site for the fun and memes. Back then, the group was fairly small with only a few hundred members and everyone in the group knew each other. One day, after seeing each other around for a while, David and I added each other as friends on Facebook, and the rest was history, as they say. We started chatting every day, and we immediately hit it off. Chatting very quickly turned into video calls via Skype, and we got to know each other very well in a really short amount of time.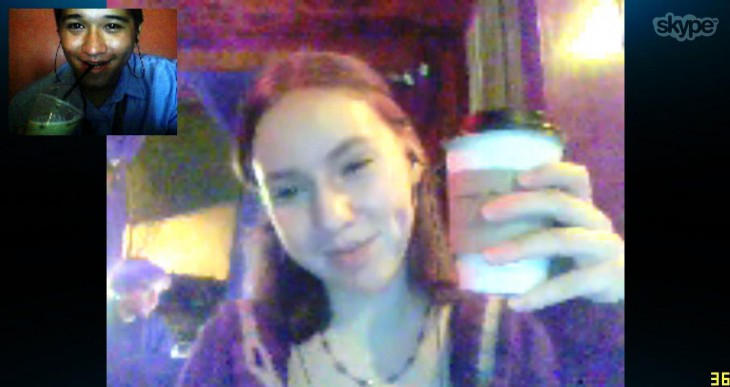 He was a Filipino living in Zamboanga City, and I was an American living on the other side of the world. There were more than 7,000 miles between us, and it seemed to be the unlikeliest of romances, but we fell in love with each other hard and fast. We met on Christmas of 2012, and less than two weeks later, we knew that we wanted to be together, whatever it took. On January 8th, 2013, we decided to enter a long distance relationship with each other and hope for the best. We knew that this was different than any relationship we'd ever been in before, and we intended to do whatever it took to be together someday.
Long distance relationships are always hard, and ours was no difference. As I fell more and more in love with this Filipino man who lived a world away, I became more and more heartbroken that I couldn't be with him in person. We sent each other packages full of personal items and gifts for each other, we Skyped nearly 24 hours a day, even leaving the video call on while we slept, but it was not enough. Eventually, back in the USA, I was faced with some big decisions. One of these being that the house I was living in was being sold, and I had to move. I'd graduated from college, my family was all living far away from me already, I didn't have a lot left to tie me to my hometown, so I made a big and somewhat insane decision—I had to move anyway, so why not move to the Philippines to be with the man I loved?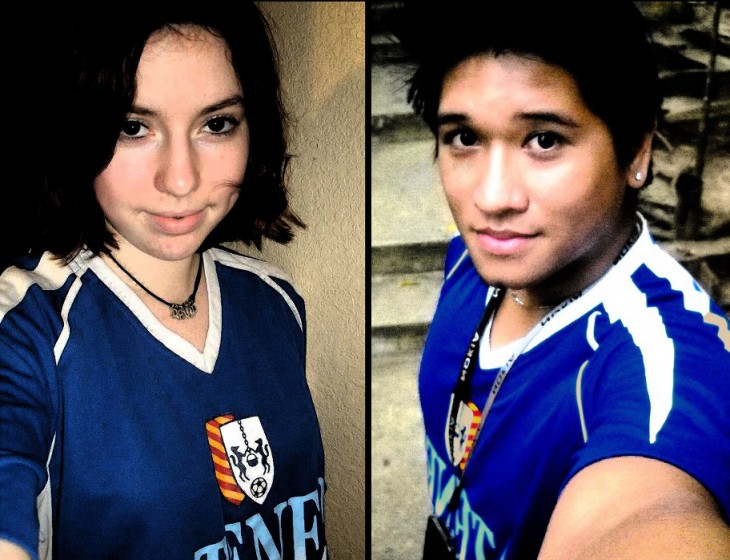 Wait, WHAT? Yes, you heard me correctly. I decided to up and move to the Philippines to be with a man that I'd never met in person. Sounds really crazy, right? Well, I'm not endorsing what I did to anyone else—meeting someone online can be dangerous and it was definitely crazy of me to up and move countries for someone I'd never met yet. Fortunately, it worked out for me. Sometimes, you just know (yes, I'm a walking love-story stereotype now), and that was the case for me. So I bought a one-way ticket to the Philippines, sold all of my things, got on that plane and never looked back. And to this day, I've had no regrets about my decision.

The plane ride was nerve-wracking. I was so nervous, thoughts running through my head like "what if he doesn't like me in person?" It was an 18-hour flight, so I had plenty of time to freak out. But then, finally, I landed in Manila. I walked out of the airport, and there he was. I truly felt like I was living a fairy tale. I dropped my bags and ran into his arms; he picked me up and finally, after so many months of longing to be together, we shared our first kiss and it was truly magical. That first kiss made every lonely day apart more than worth it. Later that same day, David pulled out a beautiful ring and asked me to marry him. I said yes, of course.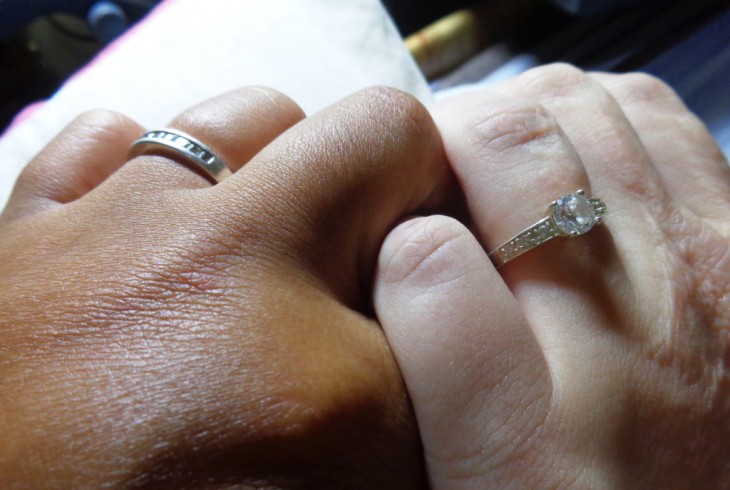 This was a day of firsts for me. It was my first time meeting David, my first time on a plane, and my first time in the Philippines. I was filled with awe and curiosity as he showed me around Manila. We just had a couple days before we were to fly back to Zamboanga City, where he lived, but we made the most of those two days. I remember being amazed by the palm trees everywhere. I was taking pictures of them all, and David was just laughing because they are such a common sight here, it was strange to see someone being so amazed by them.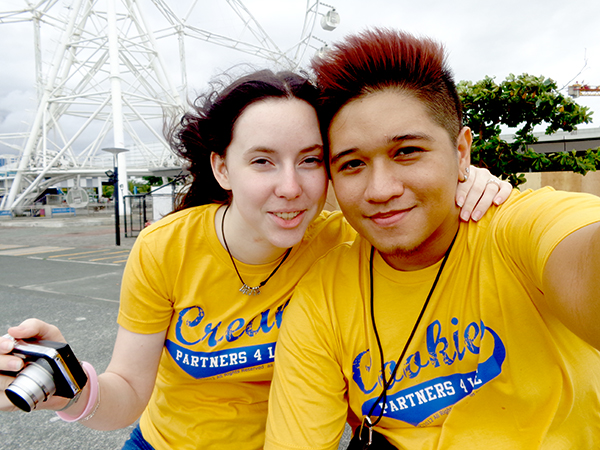 Eventually, it was time to head to Zamboanga City, which would be my home for the next 8 months. Living there was an adventure in many ways. About two weeks after I arrived there, the 2013 Zamboanga City Siege happened, which was a pretty scary experience, but that's a tale for another time. I experienced so many new things, and every day I was just falling deeper in love with not just my husband, but with this beautiful country and all the things it has to offer. I got to taste new foods that I absolutely love now, like kilawin and taho. I was able to eat fruits that I'd never even heard of before, like lanzones and langka. Every new flavor was an amazing experience for me. I also tried to eat the infamous balut, but I have to admit that I failed that. I drank the soup from the egg, but I couldn't go through with eating the rest of it.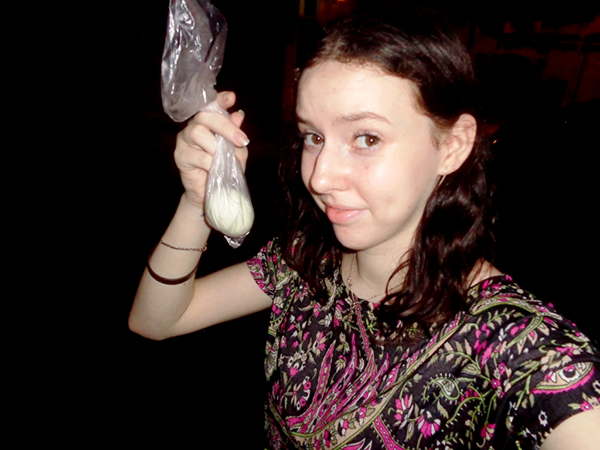 The most amazing part of living here in the Philippines is the beautiful places and natural wonders to explore. I feel so privileged to be able to experience these things as a foreigner in the Philippines, and David loves to take me to new places whenever we have the chance. We've even started a blog, The Writers In Tandem, where we share the amazing experiences that we have traveling around the Philippines on our motorcycle. I've snorkeled in the Hundred Islands in Pangasinan, I've hiked up the mystical Mount Makiling, collected seashells on the beach of Cagbalete Island, and seen wild monkeys on the side of the road in the Subic Freeport Zone. This September, I look forward to visiting Cebu for the first time for David's birthday.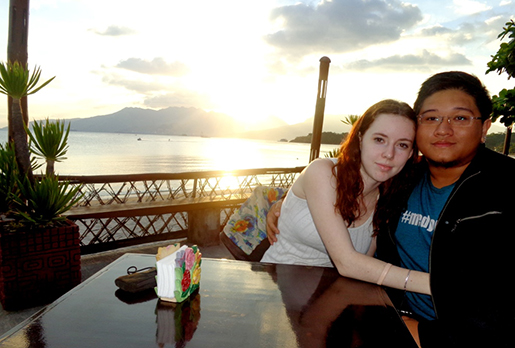 Four years ago, I would never have thought this was possible. I would have never in a million years thought I'd have this kind of adventure in my life, living on a tropical island, thousands of miles away from my homeland. I never thought I would meet a man who would compliment me so perfectly that I'd be willing to cross oceans for him. But it happened to me, and I am a very lucky and happy woman today. Who knew that I would fall in love with a Filipino guy, and end up falling in love with his country in the process?
Also Read: The 9 Things Men Deny in Relationships
Love Janessa's story and want to share your own? Send us a message via our Facebook fan page!
Janessa Abigail Hizon
Abby is from the USA and moved to the Philippines to be with her husband, David Christopher Hizon, who also happens to be her photographer for most of her writing endeavors. A gamer, a bookworm, an animal lover and a self-proclaimed foodie, she is passionate about everything that she does and hopes that will come across in her writing. Follow her at http://facebook.com/WritersInTandem & http://www.thewritersintandem.wordpress.com