Taking charge of your life is what Belle de Jour Power Planner is all about, which is why it's considered a perfect partner for modern Filipinas. According to the folks at BDJ, "Empowering Filipinas for 9 years now, BDJ has evolved into a community of BDJ Girls. Our girls love to interact with each other and this has inspired us to create a series of BDJ events for them 9 times a year."
One of the events is the BDJ Rendezvous, which takes place four times a year and involves an afternoon full of insights into lifestyle, career, fashion, and beauty with some of the country's experts on these matters.
The first BDJ Rendezvous for 2015 is entitled "Rise to the Daily Grind," and it's happening on Saturday, February 28, at the Glorietta 5 Activity Center. The event will start at 1PM and run through til 5PM.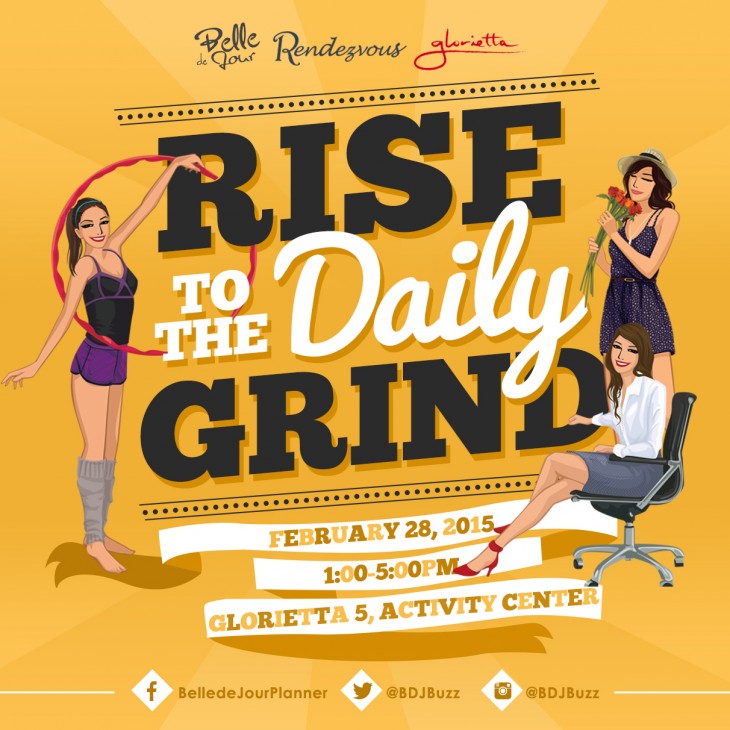 Here's the schedule of talks for the afternoon:
Getting Fit the Right Way
With Tanya Dela Cruz of One Life Studio
Debunk improper exercise practices and learn how to get fit the right way
#MakeItHappen Monday
With Catherine Kamping, founder of Phil. Youth Employment Network
Learn how to turn your failures into successes and free yourself from career anxiety
Fashion in a New Perspective
With Fashion Stylist Bea Constantino
Learn how to beat your fashion excuses and start wearing a better you
Fresh Face Forward
With Pond's Girls Nicole Anderson and Agoo Bengzon
Discover ways to get makeup-free beauty
Stepping Towards Mindful Living
With Jen Horn of Muni.com.ph
Get tips for mindful shopping, eating, and traveling and find out how these are better choices for yourself, your community, and the planet
Plus! Get the chance to win one of 10 free passes to "Rise to the Daily Grind," the first BDJ Rendezvous from Modern Filipina in our flash giveaway!
Winners will be announced on Wednesday, February 25, and contacted via e-mail shortly thereafter. Note that the prizes include one pass per person, so if you wish to attend with your friends, please encourage them to join the giveaway as well.
Liana Smith Bautista
Liana Smith Bautista is an article writer, web content manager, manuscript copy editor, and blogger—and she thinks it's awesome that she earns her living marketing on her love for the written word.