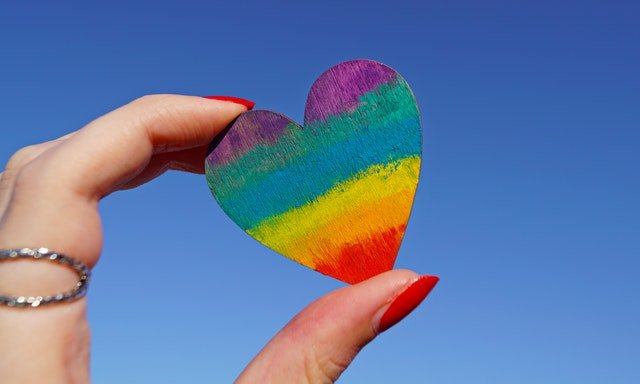 It's been a month since I made my first public performance and shared my coming out story.
Had I known just how empowering the experience would be, then I would have performed at spoken word events way back in high school or college. But my fear of public speaking and lack of confidence in my writing always seemed to get in the way.
That was until I browsed my Twitter feed and saw the spoken word announcement from Metro Manila Pride (MMP), a volunteer-managed, nonpartisan, and not-for-profit organization for LGBTQIA+ Filipinos. They were accepting submissions for their poetry gig called HUBAD: Kalayaan, inspired by Eve Ensler's Vagina Monologues and the UC Riverside's Coming Out Monologues.
That was when I decided to take my chances and finally overcome my fears.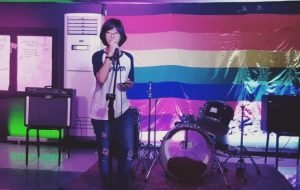 Retracing the Roots of the HUBAD: Monologues
As a proud member of the LGBTQIA+ community, I keep tabs on #Pride events in the country. I was honored to be a part of this year's #RiseUpTogether Pride March and Festival, now the biggest Pride demonstration in Southeast Asia.
Being a part of these events is a great way to celebrate how far the community has gone with my fellow queer folk and straight allies. Together, we can build a bigger, stronger movement of love and support.
The HUBAD Monologues is a safe space where LGBTQIA+ members can share their experiences. It dates back to March 23, 2012 when Lesbian Activism Project, Inc. first launched "HUBAD: Mga Kwento ng Kalayaan" at Conspiracy Bar, QC.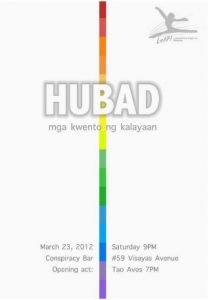 In 2016, MMP resurrected the HUBAD Monologues in collaboration with Words Anonymous (WA), a spoken word group in the country. This gave birth to "HUBAD: Katawan" on April 9, 2016 in Green Sun, Makati.
That night, the spoken word pieces revolved around the central theme of "bodies, sex, senswalan or lack thereof." United in an uncensored space, the performers shared their courageous tales about bodies and sexuality.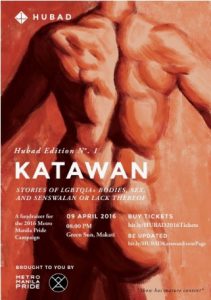 An Unexpected Surprise
At this year's "HUBAD: Kalayaan" held on October 13th at Mow's Matalino, coming out stories took center stage. MMP and WA moved the event to October to coincide with Coming Out Day and Jennifer Laude's death anniversary, both on October 11th — to signify the significance of HUBAD as a protest.
I remember staying up all night writing on September 16th, on the last day of submission for "HUBAD: Kalayaan" entries. Slightly unhappy with my haphazardly written poem, I pressed "submit" and half-expected my work to be tossed onto the reject pile.
A little over a week later, I received an email from the HUBAD team congratulating me that my piece had been chosen for the event. And they even asked if they could use an excerpt of my work to market the event online.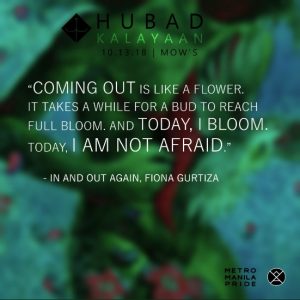 I could barely contain my excitement.
After a week of rehearsals before the event, I was ready to take on my fears and perform on stage for the first time.
A Safe Space for LGBTQIA+ Coming Out Stories
When I arrived at Mow's on the night of my performance, I was welcomed warmly by the HUBAD organizers and the attendees. Mow's is an underground gig venue in QC. Its cramped spaces, shared tables, and dim lights make it conducive for intimate performances.
The entire place was full of energy and anticipation. Louise Meets and Abby Orbeta, Co-Heads for Arts, Culture, and Expression opened the event, dedicating HUBAD to those unable to share their stories because of sexual orientation and gender identity or expression (SOGIE)-related violence, just like Jennifer Laude.

During the first segment of the program, the audience was moved by performances from Henri Igna, Jacob Collado, Sam Changcoco, Drex Sevidal (who performed a piece by Lanylyn Belen), and Jerome Cleofas.
This was followed by a 15-minute break where attendees could write on the freedom wall, and purchase MMP merchandise.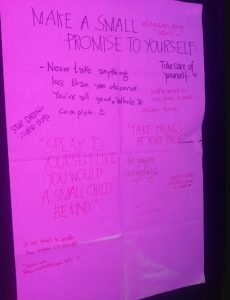 By the time I took to the stage, the audience was already half in tears. While delivering my piece, there was a mixture of laughter and wonder from the attendees. I even had to pause mid-way because the crowd was laughing too hard and cheering me on.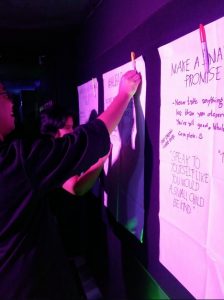 My piece was followed by performances from Jihad Mambuhay, Henri Igna, Jerome Cleofas, Macky Llorente, Mark Lacsamana, Alfonso Manalastas (who performed a piece by Mark Dimaisip), and Abby Orbeta (who performed a piece by Eureeka Almonds). There was also an Open Mic segment where guest artists got to share their work, as well.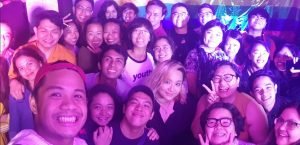 We capped off the night with a group photo to celebrate the success of the event. And the hosts shared that they would hold the third edition of the HUBAD: Monologues next year.
Coming out is a journey, and we all bloom at our own pace. From my experience, it was less about leaving the closet once but having to come back in every time. After performing at my first spoken word event, I hadn't anticipated just how inspiring and cathartic the experience would be.
Most importantly, I learned that staying closed up in bud carries more pain than allowing myself to blossom.
It's been a month since I shared my coming out story, but I'm still basking in my post-performance afterglow. I'm looking forward to when I can reclaim my place on stage and perform for the second time.
Fiona Gurtiza
A tough cookie on the outside, but a soft mushy thing on the inside. Craves hugs and attention just as much as she enjoys writing and lending her friends a listening ear.