Myra Mortega
Myra is a writer and an editor. She has penned…
https://instagram.com/p/5SeqyAPGmI/?taken-by=bernardokath
https://instagram.com/p/4l_AU6PGts/?taken-by=bernardokath
https://instagram.com/p/4Bm4HwvGuR/?taken-by=bernardokath
https://instagram.com/p/3i4HCrPGmy/?taken-by=bernardokath
https://instagram.com/p/xZTazMvGkI/?taken-by=bernardokath
https://instagram.com/p/OVLrhgPGkQ/?taken-by=bernardokath
https://instagram.com/p/mK8_aBPGoZ/?taken-by=bernardokath
https://instagram.com/p/e-kcjjPGmO/?taken-by=bernardokath
https://instagram.com/p/VTXIRMvGpM/?taken-by=bernardokath
https://instagram.com/p/SXclQXvGhe/?taken-by=bernardokath
It's KathNiel's fourth anniversary today! It has been four years since the on-screen couple made waves on the TV series Growing Up in 2011, and their careers have skyrocketed ever since. Now, they continue to give us our daily dose of romance with their ongoing teleserye, Pangako sa 'Yo.
But are they going steady or not? The two haven't made anything official as of press time, but one thing's for sure: they have chemistry. To celebrate the love team's fourth year in showbiz, here are 10 Instgram photos that make us giddy with kilig. #Happy4thAnniversaryKathNiel!
1. So, was DJ able to channel Kath's signature smile?
2. Because #PSYParaparaan
3. How cute are they?
4. We totally adore them in Pangako sa 'Yo!
5. We only wish we could be as photogenic.
6. We love it when they goof around!
7. All glammed up!
See Also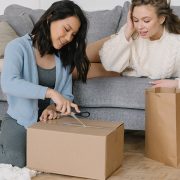 8. Aren't candid snapshots the best?
9. That smile, though.
10. This is just adorbs!
Featured Image from Pangako Sa 'Yo courtesy of ABS-CBN
Myra Mortega
Myra is a writer and an editor. She has penned speeches, magazine articles, educational materials, and online content. She enjoys traveling, doodling, taking photos, and laughing to "Friends" reruns.