Samgyupsal (pork belly) is a staple in the modern Filipino's diet. Since its rise to fame, "Tara samgyup?" has become a standard hang-out phrase pre-COVID and even now during the pandemic (with safety precautions, of course). Now, wherever you look, there's bound to be a samgyupsal place waiting for you to satisfy your cravings there.
If I had to pick the best place to have samgyupsal, however, one place comes to mind and that is Romantic Baboy, one of the best Korean barbecue restaurants in the metro.
I'm not one to rave about samgyupsal since I'm not much of a big pork fan. But I always make an exception for Romantic Baboy. I've been to a couple of samgyupsal places and Romantic Baboy is the only place I keep coming back to.
A Story of Romance: Why is it Called Romantic Baboy?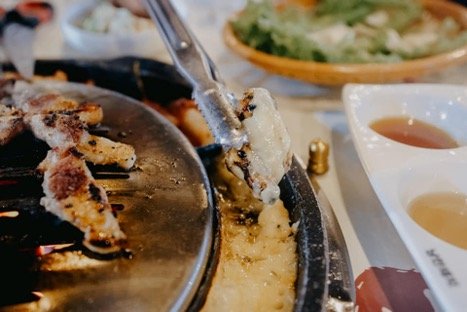 Romantic Baboy first started serving Filipinos last January 19, 2018 at its Tomas Morato branch (aka its first ever branch). Since its opening, the restaurant gained a strong following since it's one of the first Korean barbecue restaurants to offer unlimited beef and pork WITH CHEESE (which is the best part!).
Romantic Baboy adopts an authentic and modern-style Korean barbecue restaurant. According to the restaurant's owners, they wanted to appeal to their Filipino customers, which is why they named the place "Romantic Baboy" instead of the usual Korean restaurant names.
In just a few weeks after opening its doors, Romantic Baboy became known for its unlimited beef and pork with cheese for only P499. The best part: they have a no-time-limit-policy. Can you say sulit?
Behold, The Romantic Baboy Menu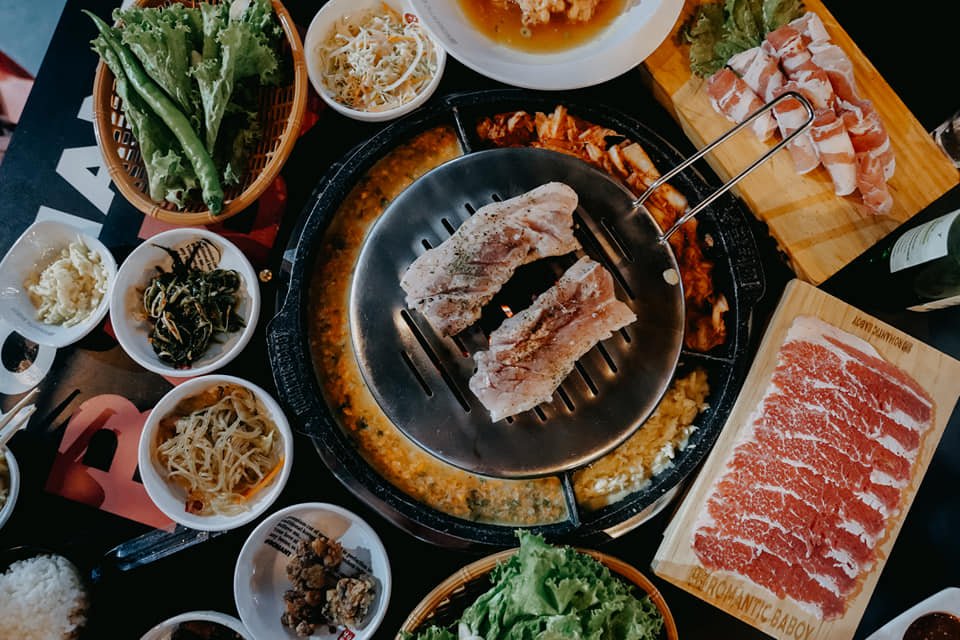 Romantic Baboy's menu is similar to many samgyupsal restaurants in the PH, but they have more flavors compared to other restaurants I've dined in. They do not settle for the simple salt and pepper marinade. For P499, you get an unlimited choice of eight types of beef and pork, which includes marinated and plain flavors.
You can gorge on the following flavors:
Yangyum galbi (marinated pork ribs)
Curry beef (thin beef slices dipped in curry sauce)
Spicy beef (thin beef slices dipped in spicy sauce)
Bulgogi (sweet marinated beef)
Woo samgyup (thin slices of beef brisket)
Herb samgyupsal (herb-flavored pork belly)
Daepae samgyupsal (thin pork belly slices)
Moksal (seasoned pork neck)
Romantic Baboy also offers all the samgyupsal staples: lettuce, rice and spicy soup (gochujang). Their banchan spread includes japchae, kimchi, steamed egg, fish cakes, scallion salad, and coleslaw salad. Other branches of Romantic Baboy also serve fried chicken, which I love. You get the best of multi-verses: beef, pork and chicken!
Being the basic foodie that I am (basic meaning no ketchup is life), I loved the Woo Samgyup and Yangyum Galbi bu the Herb Samgyupsal was absolute perfection. If you love spicy, Spicy Beef will satisfy your tingling taste buds. The Curry Beef is cool, too.
Which is Better: Samgyupsalamat or Romantic Baboy?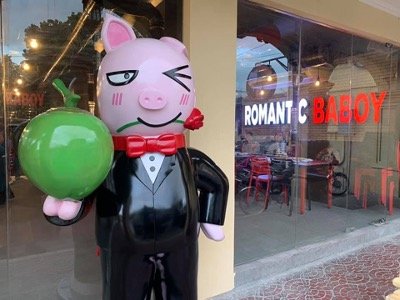 I've tried both Samgyupsalamat and Romantic Baboy, and I prefer the latter more. In terms of side dishes, the basic foodie in me is already satisfied with the japchae, fish cake and chicken fillet (the best part). Samgyupsalamat offers more variety so if you're for that, you'd love Samgyupsalamat.
In terms of taste, Romantic Baboy offers more flavor. Samgyupsalamat may have nine kinds of meat, but they kind of taste the same for me. So, in my opinion, Romantic Baboy wins the KBBQ wars!
If you're craving for good meat and great side dishes, satisfy them at the most romantic KBBQ place in town — Romantic Baboy.
Ashley Petallano
Ashley is an awkward potato in love with words, Kpop, and corgis. She spends her free time dancing like one of those balloon things you see in malls.