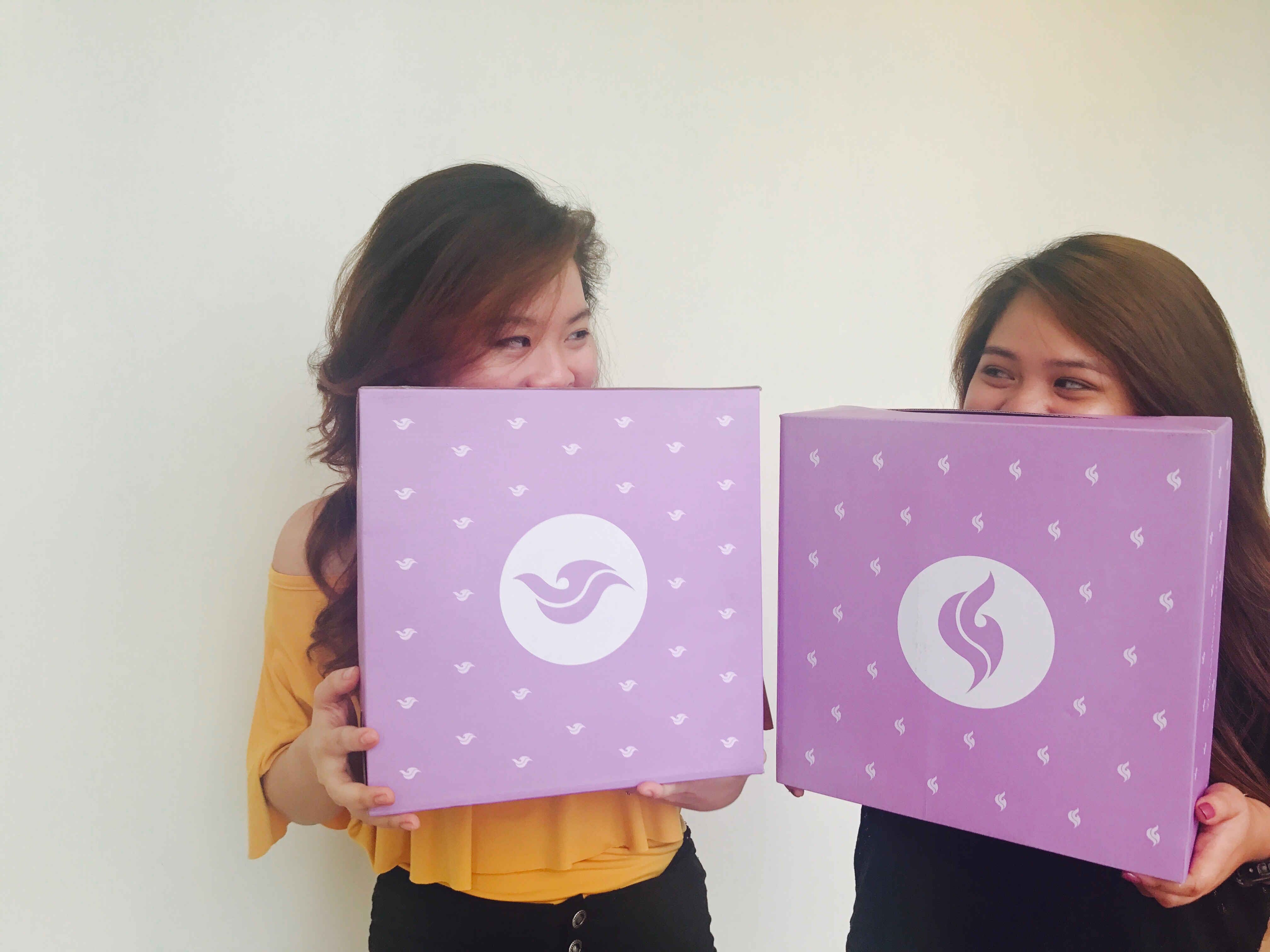 I'm a low-key big fan of fashion and style. As a fan of KPop, I tend to emulate my fascination with the culture through clothing choices (see: wardrobe full of weird jackets, ripped jeans, and ring caps). The same goes for my friend Andy; she enjoys clothes that accentuate her figure and also enhance her natural beauty.
Shopping is always a big adventure for the both of us, but we get tired too easily. Episodes of "Does this look good on me? Is the color right?" consumes much of our time and we just give up or buy the wrong piece.
"Is there no easier solution?" we asked.
Enter style boxes.
One busy Monday morning, Andy introduced me to StyleGenie.ph, an online shop that claims to "…keep your style game strong without ever having to go through the hassles of traditional shopping again."
I've heard about style boxes before. I follow YouTuber Safiya Nygaard who does reviews and beauty hauls; one of her videos featured a style box. She didn't know what she was going to get; all she did was write down her body size, preferred styles, and hit send.
So when Andy suggested we get for our own, we did and here's what you need to know.
What is StyleGenie?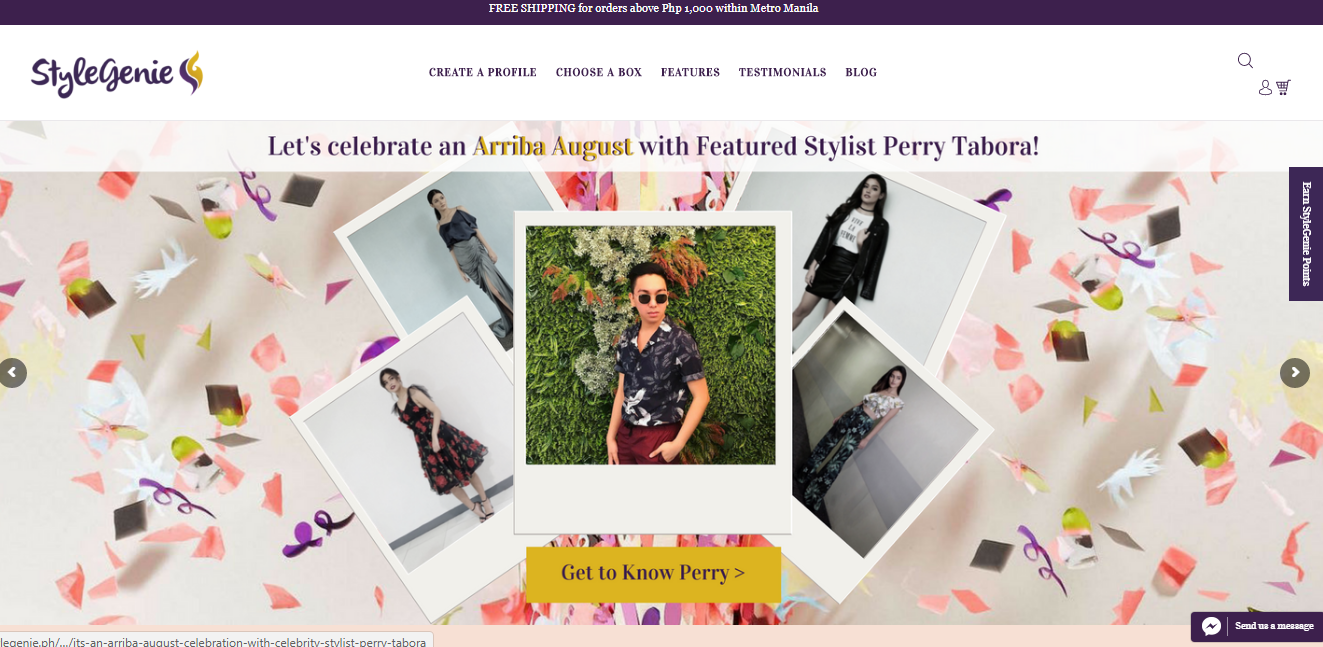 The shop is the first styling subscription box in the Philippines.
As the shop's tagline goes, it's a service that grants all of your closet wishes. The online store introduces a new and easy way of adding pieces to your wardrobe. With the help of their celebrity stylists, they mix and match clothes according to the customer's style profile. After curating each StyleGenie box, they ship off boxes for delivery.
So what's the appeal? You don't know what you're getting.
How Does It Work?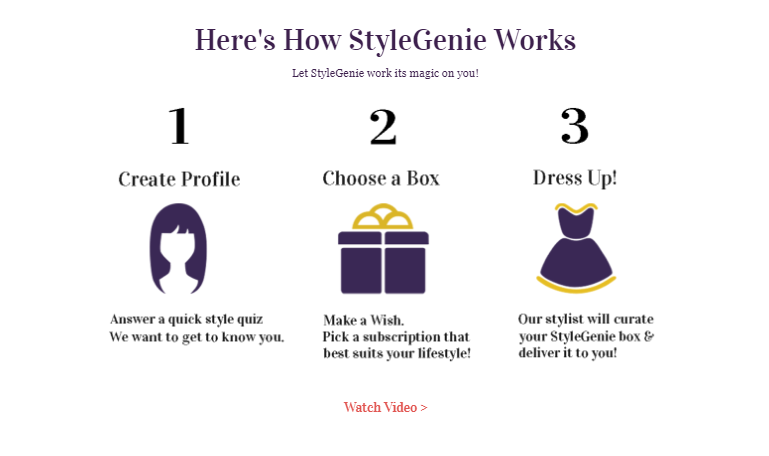 You start by creating a style profile. The site has a quick style fix with questions that help the stylists to determine your clothes. I had fun answering the survey, especially the Your Preferences part. They ask you which style personality reflects yours and among the answers were the following: festival fashion, #GIRLBOSS, romantic, athleisure, new classicists, rocker chic, street style, normcore (unisex fashion), KPOP, and hubadera (I think you know what this means).
Also included in the questionnaire are your body sizes. You have to be specific with this part; stylists will have an easier time curating. For them to really see your style, they also ask for your IG account (but you don't have to give it if you don't want to).
Once you finish the quiz, you pick a Surprise-Me Box. Currently, they have three options:
Surprise-Me Express (for sizes XS-L only); price range: Php 899 to 2,900.
Plus Size Boxes (for XL-XXXL sizes); price range Php 1,299 to 3,299.
Subscription plans-Deluxe: Get 5 pieces of clothes handpicked for you every month just for Php 2,499.
When Andy and I placed our orders, the selection was just three boxes: Php 899, Php 1899, and Php 3,299. We got the second option (4 to 5 pieces of clothes) on a discount (Php 300 off!).
Express deliveries in Metro Manila take 3 to 5 working days, while provincial customers have to wait 5 to 7 days for their boxes.
What Happens Next?
Andy and I waited for a week to receive our boxes. There was a little mishap with the schedule of deliveries, but the wait paid off: mine arrived first, Andy's three days later.
The anticipation killed me so I couldn't wait for it. I had to open the box. Here's the box in its full glory: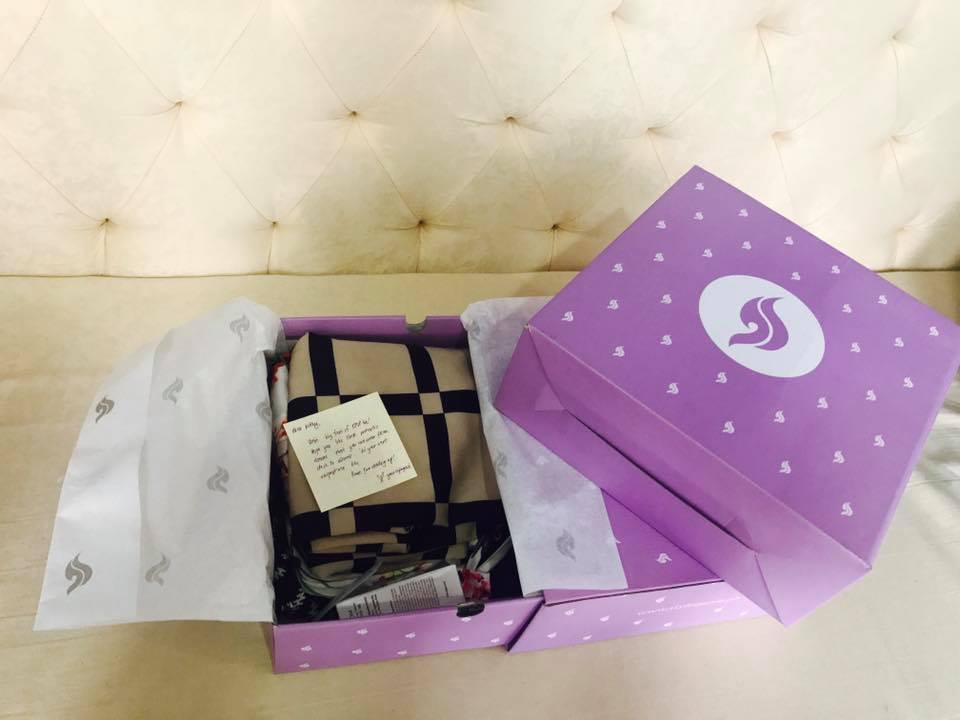 The box came with four pieces of clothes and bonuses: a pair of earrings and anti-aging serum.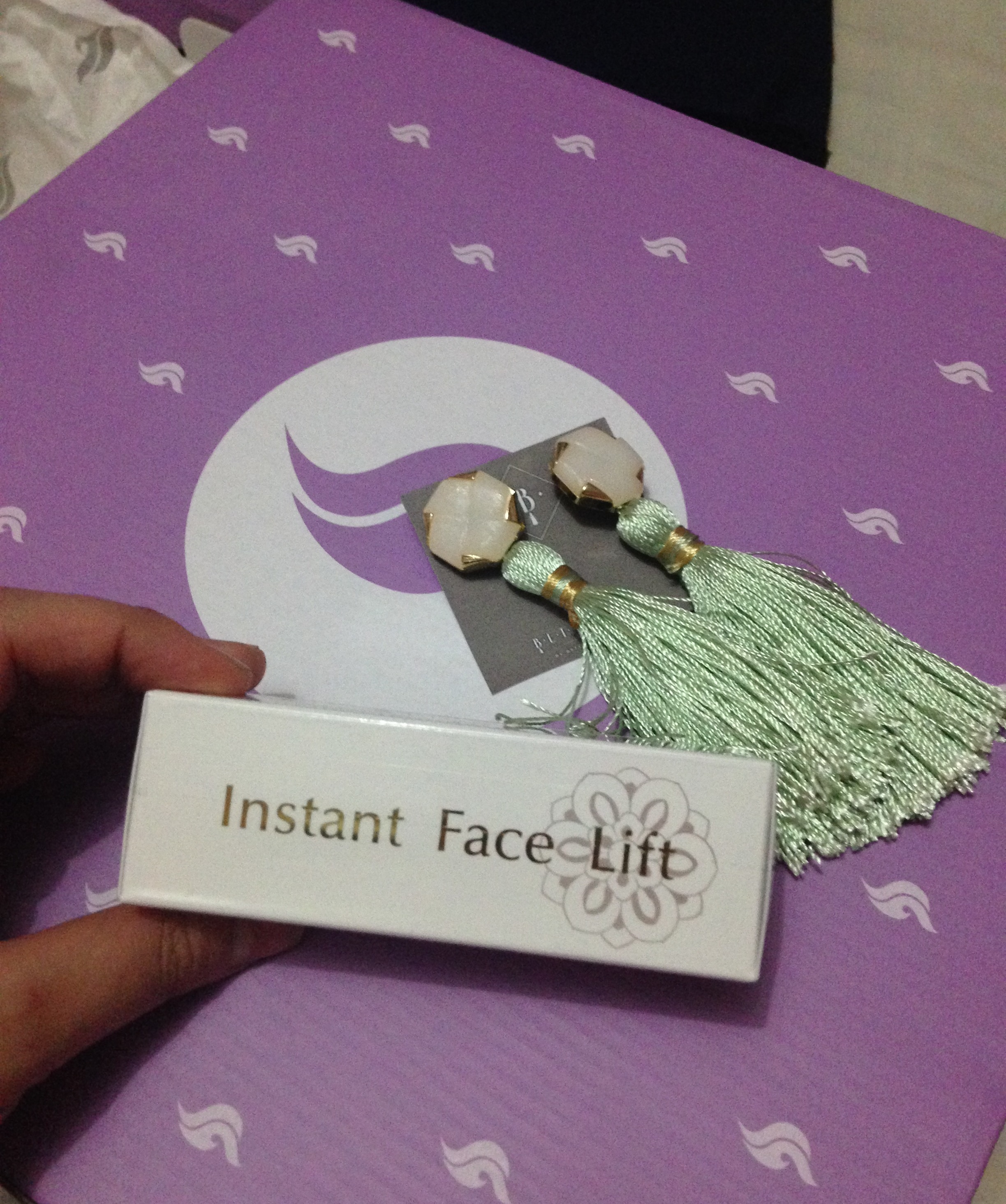 It also came with a sweet note: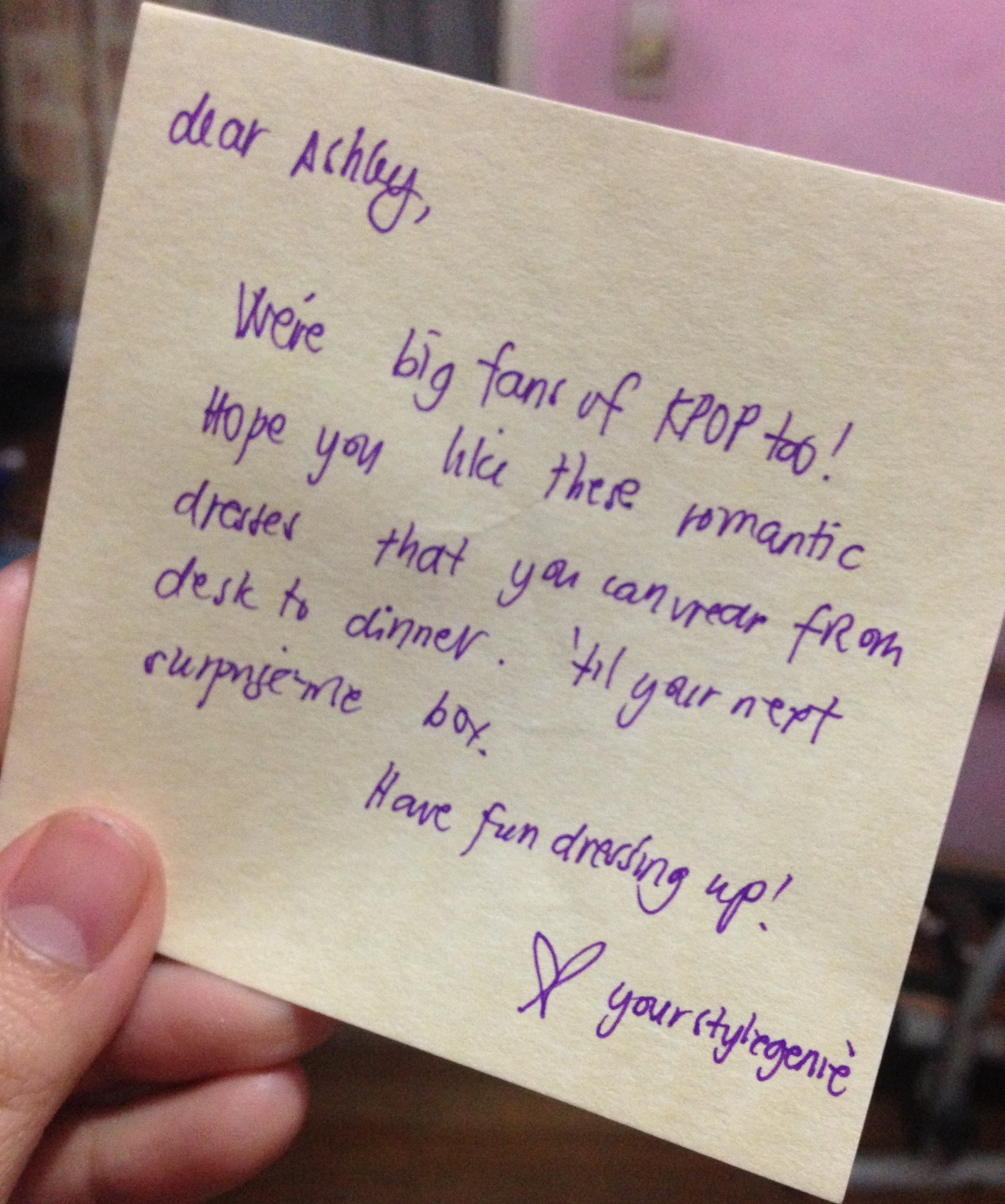 I was tempted to take everything out at work, but I saved it for later. When I got home, I took out the clothes and here's what I got: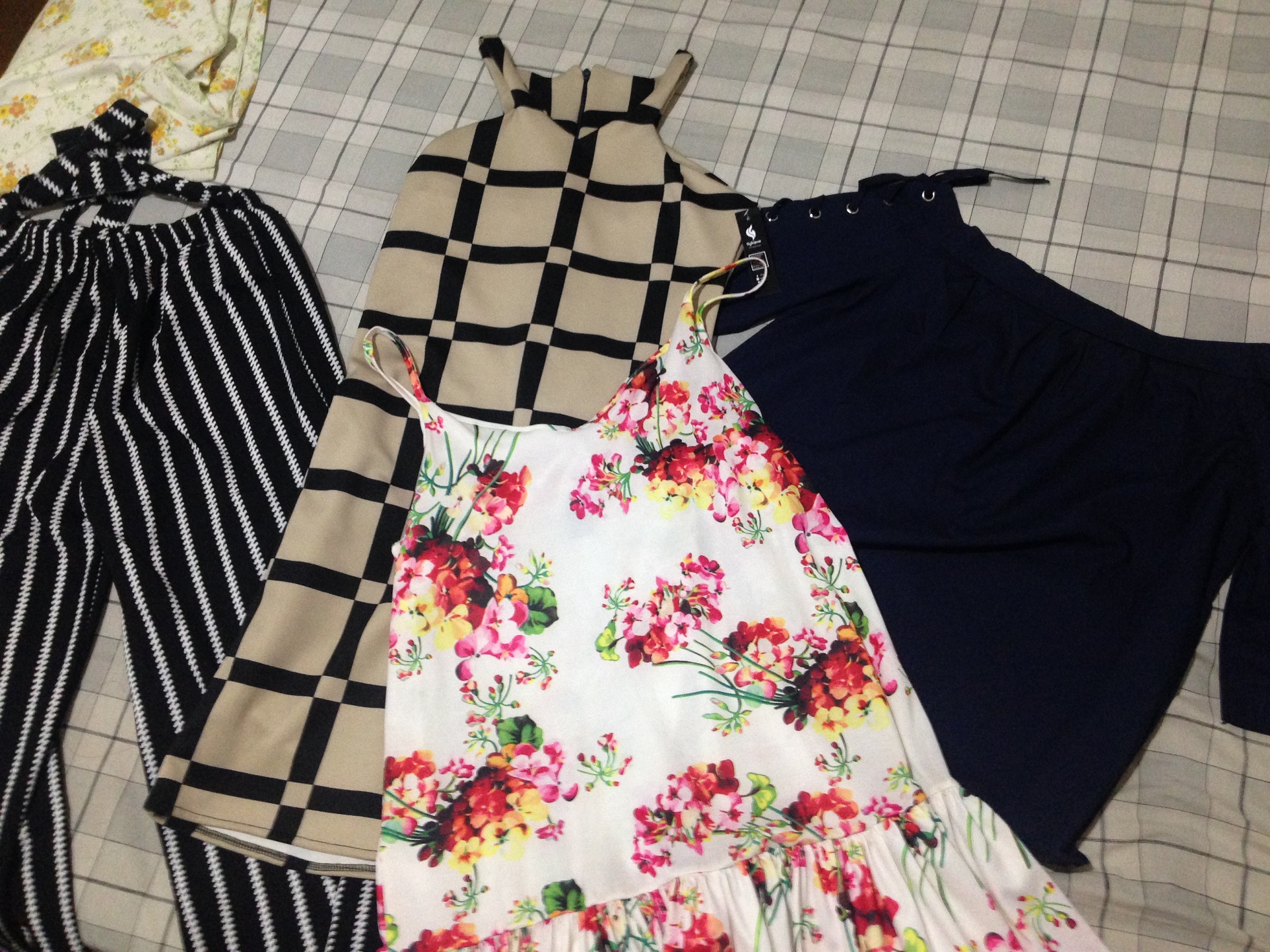 They ticked two of my requests: romantic dresses and an off-shoulder blouse. I expected the latter since I wrote down that I wanted to accentuate my shoulders. I wasn't fond of the pants simply because I already had one.
Here are mine and Andy's favorites: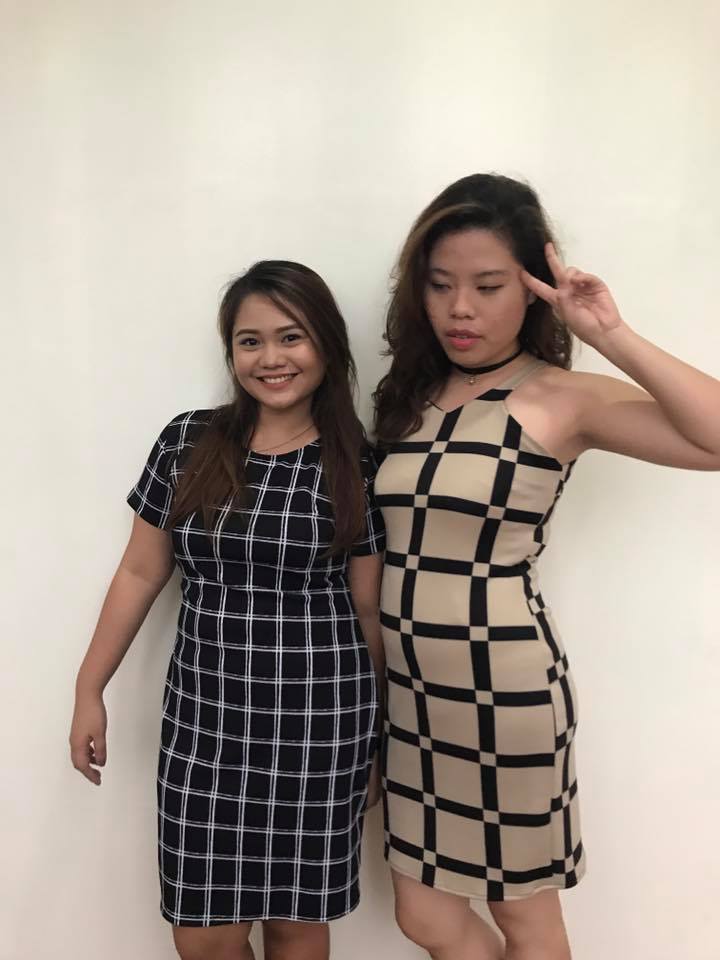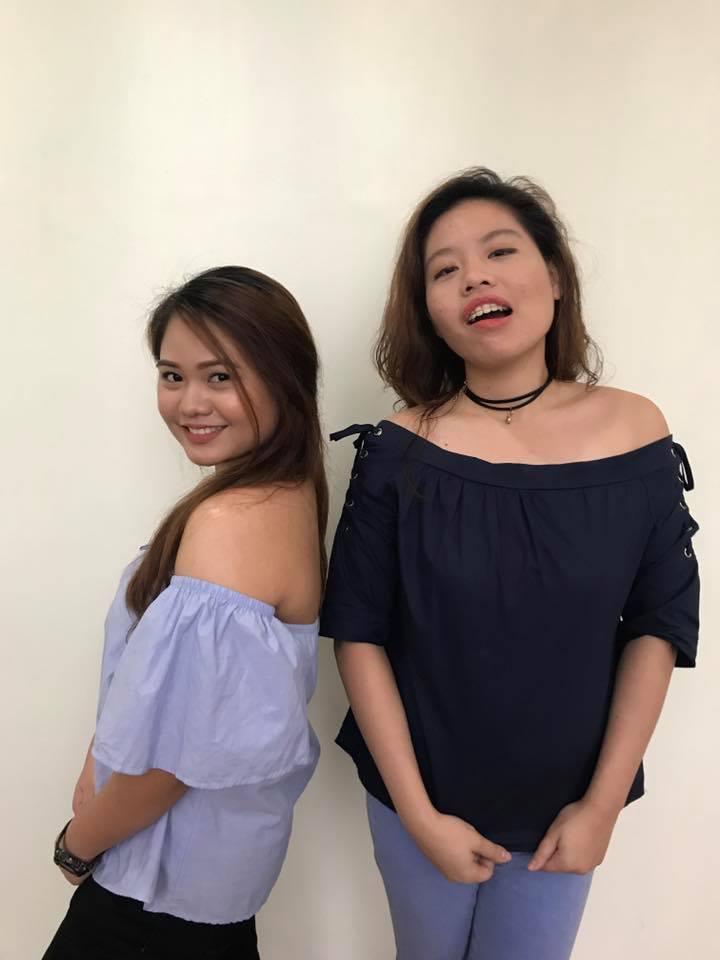 The Return
As much as the clothes were cool, we weren't too keen with some of the choices. Fortunately, StyleGenie has a free one-time exchange policy. All you have to do is go back to the site and file for a return. The shop will require you to update your style profile so they can curate better.
Andy and I filed for a return and patiently waited for new picks. In the end, here's what I got: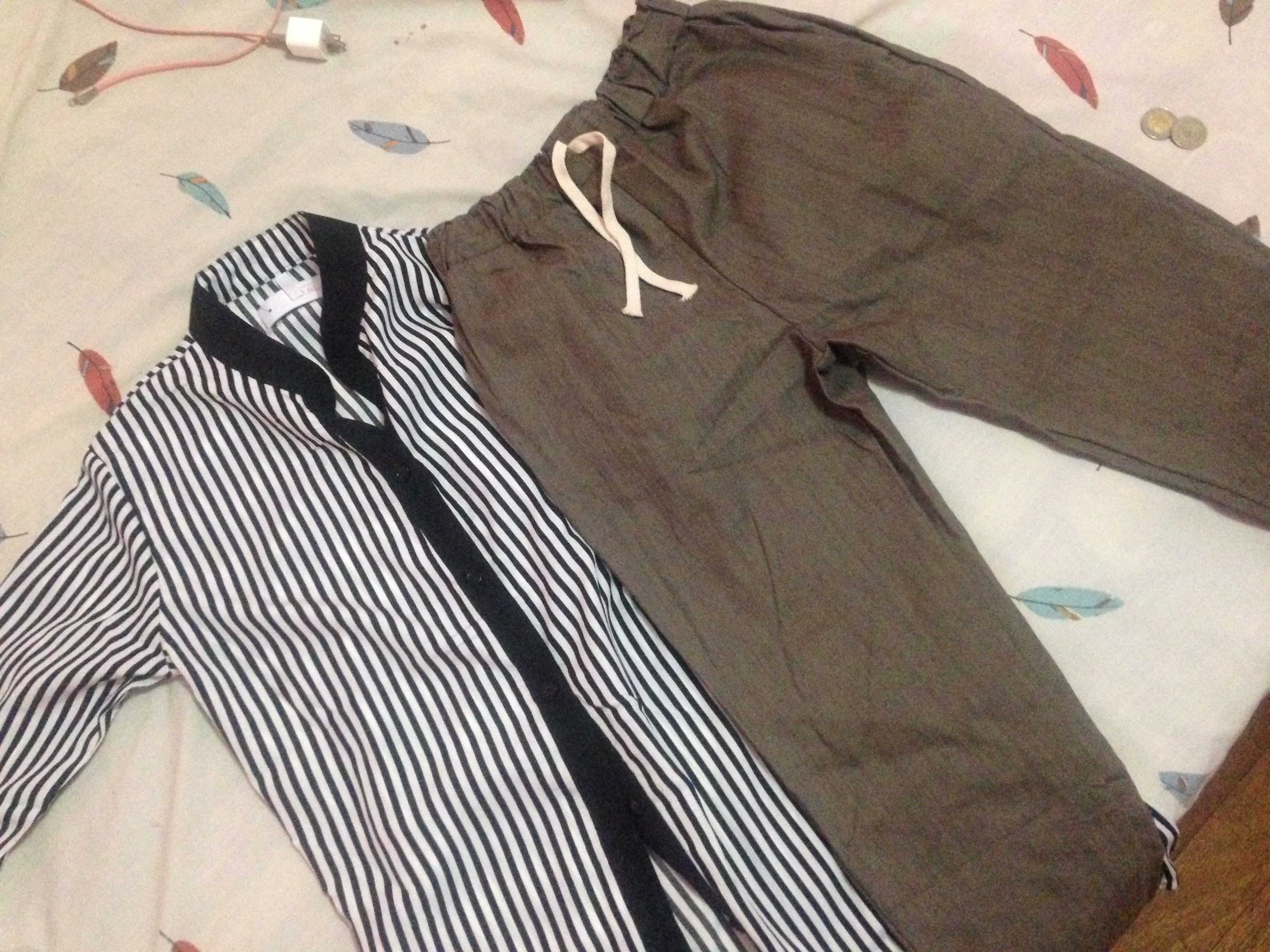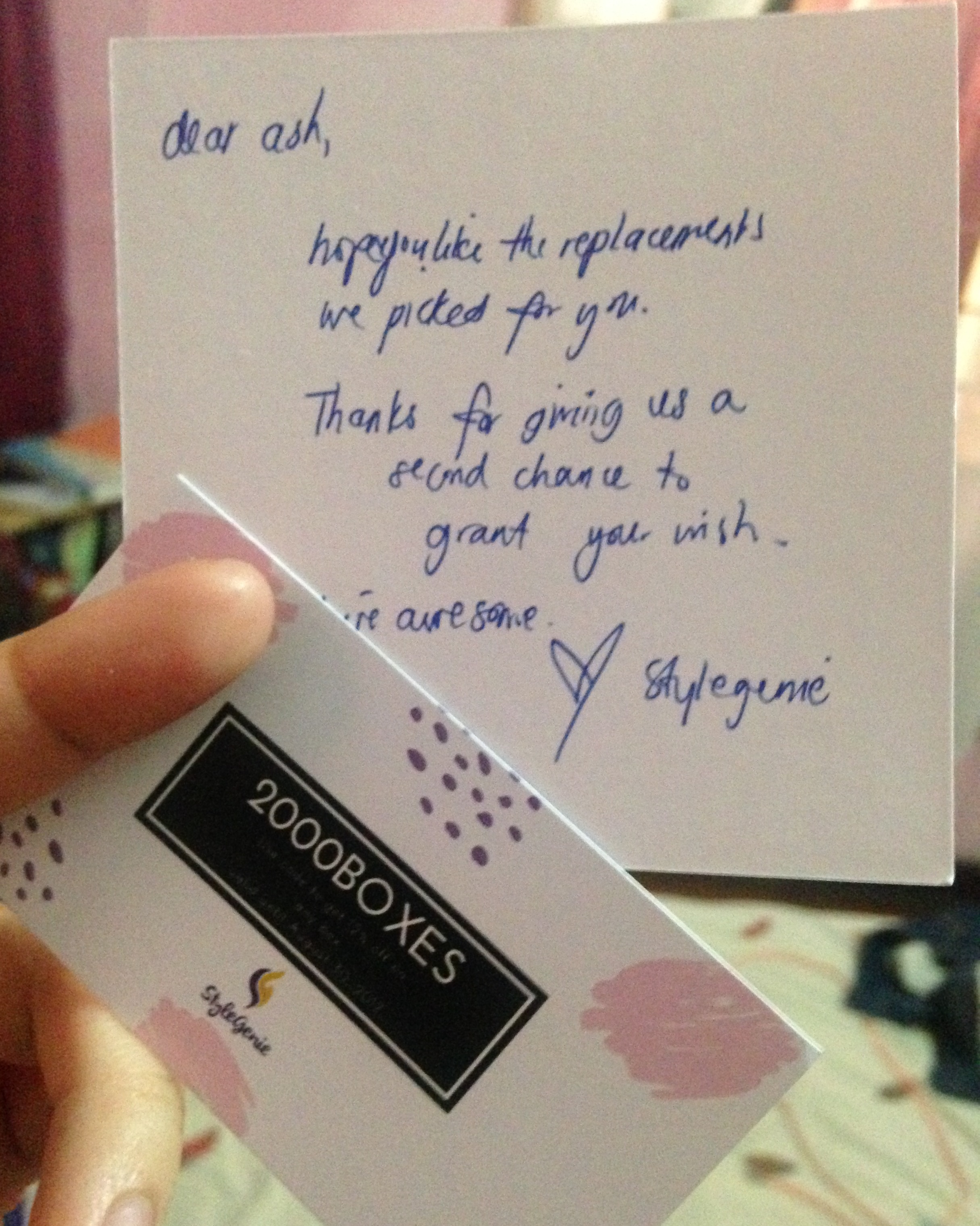 Once Andy received hers, we tried the clothes out: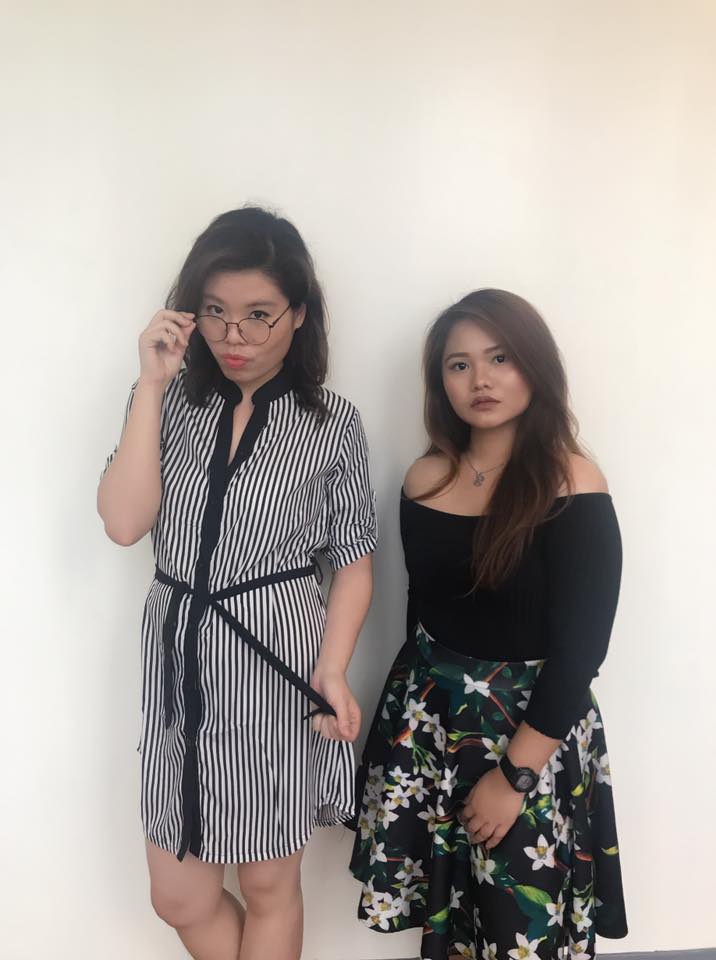 Ashley's Take
(Fashion Style: Casual, Normcore, Kpop, Romantic Dresses)
The first box had a batting average of 3 out of 5 stars. Out of the four pieces they sent, I liked two of them: the dark blue off-shoulder and the fitted dress. They took note of the fact that I loved showing off my shoulders, hence the off-shoulder piece. I also wrote that I'm a big fan of romantic dresses, which explained the two dresses.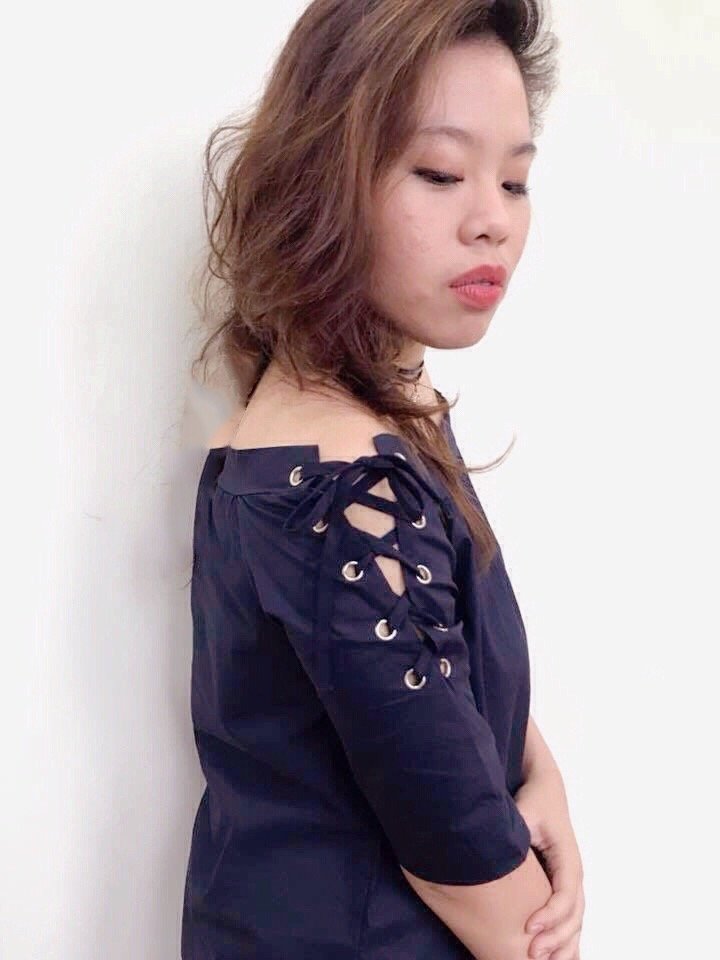 The service, however, is not without cons.
FIRST, the waiting time was pretty long, especially for the return box. According to the site, your second box should arrive within 7 to 10 days. Mine arrived late, and so did Andy's. I understand that circumstances happen, but a little head's up would've been nice. An email or a text message informing us about the delay would've calmed our slightly panicking hearts.
SECOND, I feel like the box could've been more adventurous with choices. In the section that asks about your personal style, I wrote that I love KPop fashion and normcore and also added that I like romantic dresses. The first box focused much on the romantic dresses and the off-shoulder part. I was hoping for some normcore choices, but I didn't get any.
The return box was better. I got a pair of pants and another dress, but I think they played it safe. I can't blame the stylists; after all, styling someone you only see through IG posts can be difficult. But I would've liked the little experimentation.
I recently visited the site again and noticed they made changes to the questions on the Style Quiz, which I think was a good call. They added more options and added specific questions to determine your style.
Andy's Take
Andy had a similar experience—she liked only two of the four outfits StyleGenie sent. The first one is a baby blue off-shoulder top, which was a stark contrast to her everyday style. Andy is the type who prefers dark colors and hates the hubadera tube type off-shoulder top, but she surprisingly liked the look.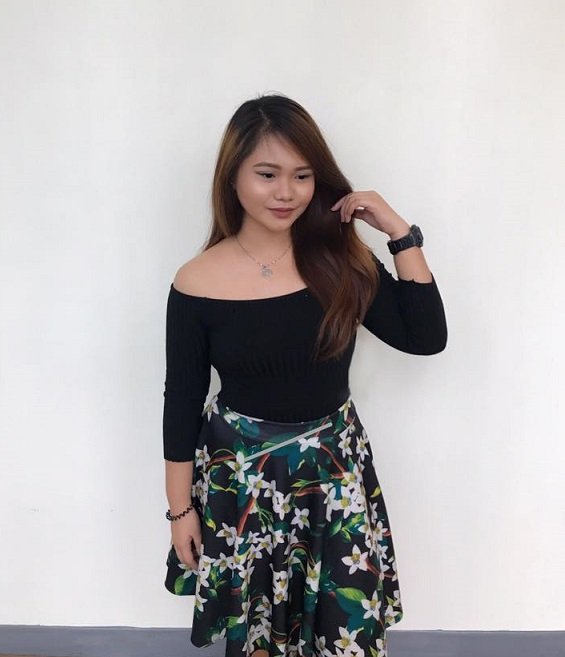 The other piece she semi-liked was the black and white plaid dress. "I don't love it, but I don't hate it either. I'd say pwede na," she said.
Andy returned two of the pieces as well, and after more than a week of waiting, she received a black off-shoulder blouse paired with a beautiful floral midi skirt.
"I discovered things about myself. I've always been the 'bahala na' type when it comes to dressing up, but StyleGenie gave me the confidence to experiment with my wardrobe."
Overall, StyleGenie is the best option if you are 1) tired of traditional shopping, 2) looking for some thrill in fashion, and 3) want to see how a stranger views your style. It was a one-of-a-kind experience, allowing stylists to pick my clothes.
If you love surprises and shopping, then make a wish on a Style Genie today.
Ashley Petallano
Ashley is an awkward potato in love with words, Kpop, and corgis. She spends her free time dancing like one of those balloon things you see in malls.