It's always a relief when the rainy season comes after a long, hot summer. Now, you won't have to endure high temperatures and spend your days sticky with sweat.
However, the weather change may not be too kind to your skin. As the temperature and humidity levels in your area change, your skin may experience a lot of damage and may even start looking dull and dehydrated. To make sure that your skin still looks its best even during the rainy season, here are some tips you should follow:
Wash Your Face at Least Twice a Day
The humidity level rises during the rainy season in the Philippines, which often causes your skin to produce more sebum. If not cared for properly, you might be more prone to acne breakouts and even fungal infections.
To ensure that the excess oil on your skin doesn't clog your pores, you should remember to wash your face two to three times a day. It's also best to use a gentle or soap-free cleanser to prevent your skin from drying out or getting irritated.
If you have normal to oily skin, use the Cetaphil Gentle Cleanser. It's a mild skincare product with a non-irritating formula that's safe even for babies! It is also described as gentler than water that you don't even need to rinse it off after cleansing.
Exfoliate Your Skin
Another way to avoid getting pimples is by exfoliating your skin regularly. This skincare step will help you unclog your pores and get rid of the dead skin on your face. Exfoliating your skin twice a week will also increase the blood circulation to your skin, which can then help flush toxins out.
There are several ways you can exfoliate your skin. First, you can buy a facial scrub like the Pixi Peel & Polish. This enzyme peel uses a combination of manual and acid exfoliation to reveal younger and brighter skin.
You can also go to a skincare professional and take advantage of the different exfoliating treatments they offer. Some of the procedures your dermatologist might suggest are microdermabrasion and chemical peels.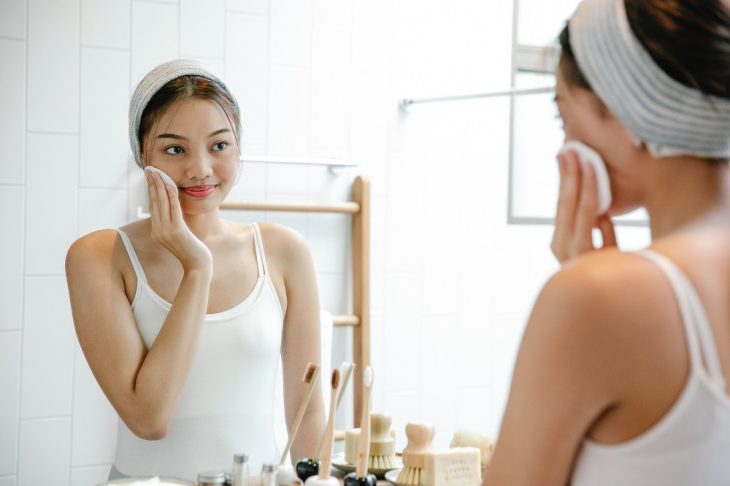 Use a Toner
Applying a mild toner to your face after cleansing can make you feel less greasy even when the humidity level rises. This skincare product can clean your skin and get rid of any build-up clogging your pores.
A mild toner can also keep your face hydrated throughout the day by balancing your skin's pH levels. Taking care of your skin's pH level is also key to maintaining a healthy skin barrier.
There are several brands that offer toners in the Philippines. Most of them promise to help you fight acne and whiten your skin. Although their claims might be true, it's still best to choose a gentle toner that will keep your skin healthy and help you avoid any irritation.
To ensure the safety of your skin, choose an alcohol-free toner like the Nivea Face Fair & Glow Hokkaido Rose MicellAIR Cleanser. This toner (and makeup remover) will cleanse and balance the pH levels of your skin without drying it out. It also contains Hokkaido Rose extracts that can effectively provide you with a glowing complexion.
Apply Sunscreen
You might think that just because summer is over, you don't have to wear sunscreen when you go out. However, the opposite is true. According to experts, you still need to apply sunscreen even during the rainy season. This is essential because the sun's UV rays can still penetrate clouds and reach the ground and your skin.
In fact, the sun's UV rays are so powerful that they can affect you even when you stay indoors. That is why it is recommended that you apply sunscreen even if you won't be going out.
To keep your face safe from any form of sun damage, you should use a high-quality sunscreen that won't cause any irritation. One product that skincare enthusiasts swear by is the UV Aqua Rich Watery Essence by Bioré.
This sunscreen has a lightweight formula that won't make your face feel sticky or leave a white cast, making it perfect for oily skin. It also has SPF50+ PA++++, so you won't have to worry about not having enough protection even when outside your home.
Take care of your skin no matter the season by making necessary changes to your skincare routine. Now that the rainy season is fast approaching, it's time to add new products and steps to your regimen and ensure your skin stays glowing even when the skies are gloomy.