Just because we don't go out often, it doesn't mean we should forget to care for our skin — this is one of my mantras during the crazy year that is 2020. Quarantine season shouldn't stop us from caring and pampering our faces, which is why I try my best to give my skin the loving that it needs.
I'm not particular with the products that I use for my skin. From my go-to Kojic acid soap to favorite serums for Garnier, I use almost about anything cream, serum, soap, and the like — just as long as I'm not allergic to them.  
But it has never occurred to me to venture into the deep science of skin care.
That is until I met FOREO BEAR.
I've always been curious about using devices for my face. So when I was given the chance to try out FOREO's BEAR device, I figured, "Why the hell not?"
Before I get into the experience, here's what you need to know about this cute skin care device.
Meet the FOREO BEAR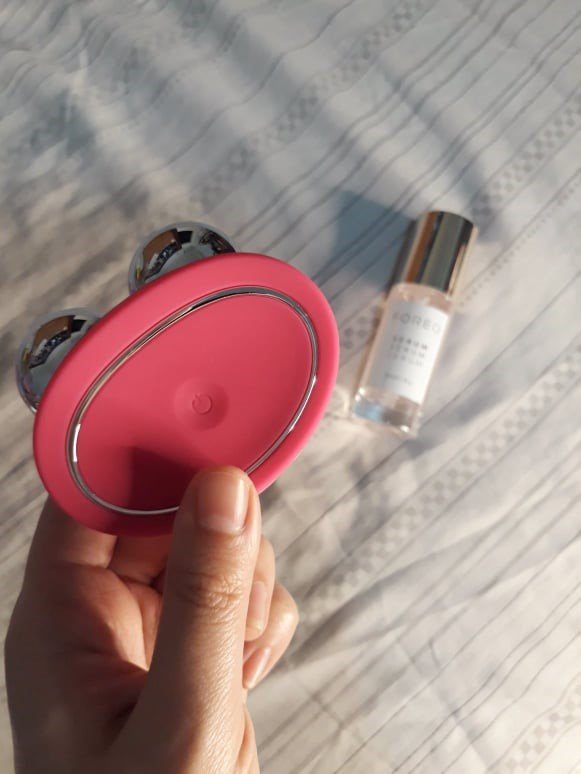 FOREO BEAR, dubbed as the Most Electrifying Facial Fitness Innovation Ever, is a small device that guarantees face firming and face contouring via gentle T-Sonic pulsations. Pulsations mean tiny electric currents that massage your skin.
The idea of currents and skin care may sound dangerous, if not unpleasant. But the BEAR device features an anti-shock system, which eliminates any chance of the microcurrent shocking your skin. The device offers more microcurrent intensities, so you can personalize your treatment and not worry about getting hurt.
Another key feature of the BEAR device is its app connection. You have to download the app and register your device to customize your face massaging routine. With the app, you have more microcurrent intensities plus a guided facial fitness routine. But if you want to do your routine without the manual, you can. Just register your device first.
In terms of appearance, the FOREO BEAR is pretty cute. It has two metal "ears" that combine the relaxing T-sonic pulsations and toning microcurrents. Plus, the little bear is PINK, plus points for people like me who love pink! Also, it's small enough so you can pack it and use it wherever you are.
How Does it Work?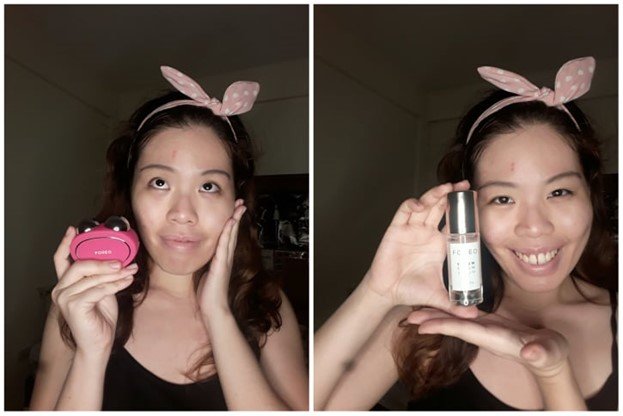 The first time I tried using the BEAR device, I was a bit confused. Do I just put turn it on and put it on my face?
The manual told me otherwise. It turns out I had to download the app, register the device and only then can I start using my BEAR. As mentioned, you can manually use BEAR once you register it. I wanted to do manual but I figured I should give Foreo's personalized routine a try.
The routine starts with applying some of the serum on your face. Once you've applied the serum, you start using the device.
The custom skin care routine takes three-minutes and involves repeated gliding of the metal balls on the skin. The app tells you when to stop, where you should start massaging your face and for how long. It seems scientific, but that's what makes the app unique.
As for the current, you have the option to adjust the level of microcurrents. I'm a scaredy cat, so I turned it up to 10 only. The pulsations are very comforting, and I didn't feel any electric sting except on my forehead. I tried reading up on other reviews to see if I was the only one feeling this. Turns out other users have experienced the same stronger currents on the forehead. None of us could explain it, though. But it doesn't hurt.
Initially, I used the device every day for a week. But I started breaking out since my skin is very sensitive, so I trimmed my BEAR routine to twice a week. Finally, my face took a chill pill and started accepting the treatment.
What Happened Next?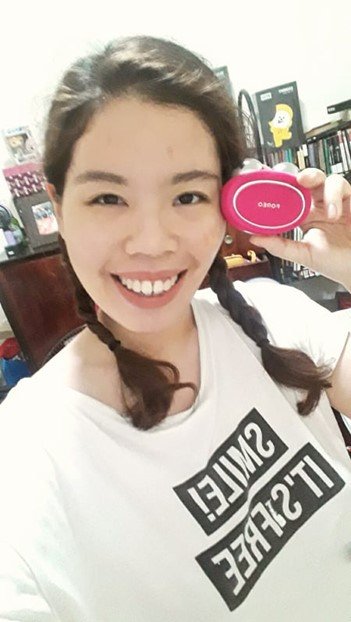 Weeks after using the BEAR device, I noticed that my face looked a little brighter. And my cheeks appeared as if I had a filler "tweakment" done. As for my jaw, I can't say anything has changed since I have always had a strong jaw. But so far, I loved the subtle changes that come with using FOREO BEAR.
The BEAR device is a splurge. But frankly, this is a worthy splurge. Nothing guarantees face tightening better than this cute device. If you're looking for a tried-and-tested addition to your #PamperMe sessions, add FOREO BEAR to your routine.
If you're interested in adding the BEAR (or any of FOREO's skin care devices), browse through their selection here.
Ashley Petallano
Ashley is an awkward potato in love with words, Kpop, and corgis. She spends her free time dancing like one of those balloon things you see in malls.