Now that the months of hot men chasing a single ball around the field is over, we think it's high time to award the hottest of them all. Out of the 200 or so players from 16 different countries, we have settled with the 10 most sizzling men on the football field and pitted them against our equally sizzling local hunks. Let's all get ready to rumble!
#10. Glen Johnson vs Zanjoe Marudo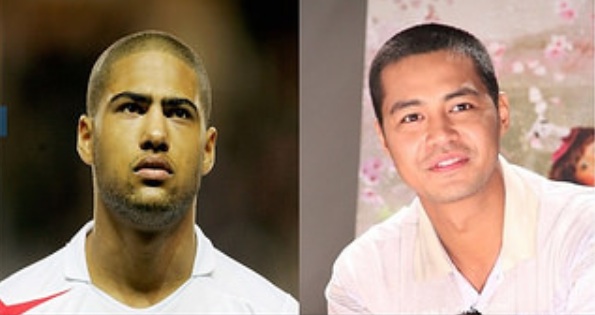 England's defender Glen Johnson is definitely many modern Filipina's dream: tall, dark, and handsome. England didn't stay on for too long at the 2014 World Cup to give us a chance to see more of Johnson's rock-hard body, but fans of this sexy footy player won't have to wait for long because he will be back next month for the Premiere League.
A sought-after model with tanned skin, tall stature and full lips, Zanjoe Marudo, like some of our other hottest local male star entries on this list, rose to fame through the popular reality show Pinoy Big Brother. Audiences from all walks of life were intrigued by this sexy model with an air of mystery and comedy. It wasn't a surprise that a successful showbiz career was waiting for Zanjoe when he got out of the house.
#9. Wesley Sneijder vs Derek Ramsay
Known for their signature shaved heads, Wesley Sneijder and Derek Ramsay are our bald hotties! Their piercing eyes plus their tanned and tattooed bodies easily make them God's gifts to women.
#8. Erik Durm vs James Younghusband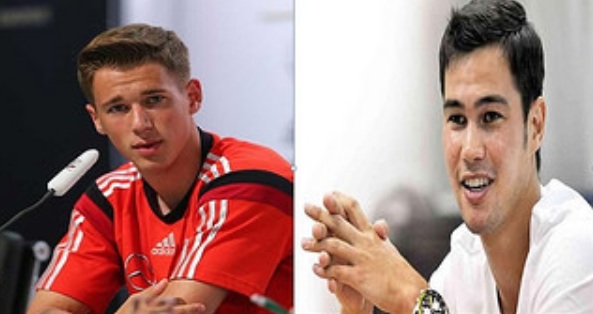 Because we're talking about the 2014 FIFA World Cup here, let's not forget to include our own Azkals Philippine Football team member Phil Younghusband in our list. Seriously: just look at their photos and you'll know why they're both in the list of the hottest men in the football field!
#7. Fernando Gago vs Jake Cuenca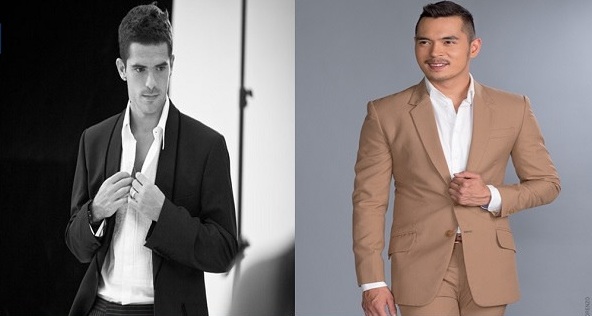 The whole Internet world went abuzz when Fernando Gago appeared on the turf with his equally cute son cuddled in his arms.  A defensive midfielder, who acts as support to football superstar Lionel Messi; Gago has played for both Real Madrid and Valencia in La Liga. At 5'9", he is nicknamed as "El Pintita" meaning "The Little One Trying to Look Good". In our book, with those intense eyes and uber handsome face, he doesn't need to try at all.
On the other hand, we have our local Mr. Intense Eyes Jake Cuenca, who has been in the limelight since he got a break in his career in a teenybopper series in GMA 7. He has since headlined numerous TV projects including the star-studded and highly rated soap opera "Tayong Dalawa". He has eyes that can speak a thousand words and an intense smiling stare that can turn any of us into mush.
#6. Sergio Ramos vs Anton del Rosario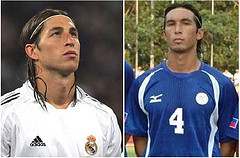 Sergio Ramos is popular for wearing his hair long, but did you know that once upon a time, Azkals hottie Anton del Rosario used to wear his mane long, too? When they both sport long hair, Sergio Ramos and Anton del Rosario look like two peas in a pod.
#5. Gerard Pique vs Sam Milby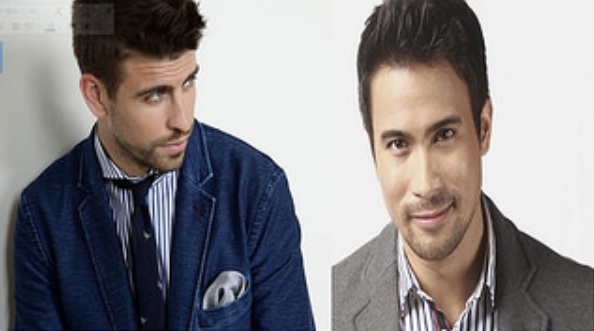 Sobresaliente! Muy caliente! Gerard Pique is a permanent resident on any hottest / most handsome/ sexiest (and any other variations thereof)  football players list. The Spanish heartthrob plays center back for Catalan giants FC Barcelona and the Spanish National Team. With his amazing body and good boy looks, we feel quite unlucky he's been attached to pop superstar Shakira for some time now.
Sam Milby came to the Filipino audience's consciousness doing backflips and cartwheels in the PBB house. Filipino ladies oohed and aaahhed when he came out of the house with his good boy charm, smile, and undeniable talent. Plus, unlike his Spanish counterpart, this heartthrob is currently single.
#4. Alexis Sanchez vs Jericho Rosales
There's no denying thatChile's 25-year-old forward / winger Alexis Sanchez is currently considered as one of the most talented footballers out there (he scored 4 times in this 2014 World Cup), but what made the Twitterverse burst wasn't his excellent performance against Brazil, but his very tight short shorts during that match. What excites us the most about this young footballer, though, is his megawatt smile that instantly melts our heart. We already know football players have a great physique and toned bodies, but not everyone has that perfect smile on the pitch.
Jericho Rosales' passport to fame was joining the contest in Eat Bulaga's appropriately-titled Mr. Pogi in 1996. Almost 20 years after winning the contest with his smiling eyes and actual killer smile, he is now a household name with a very established career not only in acting and endorsements, but also in singing. Talent, good looks, and a killer smile? No wonder Echo is now considered to be one of the most talented actors and endorsers with a very established career.
#3. James Rodriguez vs James Reid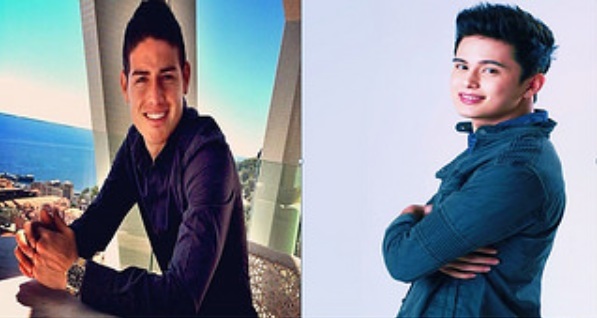 Let's make it a battle of the Jameses for these two young superstars who have recently made their names in their respective industries. James Rodriguez is the biggest revelation of the 2014 FIFA World Cup. He became the second-youngest player (at 23 years old) in the history of the World Cup to score six goals in a single tournament.
On the other hand, our very own James Reid is predicted to be the "next important star" in Philippine showbiz after the box-office success of his movie "Diary ng Panget", which grossed more than P119 million. This movie was James Reid's biggest break after being the big winner of the Pinoy Big Brother: Teen Clash Edition.
#2. Olivier Giroud vs Piolo Pascual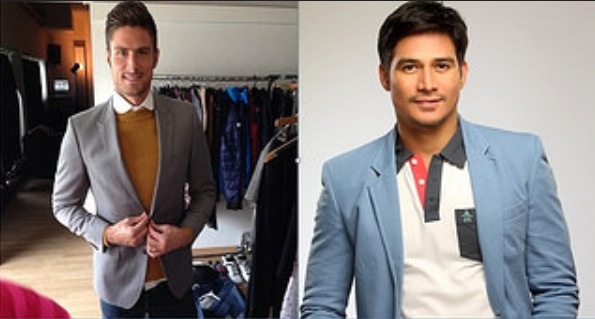 Their masculine jaw lines and bulging biceps are certainly to die for! One of the hottest guys of the 2014 World Cup Olivier Giroud has got to be matched with the Pambansang Hunk Piolo, "Papa P", Pascual. Other than their looks, both are known as devout Christians. In fact, Olivier Giroud has a tattoo on his right arm from Psalm 23 in Latin: "Dominus regit me et nihil mihi deerit" ("The Lord is my shepherd; I shall not want").
#1. Cristiano Ronaldo vs Dingdong Dantes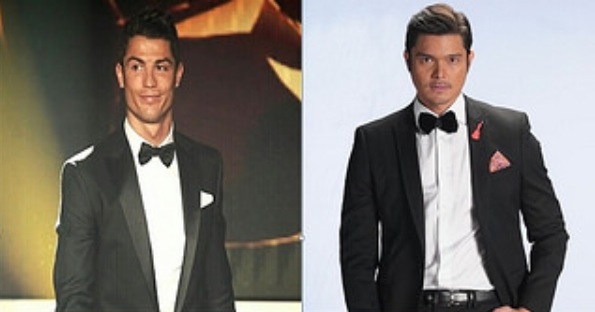 When you are as perfect as Cristiano Ronaldo, a list like this one would be failure without your name on it. With a handsome face and perfect physique, this guy would easily top any list floating around. But what makes Ronaldo extra smoking hot are his good deeds. He recently donated $80,000 for a child's operation. Moreover, his dedication to the game and his team as Portugal's World Cup 2014 team captain despite having a hamstring injury makes him an even sexier human being. Sorry, though, ladies; better luck next guy! Ronaldo has an equally smoking hot significant other.
Dingdong Dantes is that guy you would want to bring home to your mother. Well-spoken, tall, and definitely not bad to look at, every parent would feel lucky to see this guy as his or her daughter's boyfriend. Dingdong, like Ronaldo, isn't just about perfect looks and physique, either. Dingdong has his own charitable foundation, "Yes! Pinoy Foundation", which is involved in various social development programs advocating for education, youth development and disaster response, among others. And as we all know, the Primetime King already has his Queen.
Krizel and Iris
Iris and Krizel have been friends for more than a decade, and they are still not sick of each other. They plan to travel to a spontaneous destination soon, with only the help of a dart and map; wherever the dart lands, that's where they shall go. Crazy? Everyone they meet thinks they are. Oh, and they love boys and Friday night cocktails.