It's time to step out and put your best foot forward! June still offers a lot of job opportunities for those who dare to look for them. There's still a great line-up of job fairs for you to visit!
Magnus Eventus Inc. Mega Job Fair

If you want to attend this job fair, visit its official event page on Facebook.
3rd South Job Fair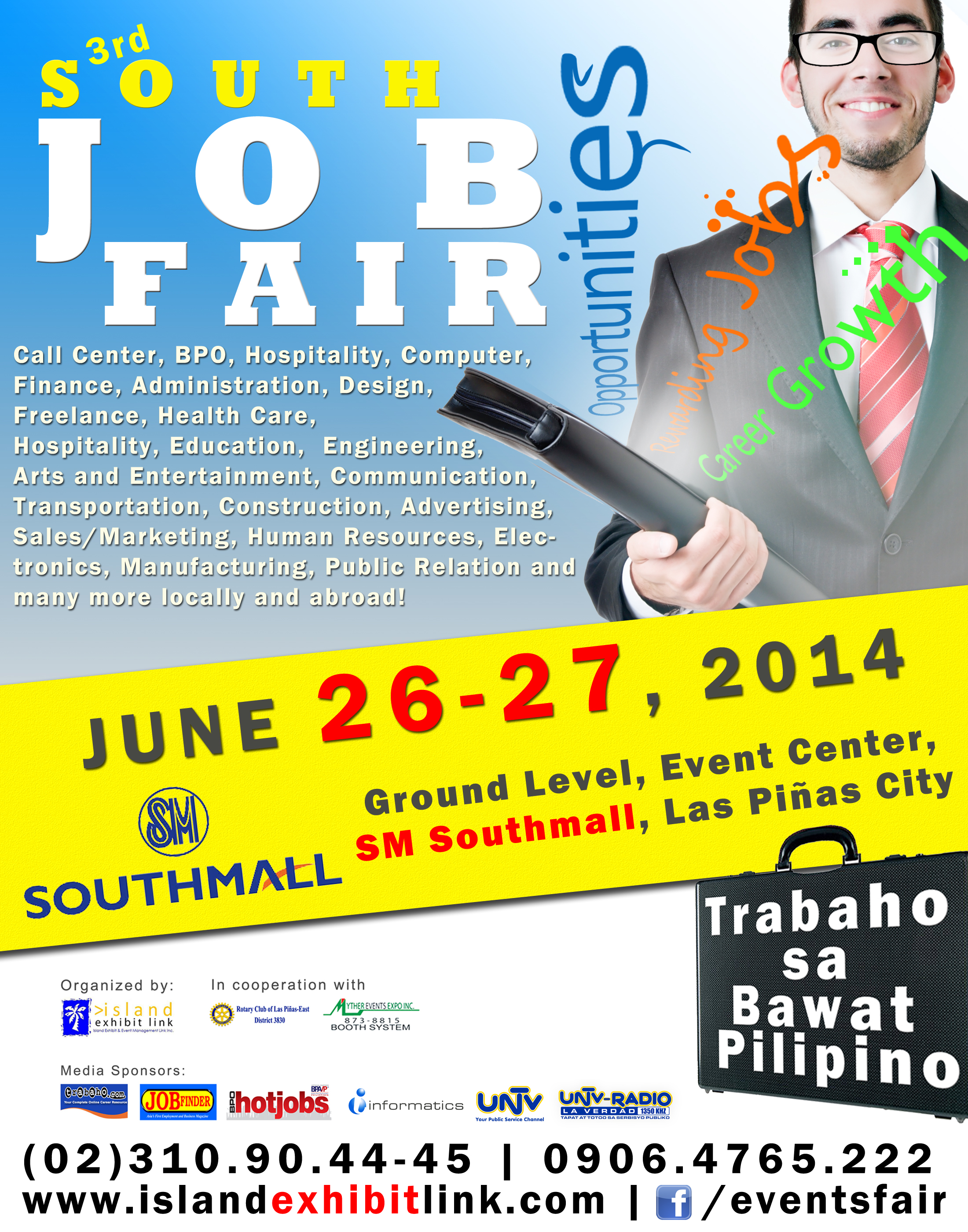 If you're interested in attending ths job fair, you can register at Island Exhibit Link.
Other Upcoming Job Fairs
Last Month, Secretary of Labor and Employment Rosalinda Dimapilis-Baldoz released a complete list of job fairs for May to June 2014. If you can't attend the two job fairs listed above, check out the job fair schedule posted on gov.ph.
Job Fair Tips
You can't just show up at a job fair without making any preparations. Remember that there is going to be a lot of competition, and that you need to really make an impression if you want your potential employers to hire you. Some of the most important tips you should remember when attending a job fair are:
Research about the companies participating in the job fair – Don't embarrass yourself by seeking employment at a company you didn't even bother researching about!
Bring multiple copies and versions of your resume – You'll be handing out your resumes to different people, so make sure you have enough to give away. If you're applying for completely different positions at different companies (for example, you're applying as a Blogger for one but as a Marketing Specialist in another), it's also best to have a different version of your resume for each one.
Prepare a good 20-30 second pitch – You will have a limited amount of time to talk to your potential employers – make it count!
Prepare some questions for the interviewers, too – Asking questions can help you leave a better impression on your interviewers, but only if they're the right ones. Don't ask questions that can easily be answered by visiting the company's website!
Dress well – What you wear to a job interview matters, and it shouldn't be any different at a job fair. Find out what the dress code is for the job fair you're attending. You don't want to be turned away just because you aren't dressed right!
With a little patience and a lot of preparation, attending a job fair can be a great way to get your name out there and start your career off on the right foot.