Denivee Noble
Sometime realist, all-time daydreamer. Among old souls, Den must be…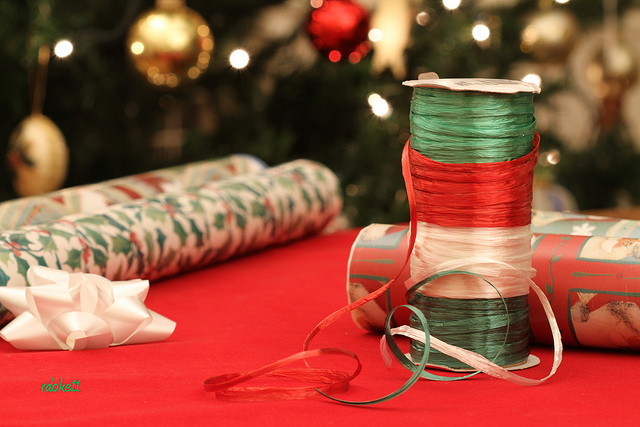 It's a few days before Christmas, and if you're done running 'round the malls and completing your shopping list, then it's time to get those hands to work and wrap them up as nicely as you can. But, with all the hustle and bustle of the holiday season, you may find it hard to sneak in a few hours just for your gift wrapping session.
No worries, though, because there's plenty of ways to wrap them cutely and quickly. Here are some gift wrapping hacks you can try when you're scrambling for time, but want your gifts to look holiday-ready, anyway.
The Present Pockets
When you think about it, gift wrapping doesn't have to take very long. But it usually does because of all the measuring, cutting, and taping. You can do without the cutting and make present pockets instead. Just make neat, strategic folds on the wrapping paper, and secure with tape. Insert your greeting cards or notes, and then your gift is good to go!
The Recycled Paper Wrap
Make your gifts stand out from the rows of glossy, colorful presents underneath the tree, by using brown paper or newspaper as your wrapper. Tie a twine or string to secure your present and give it a rustic, handmade look. If you think plain looks a little boring, then spice it up by stamping on some quirky patterns, or add some shimmer using metallic pens.
You may also try using old maps and magazines for substitutes to the ones mentioned above. Improvise and get creative, girl!
The Crepe or Tissue Paper Wrap
No, we're not talking about toilet paper here. Tissue paper here is a soft, thin, and brightly-colored type of craft paper, similar to crepe. Using it to wrap your presents is easy. Layer different colors to make the wrapper thick, gather them to the center, and then tie it up with a bow! It's perfect for those fancy wine bottles you're giving out to titos and titas.
The Paper Bow
I get it. Sometimes busy girls like us just don't have time to pull off a massive full-fledged, creative wrapping miracle, with dozens of gifts to give. But, you can't just give them out without personal touches, right? If that's the case, then paper bows are what you need. You can make them in bulk, last minute, tape it on the gifts, and you're all set to play Santa Claus, much to the delight of your inaanak.
Whether you're in a rush or have tons of time to spare, you'll appreciate these cute and time-saving gift wrapping ideas. Now, you'll just have to bring those presents and get ready to spread the holiday cheer.
Denivee Noble
Sometime realist, all-time daydreamer. Among old souls, Den must be ancient.