Pixar is famous for features like Toy Story and Wall-E, but other than these movie house blockbusters, Pixar also has plenty of excellent short films that are sure to give you all the feels in under 10 minutes. Here are 8 of them: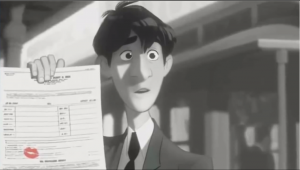 1. Luxo Jr. (1986)
It's a simple two-minute short film revolving around one larger and one smaller desk lamp playing with a small inflatable rubber ball. Looks familiar? Luxo Jr. is the source of the hopping desk lamp included in Pixar's corporate logo.
https://www.youtube.com/watch?v=gzAyrlXTfQ8
2. Tin Toy (1988)
Tin Toy stars Tinny, a tin one-man-band toy, attempting to escape from Billy, a destructive baby. The five-minute short film would later gain attention from Disney, who sealed an agreement to create Toy Story, which was primarily inspired by elements from Tin Toy.
https://www.youtube.com/watch?v=wtFYP4t9TG0
3. For the Birds (2000)
A small bird lands on a telephone wire until a small second bird, annoyingly, lands next to it. Soon, they grow an entire group roosting on the wire–until a huge but friendly bird arrives.
4. Partly Cloudy (2009)
A different take on where babies come from, Partly Cloudy is an adorable short that stars Gus, a lonely grey cloud and his attempts at creating babies. Instead of making cute chubby children, Gus makes porcupines and sharks. The animation is adorable and you can't help but want to hug poor Gus.
5. Day and Night (2010)
A film that brilliantly uses animation and sound, this short revolves around the story of Day and Night, who are both uneasy about each other at first. Later, they begin to see the good in each other and the ways they perfectly balance out. It features an excerpt of a speech by Dr. Wayne Dyer called, "Fear of the Unknown."
https://vimeo.com/53693770
6. La Luna (2011)
La Luna is a dreamy fable of a young boy, Bambino, in a wooden boat far out to sea where he climbs to the moon with his father and grandfather to sweep stars off the lunar surface. Charming and endearing, the plot was inspired by director Enrico Casarosa's childhood and tales by Antoine de Saint-Exupéry.
7. Paperman (2012)
Completely rendered in black and white, this film is about how a man tries to get the attention of an attractive young lady through odd ways of communication. Paperman is one of the simplest and purest examples of Pixar's ability to deliver all the feels.
https://www.youtube.com/watch?v=1QAI4B_2Mfc
8. Lava (2014)
Lava is an adorable short film about two ocean volcanoes and their exchange of songs over millions of years. The musical love story features Uku, the lonely volcano wishing to be sent someone to love. The ending will make you believe that we all have our special someones–and they'll arrive right in the nick of time.
We hope you enjoyed all the good vibes sent your way thanks to these adorable short films. Way to go, Pixar!
Isabelle Sierra
Isabelle Sierra is a small lady working in a big city. She likes making references to popular culture, cutting her own hair and dreaming about alternate universes.