Dyan Carolino
Dyan is a 25-year-old writer with a sense of humor…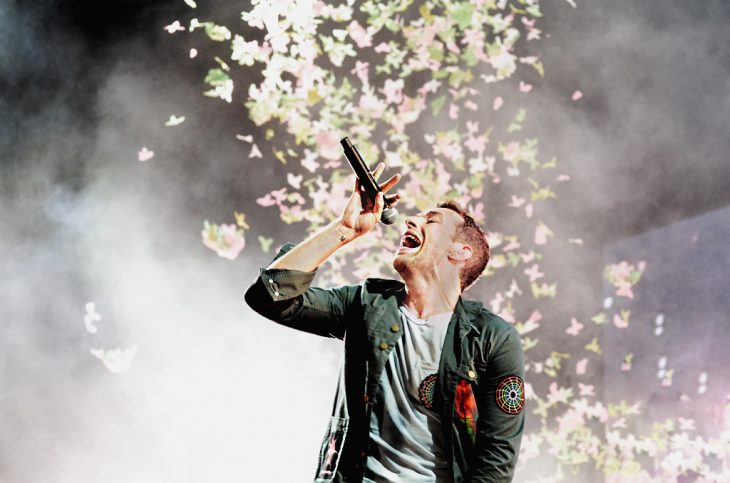 It's really happening.
Less than a week from now, Coldplay is finally coming to Manila—and we're feeling the excitement in the air. We're looking forward to the confetti, crying, smiling, and fireworks all in a three-hour time frame, and considering the madness of the ticket selling era, we all deserve it.
Before April 4, listen to these songs on REPEAT, and belt out A Head Full of Dreams at the top of your lungs on your walk to the MOA Concert Grounds. Or if you belong to #TeamBahay, holding your heart so that you don't start crying, listen to these songs at home in full blast to get the feel of the concert:
A Head Full of Dreams
Obviously, Coldplay will be opening the show with A Head Full of Dreams—and spoiler alert: based on their AHFOD US tour, you'll be greeted with an explosion of effects usually reserved for a concert finale. This song is peppy, and will make you want to dance, making it a good start for the concert feel.
Notable lines: You can see the change you wanted / Be what you want to be / And you get a head, a head full of dreams / Into life I've just been spoken / With a head full, a head full of dreams
Yellow
It's been 17 years since Yellow blasted on the radio. Lifted from their debut album Parachutes, the song is the band's breakthrough hit. You probably know all the lyrics to this song – and lucky for you, they'll probably play it at the AHFOD show.
Notable lines: Your skin / Oh year your skin and bones / Turn into something beautiful / Do you know / For you I'd bleed myself dry
The Scientist
Perhaps the band's most touching ballad, The Scientist is arguably one of most well-written songs of its era, opening with a vocal solo at the piano and pleading about the complications of love.
The band played The Scientist in the Las Vegas leg of the tour, and they'll likely play it again here in Manila.
Notable lines: Nobody said it was easy / Oh, it's such a shame for us to part / Nobody said it was easy / No one ever said it would be so hard / I'm going back to the start
Paradise
Paradise is a smooth departure from their earlier hits like Yellow. This song was originally written for the X Factor, but ended up in the Mylo Xyloto album. Good decision—because it gave the band a Grammy nomination.
Notable lines: When she was just a girl, she expected the world / But it flew away from here reach so she ran away in her sleep / And dreamed of para-para-paradise, para-para-paradise, para-para-paradise every time she closed her eyes
Everglow
Everglow is from the latest album, A Head Full of Dreams. It's probably the second most soulful after Fix You. Coldplay will likely play this on tour, and you'll definitely fall in love with this song all over again. Take my word.
You might want to check out Chris Martin's unrehearsed solo performance of the song at the Glastonbury Festival.
Notable lines: There's a light that you give me when I'm in shadow / There's a feeling you give me / An everglow
Fix You
One of their best songs, Fix You was written for Chris Martin's wife at the time, Gwyneth Paltrow, after she lost her father. While the two separated, the beautiful composition remains a huge crowd pleaser, not to mention tearjerker.
Notable lines: When the tears come streaming down your face / When you lose something you can't replace / When you love someone but it goes to waste / Could it be worse?
Up&Up
This track from the AHFOD album is an uplifting slice of funk, featuring a gospel choir and guitar solo. Overall it's a pretty enjoyable song that doesn't really give you any direct feelings, but is a nice, calm listen. The chorus is so infectious that it can transform your day from bad to bearable.
Notable lines: How come people suffer how come people part? / How come people struggle how come people break your heart? / Break your heart / Yes I want to grow yes I want to feel / Yes I want to know show me how to heal it up / Heal it up
Viva La Vida
Viva La Vida was off their 2008 album of the same title. It was a popular and critical hit, winning "Song of the Year", and "Best Pop Performance by a Duo or a Group" at the 2009 Grammys. The opening synth beat is sure to rouse the audience on their feet, and the song is a staple on the AHFOD tour.
Notable lines: Revolutionaries wait for my head on a silver plate/ Just a puppet on a lonely string/ Oh who would ever want to be king?
Listen to these songs and hit play again and again, because the band will go on an indefinite hiatus after the tour. Until then, let's start the countdown!
Dyan Carolino
Dyan is a 25-year-old writer with a sense of humor of a prepubescent male. On weekends, she hibernates.