Geri Osorio
She loves writing because it's the perfect excuse for her…
Summer is here! And you know what that means? It's halo-halo szn (move over, aries szn, no one wants you here)! If you aren't familiar with halo-halo, are you even Pinoy? Even the late Anthony Bourdain loved halo-halo; he described it as an "icy, milky, technicolor concoction," and capped off his delectable "snack" as  very satisfying."
Halo-halo, or "mix-mix" in English, is a frozen Filipino dessert made with a rainbow assortment of ingredients. Some of the good stuff you'll see in a typical serving of halo-halo are sweetened bananas, jackfruit, gelatin, coconut strips, kaong, and red beans. Fill the glass with shaved ice then top it off with a generous amount of evaporated milk and you've got yourself a sweet treat! 
If we were to look for its counterparts in international cuisine, halo-halo can be likened to Korea's bingsu and Japan's mitsumame.
Origin of the Halo-Halo Dessert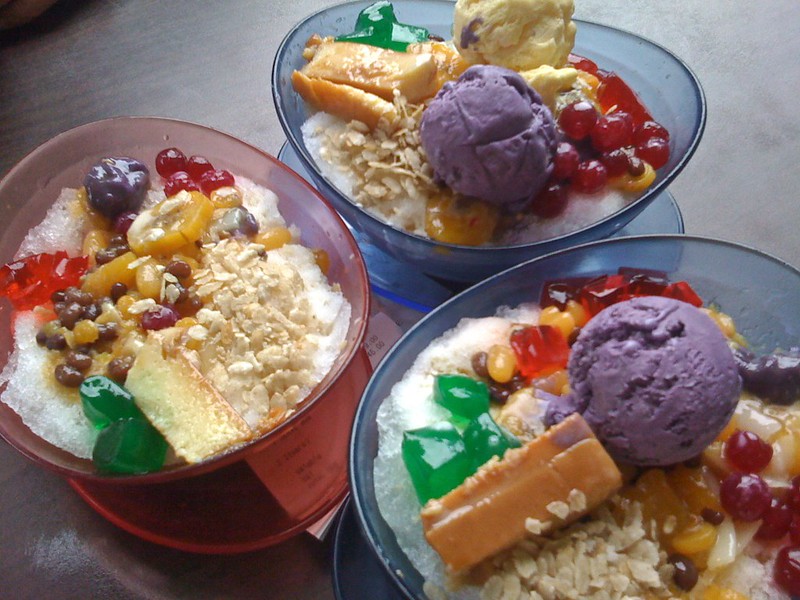 Our colorful dessert has an equally colorful history. According to historians, the Japanese brought in the inspiration for halo-halo when they breached our shores. Nippon immigrants introduced the mitsumame, which literally translates to "many beans," in the country. 
Locals then made their own variations of the Japanese treat, using fruit preserves and custards and sold them for 1 centavo.  
Filipino public historian Ambeth Ocampo also has a similar but contradictory take on the origin of halo-halo. He agrees that we owe the icy concoction to the Japanese, but argues that the inspiration came from a different dessert called kakigori, not the mitsumame. 
Kakigori is an ice-shaved dessert sweetened with condensed milk and eaten with a spoon. 
According to Ocampo, Japanese farmers brought over the kakigori and added various beans, including mondo, red, and kidney beans. This modified version called "mong-ya" is the closest to what we know as halo-halo today.
Halo-Halo Ingredients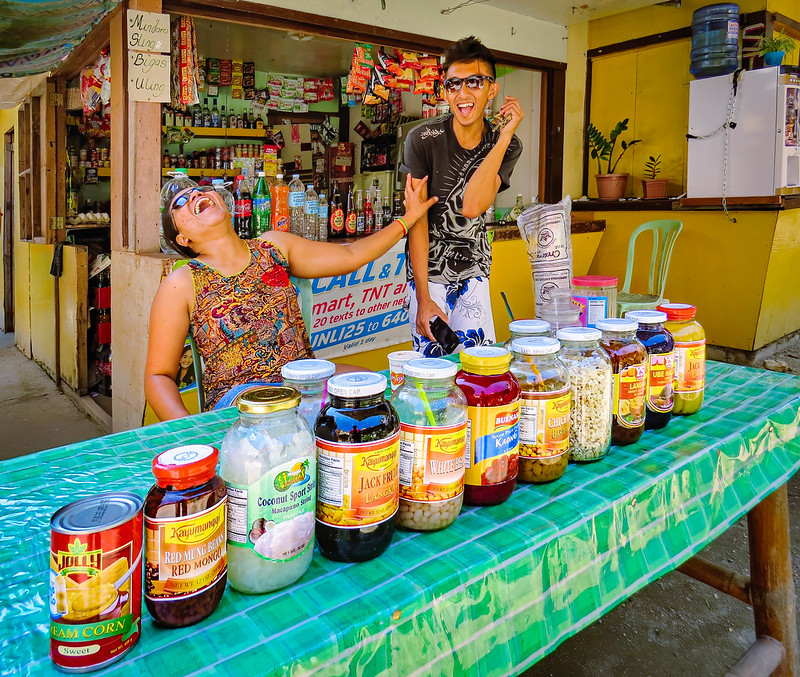 The best thing about halo-halo is that it's easy to find and even easier to make. You can buy it for P20 from streetside vendors or for a heftier price tag in your favorite Filipino restaurants. The ones sold in restos are fancier, of course, often garnished with a dollop of ube ice cream and a small square of leche flan.
I personally like Razon's halo-halo best, since I'm not a fan of beans, jackfruit, and ube ice cream. Their version only has three ingredients: sweetened bananas, macapuno, and leche flan. The ice they use is much finer and they swap the evaporated milk for goat's milk. 
You can also create your own halo-halo recipes at home. The great thing about making it yourself is you get to choose your halo-halo ingredients. You can be uber creative – add strawberry slices, swap the pinipig for frosted flakes, or even throw in some boba pearls! 
If you're not fond of fruits, you can ditch them entirely and enjoy a halo-halo that's just beans, gelatin squares, and ube ice cream. That'd be weird but hey, no one's judging. 
Also, halo-halo can be a vegan dessert. Most of its popular ingredients are already plant-based. All you have to do is swap out the evaporated milk for your choice of milk, and you've got yourself a cup of vegan halo-halo. Tip: coconut milk works well with all the flavors of the toppings!
The thing about halo-halo is that it's completely customizable. Get as crazy as you want and don't forget to mix it up.
Geri Osorio
She loves writing because it's the perfect excuse for her to make more puns.