More than a year into 2021, we're still in quarantine. ECQ Season 2 was announced in March to prevent COVID-19 cases rising in the Philippines. Although most of us are used to staying at home by now, things can still get lonely and a little boring.
Fortunately, technology makes it possible for us to reach out to friends and loved ones. But Zoom convos can get pretty dry. Due to the limited nature of video calls, it's easy to run out of topics to talk about or endure awkward silences.
But hey, keeping in touch with everyone during quarantine doesn't always have to be all small talk. Keep video chats fun by playing online games. 
Whether you're new to games, know of Facebook group games or an expert in all the quarantine games available, here's a list of online games you can host for your next video call. 
What Games Can You Play Virtually?
Skribble.io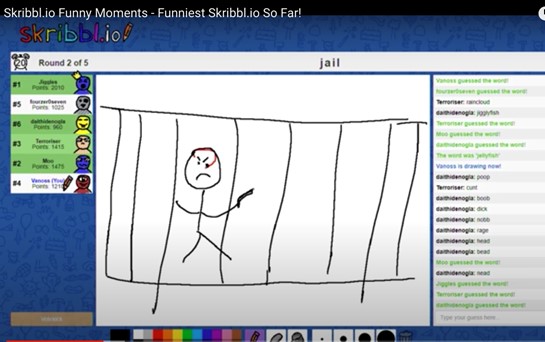 If you're up for some drawings, guessing and a good laugh, Skribbl.io is the place to be. This quarantine game's mechanics is straightforward: when it's your turn, the website gives you words to choose from. You have to draw your chosen word to help your friends guess. If majority of your friends guess it right, you'll get a high score. The people who guessed correctly will also receive scores according to how fast they answered. On the other hand, if no one guesses your drawing, you don't get points.
Skribble.io can get fun, especially when you and your friends don't have any artistic talent. Watch as your friends try to guess your stick drawing.
Among Us
Most likely, you've heard the word 'sus' (not like the 'Susmaryosep!' term we use. Sus is a term derived from the game "Among Us," a crazy game of betrayal, cute aliens dying and suspicion (aka sus). This top-notch game assigns everyone a role at the beginning with one (or two, depending on the game's set mode) impostor among the crew. The Impostor's role is to kill everyone under the radar while the crew finishes their task and finds out who the Impostor is before they all die.
"Among Us" is a fun game of betrayal, especially when everyone's accusing everyone of being an Impostor. Have everyone download the game and stay on the video call during the game but remind all players to stay muted. During an emergency meeting, everyone can discuss who the potential Impostor is but the murdered crewmates must stay silent.
All Bad Cards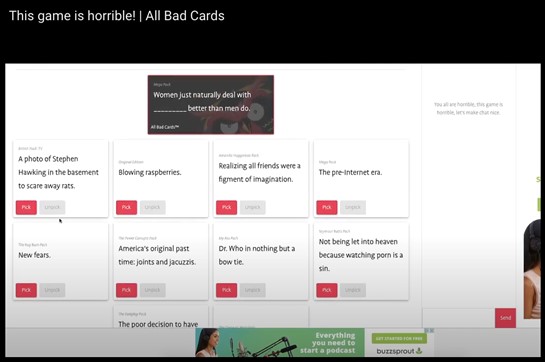 If you miss playing "Cards Against Humanity," another online game invites you to match witty sentence portions and phrases with partial questions and thoughts. The interface of "All Bad Cards" is easy to figure out: click on a "Pick" button to pick your card and play to submit it. The person judging the round will reach the cards submitted and picks their winner. 
To win, the wittier, the better. The dirtier, the better, too. 
Other free browser games to play during quarantine are "Town of Salem," a role-playing game like "Mafia"; "Neptune's Pride," a strategy game about galactic expansion and pure human nastiness; "Fallen London," a browser game wherein you play someone new to the city, taking on odd jobs and digging up secrets in the subterranean depths of London, and "Kingdom of Loathing," a funny, multiplayer RPG with character classes like Seal Clubber, Disco Bandit and Accordion Thief.
These are just some of our favorite quarantine games you can play with your friends. How about you? What's your go-to online game?
Ashley Petallano
Ashley is an awkward potato in love with words, Kpop, and corgis. She spends her free time dancing like one of those balloon things you see in malls.