When we spend less and less time at home, especially when it comes to mealtimes, it becomes all the more important to find pockets of space where we can feel that sense of comfortable centeredness. That's why we love restaurants that evoke that classy home kitchen vibe—especially when they hit that sweet spot between being "special" enough to feel like a treat but cozy enough to make you feel relaxed whether you're fresh out of work and still in your power suit or in a t-shirt, shorts, and flipflops. Even better if the food is healthy without shoving your face in it.
Enter Earth Kitchen, which sources its produce from the Got Heart Farms in Tarlac and partner communities around the country and comes with an indoor garden that'll make you feel like you're having a picnic whether you're sitting indoors or out. After the success of its White Plains branch, which opened in July 2013, the owners decided to launch a second branch in Bonifacio High Street Central in July of this year.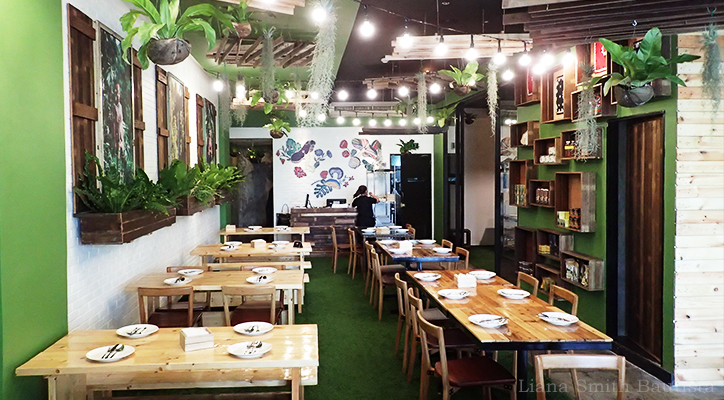 The restaurant focuses on food that celebrates its origins, something that really inspired the entire concept. Co-owner Joseph Hizon says, "We wanted a restaurant that did not cover up the taste of ingredients. We rely on good ingredients for the dishes to taste good, so it's like the Earth is the kitchen."
According to Hizon, their chef takes an open approach to the restaurant's use of local ingredients in its recipes. "The key word is 'open,' meaning he approaches the local ingredients in a different way, a way that's not expected. We wanted a menu that was healthy, but we didn't want it to be vegetarian, although we have vegetarian options and very few vegan. We definitely use a lot of vegetables. We make everything from scratch, from the pasta to the ice cream to the tortillas."
Scrumptious Starters and Snackables
We started our first Earth Kitchen meal with a couple of appetizers and a salad, all of which would work as a light meal or a snack, plus a fish taco that would work great as a merienda treat.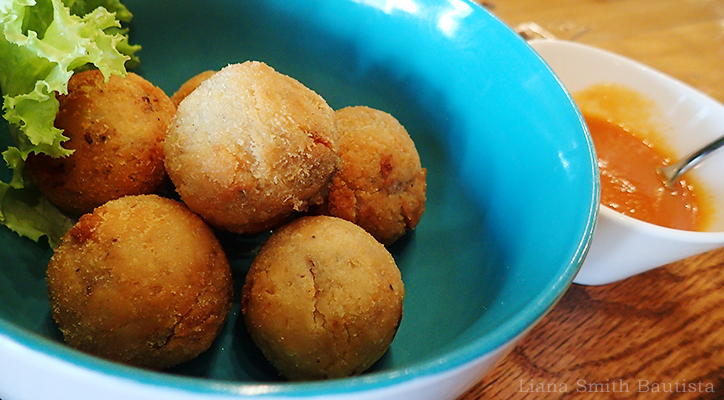 If you're mad for mushrooms, you'll like this appetizer. The Risotto Balls are rich but not too heavy; we actually like it without the sauce because you taste the mushroom more keenly, but the pomodoro brightens up the earthiness of each mouthful.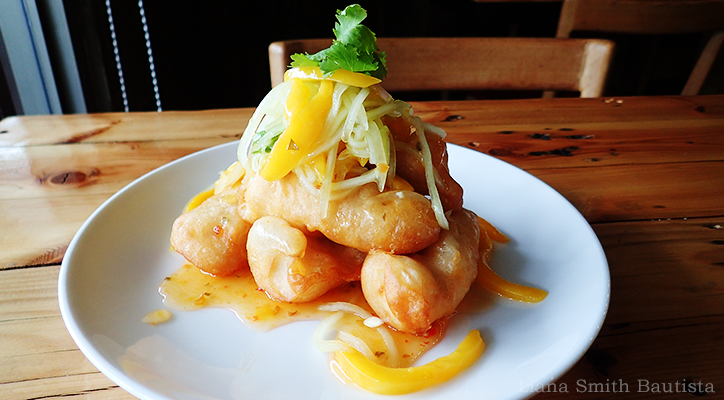 The Fish and Mango dish is something of a tropical twist on fish and chips. The mango really sweetens the dish, while the chili plum sauce adds a sweet-and-sour flavor; it's not at all spicy and quite viscous, so it coats the fish quite thoroughly.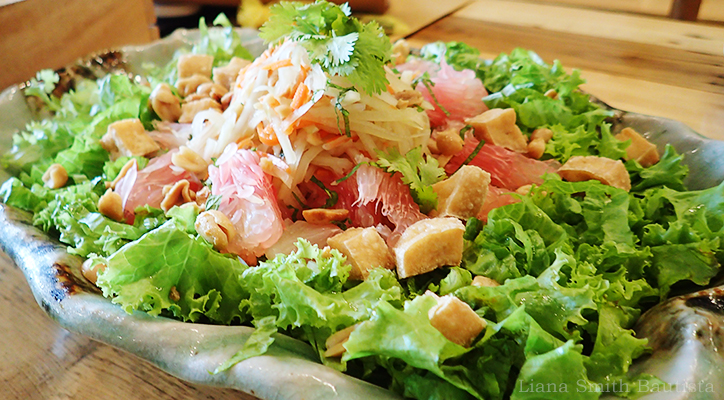 Talk about a fresh plateful of eats! If you're looking for a light lunch or to start a meal with a little inspiration from your surroundings, this platter of greens works great. The flavors are simple, and between the pomelo, papaya, carrots, greens, and crispy shallots and tofu, you get a great mix of textures. The pomelo, however, is what really brings everything together, so make sure you get some suha with every bite!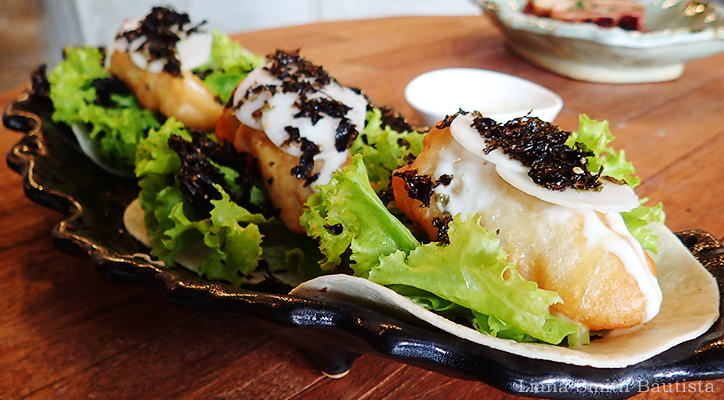 Here's a dish to eat with your hands, as it really doesn't work when you try to play it dainty with a fork and knife. If sweet isn't your style, this is the way to get some of that fried loro. We really loved the seaweed topping, so make sure to get your share, and scoop it up even if it falls off, as it might very well do.
Munchworthy Mains and Carbs
Moving on to heavier fare are options that are great for sharing if you're looking for something light, although some of the items we tried we definitely wanted to hog for ourselves!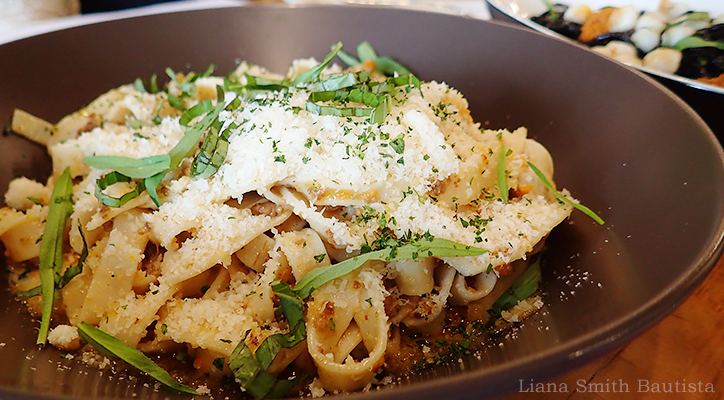 The Ragu Ala Bolognese isn't your run-of-the-mill bolognese pasta; for one thing, while there is tomato sauce, it isn't anywhere near as saucy as you'd expect. However, there's a good helping of beef which you really get to taste thanks to the way this dish is made. Plus, it's topped with a generous amount of cheese.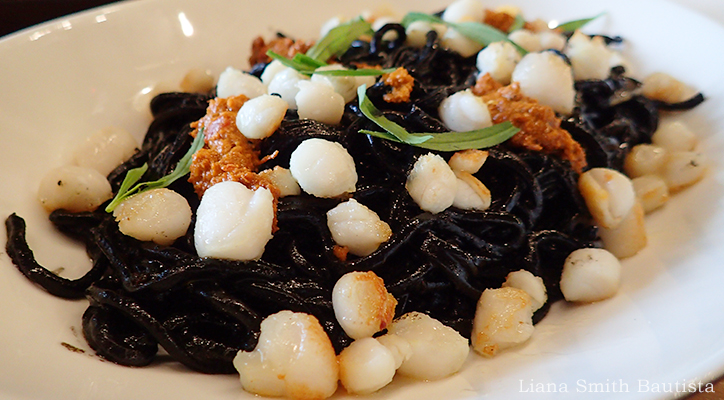 If you're a fan of seafood, you'll love that the flavor of the squid ink really comes through with every bite of pasta. The scallops are baby scallops, which makes it all the more awesome that they're so perfectly seared.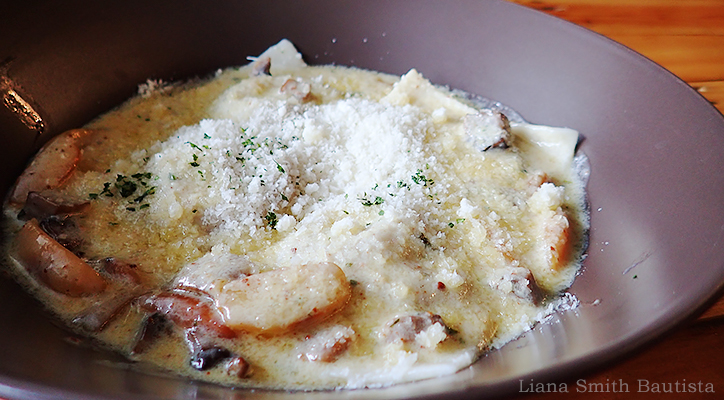 Here's another "hurrah" dish for the mushroom-mad. The earthiness really brings a cozy yumminess to the dish. The really fresh pasta offsets the rich flavor of the mushroom pate stuffed into it, but it isn't so heavy or aggressive that you find yourself hit by the umay factor. It's filling, but not overly so; if you're not too heavy, we'd recommend sharing this with a friend.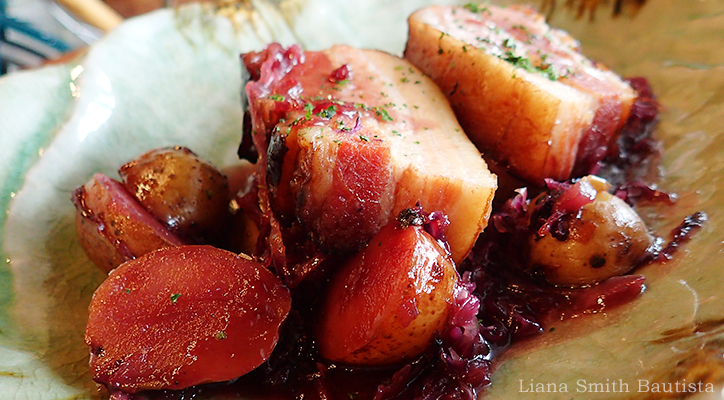 Who can hate on bacon? There's no way you can go wrong with as generous a slab of it as this one. We loved the salty umami-ness of the red cabbage paired with the sweet and tender bacon, it's so hearty, it'll definitely have you coming back for more… and more and more!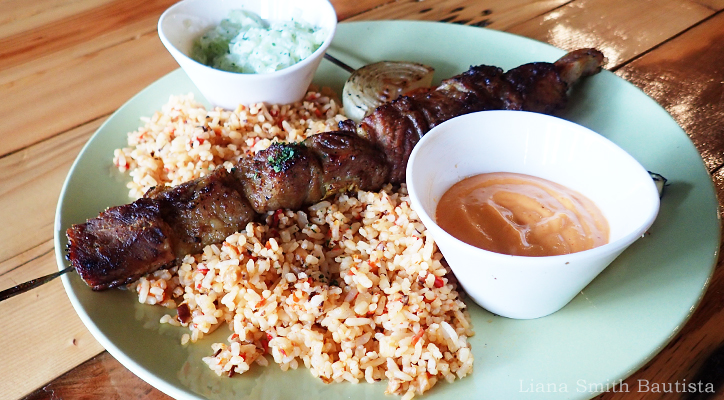 We know this will be a favorite with quite a few who visit here. The beef is just oh-so-tender and tasty it's tempting to have it alone, but don't make the mistake of skipping out on the sauces, as they add extra oomph to each bite. We were surprised by how much we enjoyed the tzatziki, which we can normally take or leave without any regret.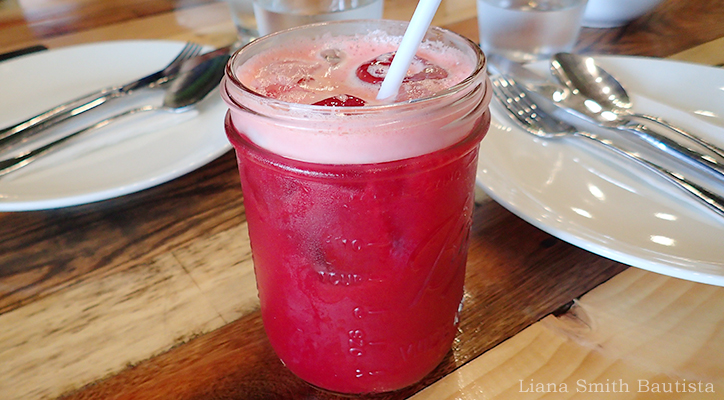 Sweet Ending and Drinking to Your Health
Earth Kitchen offers a variety of fresh juices and teas, as well as hot drinks (like coffee and tablea hot chocolate) and white and red wine. If you're looking for something healthy to sip on, we highly recommend the Got Heart Mix, as we were expecting some bitterness from the flavor combination, but found it earthy and comforting instead. Other drink options are the Mango Yoghurt Shake (P130), Pitcher of Fresh Juice (P260 for dalandan, P280 for guyabano), and Organic Juice (P110 for calamansi, P120 for sugarcane).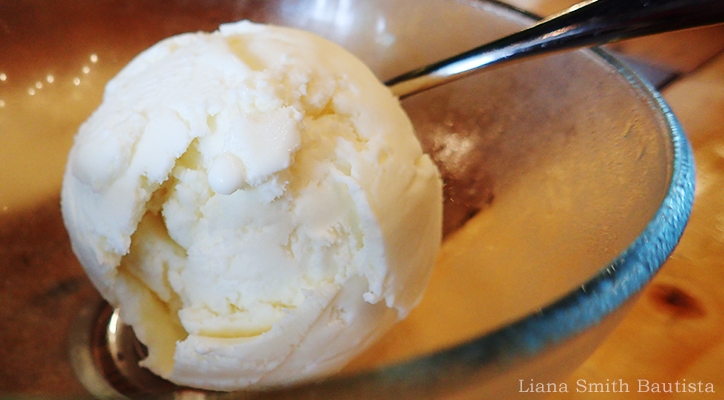 To close out your meal, you have a few options; we were so stuffed we went with ice cream. Shown above is the pastillas variant, which was light on the pastillas flavor and actually more like a sweeter, milkier vanilla.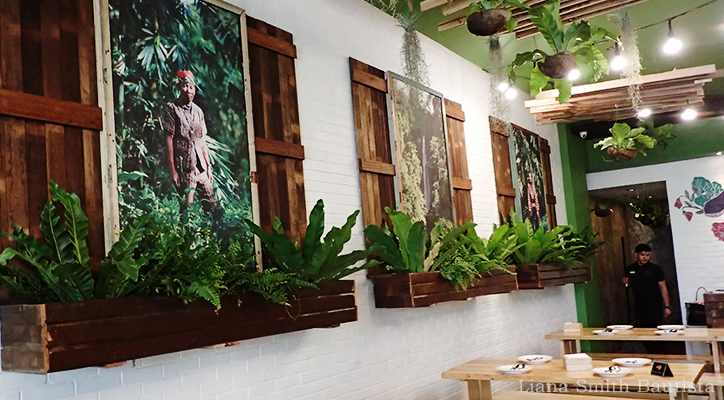 Eat Where They Got Heart
The food will leave your tummy full and your taste buds sated and the interiors and exteriors will leave you feeling relaxed and like you've taken in a bit of Mother Nature despite being in the heart of the city, but the main thing to remember about Earth Kitchen is it's more than just a restaurant.
As Joseph Hizon puts it, "It's our purpose that is unique. Earth Kitchen is really part of Got Heart Foundation. It is not even a business, it's an outreach program. The better the restaurant does, the better for the farmers. Whatever the restaurant makes goes back to the foundation and is used in educating farmers and funding the farms."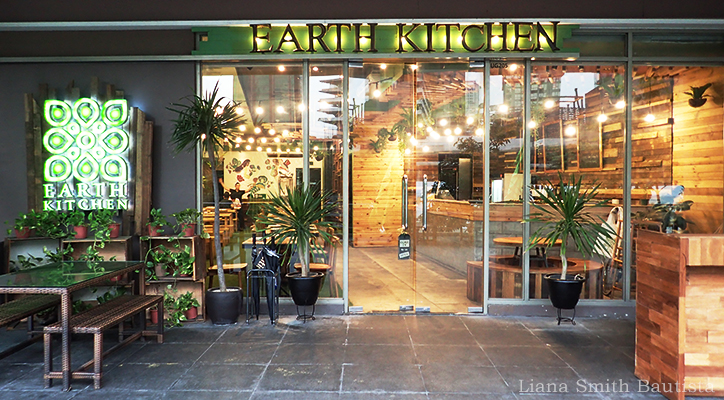 Here are a few fast facts if you want to give Earth Kitchen BGC a try:
Website: http://earthkitchen.ph/
Facebook: fb.com/TheEarthKitchen
Instagram: @earthkitchenph
BGC Branch: UG/F Bonifacio High Street Central, 7th Avenue cor. 29th Street South, Bonifacio Global City, Taguig. Open 10AM-10PM daily. For inquiries and reservations, call +63 925 688 8951.
White Plains Branch: Lot 10-B-10, White Plains, Katipunan Avenue Extension, Quezon City. Open 11AM-10PM daily. For inquiries and reservations, call +63 2 577 9138 or +63 917 584 3278.
Average spend per person: P500-600
Liana Smith Bautista
Liana Smith Bautista is an article writer, web content manager, manuscript copy editor, and blogger—and she thinks it's awesome that she earns her living marketing on her love for the written word.