Katrina Tankeh
Writes, eats, and dances with an incomparable vigor but is…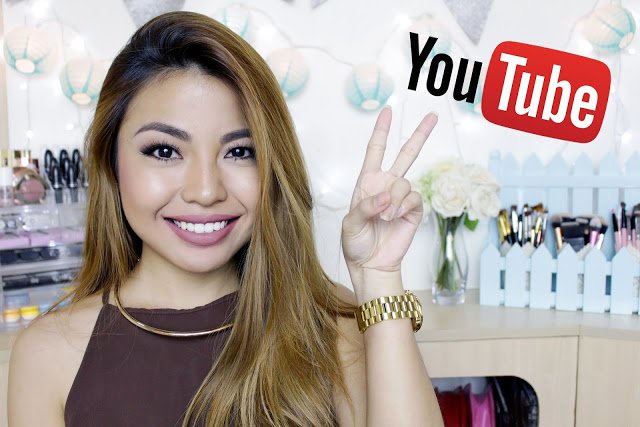 Admit it: you're addicted to beauty YouTube videos.
How many hours have you spent watching video after video after video of makeup tutorials and skin care routines and drugstore hauls? Can't be bothered to count? Neither can I.
We're all guilty of spending more time on YouTube than we do asleep nowadays. YouTube is love, they say, YouTube is life.
All of our trademark makeup looks and skincare essentials begin as video-binging sessions with our favorite YouTubers. Without them, our contour skills and 10-step beauty skin routines would have never been on point.
Here are the five Filipina YouTubers we just can't get enough of:
1. Anne Clutz
Anne Clutz is the goddess of Filipino beauty YouTube videos. Down-to-earth and a stunning mommy of two, it's hard not to love her. There are almost 200,000 subscribers on her channel and yet she remains the brutally honest and hilarious YouTuber that she has been since Day 1. Anne does reviews, first impressions, and on-camera demonstrations of products from high-end brands as well as affordable, drugstore brands. You can find the best recommendations for oily skin types from her channel.
She also has a separate channel for her daily family vlogs and has partnered with big local brands like Watsons, Lazada, Skinwhite, and Vitress.
2. Phoebe Ortiz
With over 12,000 subscribers and about 2 million views on all her videos, Phoebe Ortiz is a gem loved by many Filipina beauty addicts on a tight budget. Her channel has skincare and lifestyle hacks that could change any girl's life. Her videos are raw and straightforward; you can expect her to do a review on the most commonplace products, like the Veet Hair Removal cream. She's extremely hilarious and fun to watch – no wonder everyone loves her.
3. Toni Sia
Toni Sia might be the freshest of the bunch, but that doesn't mean she doesn't slay. Her first beauty YouTube video was uploaded only 5 months ago and yet she now has over 10,000 subscribers, with her Divisoria haul video garnering about 65,000 views. Her channel has a range of beauty videos from makeup reviews to Korean skincare, to looking for the perfect adorable dupe. A beautiful Chinita from the De La Salle University, Toni is smart and creative, who means business.
Speaking of business, she also runs an Instagram shop filled the latest and the best makeup products, both local and foreign. If you're dying to try your first Kylie Lip Kit, you're sure to find a great deal from her shop.
4. Jessica Godinez
As if you can't tell by her crazy hair color, Jessica Godinez is one of the coolest Filipina YouTubers out there. If Joyce Pring and Arci Muñoz had a quirky daughter, it would definitely be her. Hitting 15,000 subscribers and almost 900,000 views on all her videos, it's hard not to get hooked – she could easily be your best friend. The girl-next-door of YouTube Beauty, she frequently goes make-up free on hiking adventures and even takes you with her to her short trip to the hospital (where she still slayed her makeup look, by the way).
She's done a bunch of makeup tutorials on her channel, from celebrity-inspired looks to more daring ones that are perfect for Halloween. Watch a video and try not to fall in love.
5. Michelle Dy
This Ilocana beauty is truly the definition of "pak!" Known for her sense of style and gorgeous makeup looks in college, Michelle Dy turned her love for everything kikay into the successful YouTube channel that it is today. Michelle has over 300,000 subscribers, which is a long way from her first video of a smoke eye tutorial with only a lampshade as her lighting equipment.
Michelle is more than just a pretty face. In her comedic and witty "Makeup Serye" series, she assumes different personalities while doing makeup tutorials, hitting the jackpot with each portrayal.
You wanna look fab? Make it a habit to watch these YouTube channels and you'll look and feel glam in no time.
Katrina Tankeh
Writes, eats, and dances with an incomparable vigor but is only really good at one of those things.