Kallie Moreno
Kallie is just a little weird and doesn't like sunlight…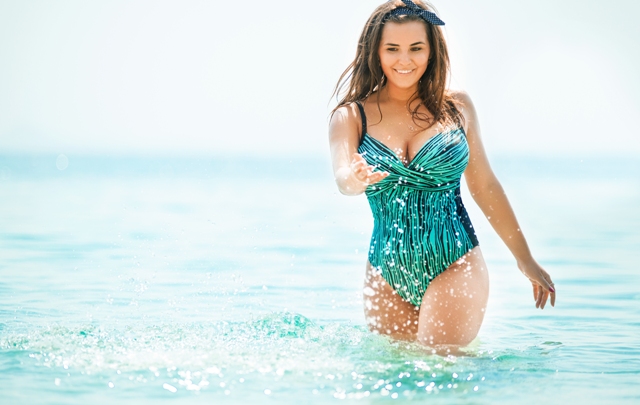 Even if you love the sun, the sand, and the crystal blue waters, visiting the beach can sometimes be a source of anxiety as insecurities about our bodies begin to set in. This is especially a problem for us bigger girls — it is only too tempting to wear shorts and a T-shirt on the beach in an attempt to cover up our bellies.
Everyone deserves to feel pretty on the beach — even those of us who are less self-assured with the size of their bodies! Instead of wearing uncomfortable, wet t-shirts that are sticky with saltwater, try these swimwear tips to feel stylish and confident this summer:
Wear Figure Flattering Bikinis and Tankinis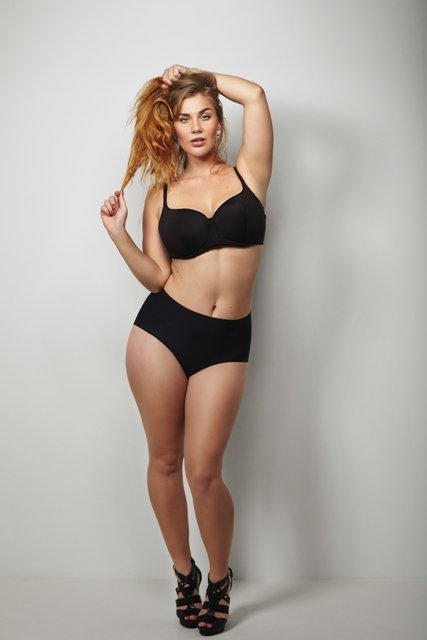 Two piece swimsuits for bigger girls was shunned by fashion retailers, but that's quickly changing thanks to the introduction of plus size bikinis. Its popularity is often credited to the now-famous GabiFresh, an American plus size fashion blogger who released her own line of swimwear.
The "fatkini", as it is known in social media circles, doesn't only feature larger sizes — it's designed specifically to fit the needs of bigger bodies. High waistlines and boyshort cuts prevent the bottoms from riding down and provide full coverage for your rear.
Bikini tops come in bigger cup sizes, too, and often feature wider bands and straps to minimize bulges in the back and to create less strain on the shoulders.
Tankini tops on the other hand, provide even more coverage than bikini tops by covering the entire torso. You can find plus size bikinis at Forever 21, or you can order online from sites like Zalora.
Choose a Ruched One-Piece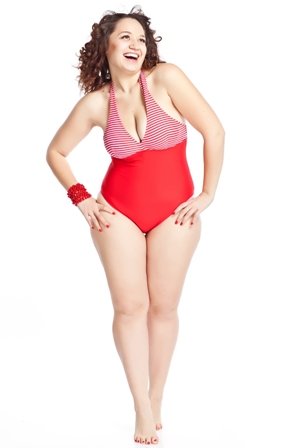 Those who prefer a one-piece swimsuit may choose to wear a ruched piece to create a more flattering figure. Ruching refers to gathered ruffles or pleats — in swimsuits, the ruching usually covers the entire torso.
Ruching is great for plus sized girls because it helps hide rolls and bulges. You can get a sleek looking profile with minimal effort.
Try Color Blocking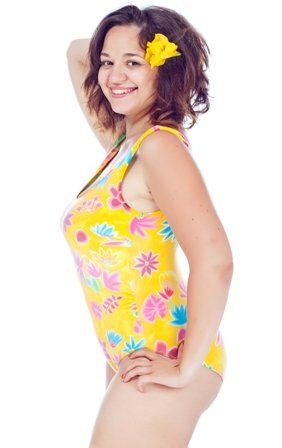 Color blocking is a great way to accentuate your best features. The use of dark and light colors can you balance out your figure and show off what you love best about your body. For example, if you are pear-shaped and wish to accentuate the bust, try using bright colors for your top, and darker colors for the bottom. The color will guide the eye to your bust line.
You should never be afraid to experiment with color — though black and other dark colors seem like the obvious choice, why not try interesting new patterns and bright, summery colors for a fresh, new look?
Don't Forget the Cover Up!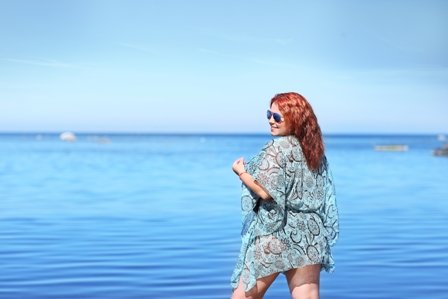 Sarongs are sometimes not big enough and may even fail to wrap around our waists completely. This means that even after finding a cute swimsuit, many girls still fall back on using shirts and shorts as their beach cover up.
While there is nothing wrong with wearing t-shirts, why not go all out and truly make a statement?
Floral beach kimonos are perfect for wearing at the beach — they are light, breezy and comfortable, and add a bright splash of color to your outfit. Alternatively, you can also wear a beach tunic for a more structured look.
You can even try a smocked beach dress. The gathered fabric around your top emphasizes your bust, while the skirt flows freely around your waist.
So don't hide behind a baggy old shirt! Wearing something cute to the beach can do wonders for your confidence. Throw on some sunscreen and your favorite sunglasses and you are good to go.
Kallie Moreno
Kallie is just a little weird and doesn't like sunlight very much. She subsists on tea and fancy lip balms.