Janeree Coria
Janeree is a marketing writer and a full-time furmom who…
If you're a fan of K-Dramas, you might have noticed that their female leads always look fresh and glowing. Although we can certainly attribute their beauty to their extensive skincare routine, you can't deny that there's some form of Korean makeup magic going on.
To sport the effortless, minimalistic Korean no-makeup look like your favorite actress, there are some tips and tricks you should follow. Here's a Korean no-makeup look tutorial to help you get started.
Start With a Glowy Base
The key to acing the Korean no-makeup makeup look is to use as few products on your skin as possible. And the best way to achieve this is by having a healthy base.
Instead of slathering foundation on your face to create a flawless base, makeup artists recommend investing in skincare products that enhance your skin's natural beauty. Make sure to take care of your complexion by washing your face twice a day and moisturizing your skin.
Mixing your foundation or concealer with moisturizer will also help you achieve the dewy look you see on K-Drama stars. Additionally, use lightweight products to prevent your face from looking too cakey.
Keep Your Lips Moisturized
Another important factor in the Korean no-makeup makeup look is having soft, supple lips. Choose a lip balm with hydrating qualities to keep your lips moist and plump. Having soft, moisturized lips will make you appear healthier and younger.
Fill In Your Brows
Unlike Western makeup which features brows with high arch and pointy ends, Korean makeup look focuses on natural-looking, straight brows. To achieve this, lightly fill in your brows with powder to hide any gaps.
You can then make your brows more natural by using two different-colored brow pencils. Use the lighter shade to fill in the front of your brows and then use a darker shade for the tail. If you want an extra polished look, add some brown mascara to set your brows.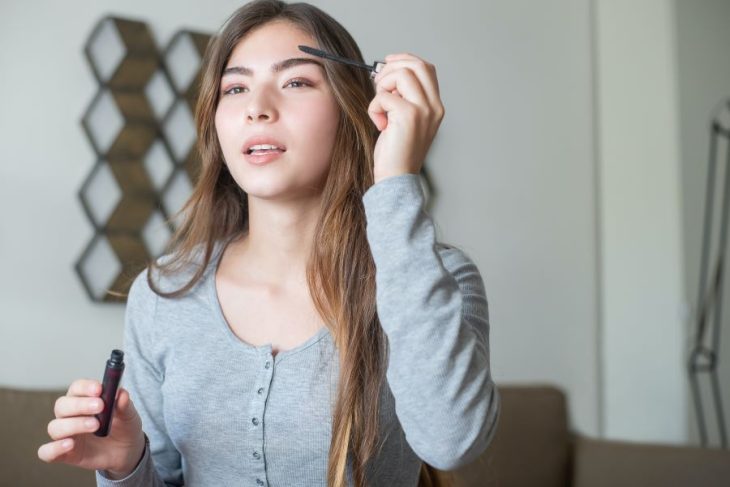 Accentuate Your Eyes
Rocking the Korean no-makeup look doesn't mean that you can't wear eyeshadow. However, instead of going for bold colors, you should use neutral shades as much as possible.
Apply taupe, peach, or coral eyeshadow to your eyelid using your ring finger. You don't have to be too precise with your eyeshadow application, as long as you blend it well.
You can also add depth to your eyes by applying a bit of dark brown eyeshadow to the outer corner of your lids. This technique will make your eyes appear bigger and wider.
Define Your Eye Shape
The next step in the Korean no-makeup look tutorial is applying eyeliner. However, you won't be doing any cat-eye or winged-liner looks.
Instead, use a brown eyeliner pencil to softly define your eyes. This shade will look more natural compared to black and won't give you a harsh look.
Simply trace along the outer edge of your upper lash line and slightly smudge it out with your finger. This look will give you a more subtle, natural result.
Curl Your Lashes
The best way to achieve the iconic doe-eyed look of K-Drama actresses is by curling your lashes. But instead of curling them like you usually do, heat your curler with a blow dryer first.
Heating your lash curler before using it will give you a longer-lasting curl. Just make sure to test the curler first before applying it to your lashes.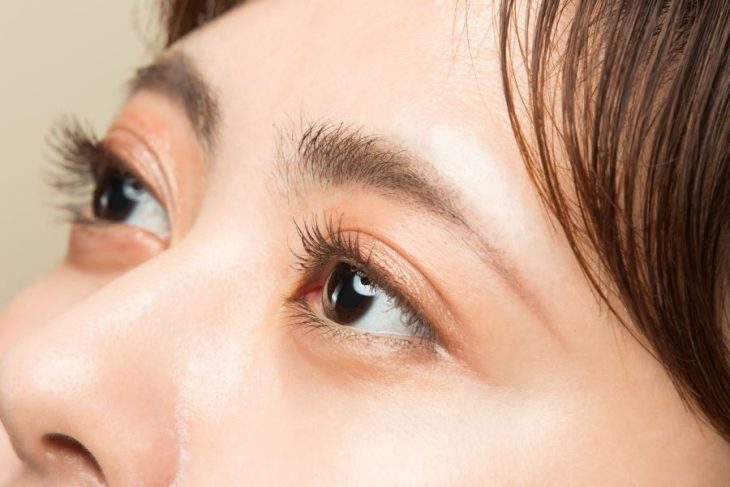 Apply Mascara
Once your lashes are curled, you should apply a lash primer to lengthen and volumize them. Then, use black mascara to make them pop even more. This will make your eyes appear more awake and brighten up your entire look.
Add a Pop of Color to Your Cheeks
Now that your eyes are done, let's move on to your cheeks. To add a rosy glow to your look, use a blush that suits your skin tone. Make sure to apply just enough to give your cheeks a hint of color.
To make your skin look dewy, you can use On-the-Glow Blush, a blush stick that will give you a natural-looking sheen. This product comes in different shades, perfect for all Filipinas.
Don't Forget Your Nose
One characteristic of most K-Drama actresses is their button noses. This feature makes them look cute and more youthful.
To achieve this, contour your nose with a matte taupe powder. Gently sweep the product on the sides of your nose bridge with a brush.
Then, apply a bit of cream highlighter on the tip of your nose. Make sure to blend it after to make it look more natural.
Achieve a Blurred Pout Effect
Lastly, use a tint or mousse to accentuate your lips. Apply the product to the center of your lips and blend it out using your fingers. Repeat this step until you achieve your desired look.
This technique will allow you to rock natural-looking, rosy lips like your favorite Korean actress. It's also a great way to add some color and life to your makeup look.
Look Like a K-Drama Lead
There you have it! Now that you've finished the Korean no-makeup look tutorial, it's time to put your makeup skills to the test and refine your techniques.
In time, you'll be able to perfect the Korean no-makeup makeup look and look like a K-Drama lead. Now, all that's missing is your own love interest, and you'll be able to live like a K-Drama character!
Janeree Coria
Janeree is a marketing writer and a full-time furmom who enjoys trying out new things and exploring exciting hobbies.