Dyan Carolino
Dyan is a 25-year-old writer with a sense of humor…
[video src="https://instagram.com/p/BC2GtQZCok7/"][video src="https://instagram.com/p/87crY8KPPh/"][video src="https://instagram.com/p/92cV3ZvApZ/"]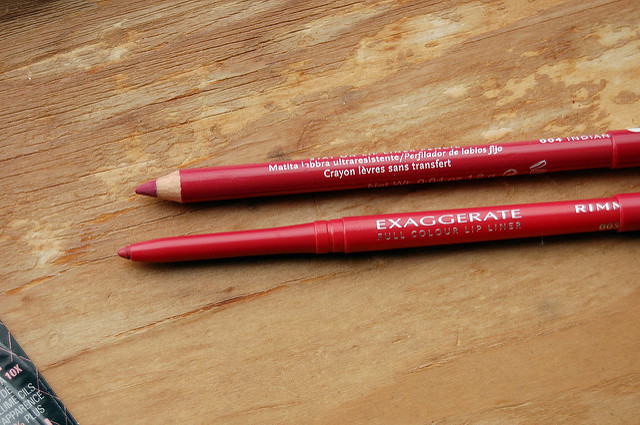 Tubes and tubes of lipstick are probably sitting together on the bottom of your purse. And when you drop cash on these expensive color sticks, the last thing you want the colors to do is bleed outside of your lips throughout the day.
Enter your new secret weapon: the lip liner.
Most of us don't really care about lip liners at all. I mean, what are they for? Aren't lipsticks enough? And the thought of adding just another lip product to your collection might seem unnecessary. But, please pause and consider investing in lipstick's talented cousin.
Not only are lip liners really thin and easy to keep, but they also actually exist for a reason. Apart from keeping the color from bleeding out, lip liners are great replacements for lipstick on their own. They're great for layering with other products, too.
Let's see what else a lip liner can do for you (you'll be totally hooked):
It Defines the Lip Shape
Everyone dreams of having fully defined lips, with the perfect cupid's bow, much like that of Kylie Jenner's. Lip liner is the ticket to that.
If you already have full lips, a lip liner can bring them out beautifully. For people with smaller lips, a lip liner can work wonders. If you have uneven lips, you'll benefit a ton from a liner, too.
Avoid applying lip liners outside the lines of your lips, however. Simply build up your cupid's bow and put on highlighter for a plumping effect.
It Creates an Awesome Matte Look
It's hard to find that lipstick that's super pigmented, has the perfect color for your skin tone, and is not too shiny. Thankfully, applying lip liner is the solution. Simply line your lips and fill in the space with the pencil, and apply your shiny lipstick over for a sort-of-matte look.
It Prolongs the Wear of Any Lip Color
We all love lipsticks, but one thing that's pretty problematic about this powerful beauty weapon is that it easily comes off. If you apply lip liner before you put on your favourite color, not only will the lipstick last all day without the need for reapplication — it will also keep your lips looking great. The waxy consistency will act like tape to hold the color down your lips longer.
If primer is to foundation and base coat is to nail polish, then lip liner is to lipstick. Like primer and base coat, this wondrous stick may not be crucial, but it will up your lipstick game.
Dyan Carolino
Dyan is a 25-year-old writer with a sense of humor of a prepubescent male. On weekends, she hibernates.