[video src="https://www.instagram.com/p/B49V902F7gP/"]
Just because something bad happened to you, doesn't mean you can't build something out of it.
Just ask Ina Tuason, the Modern Filpina behind Amario, a budding fashion brand perfect for any girl who wants to fill her closet with fabulous shoes, bags, and accessories. In spite of life's drastic changes, this 29-year old ditched her norms to move on and build her brand.
All Things Pretty Inspires an Idea
Ina has always considered herself as very "kikay" or "maarte." She has always loved all things pretty — pretty dresses, pretty shoes, pretty accessories. You name it, she probably has it. In 2019, her love for pretty things encouraged her to try making her earrings.
"I just learned how to do it through YouTube," she recalls of her experience. "Eventually, I started selling them (earrings) to my friends."
The positive feedback from her friends encouraged Ina to expand her horizons by including more people into her clientele. She continued to make pretty earrings and joined a bazaar during the summer of 2019. The outcome of the event nearly enticed her to do it again.
"But after that, work from my day job kept piling up," she explains. "So I didn't concentrate much on that anymore."
Like any busy Filipina, Ina found herself doing the typical: answering client calls, managing projects. Her jewelry crafting remained as a simple hobby she once earned from. The earrings took a step back as Ina pursued her job.
But like any success story, there's always a plot twist.
There's Beauty in Change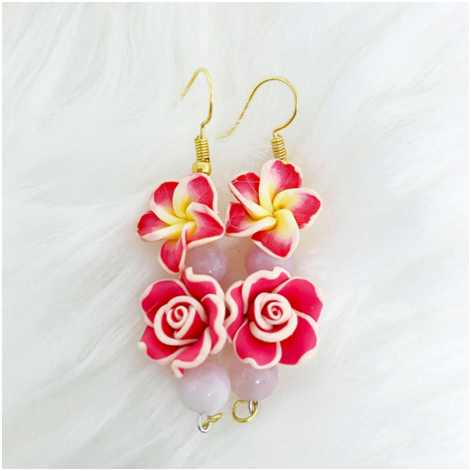 Ina ended her long-term relationship of five years.
The pain of the breakup and other life events forced Ina to take a step back from life. According to her, "Events like that really put things into perspective." She spent a few months trying to find her purpose. The cliché yet very popular question "What am I going to do with life now?" dogged her as she did plenty of soul searching.
One day, it just hit her.
Ina had put a lot of effort in her corporate job. She had invested plenty of feelings in her relationship. She had spent much of her time investing in others, it reached a point where she realized that it's time for her to put more effort in herself.
"I realized exactly what I wanted to do with the rest of my life," she says.  "I thought, if not now, then when? So I dropped everything to concentrate on building my own brand."
The Birth of Amario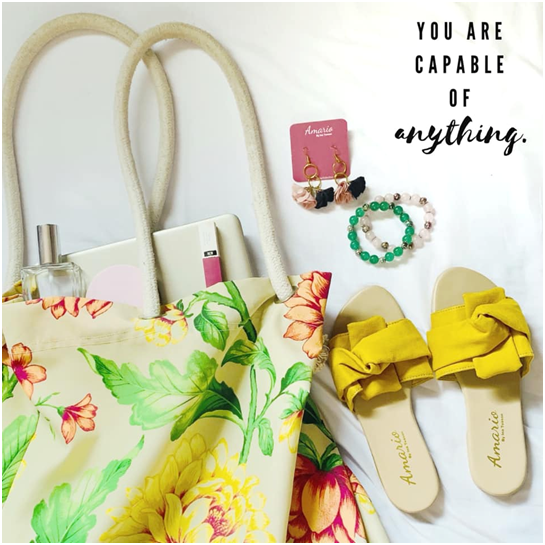 Amario is the product of Ina's love for fashion and want to establish herself. Originally, her brand was supposed to be named Armario, which is the Spanish term for closet. She realized her mistake only when she had finally made the logo and printed her business cards. The typo, however, was not enough to stop her from entering the world of fashion and business.
She resumed designing and selling big earrings that are perfect for any occasion. When she decided to venture into shoes, that's when Amario started expanding. She partnered with plenty of individuals to bring her designs to life.  Eventually, her line of products included anything a girl could need to look and feel pretty.
If you have an upcoming office party, Ina recommends her Celine Mules sandals which are "perfect for any office or Christmas party outfit. They'll make your feet look sexy!" If you know someone who needs a bit of luck and courage (or maybe you need both yourself), her healing crystal pendants are the perfect must-haves.
Not All Sunshine, Daisies, and Butter Mellow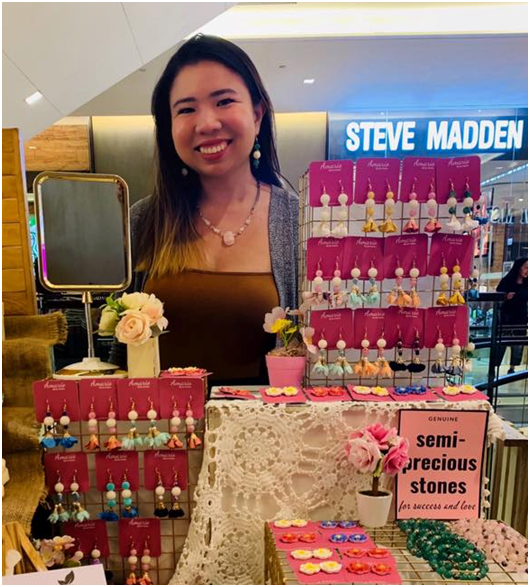 As much as Ina would like to claim that everything has been 100 percent fine since Day 1, it's not the reality of starting your own business.
"It's really fun but stressful and scary. It's fun because I get to call the shots and I know everything goes back to me and not a big company I work for," she admits. "But it can also be very stressful and scary since the pressure is on me to make money. If I don't make a sale, I won't have returns on my investment."
"It's a lot to take on," she adds. "But it's a good motivator."
Since starting her business, Ina has come across a variety of speed bumps, but that hasn't stopped her from attending bazaars (she has gone to six so far!) and showcasing her all things pretty to customers who love beautiful things.
"It's so difficult," she speaks of Amario, "But you can't be the type who will just give up after a speed bump. You have to keep going. Think about your goal and just keep swimming until you're there."
But what about the mistakes you're inevitably going to make during your business venture?
"Don't think of mistakes as mistakes, think of them as lessons," she says with confidence.
A Beautiful Future Ahead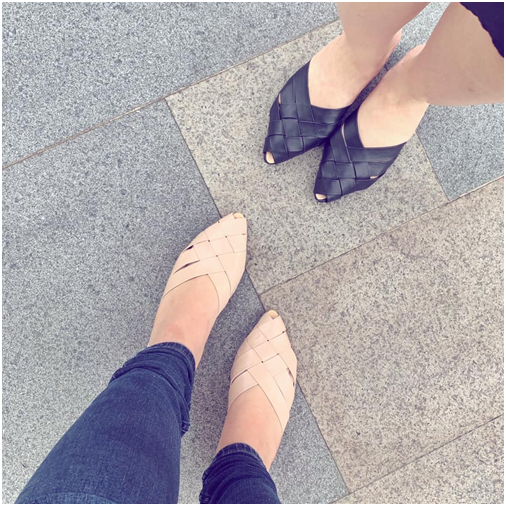 Ina has come a long way from being the girl who gave it all for others to being the Modern Filipina who finally decided to love herself by building her brand. Today, Ina is planning a lot for Amario — putting her products on more online platforms like Zalora, exploring the world of makeup and skincare, and more.
The future is looking beautiful for this pretty woman who loves all things pretty. Indeed, she proves that just because something bad happened to you, doesn't mean you can't build something out of it.
Ina built a brand for herself.
How about you?
Ashley Petallano
Ashley is an awkward potato in love with words, Kpop, and corgis. She spends her free time dancing like one of those balloon things you see in malls.