Tash De Castro
Tash is often thinking of her next meal while palpitating…
While we may be full-fledged "adults" working a job, you probably miss the days when you could just drop everything at the mere mention of "suspension" on the news… just like me.
When we were younger, we'd spend the day watching cartoons and eating a warm bowl of something – anything hot and soupy during rainy days. Food that's akin to a warm hug as you laze the day away in front of the TV in the comfort of your home.
Now, in memory of our childhood and the many suspended school days, I thought I'd make a list of meals that'll get us through the rainy days as adults. Something that'll warm hearts as much as it does our tummies. Food that can keep us nourished as we go through our rainy-day activities.
Here are some classic comfort foods that are perfect for rainy days:
Lomi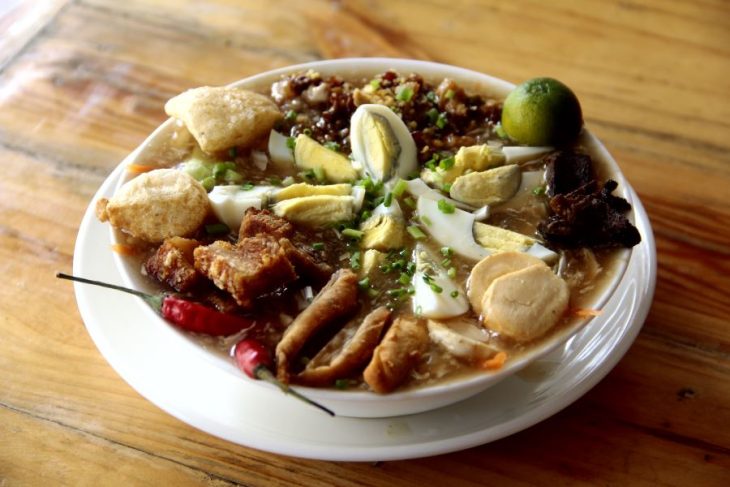 Lomi is a Batangueño dish that's known for its rich broth and thick yellow noodles.
The many toppings gracing lomi bowls range in flavor and texture from pork liver, and carrots, to chicharon. Lomi is a dish best served hot. Any colder and the soup's rich thick consistency is lost.
Champorado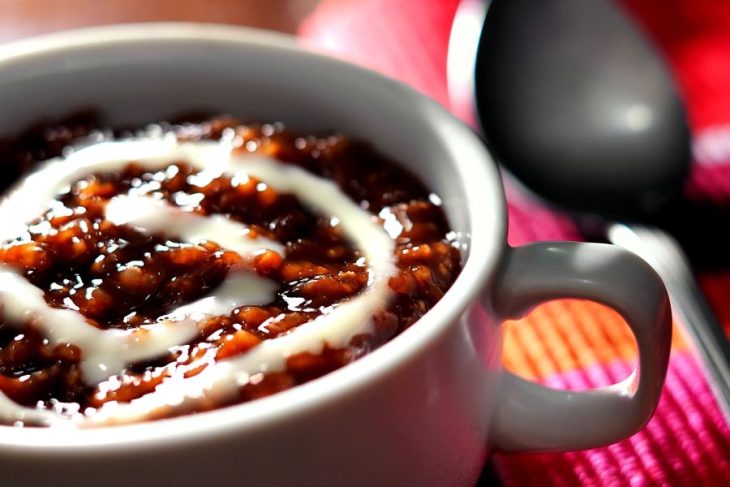 Of course, who can forget champorado? Chocolate and rice in one dish? Now, that's the perfect food combo for rainy days.
Champorado is made of glutinous rice and tablea, then topped with a generous serving of condensada.
When making champorado, adding a couple of pieces of tablea can really turn this dish into something special. Otherwise, you can use unsweetened cocoa powder or some extra chocolate bars from your pantry to make a delicious bowl of champorado.
This bowl of chocolate porridge is best consumed for breakfast, lunch, dinner, or merienda – basically, eat it anytime according to your heart's desire.
Pandesal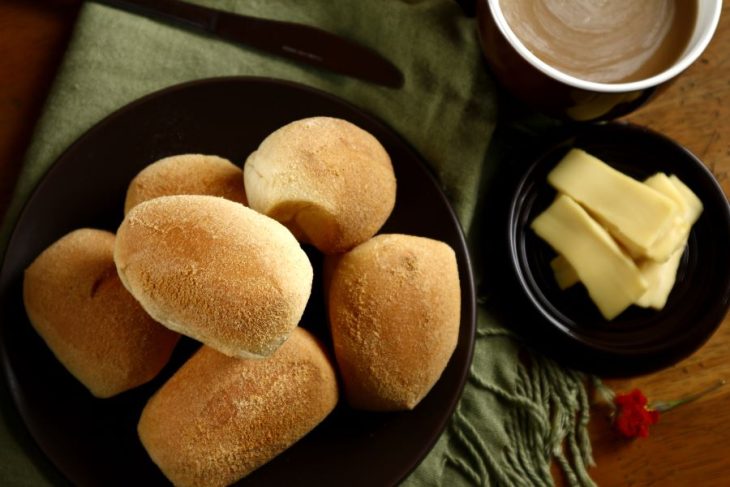 While pandesal is best consumed straight from the panaderya, toasted pandesal can be just as good for a rainy day. Especially if you can't be bothered to leave the comforts of your home.
Pandesal and coffee is a classic combo that Filipinos love. As a child, my parents would let me dip my pandesal in their cups of coffee so I could relish this savory treat.
If you're taking a break from caffeine, you can also dip your pandesal in hot chocolate or malt drinks.
Sopas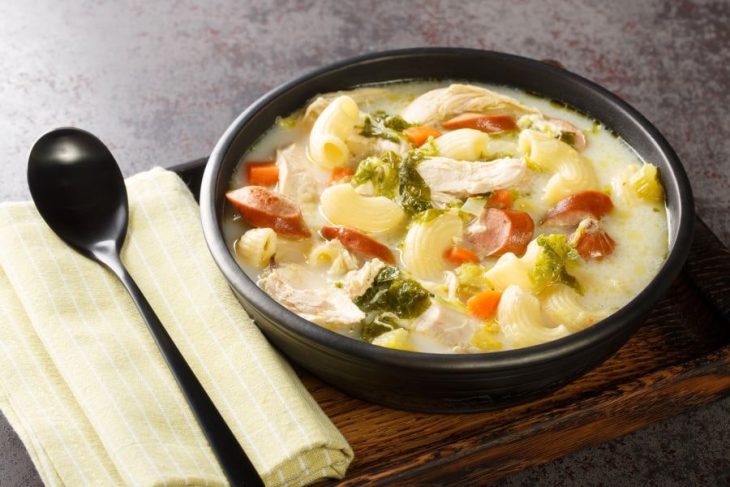 Creamy chicken noodles, need I say more?
Sopas uses elbow macaroni, evaporada, and a variety of meat and vegetables. Hotdogs, ground beef, and shredded chicken all in one pot? Now, that's a meal.
The amalgamation of flavors from the greens and protein makes sopas a favorite among Filipino households.
Bulalo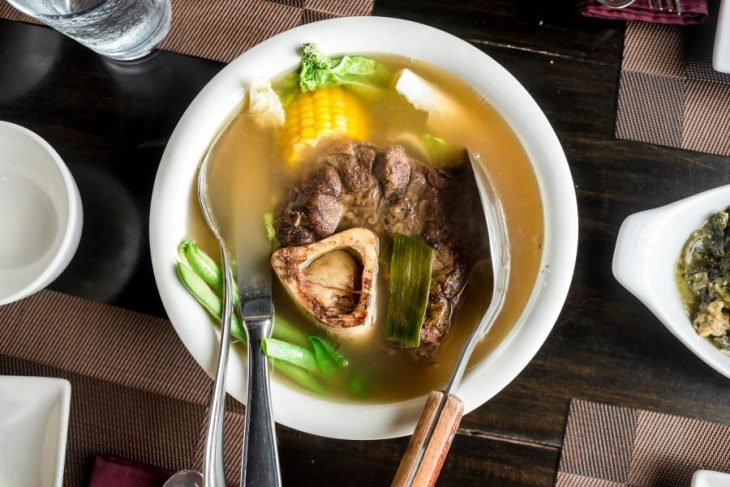 It's not unusual to hear how people brave the drive to Batangas for a bowl of hot bulalo while overlooking the Taal volcano. The view, food, and cool weather make for a perfect moment.
But, on rainy days when it's simply too burdensome to leave your home, you can opt to slowly simmer beef shanks and bone marrow for the perfect bulalo.
Arroz Caldo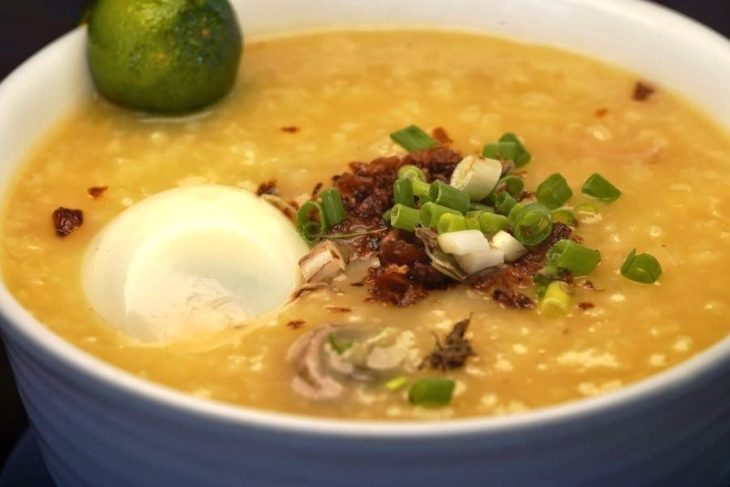 When it comes to rice porridge, arroz caldo packs a punch of flavor.
Arroz caldo's flavor comes from its rich chicken and ginger broth. Top it off with hard-boiled eggs, scallions, and toasted garlic and you've got yourself a bowl of delicious porridge for the rainy day.
Sinigang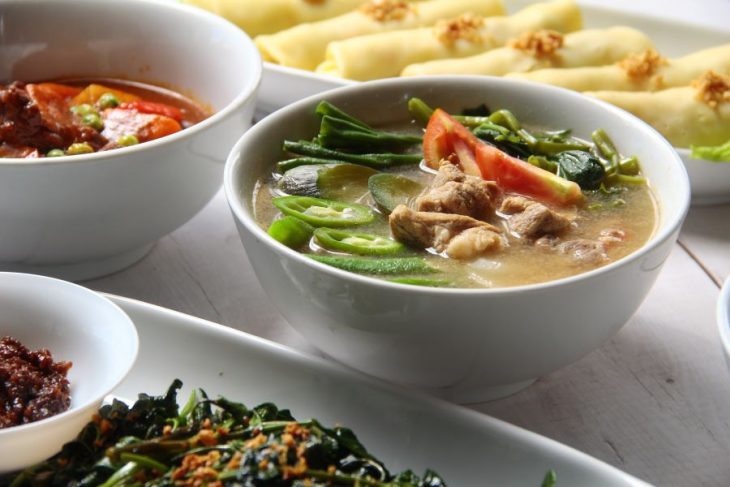 The battle between sinigang and adobo is a tale as old as time. However, when it comes to the rainy season, sinigang is the obvious winner.
Sinigang's sour broth combined with your choice of protein such as fish, beef, or pork keeps the cool weather at bay.
Ginataang Bilo-Bilo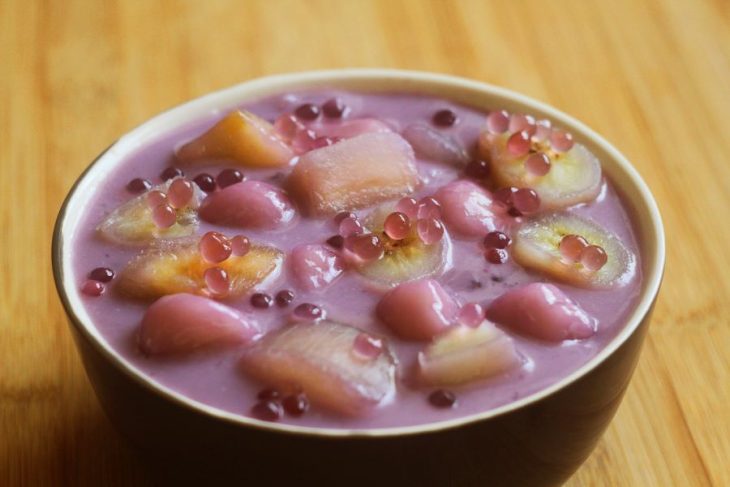 Ginataang bilo-bilo is a favorite merienda treat for cool days.
The carefully cooked coconut cream, saba, and glutinous rice balls can turn any rainy day sweet. The best part? If you're too lazy to heat the ginataan, you can eat it cold. It's great at any temperature!
You can even add ube, langka, and sago to your bilo-bilo for an extra boost of flavors.
Instant Noodles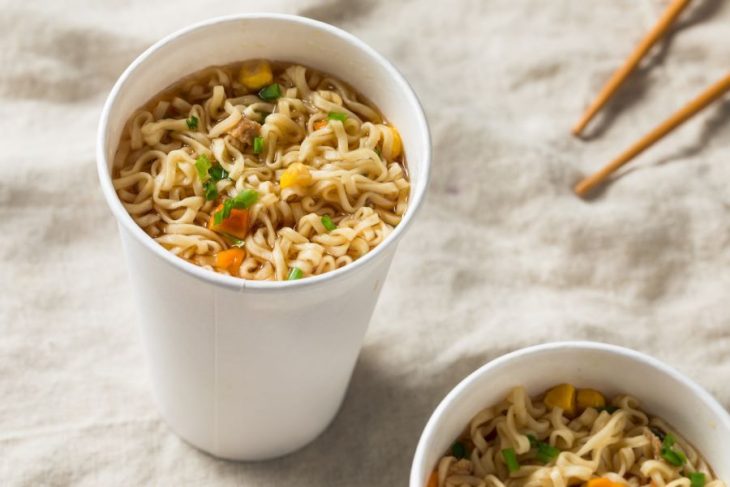 A homecooked meal can be quite tricky if you don't have the right equipment for it. But never fear, your rainy days are saved because instant noodles can do the job of warming your insides.
Nowadays, there are dozens of instant noodle options available on the market. You can find one that matches your mood too! Whether you feel like having a spicy bowl of Korean noodles or a homey bowl of chicken noodle soup, there's a wide selection available online.
All you need to do is add hot water and voila!
Eating Away the Rainy Day
Controlling rainy days isn't something we can do but, the food we consume to alleviate the gloomy feeling and make us feel a little bit better is something we can control. It's just a matter of picking the right one for your mood.
We hope you liked our selection of rainy-day meals. If you think we missed anything, make sure to comment the dishes below!
Tash De Castro
Tash is often thinking of her next meal while palpitating over coffee. Legend has it that if you talk to her about food and bring her on a hike, you'll have her friendship forever.