Inside Out director Pete Docter and co-director Ronnie del Carmen are, in a way, like the characters they've created. When they started goofing around during their recent press conference in Manila, we were reminded of some of the expressions and antics of the Inside Out characters.
Pete is the Oscar-winning director of iconic Disney-Pixar hits like Up and Monsters, Inc., while Pinoy filmmaker Ronnie was the brains behind Dug's Special Mission. Ronnie was also the story supervisor for beloved Disney-Pixar films like Finding Nemo, Ratatouille and Up.
The Disney-Pixar filmmakers dropped by the Philippines as part of their Southeast Asian tour and to acquaint the local media with the inner workings of Inside Out.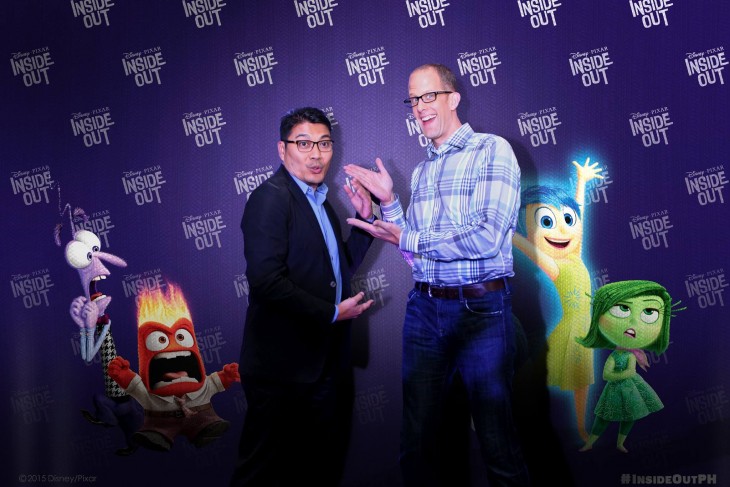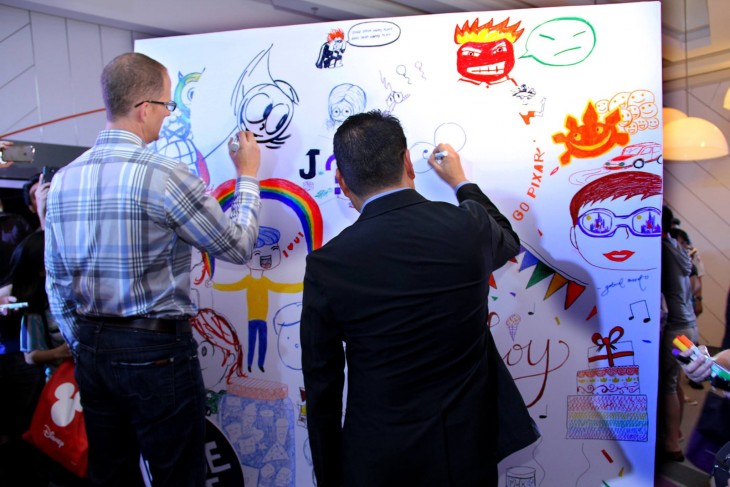 Inside Out introduces us to 11-year-old Riley, and literally looks into her mind where her emotions Joy, Sadness, Fear, Anger, and Disgust help her live out her life the best way possible. Things go into disarray when Riley moves to San Francisco with her family, and Joy and Sadness get accidentally shot out of headquarters with Riley's core memories. The film then follows the journey of the two emotions as they try to get back to headquarters, all while Riley struggles to adjust to her new home.
Take a look at our inside scoop on the film straight from Pete and Ronnie:
1. A lot of Inside Out was inspired by the filmmakers' own families and experiences
In fleshing out Riley and her emotions, Ronnie said they enjoyed a free "wellspring of creativity" from kids' experiences. This included Pete and Ronnie's own childhood memories. Pete recalled that when his family moved from Minnesota to Denmark when he was a child, he didn't immediately feel like he fit in in his new home. Ronnie, meanwhile, recalled how he was found weird growing up because he drew a lot and didn't play basketball like most kids in the Philippines.
Pete pointed out that often, parts of animators' lives find their way to the big screen. Pete's daughter, Elie, for instance, was not only the inspiration but also the voice actress for the young Elie in Up.
And what was the real Elie's reaction when she saw Inside Out? "Good movie, Dad." The 16-year-old was 11 when work on the film started, and her coming of age also proved ample inspiration for Riley.
2. On Pinoy filmmaker Ronnie Del Carmen: What is his message to Filipino dreamers? "You want to keep on doing [your passion or craft], even if you get paid or not. Do something, finish it, show it to people, [and] you'll get there."
Ronnie actually grew up in Manila and was a Fine Arts major in Advertising graduate of the University of Sto. Tomas. He migrated to the US when he was 29, back in 1989. Back when he lived here in Manila, Ronnie said that he watched movies, mostly at Greenbelt. "It was really quite a journey, because you don't plan these things," he said. He said that getting into Pixar had been a long shot. When he was invited to be a co-director for Inside Out by Pete, he said that he "felt like he had won the lottery."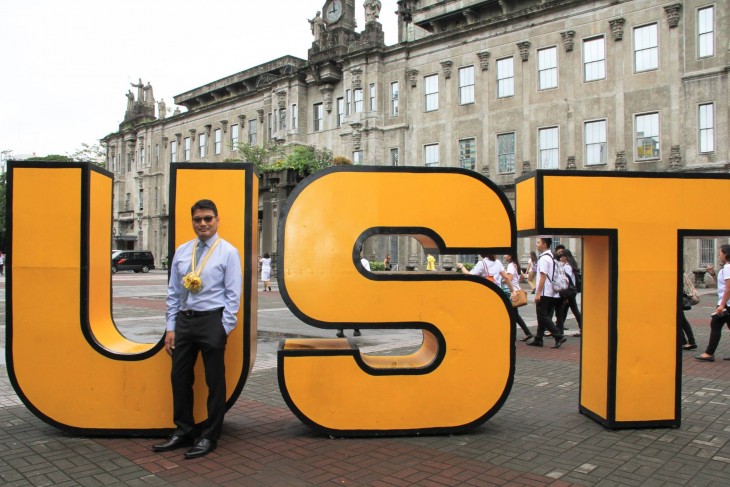 Pete said during the press con that with Ronnie having drawn the eventual characters of feelings in Inside Out from abstract concepts, he couldn't imagine working on Inside Out without Ronnie. He also said that even if he and Ronnie bring different things to the table, it was more productive to work together and to think through things. "It's great to have a creative partner [and] that we can explore and discover this together."
How was it like working for Pixar for Ronnie? He said that working for Pixar has been a "surreal" experience. He also told about the Filipino employees of Pixar who have a group of sorts called "Pixnoys." Truly Pinoys, Ronnie said they get together for two reasons: One is to eat, where they bond through salo-salos¸ and another is for charity, where they hold fundraisers for typhoon victims back in their home country.
When the filmmakers were asked what a Pixar film about Filipinos would be like, they laughingly and jokingly said that it would be all about food. Ronnie said though that there are lots of things about the Philippines that could be included, from local lore to the weather. The filmmakers added that whatever their film is about, from cars to bugs, they still put some of themselves in it, so it would appeal to them.
3. On Inside Out being too dark
Like most Disney-Pixar films, Inside Out is also a film for adults, not just for kids. A lot of real psychological concepts are also presented in the film. Pete and Ronnie said that they really researched for the film, and even consulted psychiatrists. While there may be some concepts in Inside Out like depression, the two said that they really didn't use the concept in the film, since the film's message, which was Joy eventually learning to accept Sadness as a useful part of life, didn't really jive with depression. Depression is really a clinical illness, which involves the absence of emotion. "The movie is also about families," explained Ronnie. "Not just an individual Riley, but her emotions. The family is a huge component of this film." He then said that with him and Pete being parents, they were able to tell the story from their perspectives. The story of how a child grows up is also something that is relatable on a universal scale.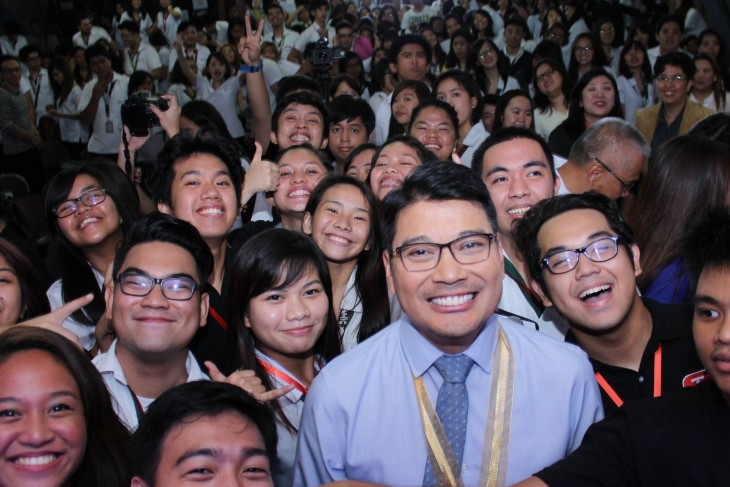 The duo also admitted that it was challenging to translate something complex into something child-friendly. It took them five years of "problem-solving" to create the film before it was finally translated to the big screen.
Pete added the film was a chance to do something new, but not too bizarre that people might not accept it. "I felt that this film was right in the middle," he said. "It was a chance to show something to people that everyone was familiar with, but no one has ever seen before." These included songs that were on LSS (last-song syndrome) in one's brain and even strange dreams. Pete said 270 talented animators from Pixar worked on and collaborated to create Inside Out. Pete added that compared to other Pixar films, Inside Out was more realistic, being set in San Francisco and all, and yet, it takes place in the human mind.
4. If you ever wonder how Pixar does their voice casting, Ronnie and Pete said that while designing the characters, they hear their voices and then ask the actors to voice the characters afterward. Also among the emotions, Pete said that he would be Joy and Fear, while Ronnie said that he would also be Joy, but mostly Sadness.
Ronnie said that he would be mostly Sadness because the emotion then matures to empathy, or the ability to relate to other people's emotions. "Empathy is something I capitalize on, to make sure I can relate to other people's emotions," said Ronnie. He explained that it was part of his job, and in translating concepts into storyboards.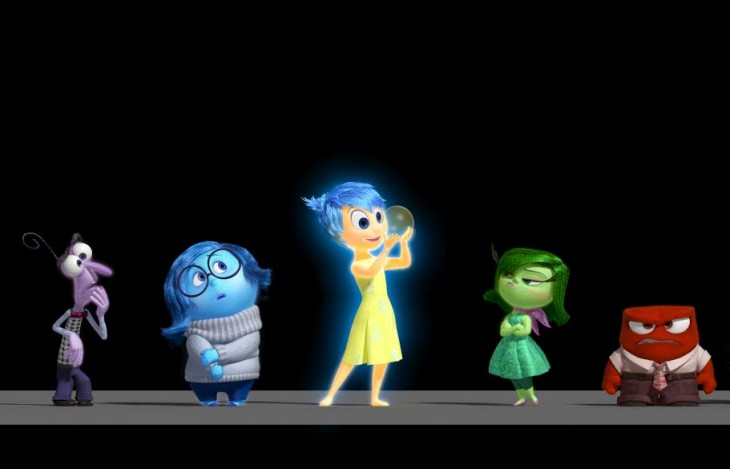 When it comes to picking voice actors for their characters, the duo said that they grabbed snippets of audio from TV for example and listened to them when seeing which actors fit certain characters. "When you go back to your desk [and you work], you can hear the characters talking," explained Pete.
"The great part about working with great actors is that they influence the story in small and large ways," said Pete. Amy Poehler, who voiced Joy, was amazing in particular, not just as a performer, but as a writer, according to him. The actors, said Ronnie and Pete, were all fun to work with.
In developing the emotions, the duo also said that they had 27 emotions at first, which were then finalized to five. This five can then be a combination of other emotions, as the film's message will eventually convey towards the end.  Pete and Ronnie also said that their creative process starts with one idea, then they add or subtract to it–stressing that it's truly helpful to have a creative partner.
Catch Inside Out as it currently plays in theaters nationwide. Don't forget to catch the musical love story short film "Lava" just before the film. 
Melissa G. Bagamasbad
Dark chocolate, dogs, and adventure are just some of Mel's passions. Aside from doing her best to live life to the full, she plans on writing her own fiction one day.