Fans of "Friends" have been rejoicing since it was announced that the beloved sitcom is set for a reunion special. After sixteen years of waiting, Chandler, Joey, Ross, Monica, Phoebe, and Rachel will be gracing our TV sets once again (cue "I'll Be There for You"by The Rembrandts), and it's no wonder everyone's in a "Friends" frenzy!
Since its premiere in 1994, the sitcom has become a pop culture classic. The relatable characters, quirky and heart-wrenching plots, and the memorable quotes have their ways to both old and new fans.
We love "Friends" for its story, but it's not easy to forget that it also had its share of questionable moments that became too impossible to ignore. So in light of its impending return, here are some of the sitcom's cringe-worthy moments that will make you say "OH. MY. GOD!" ala Janice.
These are all my opinion, so if you don't agree, please don't go all "MY SANDWICH?!" Ross rage on me.
1. Ross Being Monica's First Kiss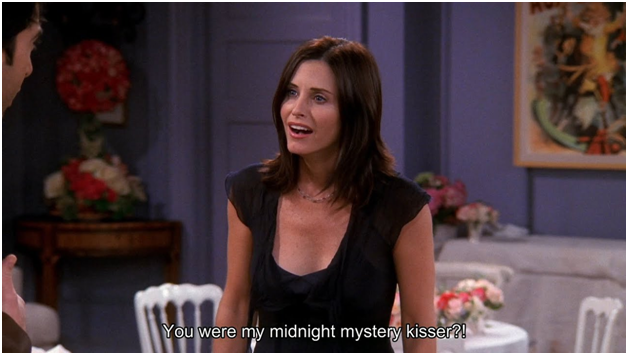 In the same episode where Danny DeVito became a stripper (I'm still not over this, tbh), we find out that Chandler made out with Rachel, an act of betrayal to Ross (who has been ridiculously in love with Rachel for a long time). The entire Rachel-Chandler thing is an odd plot since it demands a rewrite of the Friends' history. An earlier flashback revealed that Chandler and Rachel didn't meet for the first time until after that.
But this isn't the only screwed up moment in the episode.
The biggest "WHAT IN THE WORLD WAS THAT?" moment was when we find out Ross was his sister's Midnight Mystery Kisser (aka her first kiss ever). Ross had apparently mistaken Monica for Rachel buried under a pile of coats (Trivia: Monica was the pile of coats). Turns out Luke Skywalker and Princess Leia aren't the only kissing siblings in pop culture.
Definitely a stomach-churning, dark humor moment in"Friends."
2. Ross Lusting After His Cousin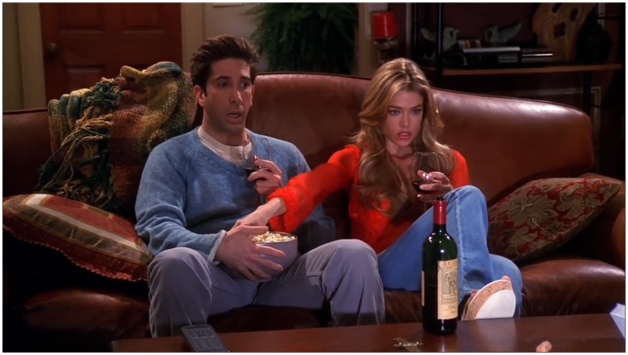 What is it with "Friends" and incest? Scratch that. What is with "Friends" and incestuous moments that involve Ross?
Cassie (played by the incredibly hot Denise Richards), the cousin, stay with Monica and Chandler until their wedding. But since she's too hot to handle, Chandler saves himself from ogling by having her stay with Ross instead.
Think that's safe? Nope. Ross just had to ogle at his cousin. To make things worse, while they were watching a movie, he convinces himself that "she wants it,too." And folks, he even makes a move and Cassie, naturally, is disgusted.
Why Ross? WHY?
3. The Siblings that Were Just Too Close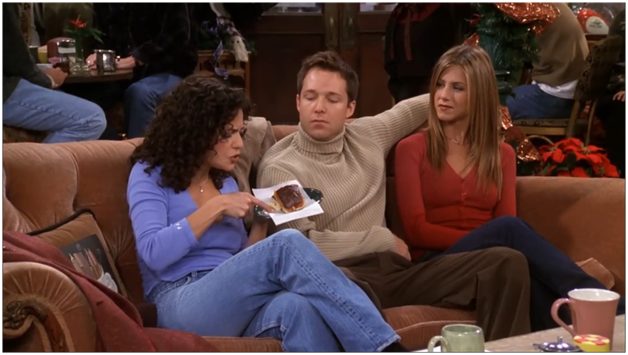 Speaking of incest, I think the producers of friends have an unhealthy obsession with this topic. The episode The One With The Inappropriate Sister is yet another proof. Who could forget Danny and his sister Krista?
Poor Rachel. She finally goes on a date with Danny only to be weirded out by the physically close relationship Danny shares with his sister. It doesn't appear to be incestuous and the two aren't sexually attracted to each other, Danny explains. It's just that they hadn't outgrown their child-like ways of expressing physical affection.
Still, if whipped cream falls on your brother's pants near his crotch, please, for the love of all things holy, don't wipe it off (and please don't use your finger, too).
4. The Rachel and Joey Situation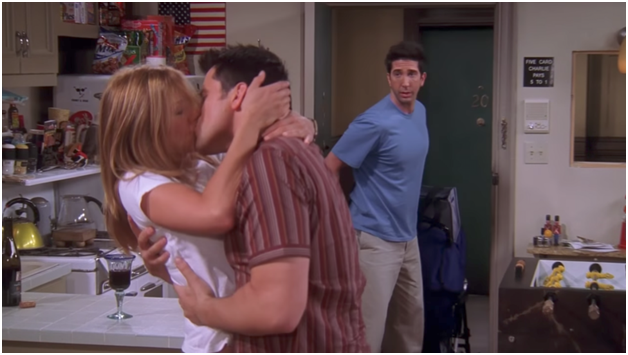 OK, before you attack me, let it be known that we all have rights to our shipping opinions, and this is mine.
Everything about Joey and Rachel is weird. Although it's sweet that he started liking her when he took her out on a date while she was pregnant, the events that followed after that just made me wince. The entire Joey-Rachel-Charlie-Ross thing was crazy: Ross finds out about Rachel and Joey, so he hooks up with Charlie (Joey's girlfriend) behind Joey's back.
When they do get a blessing from Ross, Rachel and Joey find it difficult to get intimate. She instinctively slaps his hand away, nearly punches him, and kneads his balls. When they tried to figure out why they couldn't do it, they discover the importance of their friendship's makes being romantic a struggle.
All that happened in a seeming whirlwind that it should have not existed in the first place in my opinion. It was poorly written and all too sudden, which I guess is why the whole thing felt awkward.
5. The One Where Rachel Gives Up a Dream Job for a Guy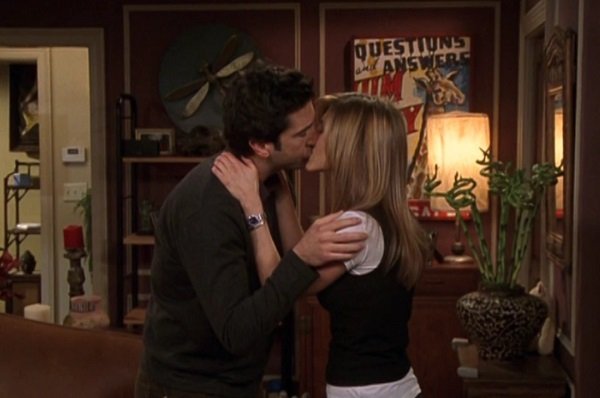 Ross deserves to win "The Worst BF in the World" for being the reason Rachel didn't go after her dream job in Paris. This isn't even the first time his feelings got in the way of her achieving her career goals (ehem, Mark). But Paris was the top of the "WTF Ross?" Cake. Sure, it's great to have them together for Emma's sake, but it's pretty selfish of Ross to do everything to make Rachel stay. That's not romantic; that's selfishness 101. In an era when women don't have to make those kinds of sacrifices, this final moment in "Friends" does mean the series hasn't "aged well," making us cringe.
In spite of these awkward moments, "Friends" will forever be a comedy classic. How about you? What's your top cringe-worthy moment from the sitcom?
Ashley Petallano
Ashley is an awkward potato in love with words, Kpop, and corgis. She spends her free time dancing like one of those balloon things you see in malls.