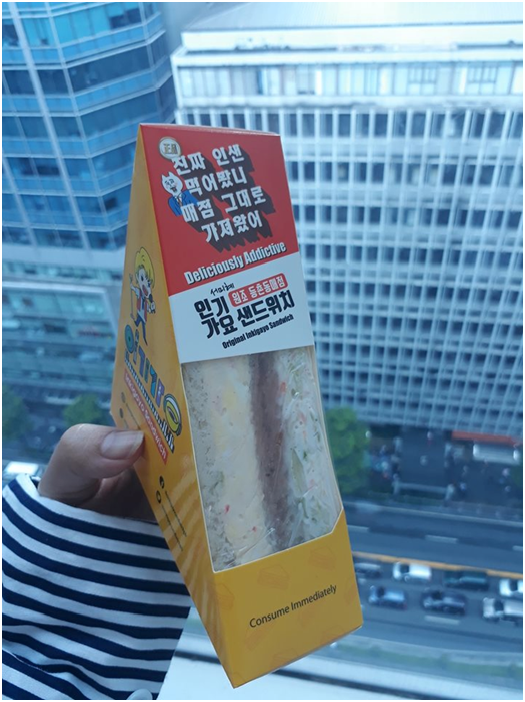 Egg mayo, strawberry jam, and crab and coleslaw — a combination that doesn't sound appetizing at first, but can pique your interests, especially if you know your KPop biases live for them.
Anyone who's into the KPop world is no stranger to the Inkigayo Sandwich (aka the Idol Sandwich). If you're new to the universe, you might be wondering, "What's an Inkigayo sandwich? Isn't Inkigayo a music broadcasting show?"
Honey, you're in for a treat.
The Sandwich Your Bias Is Probs Crazy About
The Inkigayo Sandwich is a popular snack that is only available at SBS snack bar (FYI: SBS is the Korean network hosting Inkigayo, a.k.a. the music show where all our idols perform). This snack has been frequently mentioned by many idols, most of them saying that it's their favorite or go-to snack.
But more than that, it was revealed last year that idols used these sandwiches to "meet" other idols. By "meet," we mean ask people out. Apparently, idols would unwrap one side of the plastic, slip their personal number inside, and give the sandwich to someone (sneaky right there, tbh).
Since the expose, the sandwich has become a meme in the community. But meme aside, international fans like me are curious as to why our idols are crazy over this Idol Sandwich.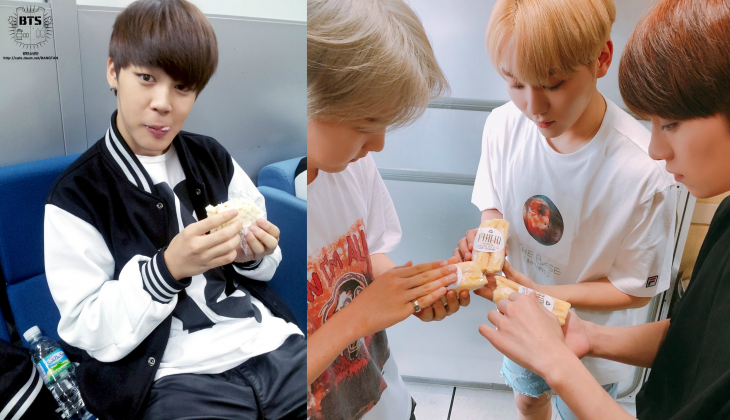 The exact recipe has not been revealed, but the sandwich is made with cornbread slathered with egg potato salad, strawberry jam, and cabbage salad.
"ARE YOU SERIOUS?" you might ask.
My thoughts exactly. I don't understand why BTS, SEVENTEEN, or any other Kpop group would like this.
Until the sandwich finally came here.
KPop Eats Comes to the PH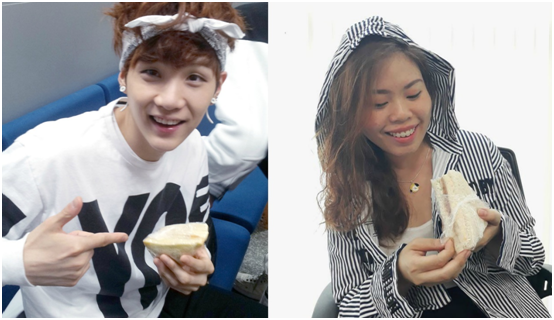 On June 21, Kpop fans received word of the famous Idol Sandwich was coming to the Philippines from June 24 until July 7. The SBS Inkigayo Sandwich store, located in Robinsons Place Manila, saw a line of Kpop fans who wanted to taste the sandwich their oppas or noonas loved.
Thanks to a friend of mine, I got to taste the infamous sandwich, too!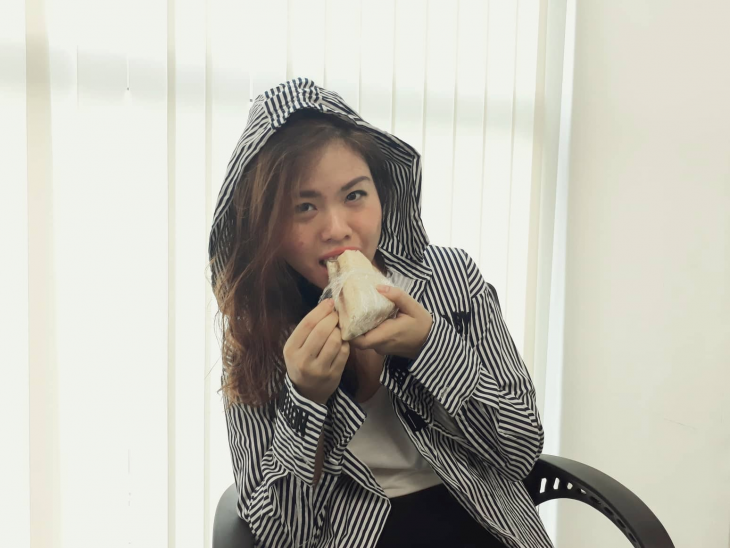 The Verdict: Does the Combo Really Work?
First, let's talk about the packaging. The PH version of the sandwich comes in a pretty neat cardboard packaging. But when you open it, you'll get a sandwich that is tightly wrapped in plastic — similar to our idol's original plastic wrapped versions.
(just for fun, we added my bias Kim Taehyung's pretend number. For the fantasy of it all!)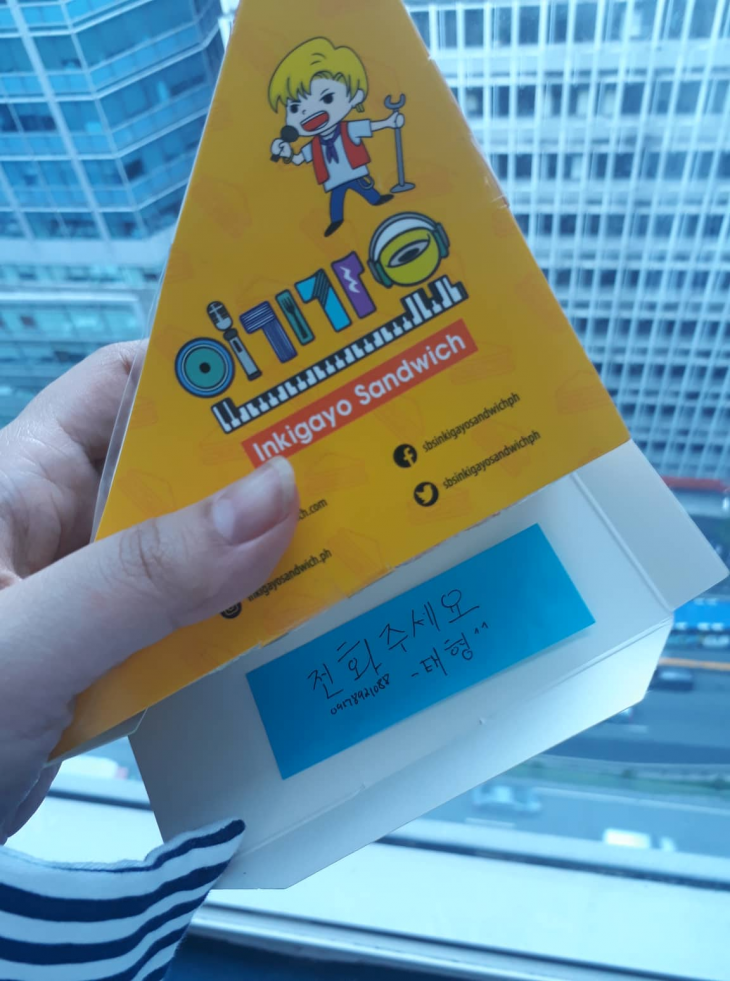 After taking all the pictures, it was time to eat.
The first bite was an odd experience. Initially, the texture of the coleslaw combined with the sweet taste of the jam plus the mayo weirded out my taste buds. I wasn't a big fan of the first bite, but I decided to give it another try. That was when I understood why idols loved the sandwich.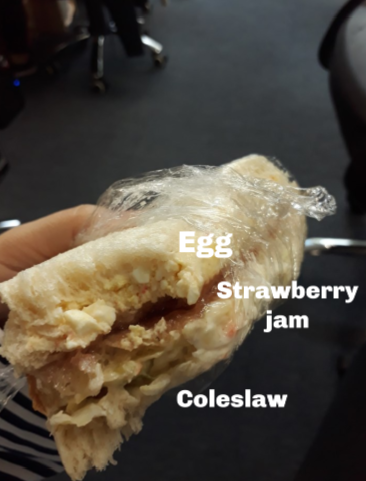 Believe it or not, the egg mayo and crab plus strawberry jam combination actually works. The sweetness of the strawberry mixed well with the salty taste of the egg. Plus, the bread and egg were so soft they comforted my cravings.
Since I wasn't a big fan of the coleslaw, I scraped it off. Best decision for me ever: I loved how the egg and the strawberry just melted like a sweet symphony in my mouth (kinda like a song that gets a TRIPLE KILL or something like that).
Basically: I get it now. I understand why our biases love this sandwich. It's a sweet and salty treat that will fuel you prior to a music show performance — or at least to get through the day.
DIY KPop Sandwich
Sadly, the store's last day was on July 7. But that doesn't mean you can't replicate the famous Inkigayo sandwich. Here's a recipe you can try with your fellow Kpop fans:
Ingredients
4 slices of bread
1 small potato, boiled
1 hard-boiled egg
1 ½ tbsp. of mayonnaise
2/3 cup thinly sliced cabbage
1 tbsp. of strawberry jam
1 tsp. diced pickle or cucumber
Imitation crab sticks sliced into strips
Salt and pepper to taste
Instructions
In a medium-sized bowl, mash the hard-boiled egg first with a fork, potato masher, or pastry cutter. Throw in the potatoes and mash them, too. Add a tablespoon of mayonnaise and mash the mixture together. Season with salt and pepper then set aside.
In another bowl, add the bite-size strips of imitation crab, 1 cup of sliced cabbage, the pickles or cucumber, and 1.2 tbsp. of mayonnaise. Mix well.
It's time to assemble! First, spread the egg and potato combination on one slice of the bread. Lay the second slice on top and spread the strawberry jam. Top that with another layer. Finally, spread the coleslaw on top of the third layer before you close it the final slice of bread.
Enjoy!
Have you tried the Inkigayo Sandwich? Let us know what you think down the comments section!
Ashley Petallano
Ashley is an awkward potato in love with words, Kpop, and corgis. She spends her free time dancing like one of those balloon things you see in malls.