[video src="https://youtu.be/io6qv5JPvdM"]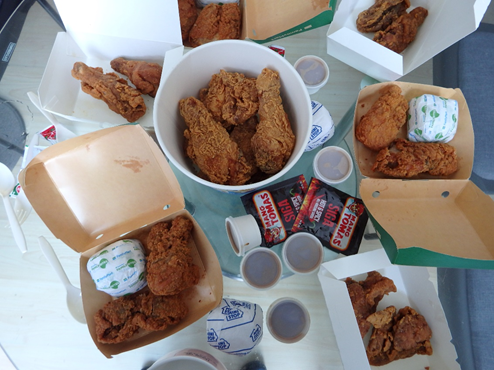 Ministop, 7Eleven, Family Mart, Lawson — you name it; you'll have several options for convenience stores. They are probably your go-to place if you need snacks, coffee, toiletries, or even last-minute holiday gifts. But if there's one more thing these stores can offer, it's their fried chicken meals.
Got only 70 pesos for lunch? You can still enjoy a hearty fried chicken meal at any convenience store with that money. No wonder many employees and students crowd these stores during lunch hour. Plus, of course, fried chicken at these stores is juicy, crunchy, and finger-licking good, especially if you get that most coveted thigh part.
But like any other food, fried chicken isn't created equally. Each store has its own take to this classic meal. So we've pitted them against one another to find out the best-tasting convenience store fried chicken.
We've come up with three criteria: crispiness/crunchiness, juiciness, and flavor. We've also asked some of our Modern Filipina writers to review fried chicken from three different convenience stores.
Want to know which fried chicken won the Battle of Chix? Hit the play button on the latest Modern Filipina vlog below.
We want to say thanks to the following sites for letting us use free sound files:
https://soundcloud.com/mbbofficial
https://www.youtube.com/watch?v=CPy2TLPbpVY&list=PLjpFxEOCYnaz8dBK3c1lUq4x61TFq_Odr
https://www.youtube.com/channel/UCQHtaEQyzUAhxiIjqdTlwXg
Berna Sastrillo
She's a web content writer, a playwright, and the author of the children's novel, Detective Boys of Masangkay: Ang Mangkukulam.