Justine Lubag
Justine is a Slytherin who loves cosplay, horror fiction, and…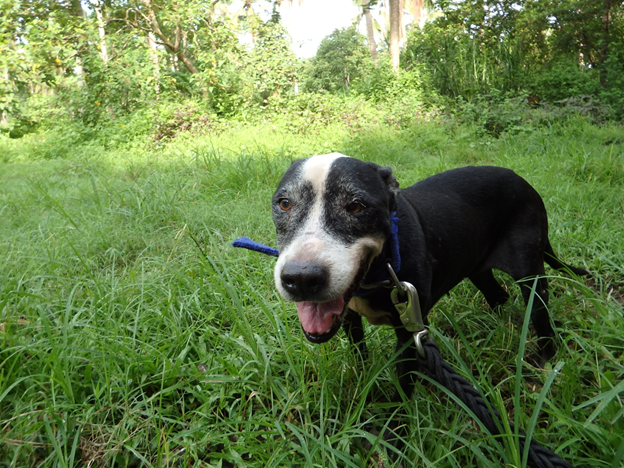 A few writers and I visited the Save the Laguna Pit Bulls Sanctuary this month, and the experience has taught me two lessons: mankind is a violent species, and we do not deserve dogs.
Kidding aside, it's hard not to feel pity for the dogs and anger toward the people responsible for their mistreatment. You'd think that now that these dogs were rescued, they'd be relatively safe and free like any other dog taken to a shelter – but that's not the case.
You can easily find the Save the Laguna Pit Bull Sanctuary's website and social media pages online, but you'll notice that you can't find the sanctuary's exact address. That's not an oversight on the organization's part: these pit bulls are still at risk of being abused that only the organization and its volunteers know their location.
And lucky for us, we had the opportunity to spend a day with these furry friends.
Heading to the Sanctuary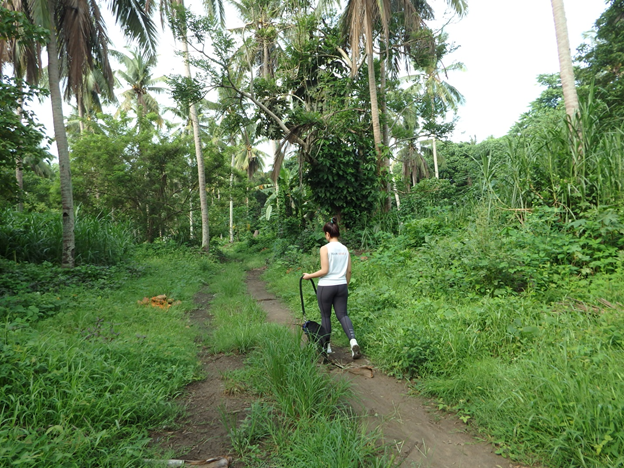 After a co-worker suggested the sanctuary as part of our company's corporate social responsibility programs, a few of us – Pauline, Kat, Bien, and myself – volunteered for one Sunday. The volunteer guidelines were a lot stricter than the other programs I've volunteered for in the past, and before our volunteering day, we were asked to sign forms and present any valid ID.
Two days before our scheduled trip, we received an email confirming our meet-up place in Makati. It didn't state where the sanctuary was in Laguna exactly, but it mentioned a few areas and landmarks we would be passing by. We also noticed how strict the sanctuary was about keeping the location a secret because we weren't allowed to turn on GPS or check-in. We were also asked not to disclose the location after the trip, especially on social media.
We all met up on Sunday morning, just in time to catch the sanctuary's service L300. The van was packed with dog food, cages, and other things CARA Welfare Philippines (the parent organization of the pit bull sanctuary) was bringing to the shelter. With all the sacks of dog food and two regular volunteers joining us, the trip was a snug fit despite only six of us riding.
After over two hours of driving, we entered the compound where the sanctuary was located. For obvious reasons, I can't say where it is in Laguna. We asked one of the volunteers why the sanctuary was so strict about keeping its location a secret.
Apparently, the pit bulls were still at risk of being stolen and used for illegal or unethical purposes, such as dog fighting or puppy farms, which is why the shelter is more secretive than your everyday dog shelter.
Meeting and Walking the Dogs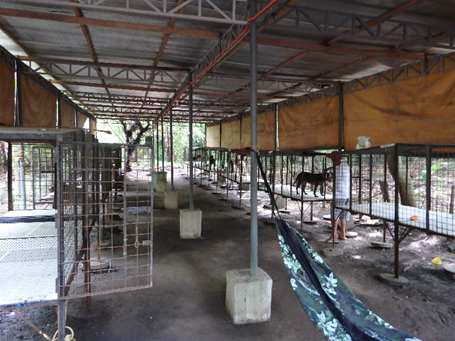 Upon arriving, my heart immediately felt for the dogs. I saw one dog with only three legs while another, Aryanna, was kept in a pen in the Volunteer Room because she had a physical condition and was in pain each time she moved.
We were taken to the Volunteer Room and were briefed on what the sanctuary was and what they do. In 2012, officials raided an illegal dogfighting operation in Laguna operated by a syndicate of foreigners. These foreigners were later deported, but the fate of over 260 pit bulls and mixed breed dogs were up in the air.
When these dogs were found, they were malnourished, scarred, and living in extremely poor conditions.
CARA intervened, and with the help of sponsors, donors, and volunteers, these dogs were rehabilitated and were adopted into their forever homes or were allowed to live their last days in comfort. The group's website says it has 88 dogs left in the sanctuary, but one of the volunteers claimed that has dropped to about 70 dogs.
As volunteers, we had to socialize with the dogs and help them re-learn how to interact with humans. This meant letting them walk around the area, feeding them, and playing with them. But because some of these dogs weren't friendly with other dogs, we had to keep them separated.
Pauline and I first handled Mary, a friendly pit bull who liked to poop and pee a lot during our walk. Compared to all the other dogs, Mary was relatively small, so it was easy to lead her around the forest. I thought it would be easy to walk a dog since I've been doing it with my dog Pud for years now. But Pud was roughly half of Mary's size, and I realized I was in for a workout.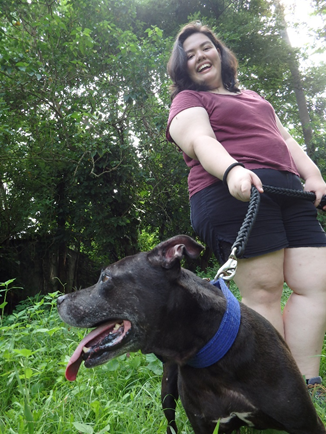 After Mary, we were tasked to walk Belle. Belle was bigger than Mary and was breathing heavily and was salivating, so I was worried she was unwell and not fit to walk around. But she turned out to be very active, and I had to jog through the forest just to keep up with her energy. One of the volunteers saw I was struggling to hold Belle's leash and control her, so he offered to take her and run a few rounds with her around the forest.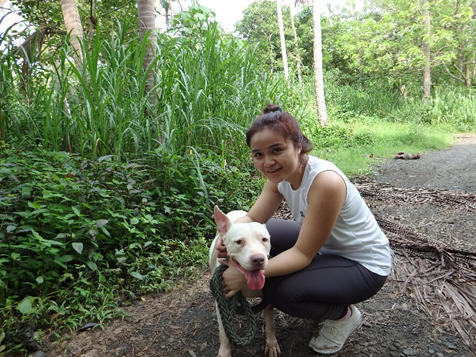 Next, we were assigned with Bruno, who was by far the most well-mannered dog we handled. He was a very good boy who easily understood where Pauline wanted to go and whether he should sit or walk, so I let her handle Bruno while I went to check out Bien's and Kat's dog.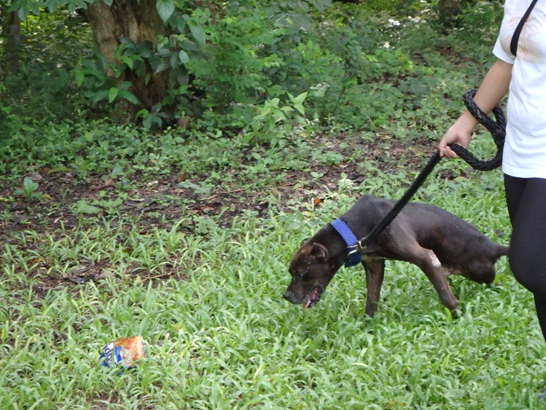 From afar, I noticed that their dog, Blake, was walking wonkily. When I approached, I saw why: Blake only had three legs. Although he walked relatively slower and was harder to lead due to his condition, he was just as excited as the other dogs to be let outside his cage.
Surprisingly, I was already drained from walking three dogs. After a break, we were taken to the next part of the volunteering program which was to play with a few dogs placed in large cages. I think we played with three or four more dogs until we got exhausted from playing and giving them treats.
Do You Want to Help?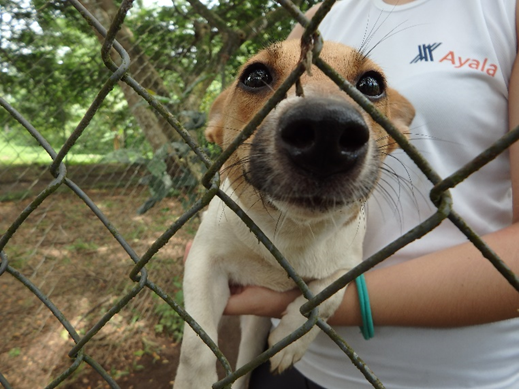 Despite feeling tired and sweaty after a long day at the Laguna Pit Bull Sanctuary, I enjoyed socializing with the dogs. I enjoyed helping them learn to trust humans again in the hopes that they, one day, find a kind person willing to bring them home. I felt so sad for these dogs and actually wanted to adopt at least one of them, but after the experience, I went online and saw that the requirements to adopt a pit bull and its screening process were just as rigorous as its volunteering process to ensure each dog ends up in a loving home.
A person interested in adopting one of the pit bulls must have at least two visits at the sanctuary's second location in Quezon, so that they can bond with the dogs and see which one matches their lifestyle and personality. A CARA representative will see if their home is fit for a new family member and if the other household members are willing to help take care of the dog. Once approved, the applicant must pay an adoption fee of P3,500 before taking their dog home.
It's a long process to adopt a dog, but it's necessary to see if you really want the dog or not.
They're called man's (and woman's) best friend for a reason, yet every year, millions of dogs are being abandoned at shelters or streets around the world because some people just can't be bothered to take care of their dog anymore. It's reached the point where almost three million dogs are euthanized every year because there just isn't enough room for all abandoned dogs.
If adopting is out of the question for you and you're more interested in volunteering one of your Sundays, send an email to volunteeratlpb@gmail.com. According to my office that got in touch with the organization, the next few Sundays on August are fully booked with volunteers, so you'll have to coordinate with them to find out the next time you can volunteer.
Every dog deserves a second chance in life. If you and your friends are interested in making these doggos' days a little bit happier, visit the shelter's website and see what you can do to help as a volunteer, sponsor, or potential dog parent.
Justine Lubag
Justine is a Slytherin who loves cosplay, horror fiction, and puns. She is the certified favorite human of her dog, Pud.