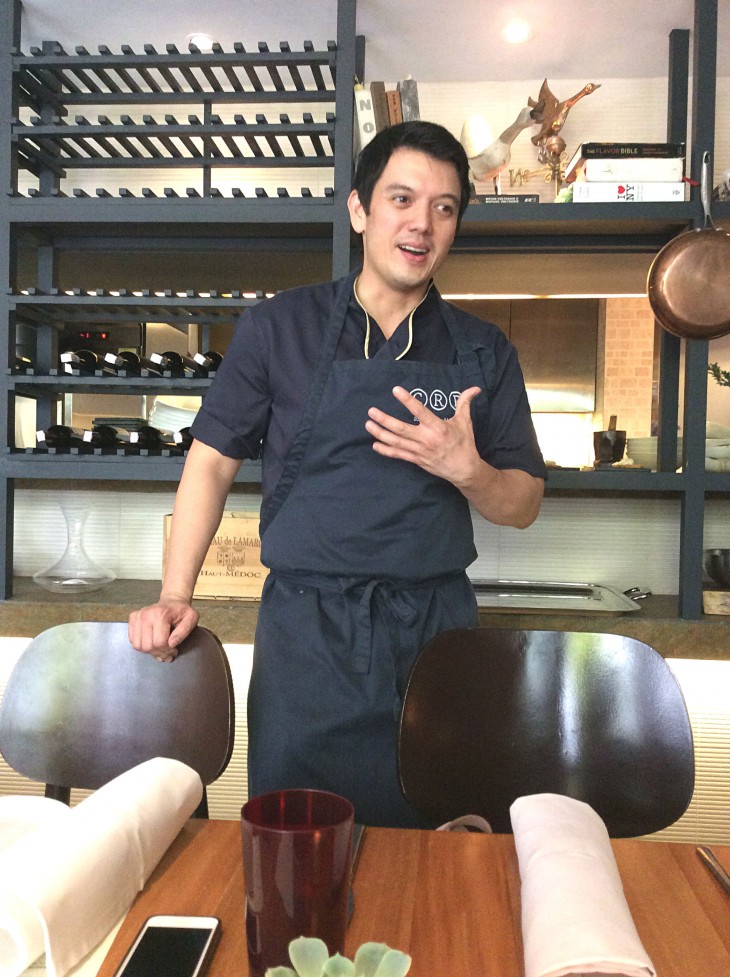 When we learned that Global Academy was planning a food trip, we knew we were in for a trip, as the top culinary school might have had humble beginnings, but it's now a force to be reckoned with, given that we see graduates in kitchens of some of the poshest and most innovative restos in the biz. It began with the dream of establishing a low-cost culinary school for people who were passionate about cooking, but couldn't afford a culinary degree. After eight years of determined development and countless awards, Global Academy is now the biggest world-class accredited culinary school in Metro Manila, with campuses reaching out as far as Pasig, Timog, Makati, and Alabang.
Founded by Chef Rob Pengson and Benjamin Ledesma Jr., Global Academy is marching full speed ahead, producing top-notch cooks, bakers, and chefs who have proven themselves worthy by dominating the Philippine Culinary Cup with back-to-back wins, nabbing two gold, three silver, and two bronze medals in the Hong Kong International Culinary Classic (HOFEX). Aside from being the only system accredited by the World Association of Chefs Societies (WACS) in the entire country, Global Academy continues to raise its standards by instilling one particular value in their students; the secret ingredient that allows them to thrive and survive in the culinary industry–true grit.
Degustation at The Goose Station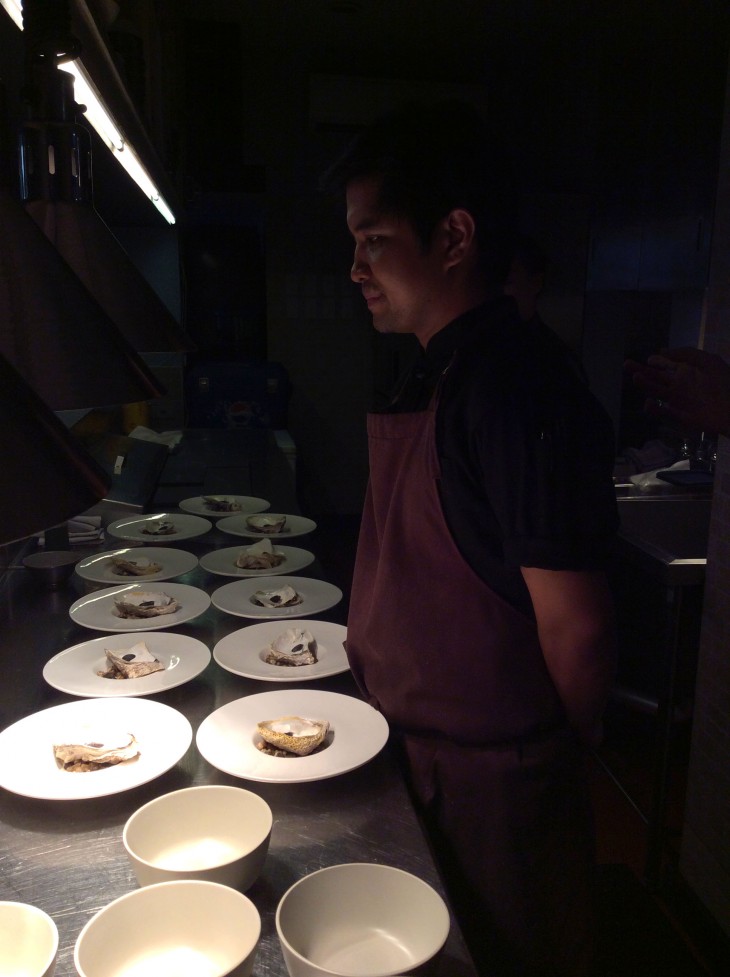 Inspiring teachers beget great students; and this is definitely the case with Chef Rob Pengson. Chef Pengson exclusively hires Global Academy students to intern for him at his restaurant, "The Goose Station". He trains his students to cook up works of edible art – with the challenge of doing so in a tiny kitchen!
Chef Pengson's zeal is not only evident in the craftsmanship of his students, but in the intricacy of his dishes as well. It was present in every plate; emanating from the soft, exploding juiciness of his Fried Oyster & Kimchi Pear, the crunch and play of flavors in his Lechon Soft Taco, and the ultra-tender, tasty slow-roasted Beef Shortplate.
Chef Pengson was particularly excited about his imaginative, contemporary masterpiece; a series of dishes that gastronomically narrate Jose Rizal's life. Eager to bring Filipino food to a world-class level, he presented his Rizal Menu at Madrid Fusion Manila. Each dish in this menu represents a certain part of Rizal's life, expressing the era, Rizal's situation, and his emotions through taste, colors, plating, and interactions with the food.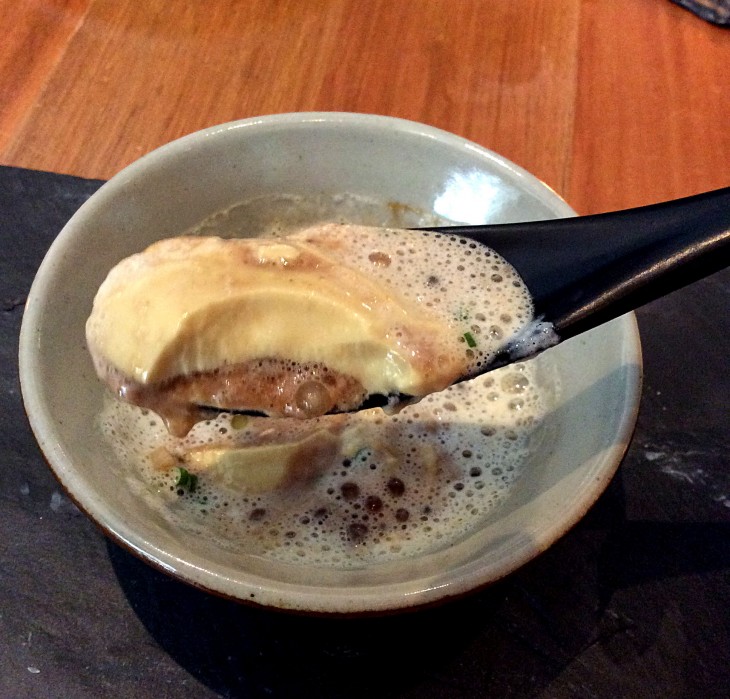 As one example, the Foie Gras Taho communicates Rizal's feelings of inadequacy as he newly explores Barcelona, unrecognized as a Filipino. "Every course has a storyline," Chef Pengson explains. The juxtaposition of the European Foie Gras and the humble Taho make a delectable, dark soup, depicting Rizal's frustrations. The savory, quiet bitterness that accompanies the taste of liver accurately transmits Rizal's own bitterness for being mistaken as American, Chinese, or Japanese – anything but Filipino.
[crp]
Seriously Good Eats
It's easy to convince someone about how great a school is by enumerating its skilled educators, or counting how many awards its students have bagged. It is not as easy, however, to substantiate these claims to greatness through real experiences – such as letting you dine in its alumnae's restaurants.
Ble! Bistro and Deli is a Greek restaurant located along Aguirre Avenue in Paranaque, owned and run by Global Academy alumna Aysegul Ozden Trifyllis and her husband, Yiannis. A former architect of Turkish descent, Aysegul decided to pursue a culinary studies in Global Academy, graduating with a Grand Diploma in Professional Culinary, Baking, and Pastry Arts. She and her husband first opened Ble on June 2013, and it has gained overwhelming popularity since then, prompting Aysegul and Yiannis to open a bigger restaurant. The authenticity that Yiannis and Aysegul bring out in their food is what drives droves of people over to Ble for a fill of Greek goodness, and rarely are they disappointed.
"My grandmother used these recipes for her food," notes Yannis. "Everything is made from scratch." No beef cubes or flavor enhancers; Yiannis and Aysegul top the game when it comes to their Babaganush, Hummus, and Tzatziki dips, as well as with their zesty kebabs.
TUS Clay Pots and Skillets is another restaurant founded by a Global Academy alumnae, Krsna Sui Algenio. Located in Westgate Alabang, TUS is Spanish for "yours" and its name just about suits its homey, wooden, and warm atmosphere. Offering a delectable variety of rich appetizers, pot pies and steaks, TUS prepares most their dishes in a particular kind of clay pot called a cazuela, which are versatile, small Spanish clay pots.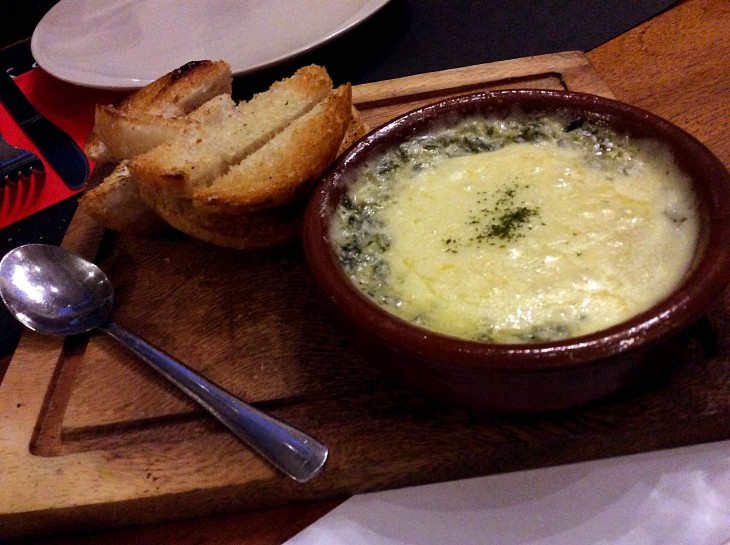 One appetizer that is presented in the pot itself is their scrumptious Spinach Dip, topped with oozing mozzarella cheese and served with crispy bread on the side – it's almost irresistible! Their Cookie Skillet is also a hit among those who have a sweet tooth, as the half-baked chocolate chip cookie warmly beds a hefty scoop of vanilla ice cream, drizzled with chocolate sauce.
The proof is in the food–and the food was spectacular. Just as Global Academy served as a stepping stone for their students to come up with their restaurants, if it's your dream to join the food industry and learn what true grit really is, Global Academy may be just the place to start.
Valeria Van Hoven
An avid lover of bagoong, philosophy, and writing, Valeria enjoys spending her free time typing ideas away on her keyboard, and listening to Alan Watts tapes. You may spot her taking long walks with her dog, Snow, while singing second voice to Disney songs. She intends to take up a master's degree in Creative Writing one day, and publish her own book!