Myra Mortega
Myra is a writer and an editor. She has penned…
2016 is just around the corner, which means we have to start planning for the coming year. What better way to welcome new opportunities with a brand new Belle de Jour (BDJ) Power Planner?
The BDJ Power Planner–the Modern Filipina's go-to planner–is on its 10th year this 2015! To celebrate, the folks at BDJ will be launching the 10th Edition BDJ Power Planner at the 7th BDJ Fair: Share the Spark on October 18th, from 10:00 a.m. to 10:00 p.m., at the SM Mall of Asia Music Hall. Aside from getting first dibs on the 10th Edition BDJ Power Planner, you can enjoy talks, games, and other activities during the planner launch.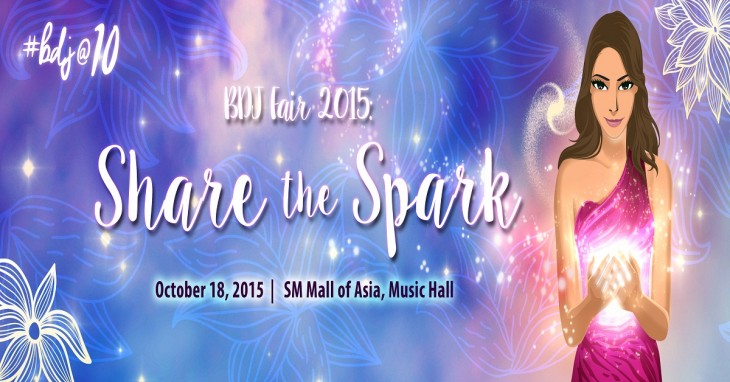 Want to know the schedule of activities for the event? Take a look at the programme below:
1:00-1:35 p.m.: GET MOTIVATED! with Jaymie Pizarro
Get fitspiration from thebullrunner.com and Dream Marathon founder Jaymie Pizarro
2:05-2:40 p.m.: TAKE A STAND with Gina Lopez
Need that extra push to commit to an advocacy? Let Chairperson of ABS-CBN's Lingkod Kapamilya Foundation, Inc., Gina Lopez help you out.
3:10-3:45 p.m.: MAKE YOUR MARK with RJ Ledesma
Get tips on how to unleash your potential from Mercato Group Co-Owner RJ Ledesma
4:15-4:50 p.m.: BE BOLD, EMBRACE YOURSELF with Divine Lee
Get tips on being fab and confident from beauty blogger and Flawless ambassador Divine Lee.
5:20-5:55 p.m.: START UP SMART with Mica Tan
Be business ready by getting tips from MFT Group of Companies founder and CFO Mica Tan.
6:25-7:00 p.m.: FLAUNT YOUR STYLE with Karen Ostrea
Learn how you can elevate your own style through the founder of Global Image Consultant and Bb. Pilipinas-Universe 2002, Karen Ostrea.
Want to score VIP passes to the 7th BDJ Fair? Stay tuned for our giveaway!
Myra Mortega
Myra is a writer and an editor. She has penned speeches, magazine articles, educational materials, and online content. She enjoys traveling, doodling, taking photos, and laughing to "Friends" reruns.