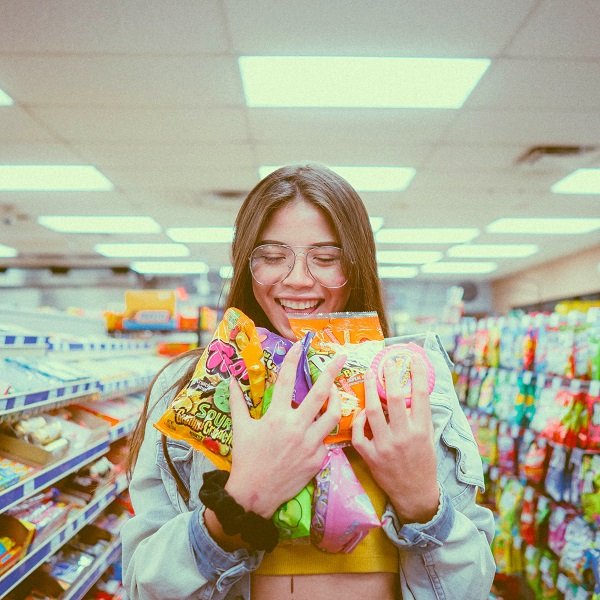 According to the internet, Watsons is the largest healthcare and beauty care chain store in Asia. Filipinas, however, have a different definition: it's the mecca of all things good in terms of self-care and self-love. If you need some personal TLC and pampering, Watsons has everything: skincare, makeup, haircare, medicine, and FOOD.
It's like Sephora but kinder to your wallet and sells meds, too.
When the Modern Filipina team learned a Watsons would be opening in our building, we anticipated it like the Second Coming. Now that it's open, we've bid adieu to some pesos just to fulfill our need for pampering.
I'm a big fan of both self-care AND Watsons. So as we were brainstorming ideas, I thought, "Why not mix the two and create a challenge that shows care the Watsons way?"
This is how the 100-Peso Watsons Care Package Challenge came to be.
Why P100 and Why a Care Package?
I've heard a lot of Watsons aficionados claim that you can indulge in self-care items without spending too much. I wanted to test this claim by setting the budget to a hundred — a typical cheap budget (in my standard, that is).
Also, we know Watsons is our haven for self-care. I've always been fascinated with care packages so I figured why not build a care package and give it to a friend. After all, who doesn't like receiving gifts (even if it's worth just a hundred bucks)?
The rules of the challenge were simple:
Each one would have to pick a name and buy a care package for the person they picked
Budget is strictly P100. You can't go over, but you can go less.
A Chaotic Watsons Shopping Experience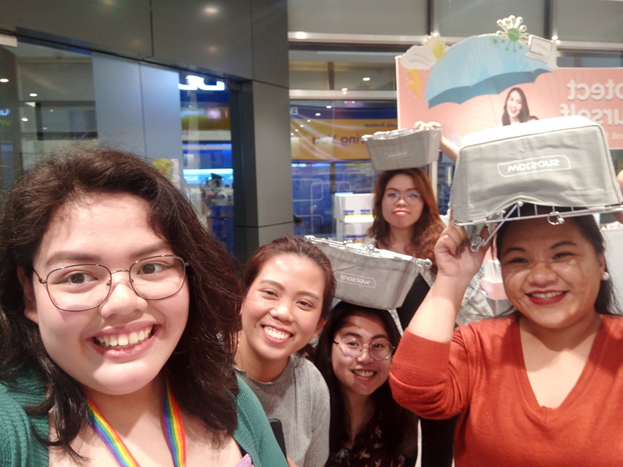 Once everyone picked a name, the shopping adventure began.
I'd like to think of myself as a budget shopping pro. My thrifty self managed to breeze through the aisles and pick out stuff I thought Justine (my Watsons baby in this challenge) would like. I did a quick math with my calculator as I dumped the food, skincare items, and a single iron pill (Justine had been asking us to get her one) into my basket. I finished shopping in less than ten minutes and spent P96 in total.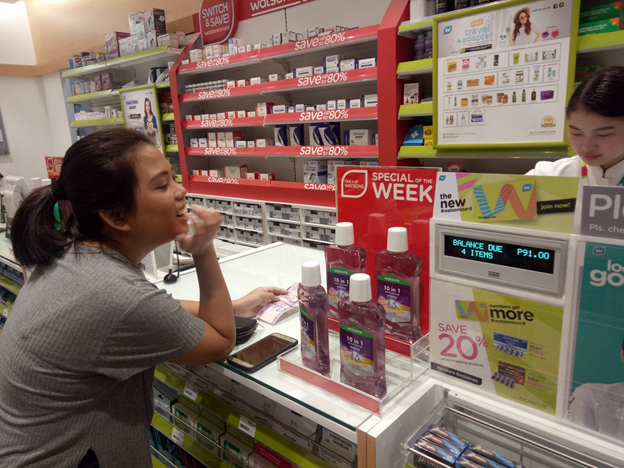 My colleagues, however, had different stories. Kat and I, the first ones to finish, watched as the rest of our team scrambled around Watsons. They aired their thoughts as they did.
"This is harder than it seems!"
"Wow, I didn't think Watsons was actually pricey!"
"Wait, there's food here?"
It was fun to watch everyone browse through the aisles, dump stuff then put them back, and race to the counter.
At the end of 30 minutes, everyone was done and ready to do our Watsons Exchange Gift 2019.
Spread the Love — Watsons Style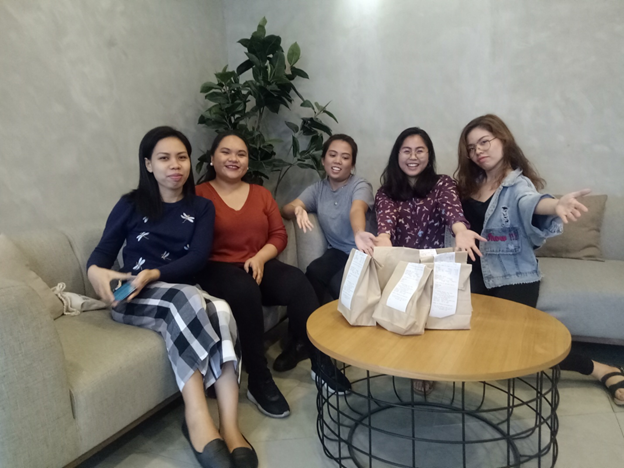 Here's what happened during our little monitor-monita at the office:
Justine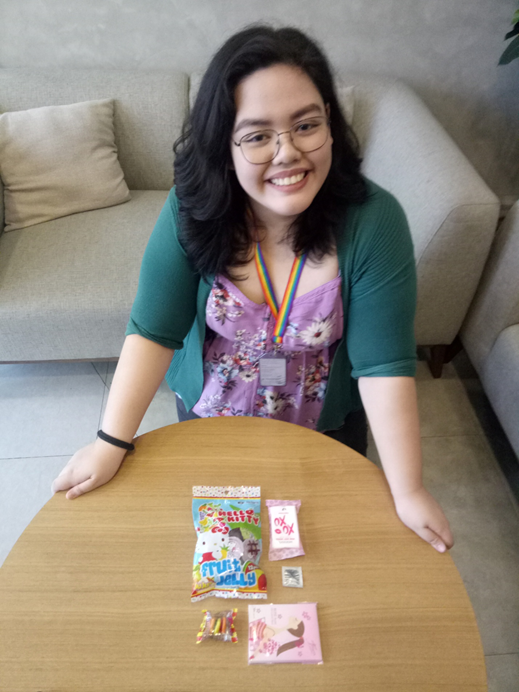 Watsons Mom: Ashley
Amount: P96.50
I'm happy because Justine said I nailed this challenge. Her care package had her iron pill plus sweet jellies, wet wipes (essential!), and gummies.
Kat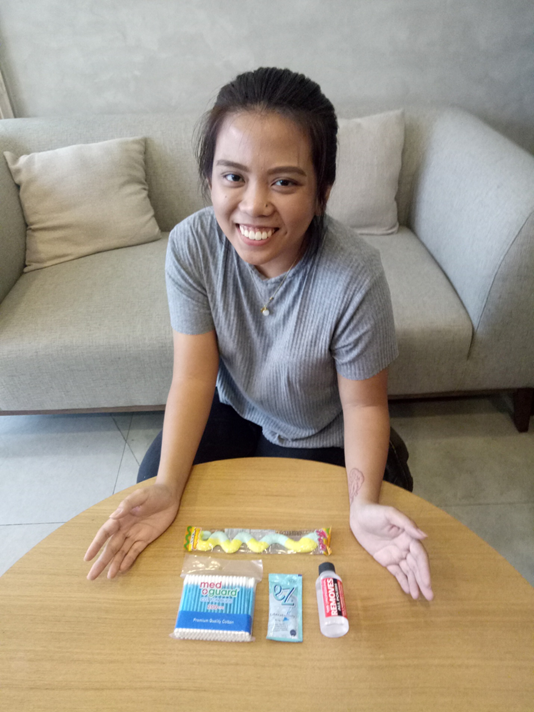 Watsons Mom: Sharee
Amount: P97.25
Kat's care package is interesting. Sharee likes to call it "thinking ahead." Her Watsons bag included food, acetone (she loves doing her nails), and lube — "You never know when you're going to use it! But I'm sure the future is promising," Sharee told her.
Karol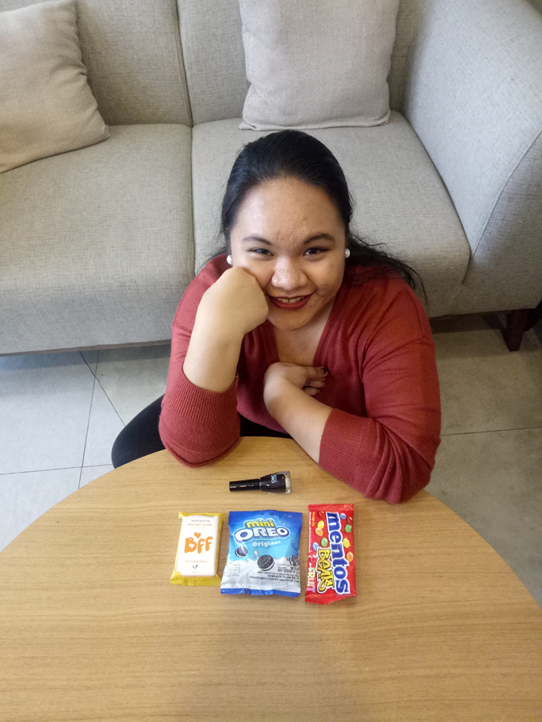 Watsons Mom: Kat
Amount: P91.00
Kat and Karol are seatmates, and it showed in Kat's gift. She's no stranger to Karol's lover for nail polish. She managed to get the brand that she likes PLUS the shade she's in love with. Apart from the plum nail polish, Karol also received Mini Oreos and Mentos plus wet wipes (again, essentials!).
Ashley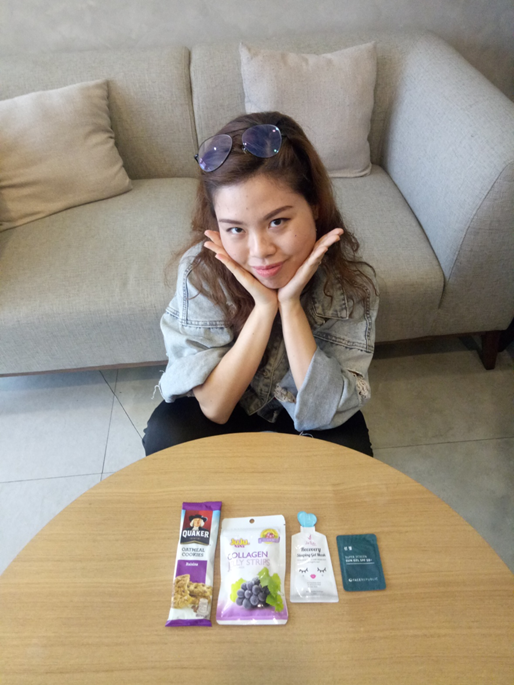 Watsons Mom: Karol
Amount: P97.75
Karol and I are both BTS fans. Karol also has a thing for aesthetic. You could see it in her care package for me: purple is a primary color. For ARMY, purple has a special meaning (Borahae = I purple you. Thanks, Kim Taehyung). Her inner Tita Krissy also shined when she told me, "See, I got you collagen grape treats! Good for your skin!"
Jay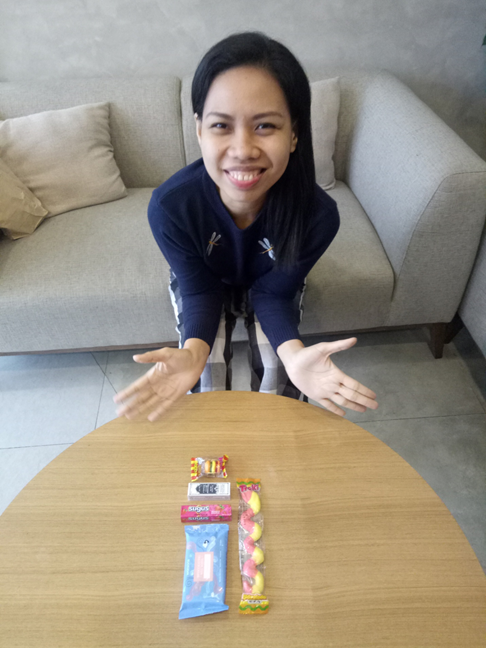 Watsons Mom: Justine
Amount: P98.50
Justine went for a "Keep Calm and Have a Treat" care package for the ever-so-calm person that is Jay. Her care package included White Flower, aka everyone's best friend in the workplace, plus jellies (plenty of them) and the ever-useful wet wipes (yes, essentials. Plus Jay likes to keep things clean).
Sharee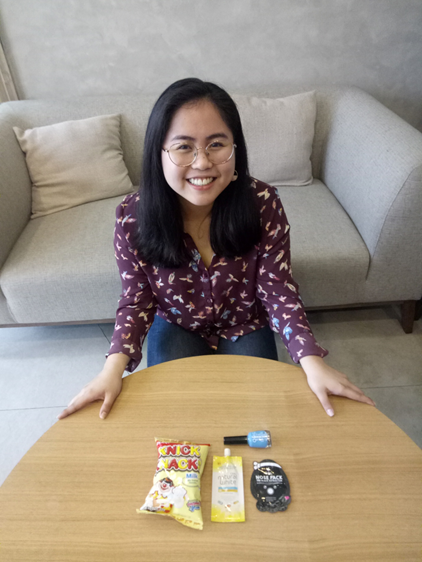 Watsons Mom: Jay
Amount: P98.75
Nail care + skincare + food = Jay hitting all the marks of Sharee's workday survival kit. Jay took her time picking Sharee's gifts. During the shopping fiasco, she was the one walking around and wondering out loud whether Sharee would like this or that. Friendship at its best.
Thoughts About the Experience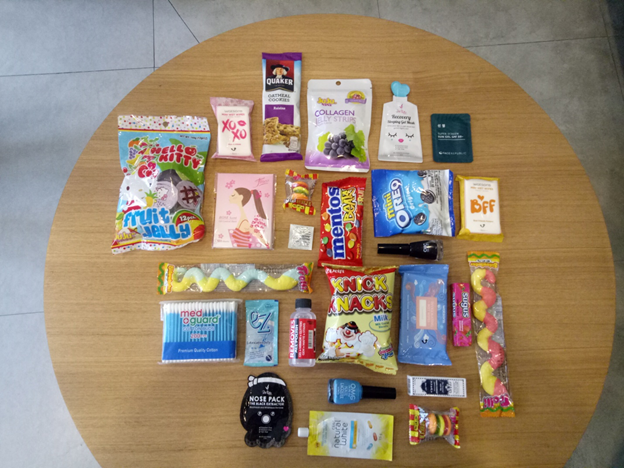 After the fuzzy and warm gift-giving, I asked the girls for their insights.
Watsons has plenty of affordable self-care items, so it's easy to go beyond your budget. Plus, the shop has even the most random products (disposable undies, anyone?). This explains why some people go into the shop wanting just one thing and end up buying a cartful of miscellaneous items.
"This is why I force myself to do one-time big-time shopping trips," Kat said. "I bulk buy. I spend more than P500 here when I need stuff."
"It's easy to buy impulsively if you don't have a budget. That's why you need a list even at Watsons," Jay added.
But what did they learn from the challenge?
"It was fun but really stressful," said Sharee. "A nice challenge if you want to be budget conscious and mindful of the person you're buying for."
We also realized that:
Budget shopping in Watsons is doable
You can create a care package here, too
Self-care also means the warm feeling you get when you give gifts to others
How about you? What's your Watsons experience?
Ashley Petallano
Ashley is an awkward potato in love with words, Kpop, and corgis. She spends her free time dancing like one of those balloon things you see in malls.